We are on tap to start March off with one of those "tricky" to forecast spring storms. In typical fashion, what you see out of this one will largely depend on what track it ends up taking, where the surface low sets up out East (and how quickly/strong it does) and ultimately your elevation. This storm will not favor lower elevation areas for accumulating snowfall due to the lack of cold air support from the North. This could very well be one of those storms where some of the Palmer Divide sees decent snow but areas just to the North towards Denver and lower elevations end up picking up mainly rain with minimal snow accumulation.
Here's the latest as of tonight!
---
Winter Weather Highlights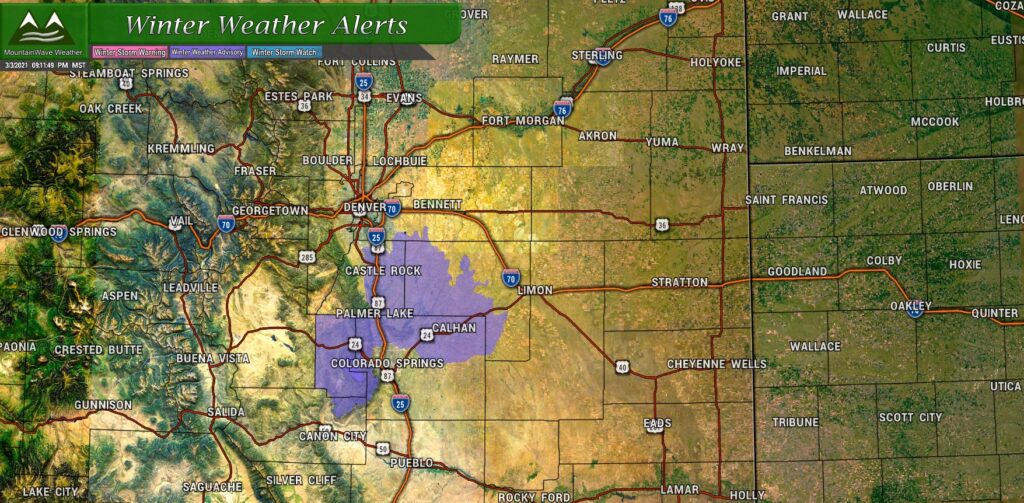 A Winter Weather Advisory has been issued mainly for the Palmer Divide and foothills region West of Colorado Springs. Due to their higher elevation, these areas have the best chance of seeing accumulating snow and while it's not a "major" storm by any means - enough snow may fall and stick in those areas to cause some travel headaches.
Elbert/Central and East Douglas Counties Above 6000 Feet-
Including the cities of Elbert, Fondis, Kiowa, Castle Rock, and
Larkspur
240 PM MST Wed Mar 3 2021

...WINTER WEATHER ADVISORY IN EFFECT FROM 2 PM THURSDAY TO 2 AM MST
FRIDAY...

* WHAT...Snow expected. Total snow accumulations between 3 to 6
  inches. Winds gusting as high as 40 mph.

* WHERE...Castle Rock.

* WHEN...From 2 PM Thursday to 2 AM MST Friday.

* IMPACTS...Plan on slippery road conditions. The hazardous
  conditions could impact the Thursday evening commute.

PRECAUTIONARY/PREPAREDNESS ACTIONS...

Slow down and use caution while traveling. The latest road
conditions for Colorado can be obtained by calling 5 1 1 or by going
to www.cotrip.org

Roads will be slick resulting in slow and hazardous travel. Allow
extra time to reach your destination.
---
Snowfall Forecast
This will be a tricky one as how warm or cold the temperatures get will make all the difference. Here's my latest stab at what we are thinking on snow, but keep in mind that due to the nature of this storm forecast confidence in these numbers is low until we get more and better data in. These ranges will likely change to some degree. Safe to say, the higher your elevation the better your chance at snow, while areas below around 6,000 feet or so have considerable uncertainty as to how much (if any) snowfall accumulation they see.
---
Timing/Preparedness
We don't know exactly how severe the impacts will be from this storm until we get better data in. We do have a little window into the timeline of when the most problems may occur due to storm impacts from this system.
Latest high resolution modeling has precipitation beginning late morning or early afternoon across the front range. By 2PM models show a changeover to snow along the Palmer Divide - recall that the exact timing of when this happens will be very important as to how much snow actually accumulates.
For those traveling along the higher elevations of the Palmer Divide (areas South of Denver into Colorado Springs) plan to have your travel underway by early afternoon. The Winter Weather Advisory starts at 2PM so sometime around +/- 1-2 hours is when we would expect conditions to warrant that advisory - meaning higher chance of travel impacts.
In general, expect the Thursday evening commute to be effected to some point mainly South of Denver into the higher elevations
---
Stay Tuned for Updates
This will be an evolving forecast and we will update tomorrow if needed or let you know if the forecast is still on track. Either way, hopefully we at least get moisture out of this one!