Another hot late summer stretch on our hands this upcoming week as we site between a few different storm systems. This means a shift in in winds aloft that will actually help clear some smoke out through the day on Monday and Tuesday should fairly clear as well. By Wednesday we do see more smoke moving in, but it looks to be in the moderate category rather than heavy. Temperatures will be quite warm this week, below I've attached the Euro's thoughts on Centennial Airport through the week. You'll see highs mainly in the upper 80's to near 90... I think these actually may trend a degree or two higher based on shorter term models.
Nothing record setting, nothing oppressively hot - but warm nonetheless.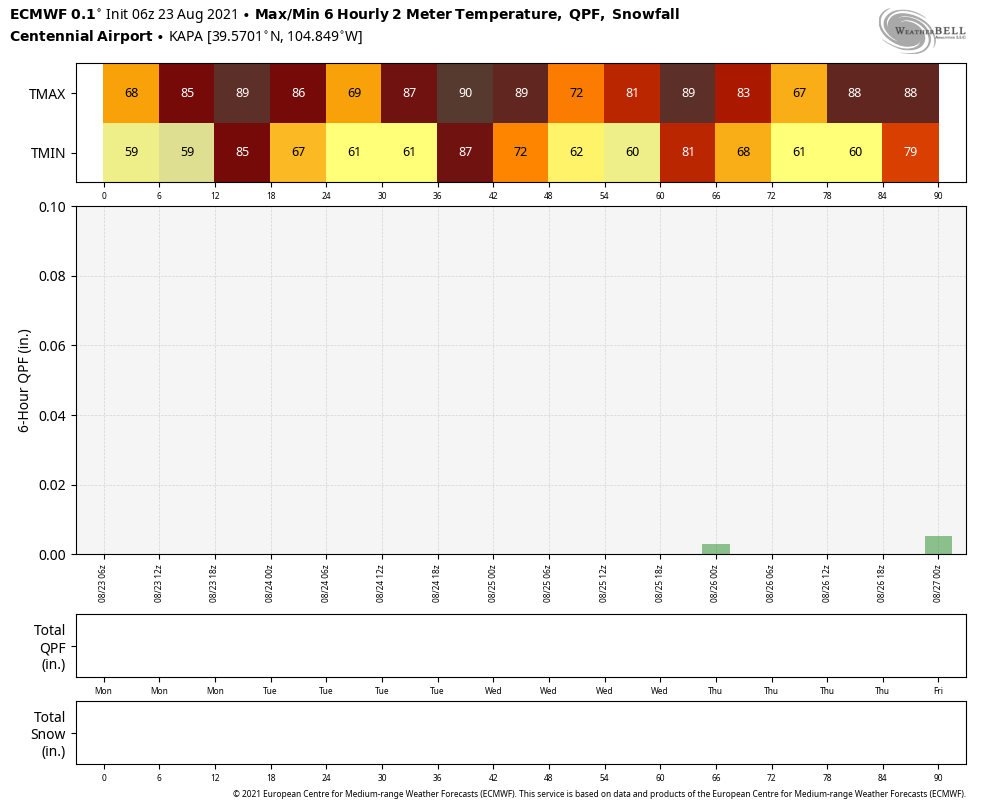 The box in the middle with nothing in it is the forecast for 6 hour QPF (in lay terms total precipitation over a 6 hour period) and it shows a very dry week ahead. We do see some chances for showers by midweek but as of right now - no large scale storm systems like we saw last week. We'll keep an eye on Wednesday and Thursday for some very isolated storms with a small rain threat just in case!
---
Castle Rock and Palmer Divide Forecast
Similarly to what you see on the Euro above for Centennial Airport, our forecast for Castle Rock keeps temperatures mainly right around 90 during the day and near 60 at night. It should be a fairly warm week with pleasant conditions. Keep an eye out for a hit or miss storm Wednesday and/or Thursday.


As always, add or subtract a couple of degrees based on your elevation on the Palmer Divide for your own "close enough" temperature forecast for the week.
Here's a couple of snapshots of the smoke forecast - some lingering smoke on Monday will clear out making for a nice Monday and Tuesday. By Wendesday more smoke moves back in but doesn't look terrible at this point.
---
What to Keep an Eye On
I'll have another post up on this topic during the week, but drought conditions are beginning to creep back into Northern and Northeastern Colorado. Many folks may ask "why if we had such a wet spring?" We may have had a lot of moisture over spring and sporadic heavy bouts of rain over the monsoon, but the wind, smoke and hot temperatures have all played a part on the deterioration of our vegetation status along the front range. This is one important component of evaluation drought conditions and there are a few they take into account.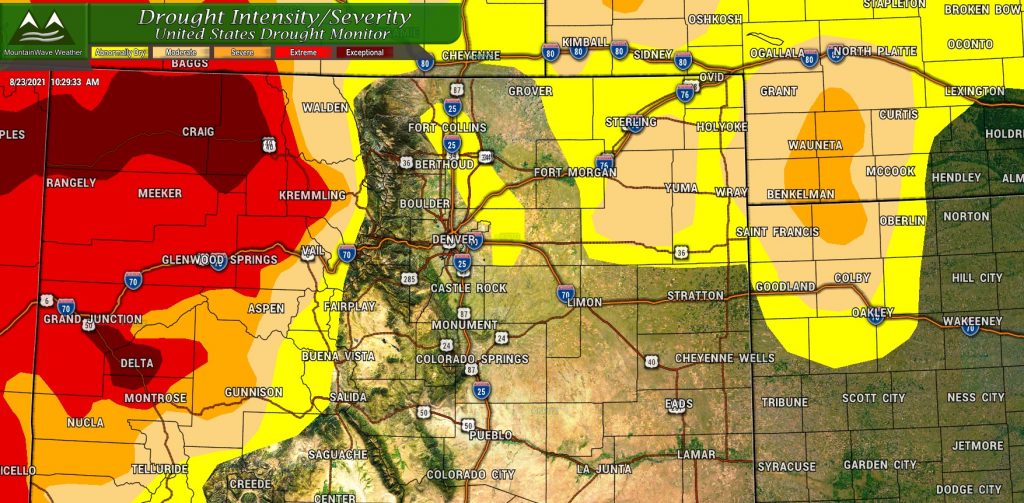 If you would like to know more, stay tuned for our drought update coming out this week!