An interesting weather setup today along the front range as a large storm system to our West and associated trough will keep winds in the middle and upper levels of the atmosphere while surface winds stay mainly out of the Southeast. The associated wind shear will create the turning in the atmosphere required to keep storms spinning as they form and allow them to grow to severe potential.
Of course there's more to it than that - low level moisture is good across the area today and heating from the sun will allow instability to lift the air. The unstable atmsophere will keep that air lifting as it condenses into clouds and ultimately thunderstorms. The stronger instability today is what will give us our chance for larger hail across the region so be sure to keep an eye out for that!
Storm Prediction Center Categorical Threats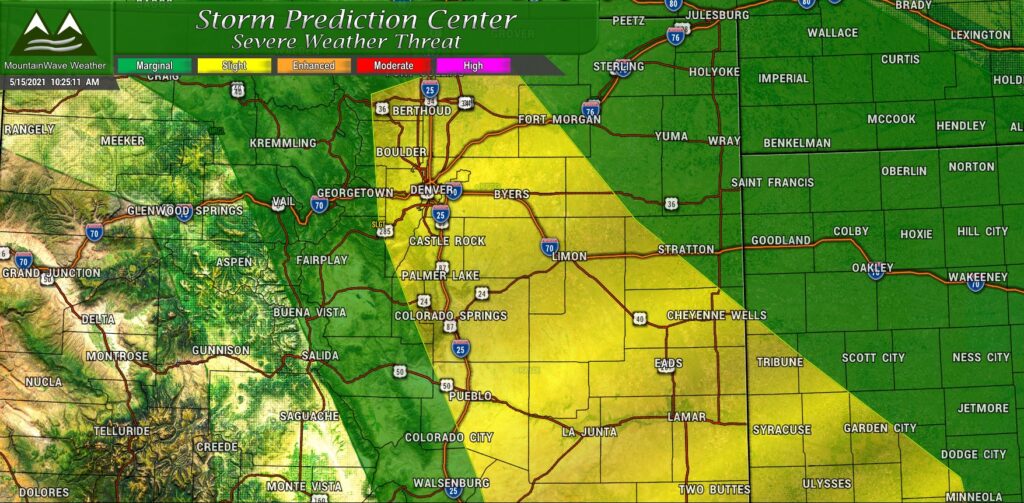 Today's slight risk area (shown in yellow) extends from Southeastern to the Northwest and includes the entirety of the Palmer Divide, Denver Metro area and areas Northwards including Boulder, Berthoud and Fort Morgan. While severe storms are possible anywhere in the yellow area, special attention should be paid to areas South and East of Denver. Enhanced lift along the Palmer Divide is always something we watch for during events like that and can serve as a focus for rapidly developing thunderstorms with the possibility of turning severe.
Tornado Risk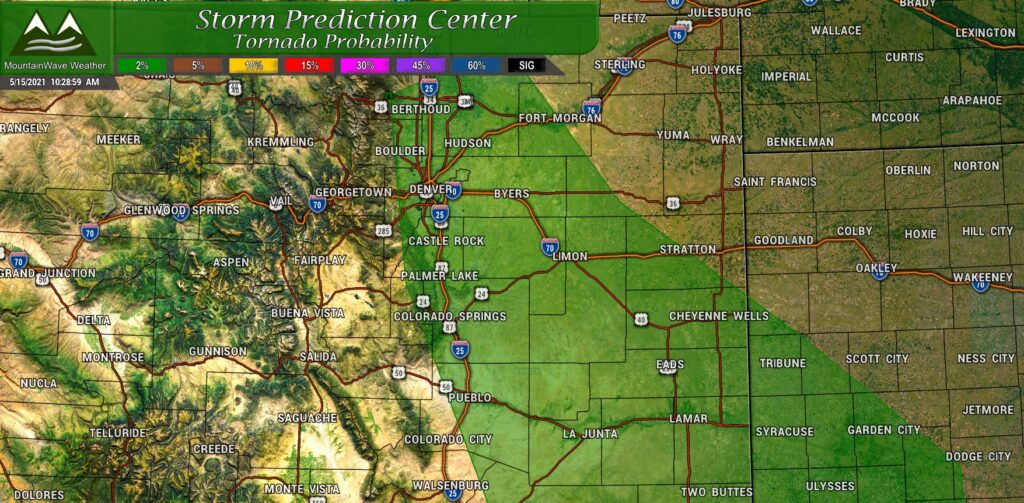 The tornado risk area follows the slight categorical risk today and includes the same areas. The elevated terrain South of Denver and areas East of the city towards DIA should be monitored for a brief spin up. Overall the tornado risk is low today, but we can't rule any of that out due to differing directions of low level winds and interaction with the terrain at the surface. Any tornadoes that form should be fairly weak and brief.
Hail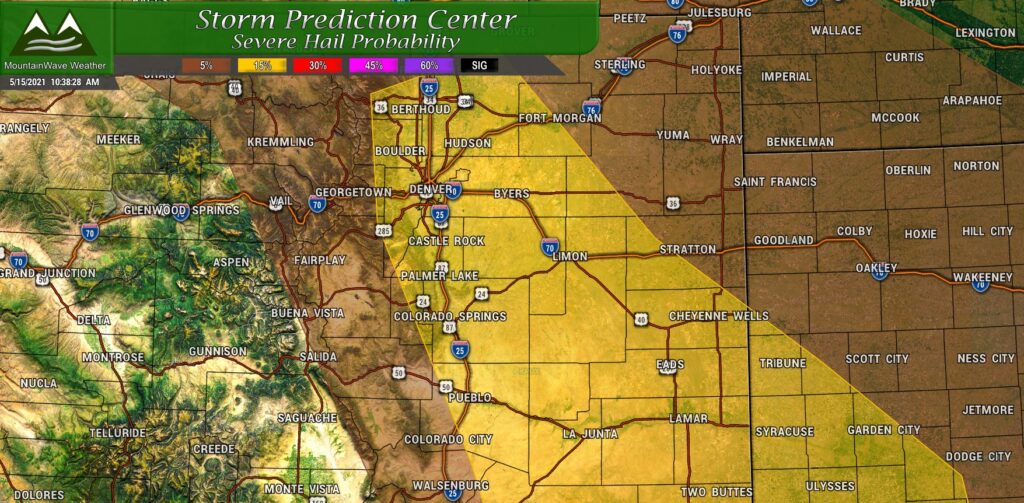 The primary threat with severe storms today will be large and damaging hail. The primary risk areas highlighted in yellow are the areas to be watched - in the yellow you have a 15% chance of seeing hail at or within 25 miles of that location. That's not a huge probability and certainly doesn't mean everyone will see severe storms and hail today (remember thunderstorms are spotty and localized events compared to the wide reach of a snow storm for example)
Be prepared to get these under cover if a storm is approaching, hail could be large enough to cause damage with some of today's storms.
Wind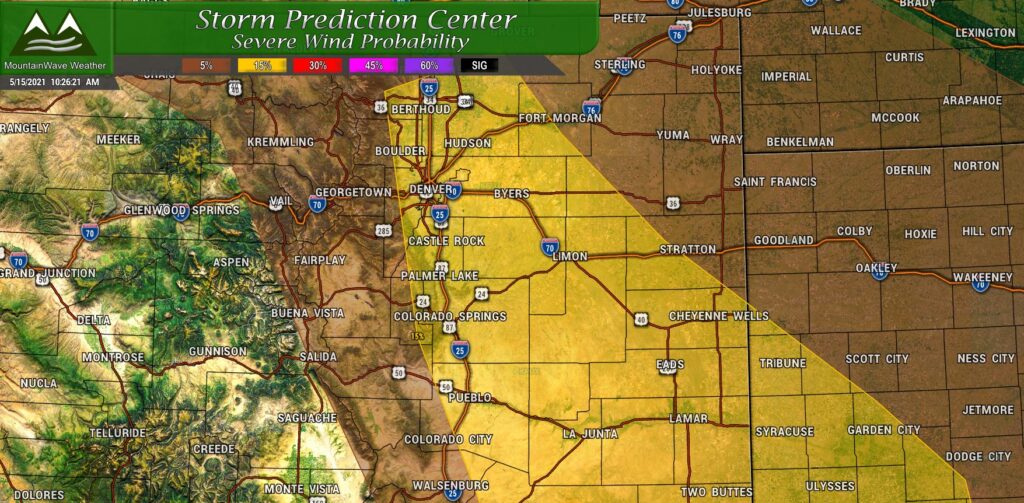 Similarly to the hail threat, a risk of strong and damaging wind in excess of 58mph is possible. The risk area follows the same lines as the hail risk area mostly but higher winds will be more likely with more mature storms as they move East. As such, I'd keep an eye on areas East of the urban corridor for the better chances of severe weather related to wind.
---
Timing
Severe thunderstorm timeframe: 2PM-9PM for Western sections of the Palmer Divide - 5-11PM for Eastern sections of the Palmer Divide
This does not mean you need to cancel plans, it doesn't mean everyone will see thunderstorms during this period. It means that if you have outdoor plans between those hours, keep an eye on the sky and have a plan to get indoors if you see storms moving in.
Here's an excellent graphic by the NWS summarizing what I talked about above and the timelines to watch for Severe Weather.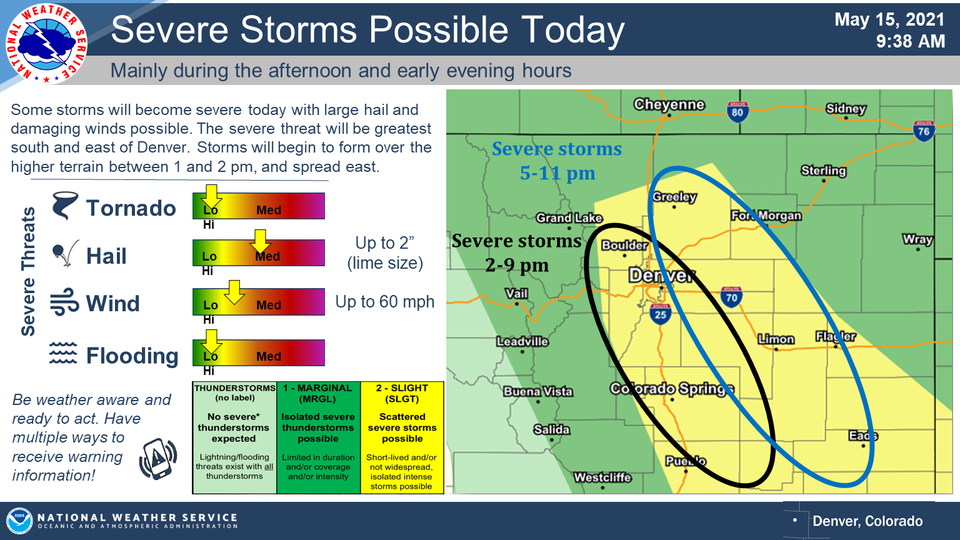 ---
Summary
When it stops snowing in Colorado it starts hailing. When I look ahead to our extended forecast I don't see chances of snow which will make some people very happy. I do however see our severe weather seasons starting to crank up - and that means we will see the other type of frozen precipitation falling from the sky in the form of hail.
If you're out and about today, keep an eye on the weather - be sure to have your phone set up for alerts and be prepared to move indoors.
For the weather nerds, there's the forecast Skew-T along the Palmer Divide for this afternoon...