---
Current Weather Alerts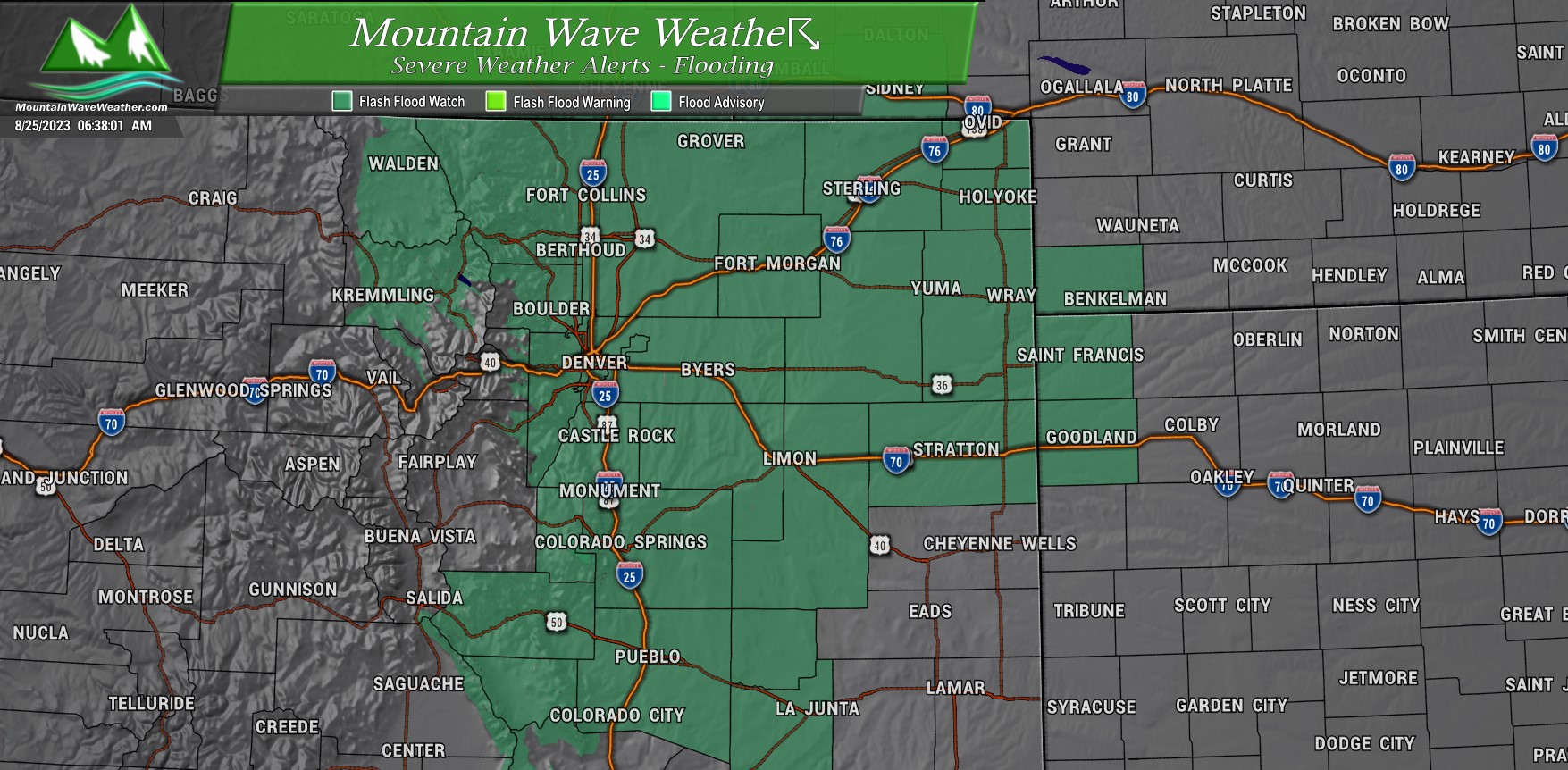 ...FLOOD WATCH REMAINS IN EFFECT FROM 9 AM MDT THIS MORNING THROUGH SATURDAY MORNING... 
Flash flooding caused by excessive rainfall continues to be possible.

Includes:

Portions of central, east central, north central, and
  northeast Colorado, including the following areas, in central
  Colorado, Jefferson and West Douglas Counties Above 6000
  Feet/Gilpin/Clear Creek/Northeast Park Counties Below 9000 Feet.
  In east central Colorado, North and Northeast Elbert County Below
  6000 Feet/North Lincoln County. In north central Colorado, Larimer
  County Below 6000 Feet/Northwest Weld County and Larimer and
  Boulder Counties Between 6000 and 9000 Feet. In northeast
  Colorado, Boulder And Jefferson Counties Below 6000 Feet/West
  Broomfield County, Central and East Adams and Arapahoe Counties,
  Central and South Weld County, Elbert/Central and East Douglas
  Counties Above 6000 Feet, Logan County, Morgan County, North
  Douglas County Below 6000 Feet/Denver/West Adams and Arapahoe
  Counties/East Broomfield County, Northeast Weld County, Phillips
  County, Sedgwick County and Washington County.

Southern locations included:

Pikes Peak, Teller County and the Rampart Range, Fremont
  County, the northern Sangre De Cristo and Wet Mountains, the Wet
  Mountain Valley and El Paso, Pueblo, Crowley and Otero counties.



* IMPACTS...Excessive runoff may result in flooding of rivers,
  creeks, streams, and other low-lying and flood-prone locations.
  Flooding may occur in poor drainage and urban areas.

* ADDITIONAL DETAILS...
  - Slow moving thunderstorms are forecast to develop late Friday
    morning and continue through Friday night and early Saturday.
    Heavy rain is likely with these storms. Localized rainfall
    totals in excess of 3 inches are possible where training
    storms develop.


PRECAUTIONARY/PREPAREDNESS ACTIONS...

You should monitor later forecasts and be prepared to take action
should Flash Flood Warnings be issued.


---
Storm Setup and Updates
The moisture from former Tropical Storm Harold is moving through Colorado this morning. If you've been outside along the front range, you've probably noticed how "muggy" it feels.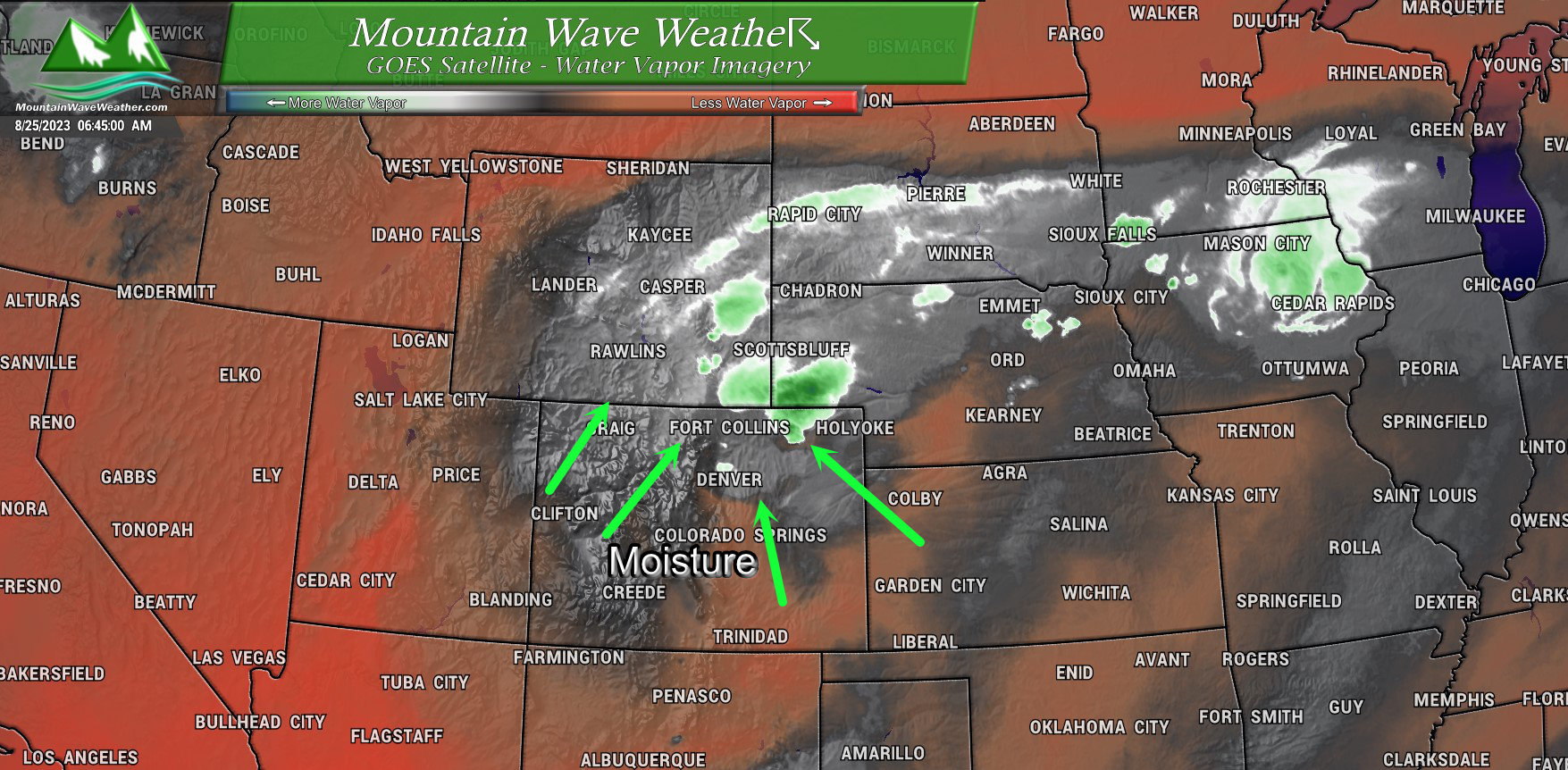 This moisture is expected to continue and increase throughout the day. As we move later into the day we will fire up some thunderstorms, most models showing after 12-2PM for storm initiation and coverage expanding through the afternoon on Friday.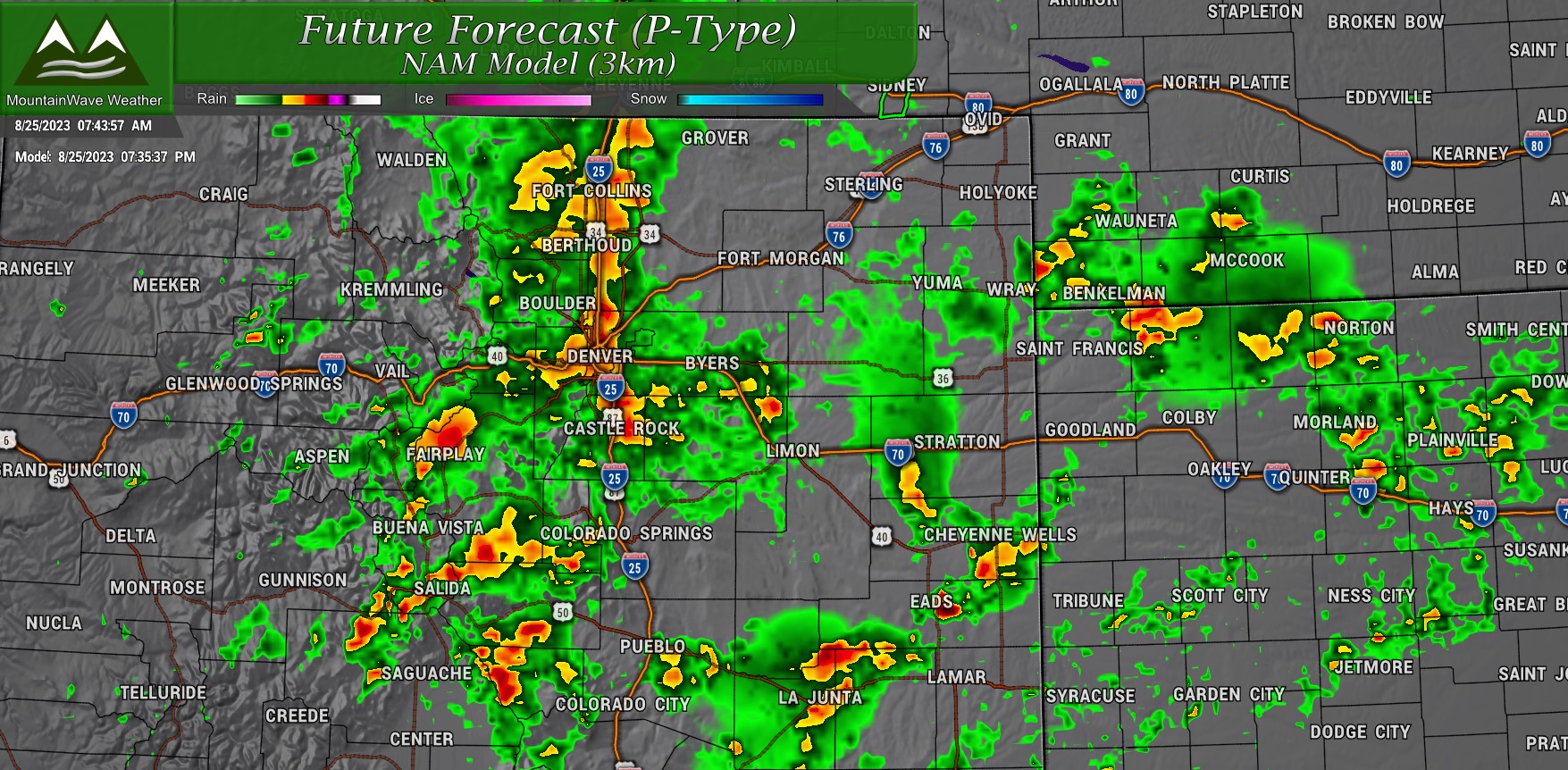 Here's a look at the Nam3K's thinking of storm coverage around 7:30PM. You'll notice this particular model has a lot of the rain coming down right along the I-25 corridor, not all models agree on this but we'll get to that...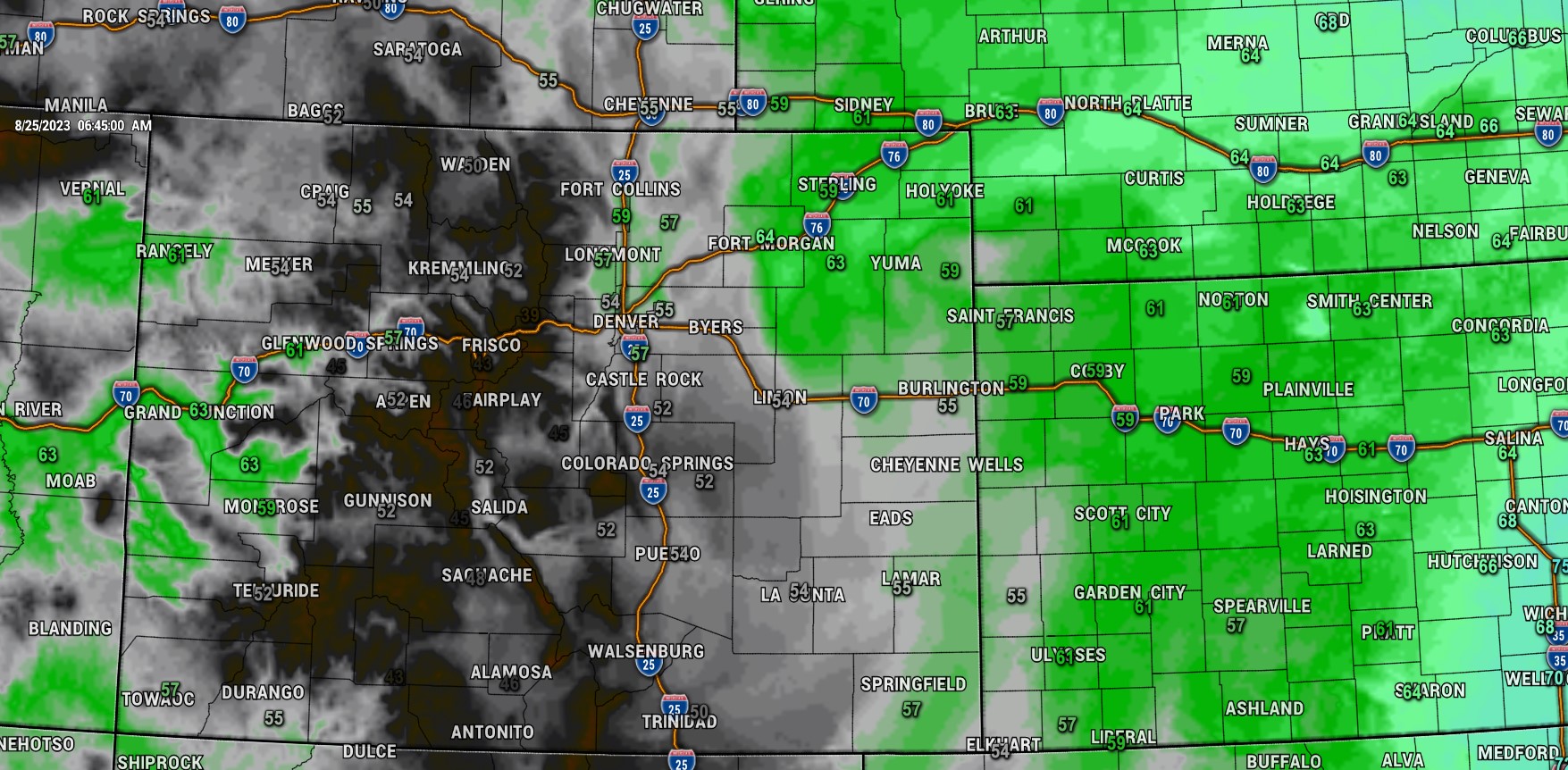 Finally, the above graphic is observed dewpoints this morning. You'll see broad swaths of 50-60 degree dewpoints across much of Eastern Colorado this morning. These values are high in general for Colorado this time of year, but we can get higher dewpoints like this with strong monsoonal flow. The monsoon however, has been pretty non-existent this year - a lot of this moisture is tropical moisture from the remnants of Tropical Storm Harold.
---
Updated Timing and Impacts
Timing
Friday
Morning: scattered rains showers and a few thunderstorms. Overall coverage will be low.
Afternoon: thunderstorms likely for many areas, some storms could potentially contain heavy rain
Evening: thunderstorms and showers continue into the evening, some areas of heavy rain are possible
Overnight: continued thunderstorms and more stratiform precipitation is likely overnight
Saturday
Morning: rains showers will be likely into the morning hours
Afternoon: some clearing possible during the early afternoon hours, more thunderstorms expected as the air heats and instability increases later in the day
Evening: thunderstorms and showers are possible, coverage looks more scattered than on Friday. Some storms could have heavy rain
Overnight: showers and thunderstorms possible through midnight with clearing expected after that timeframe
Sunday
Morning: mostly sunny to start the day
Afternoon: showers and thunderstorms possible especially after 12PM, some storms could contain heavy rain
Evening: showers and thunderstorms possible, coverage looks scattered and lasting through about 9PM. Some storms could contain heavy rain
Overnight: rain should end for most areas with mostly cloudy conditions lasting through the night
Hazards and Impacts
Main threat: Flash Flooding
Note: not all areas will see flooding or even a lot of rain. The nature of this storm system is such that areas of heavy precipitation may be spotty.
Still, the risk is high enough across the entire area that folks will need to be prepared. Know what to do if flooding alerts are issued or is occurring.
More updates as/if needed through the day on Friday!