Even though our latest storm will pass to our North, we still have a bit to talk about because we will feel some effects from it. We won't see the big snow and blizzard conditions that our neighbors to the North will - thanks for stealing this one guys! We will however see heavy snow in the mountains and windy conditions on the plains... here's the latest from A to Z:
---
Weather Highlights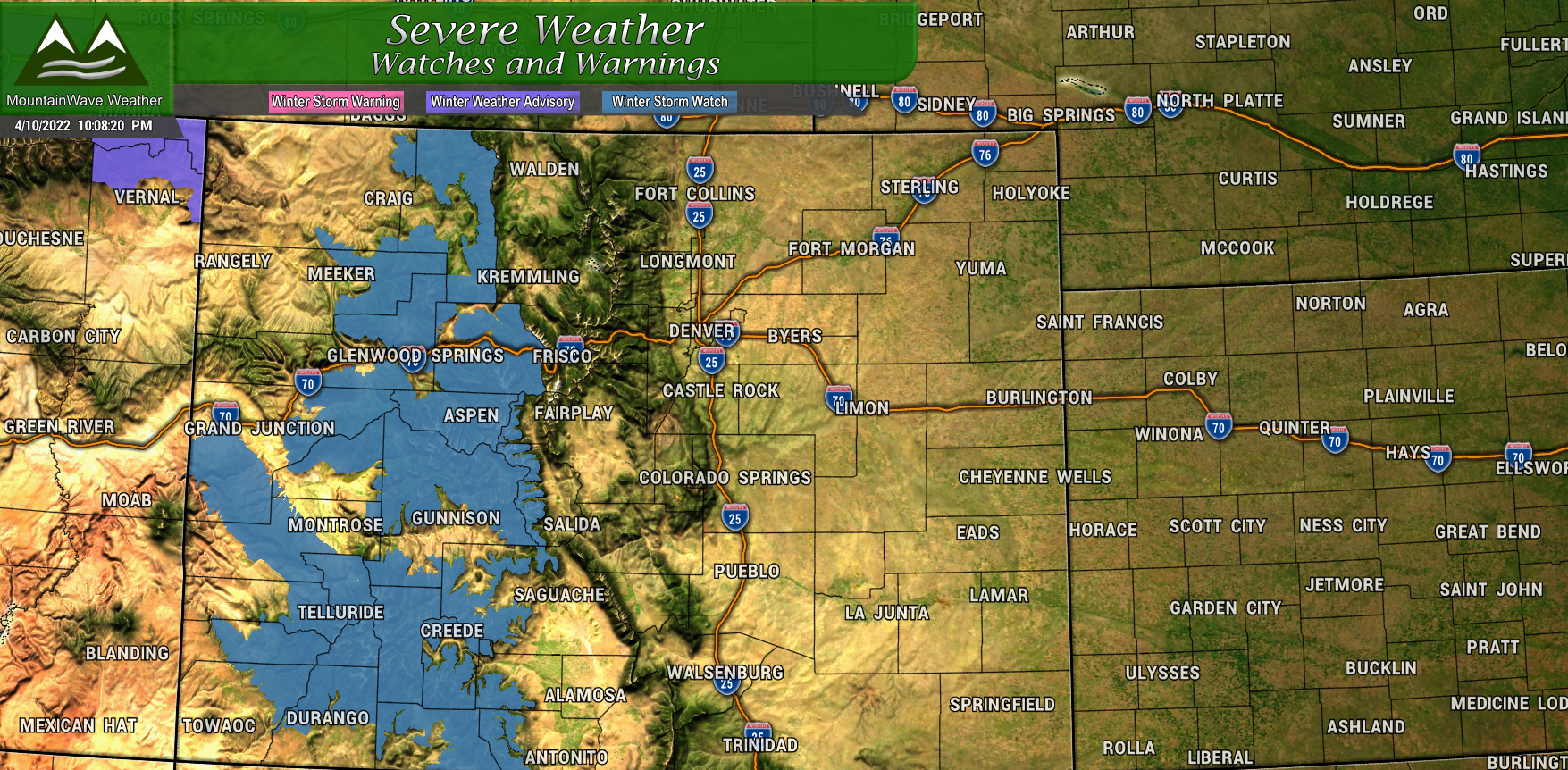 Winter Storm Watch
Issued for the areas shaded in blue for April 11 6PM through April 13 12PM
Snow accumulations between 4-10" with localized areas of up to 16", strong winds, low visibility and very cold wind chills will make for dangerous conditions. Some mountain areas could see blizzard conditions, travel is discouraged during the warning time.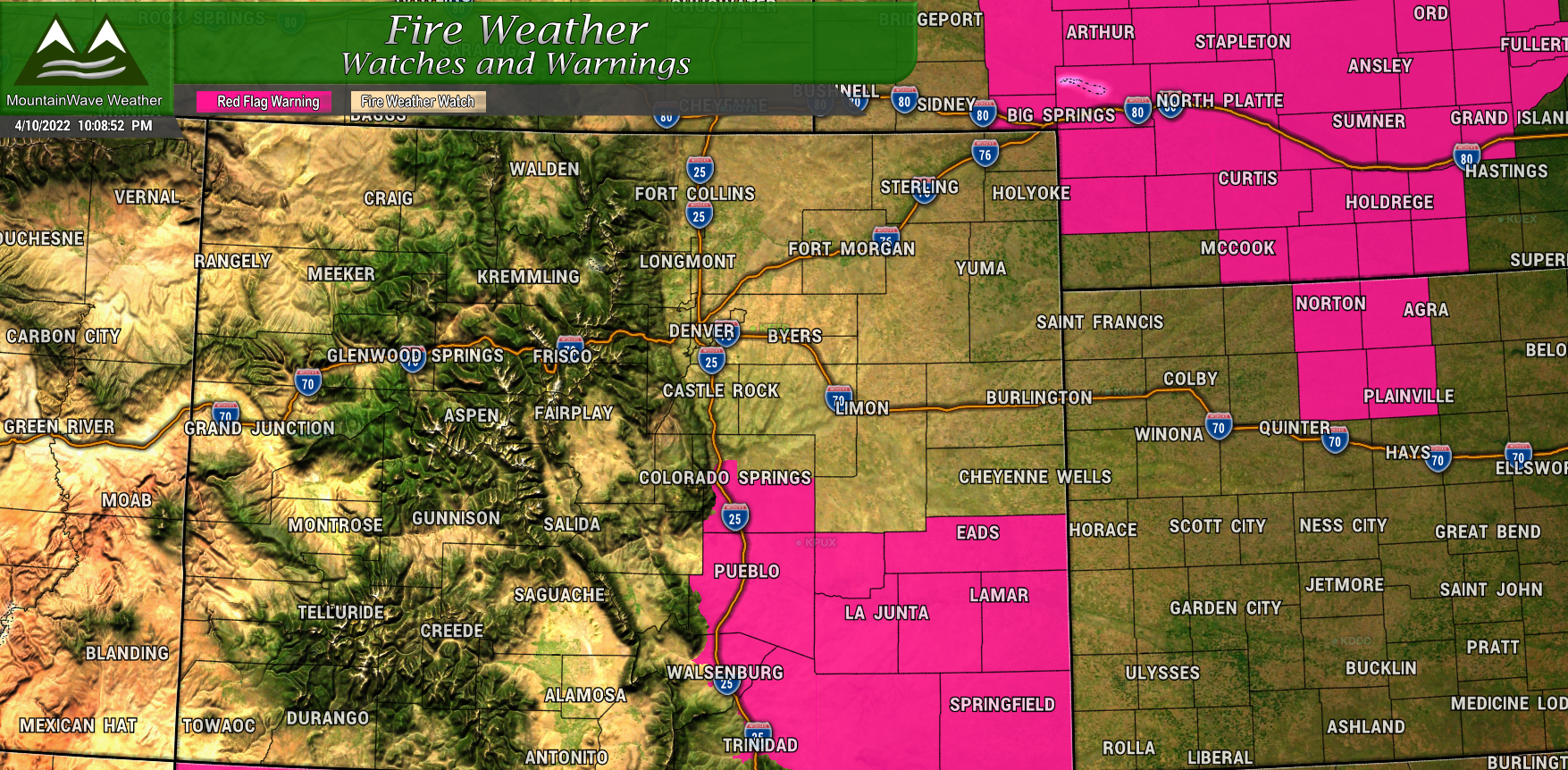 Red Flag Warning
Issued for areas highlighted in red for April 11 from 12PM through 8PM
Sustained winds from 15-25 mph with gusts up to 40mph, humidity as low as 14%, dry vegetation will make for extreme fire conditions. Do not perform any activities that create a spark and burning of any kind is not recommended.
High Wind Watch
Issued for areas highlighted in brown for April 12 from 9AM through 8PM
High winds between 35-45mph with gusts up to 70mph. Blowing dust and strong crosswinds will make for difficult travel conditions, especially for lightweight and high profile vehicles. Property damage, downed tree branches and power outages will also be possible.
---
Storm Analysis and Timing
The fascinating thing with this storm system that I'll remember is how far out the GFS pulled the Low to the North, while the Euro took several days to arrive at a similar solution. The storm is not exactly here yet so anything can still happen but there's a lot of model agreement between many models that this is the way the storm will go. Usually we lean heavier on the Euro at longer time frames at is definitely as the edge in accuracy that far out... if this solution verifies then we'd have to give the GFS full credit on nailing this storm early... not something we often have to do.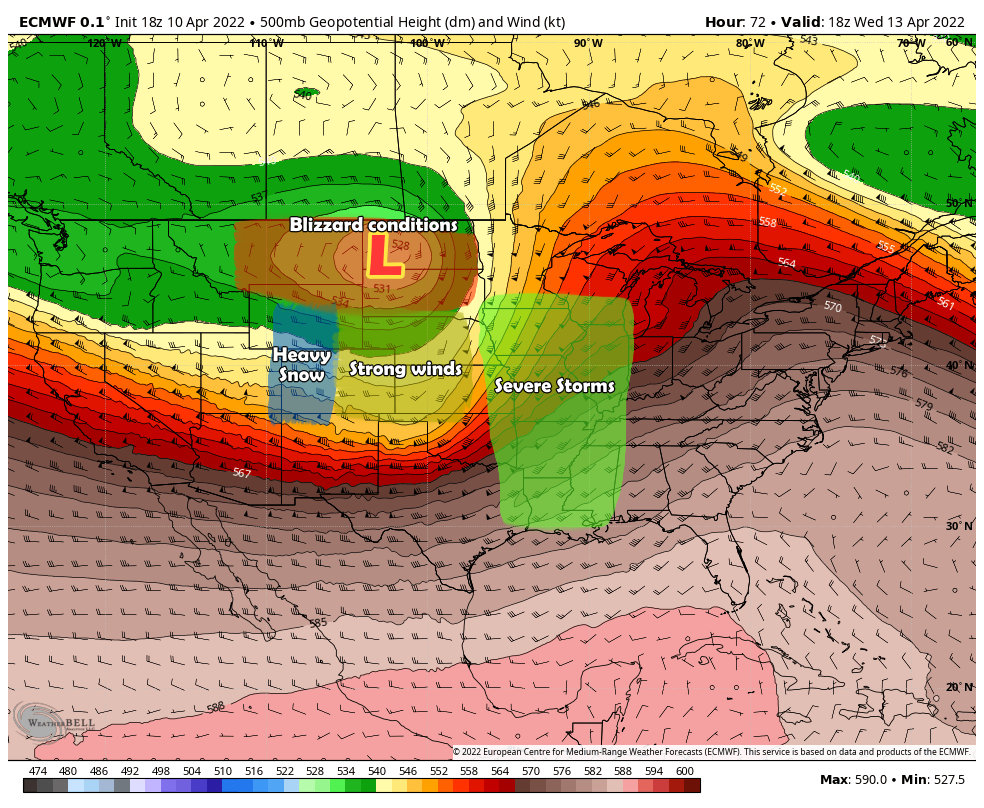 Here's the quick play-by-play on what this storm system will bring for us and certain parts of the country:
For Colorado, the heavier snowfall will remain in the mountains with strong Westerly flow. On the plains this creates downsloping which tends to dry out the atmosphere; by no means are we saying the Eastern part of the state sees not moisture, but the amounts will be fairly meager relatively speaking. Windy conditions will be the main story for the front range, Palmer Divide and Southern Colorado.
For Montana and the Dakotas, they will see heavy snow and very strong winds which will result in Blizzard conditions. Those areas already have several Winter Storm Watches and Warnings out, wouldn't be surprised to see a blizzard warning or two up that way.
Ahead of the storm, the combination of moisture pulling in from the Gulf, warm air and the colder air coming in behind will set the scene for the potential of severe weather.
As far as timing for Colorado, looks like late Monday night into Tuesday morning will be prime time for the winds out on the plains. The mountains will see a longer duration snowfall event from later Monday night though late Wednesday morning.
For our best shot at moisture in the lower elevations, Tuesday will be the main day for that especially late morning and into the afternoon. As of right now we are not expecting Significant travel impacts in the lower elevations of Colorado East of the Continental Divide outside of windy conditions. If that changes, we will let you know!
---
Snowfall/Rain Forecast
At lower elevations moisture that we see may be in the form of rain but if temperatures get cold enough some areas could see some snow accumulation on grassy surfaces. Anything East of the Continental Divide will see maybe an inch or two at most... Palmer Divide locations with higher elevations may see an inch or snow as well.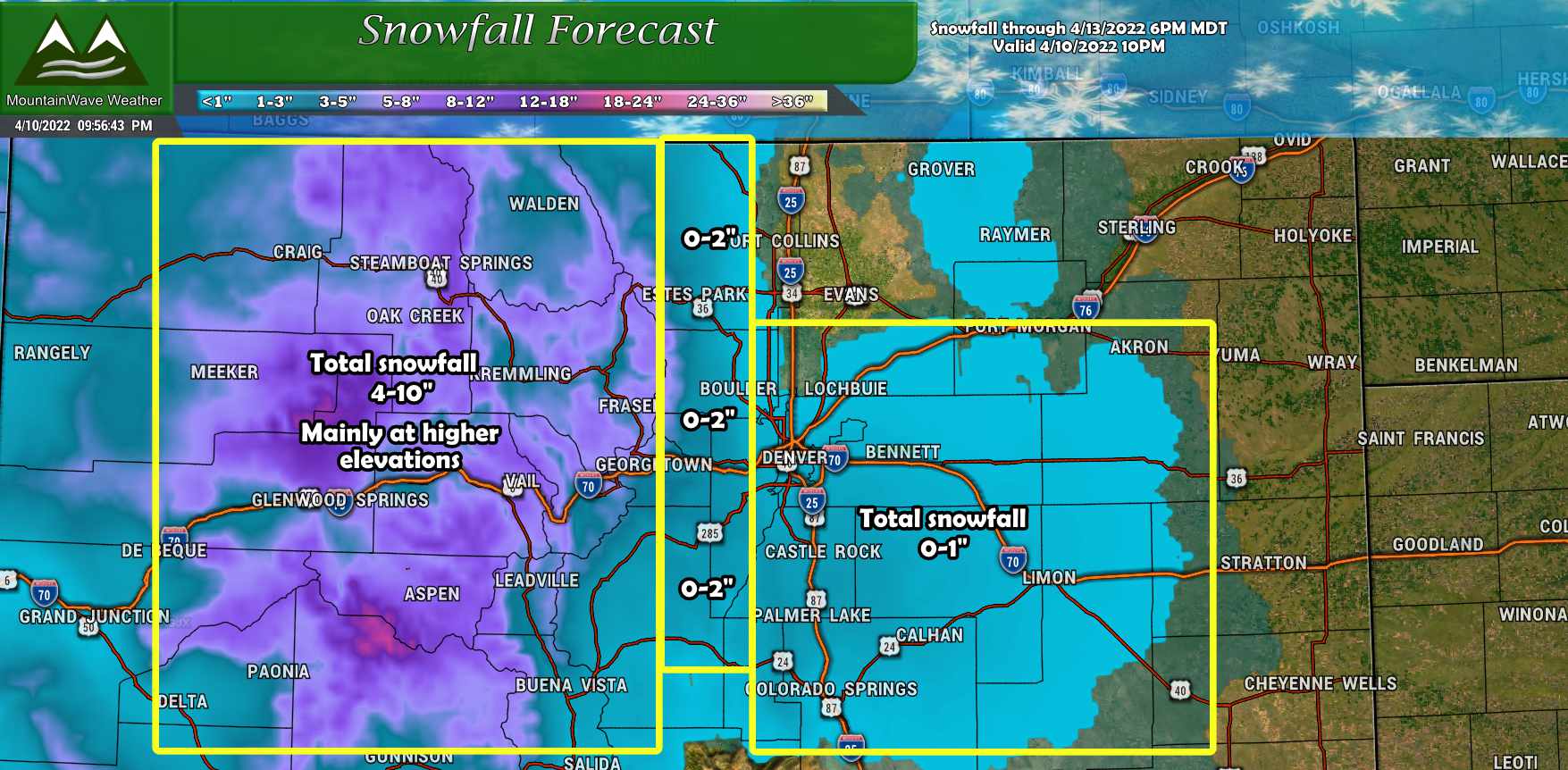 Snowfall overall won't be much to write home about but mountain locations at higher elevations could see localized snowfall accumulations of 4-10".
---
Wind Gusts
As the main part of the storm will arrive too far North to bring us big impacts in terms of snow along the front range, we will see pretty good wind picking up especially later Monday night and into Tuesday morning. The Nam3k model below shows a snapshot of forecast wind gusts early Tuesday morning. I'm not sure the wind gusts will meet High Wind Warning criteria with this one just yet but we will keep an eye on the NWS for any watches issued on Monday.
As we move through the day on Tuesday, the strongest wind will shift to the South. Expect it to remain breezy over the Palmer Divide until later in the day.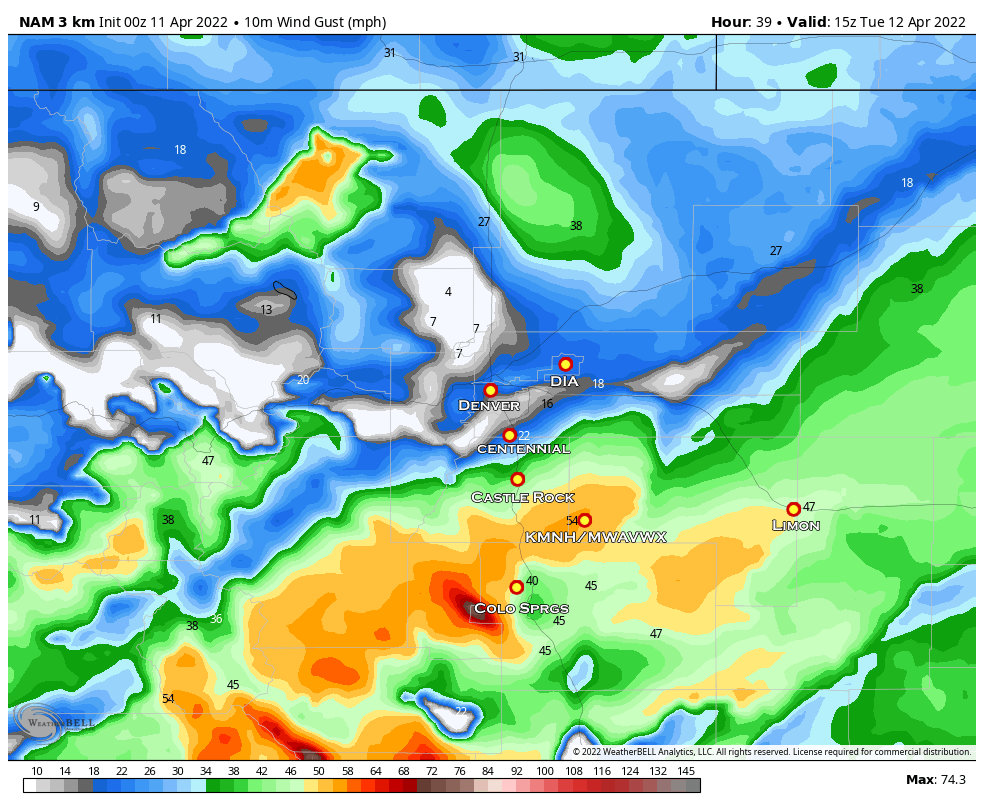 So long story short with this one, have things put away or tied down by Monday evening and prepare for some wind gusts overnight into Tuesday.
---
Summary
Pretty good model agreement on the effects of this storm at this point. We will keep an eye on things during the day Monday and pass along any updates as needed.