Lots still moving with this storm as the model data comes in and the storm system continues to evolve. Here's the latest data and discussion of my thoughts based on what we see coming in this morning.
Current Winter Weather Highlights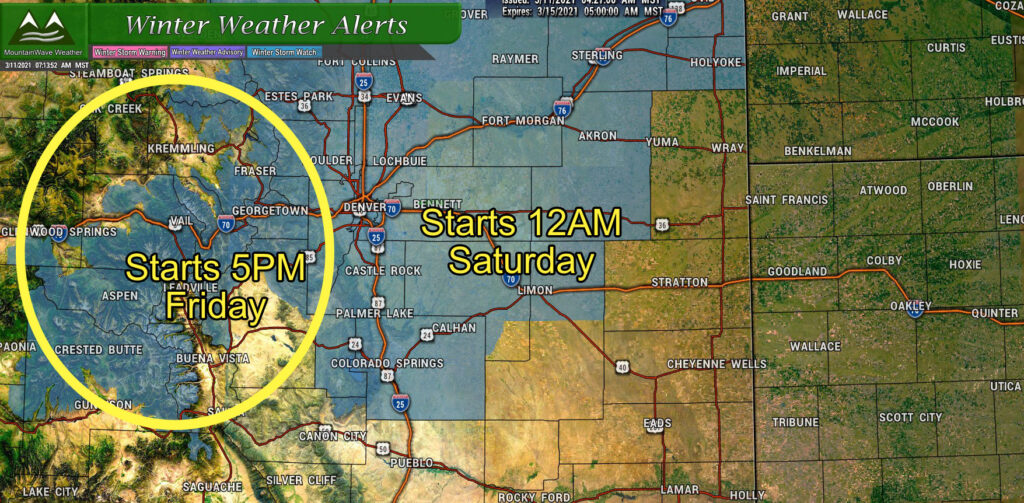 The National Weather Services has issued Winter Storm Watches for Northern and Central Colorado and mountains and foothills locations. There are actually two different watches here that start at two different times (as the storm will impact Western areas earlier than areas further East.) The Winter Storm Watch for the mountains and foothills currently starts at 5PM Friday while the other watch for the urban corridor and Palmer Divide starts at 12AM Saturday.
As we tend to focus on the Palmer Divide here's the details on that specific watch:
..WINTER STORM WATCH REMAINS IN EFFECT FROM LATE FRIDAY NIGHT THROUGH LATE SUNDAY NIGHT...

* WHAT...Heavy snow possible. Total snow accumulations of 15 to 25 inches possible. Accumulations up to 30 inches possible near Boulder and Fort Collins. Winds could gust as high as 35 mph.

* WHERE...Fort Collins, Boulder and the western suburbs of Denver, Denver, Castle Rock, and Greeley.

* WHEN...From late Friday night through late Sunday night.

* IMPACTS...Travel could be very difficult to impossible.

Monitor the latest forecasts for updates on this situation.
---
Model Madness!
If you're watching the news or following the National Weather Service or even following someone like me, you've noticed the wide range of forecasts for this storm. This is because models are still duking it out on how exactly this storm evolves; while confidence is medium that it will be an impactful event in some fashion, models still differ on timing and specific snowfall amounts for specific locations.
Here's some examples of that:
Euro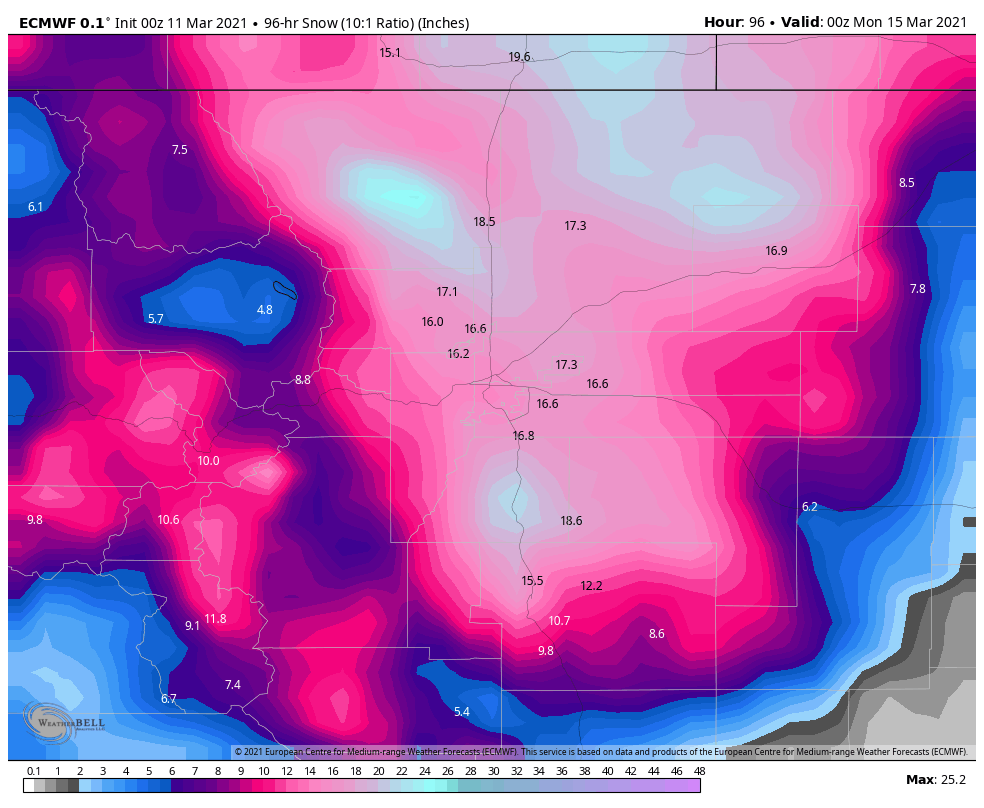 GFS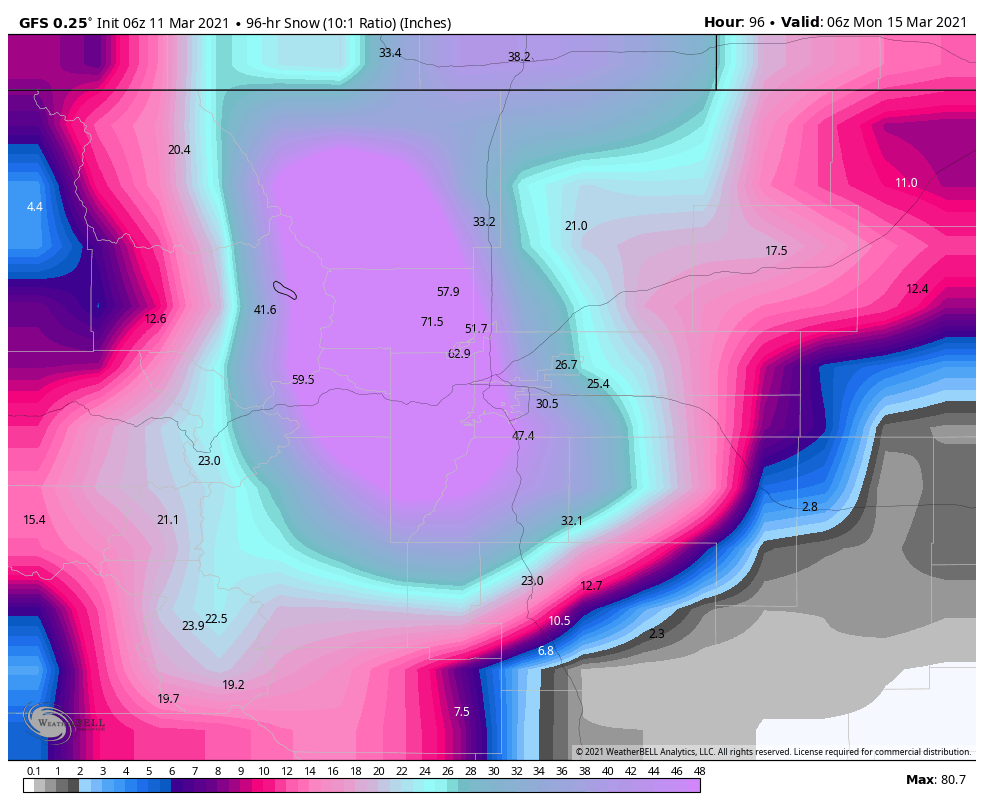 NAM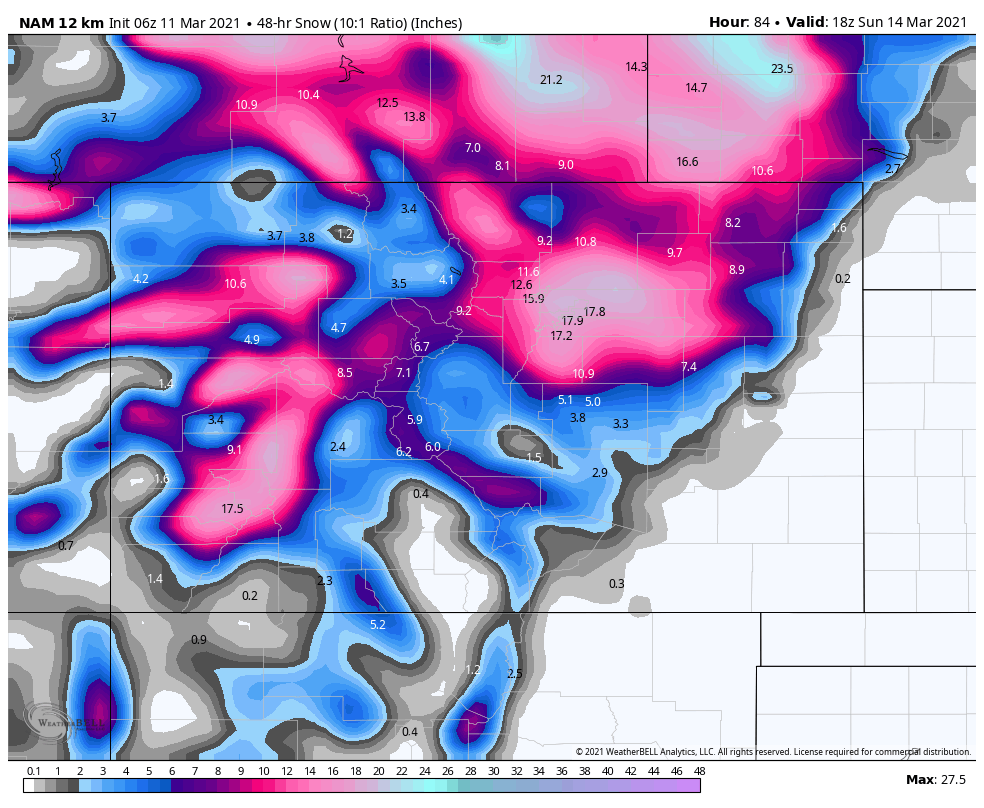 **Please note: these are all deterministic model snapshots, the ensembles suggest that these are slightly overdone, but the fact remains that we still see models painting a picture of widespread significant snowfall accumulations as of this morning. Thursday will continue to be crucial to the overall forecast with this storm as we get more model data in.
---
Recent Trends to Be Aware Of
Storm Track

Euro continues to move the storm further North, other models don't agree yet but we will need to see which  models come in line with which models during the day Thursday. Any track further North can have big impacts on what this storm does for the front range.

Timing

All models agree on a slower track with this storm, this gives us confidence that this storm will kick off a bit later than believed.
Primary focus on timing becomes Saturday afternoon through early Monday morning. Saturday night and all day Sunday look like the highest impact timeframe as of now.

Strong Thunderstorms in Kansas

All models agree on strong thunderstorms on the warm side of this storm system. It remains to be see what part (if any) this plays in the storm's evolution, but it's worth being aware that in the past this can signal poor moisture return back to the West. Strong storms can act as sponges that soak up a lot of that moisture, leaving little left on the backside to fall as snow.
This is something to keep a close eye on as a potential "storm killer" for us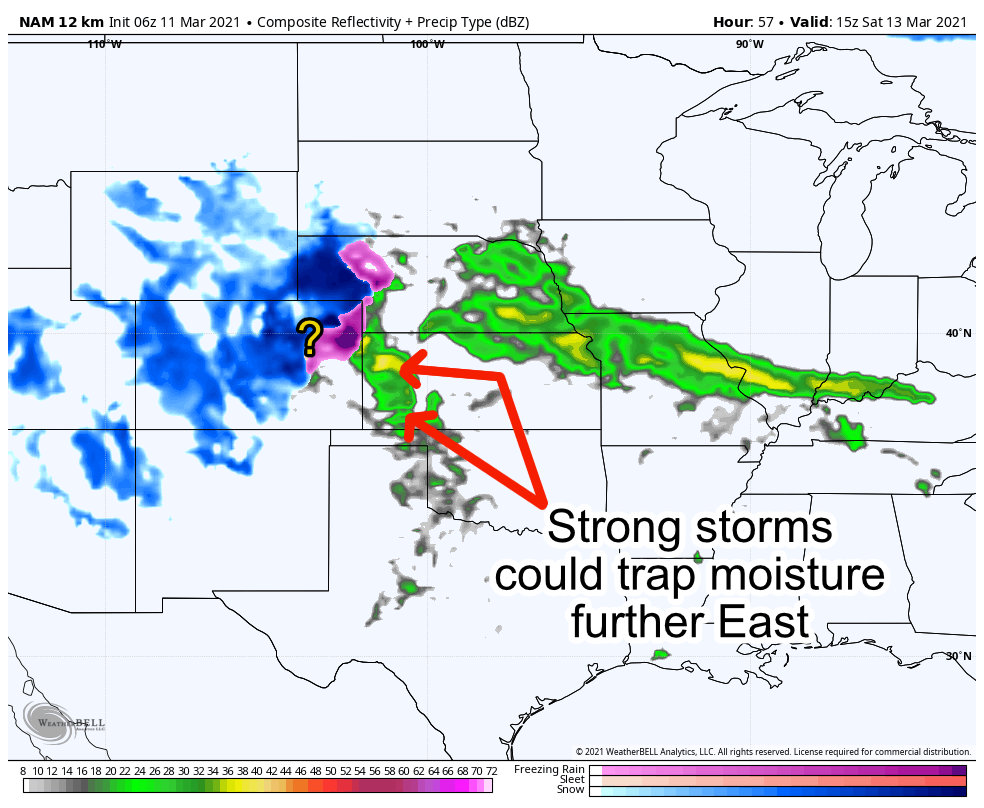 ---
Preliminary Snowfall Forecast
Given there is still uncertainty with a lot of the specific snowfall amounts - we will take a stab at some snowfall ranges expected with this storm. These are preliminary and will likely change to some degree through the next few days, so keep that in mind. These are amounts based on the data we have this morning. Ranges will be kept fairly broad until we get better data on how the storms out East interact with the storm, it's track and how much warm air it pulls into the West.
---
Timing
Just a short comment about timing with this storm... we are still seeing shifts in when the worst moves into Colorado so we don't have specifics on where exactly that ends up.
As of right now, primary focus for most intense weather is later in the day Saturday through Sunday night
Prepare accordingly for that, travel will likely not be recommended during the most intense parts of this storm.
---
Summary
That's a good recap of where we are at on this storm, as the storm pushes out a bit later it does make our job a bit tougher because instead of starting to realize finer details in the forecast we need to continue to wait a bit longer. I will continue to say that this is an evolving storm and a lot can still change, so best thing to do right now it continue to prepare and keep a close eye on the forecast.
I will have livestreams up during the evenings, I'll be on the radio again Friday morning and I'll continue to have posts up as time allows - so there's lots of information to keep you ahead of this thing!