Storm Update as of 2:00PM MST
So far, this storm has been rather un-impressive, but if you've followed along with our forecasts the past week or so... you know we weren't too excited about this one. So in that respect, the forecast is verifying.
The main bit of energy is still here though, and we do expect lift to increase again this evening meaning we will see more rounds of snow showers move through the area tonight and into Friday morning.
Here's a look at the Nam3K model for this evening around midnight.
Notice there is some evidence of banded snowfall meaning most areas will see within or towards the lower end of the snow forecast ranges (see below) while those few lucky areas that stick under a snow band long enough could see the higher end of those ranges or even slightly outside them.
With that, here's our updated snowfall forecast through Friday afternoon:
Much of this snow will fall later tonight and into Friday... I expect only minor impacts from some slick icy or slushy spots for the evening commute. The morning commute looks to have light impacts from the same. We are not expecting a great deal more snowfall for any areas East of foothills through tomorrow.
Mountain Travel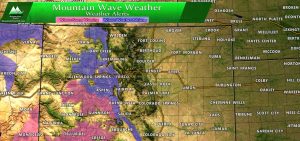 If you have any travel plans to or through the mountains toward the Western Slope, be careful as several winter weather highlights will remain through early Friday morning. The worst conditions will most likely be seen in the Winter Storm Warning (pink) areas on this map with heavy snowfall predicted.
A Word About Next Week
Models have continued to bounce a lot back and forth on whether we see strong storm systems impact Colorado and/or the central parts of the United States. I know a lot of folks are travelling and want very specific details on the when and where and how bad... but we simply don't know yet.
I'm not advising anyone to cancel plans to make different travel arrangements... so please don't take it that way. I am simply saying that we have a few things to keep an eye on, right now it's equally likely for big storms as it is for nothing at all. Time will tell, be patient! I'll get good data and good forecasts out as soon as I can!
I strive to be accurate and reliable, I can't make good predictions on models that are more than 7+ days out... no one can! Even models within 4-7 days cannot give you specific details, just a rough idea. Keep an eye on this site or Facebook and I'll get you the details as soon as we get a better idea of what is going on. Thanks!