Another storm system moving through for the middle of this week, here's the details for the mountains (which will see the bulk of the snow) and for the plains where this storm will not be a whole lot to write home about.
---
Weather Highlights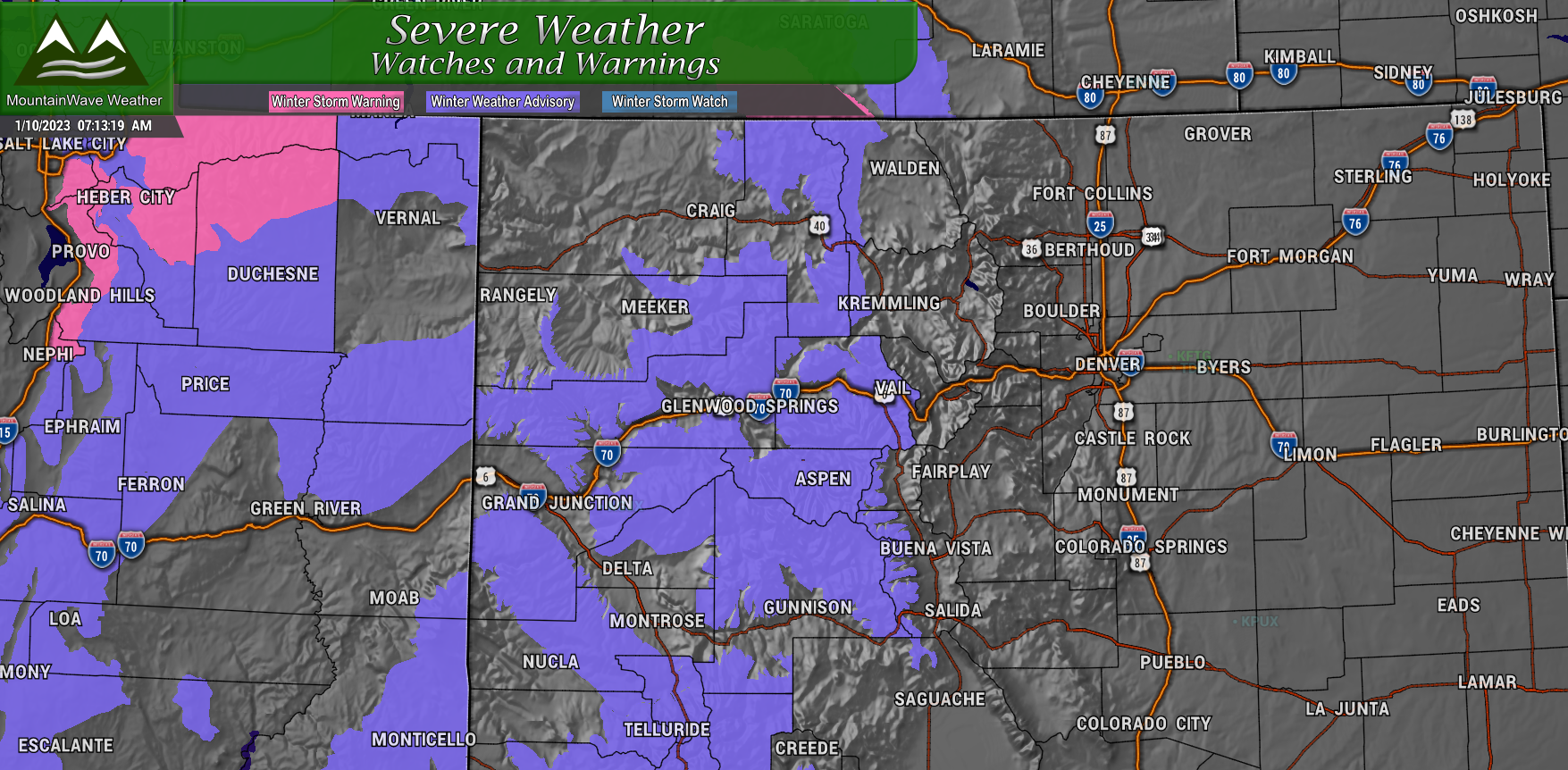 Winter Weather Advisory (Mountains)
Areas: Generally mountain locations West of Vail, West of Steamboat Springs, West of Kremmling, West of Fairplay/ Buena Vista, Southwestern Colorado
From/to: In effect now through late Wednesday evening
What: Moderate snow accumulation and winds gusting to 35mph
Impacts: Patchy, blowing snow will make for difficult travel conditions and low visibility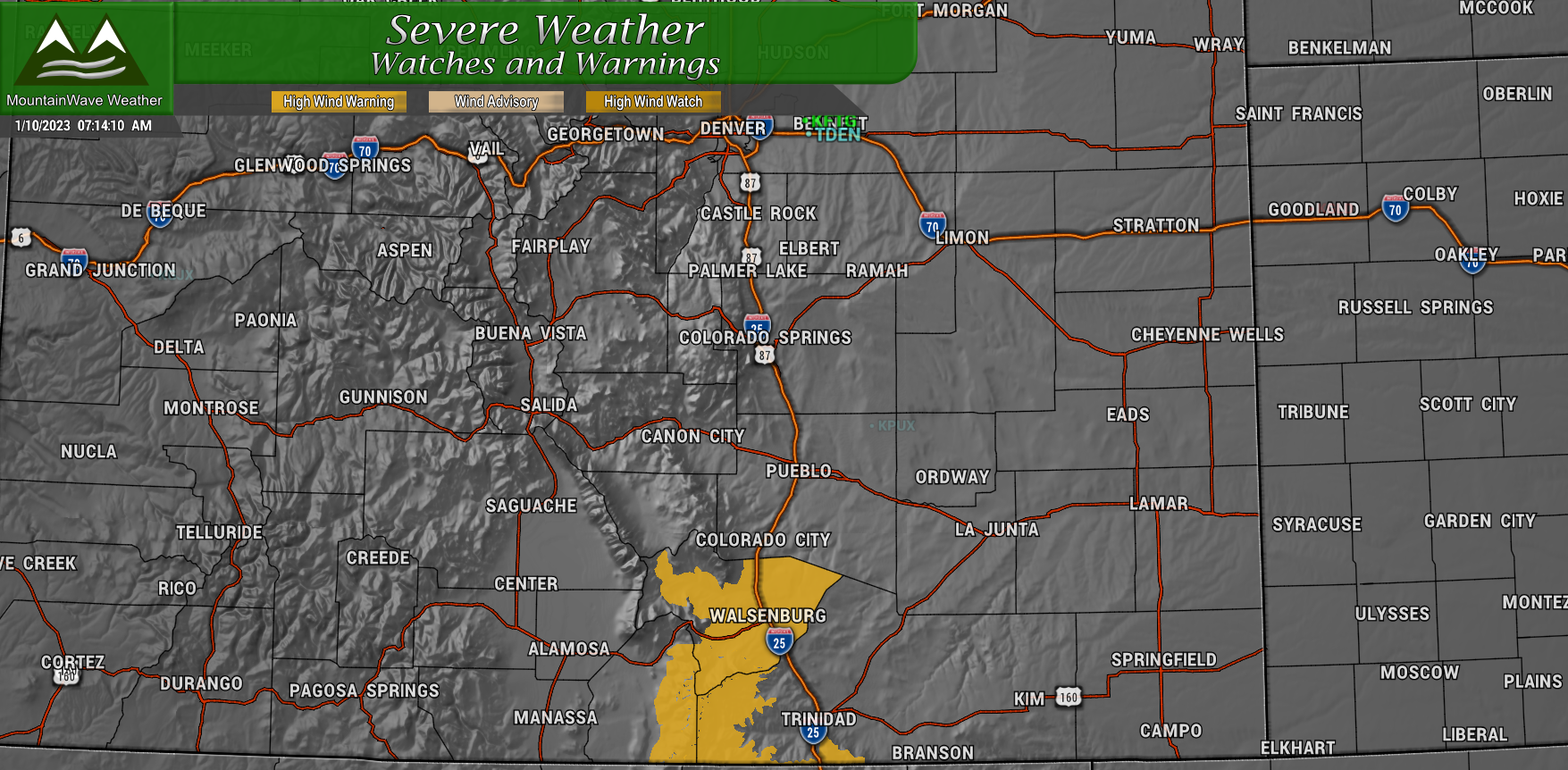 High Wind Warning
Areas:
Southern Sangre de Cristo Mountains Between 7500 and 11000 Feet- Southern Sangre de Cristo Mountains Above 11000 Feet- Walsenburg Vicinity/Upper Huerfano River Basin Below 7500 Feet
From/to: In effect now through 12PM Tuesday 1/10/2022
What: Wind gusts up to 75mph are possible
Impacts: Strong winds will make for difficult travel conditions. Be careful in lightweight/high profile vehicles. Blowing dust may reduce visibility and power outages will be possible
---
Snowfall Forecast/ Discussion
For many of us, there won't be too much exciting about this storm system. Areas in Eastern Colorado will see bits of snow but overall amounts look quite light.
Palmer Divide/Urban Corridor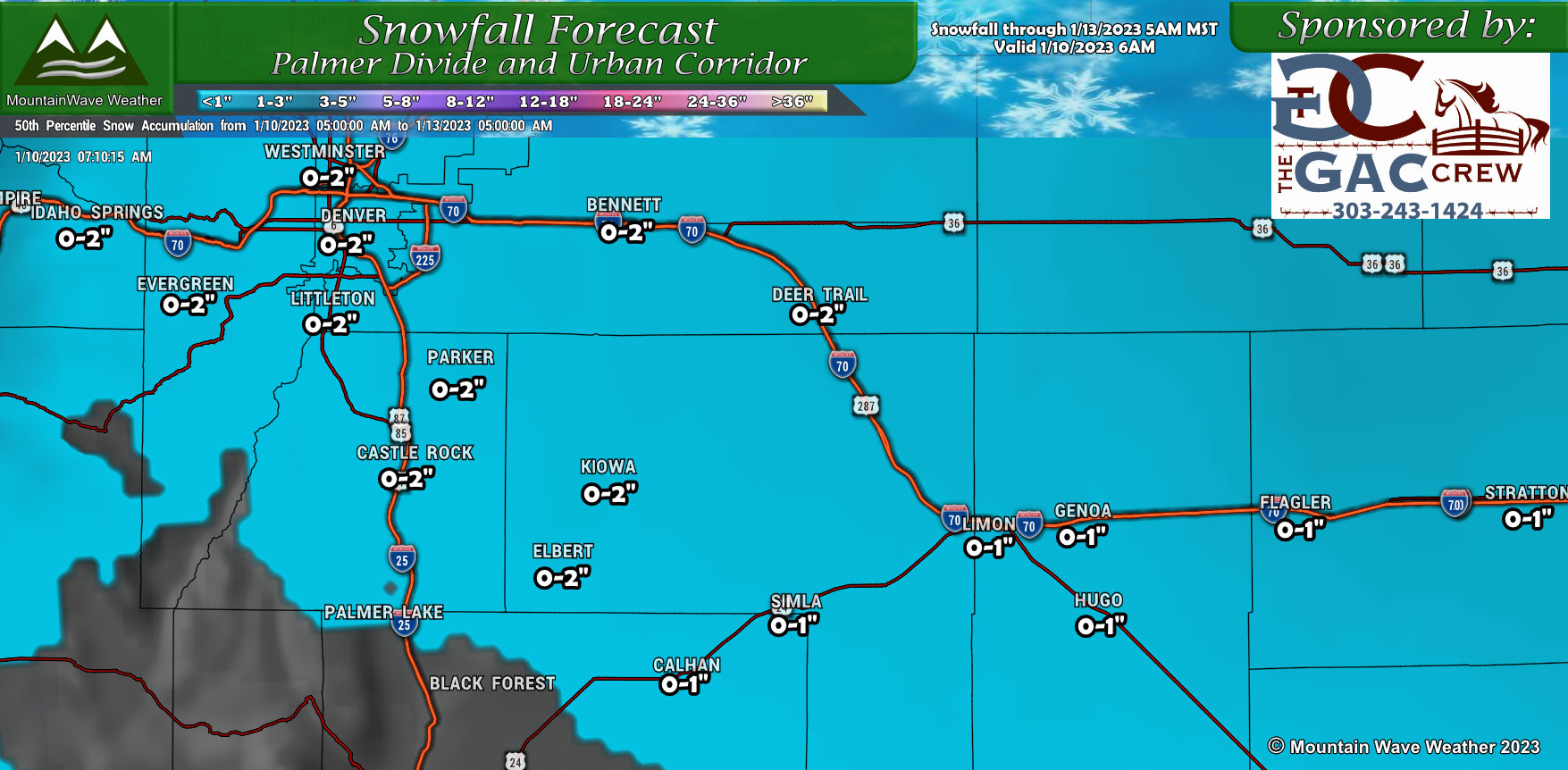 Generally across Denver and the Palmer Divide, the 0-2" range looks pretty good for snowfall. That being said, I like the 0-1" range more than the 1-2" range for a lot of those locations, many models struggle to bring any snow at all to a lot of these areas and depending on where the low actually sets up East of the mountains - a lot of these areas could be "dry slotted" which would mean whatever snow does accumulate would mainly be due to a band sneaking in. Not anything more sustained like upslope or convection.
Mountains/ Western Colorado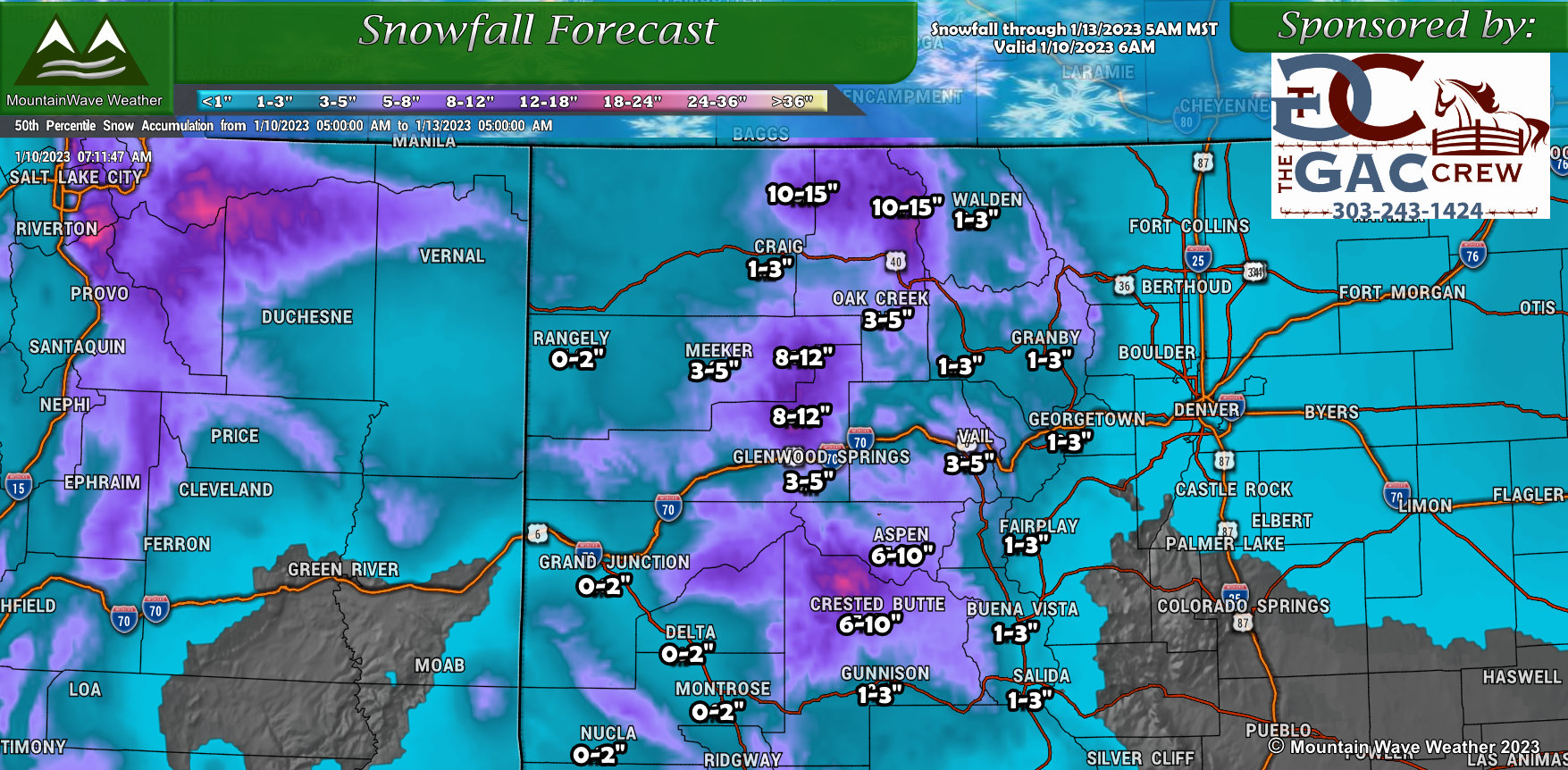 The good news is Western Colorado will continue to build their snowpack, although this storm won't dump on as many locations like the last several. Either way, we will continue to add more snow (water) to the bank for this summer in what has started off as a surprisingly good start to the snowpack season.
Most mountain valleys will end up in the 1-3" or 2-4" range while favored peaks and mountain ranges could see totals between 6-10" to the South and 10-15" in the mountains in and around Steamboat in Northwestern Colorado. Many of these areas have snow ongoing this morning, they may see a lull this afternoon before more snow pushes in this evening and through tomorrow.
---
Discussion/Setup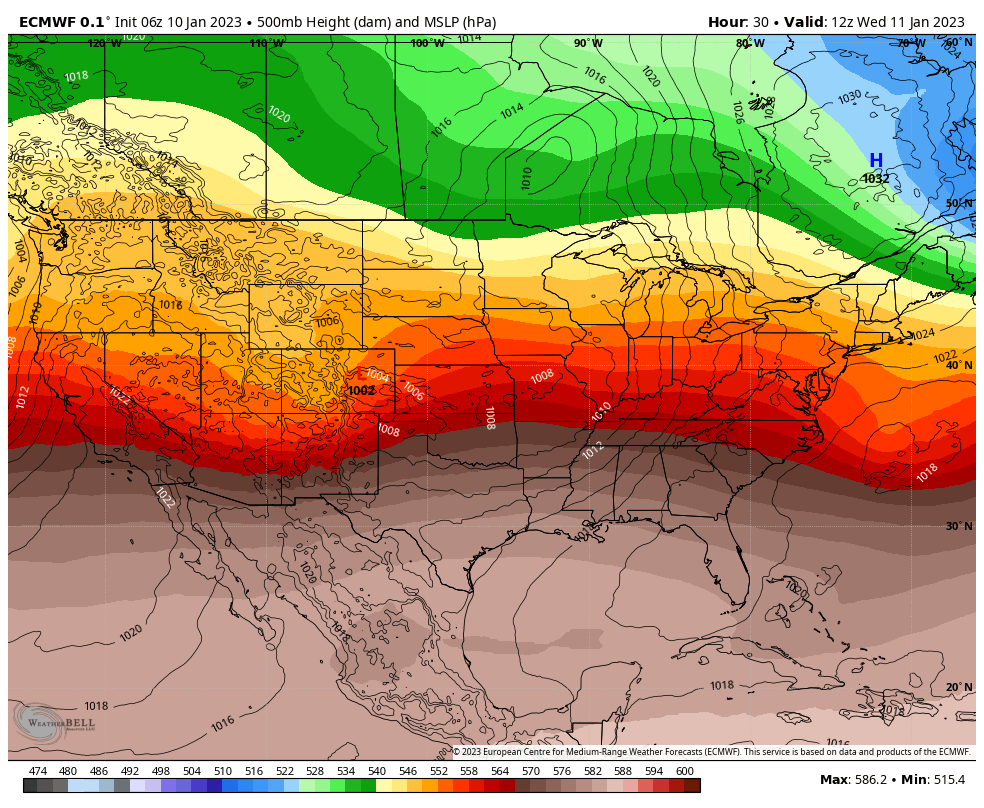 This storm system is not a whole lot different from many we have seen this year. Modeling puts the upper level low and associated surface low too far North to impact the front range, many of our storms have had this Northern bias this year. Not entirely atypical as the storm track tends to stay Northwards on us during La Nina years and the latest data shows that particular phase of ENSO is still going strong.
Meanwhile, a lee side low forms in Eastern Colorado roughly around Limon or slightly North - this is not a super favorable position for a big snow maker along the front range. We have to overcome a lot of downsloping with Northerly and Northwesterly winds and the only snow we typically do see is a band that moves through as the storm strengthens or ahead of a front.
You can see some evidence of that on the Euro, but we don't get enough mechanisms to sustain snow for very long (mainly lift)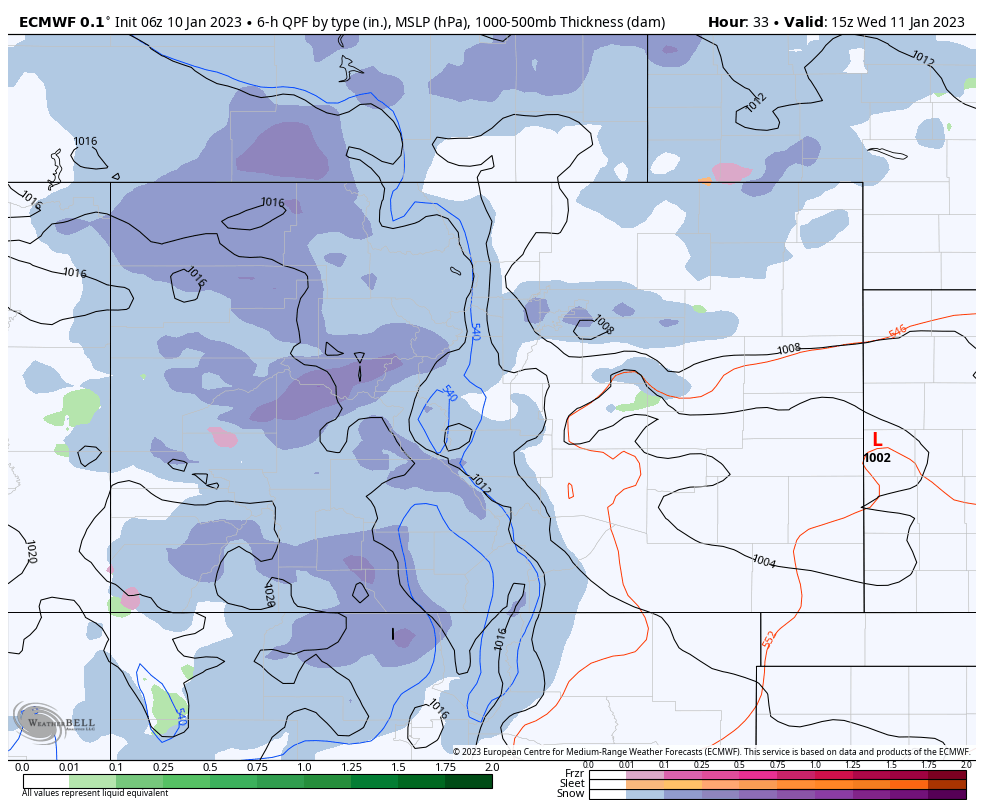 If I'm nitpicking... 1000mb lows are not all that strong or well organized either.
---
FORECAST BULLETPOINTS (QUICK NEED-TO-KNOW INFORMATION)
Palmer Divide/Urban Corridor/ Metro Denver
Breezy wind conditions possible over the Palmer Divide Wednesday
Snow will be light, targeting Wednesday morning and afternoon for snowfall
Snow accumulation will be light for many areas and travel impacts look light/minimal
Low to moderate impacts expected with the storm - significant/major impacts not anticipated
Mountains
Snow ongoing in many locations this morning, may see a lull during the day Tuesday
Snow develops again by late this afternoon and evening
Snow generally lasts through late Wednesday evening
Mainly areas in the Winter Weather Advisory see moderate snowfall with difficult travel conditions due to falling snow, wind and low visibility