If there's one thing you can count on in Colorado during the springtime it's that the weather will always be changeable. For the month of May so far, the Palmer Divide region has seen above average temperatures and very dry conditions, luckily it looks like some relief COULD be on the way this weekend. While it won't likely be enough to make a big dent in our drought conditions, it should be enough to at least ease fire conditions for a bit.
The Setup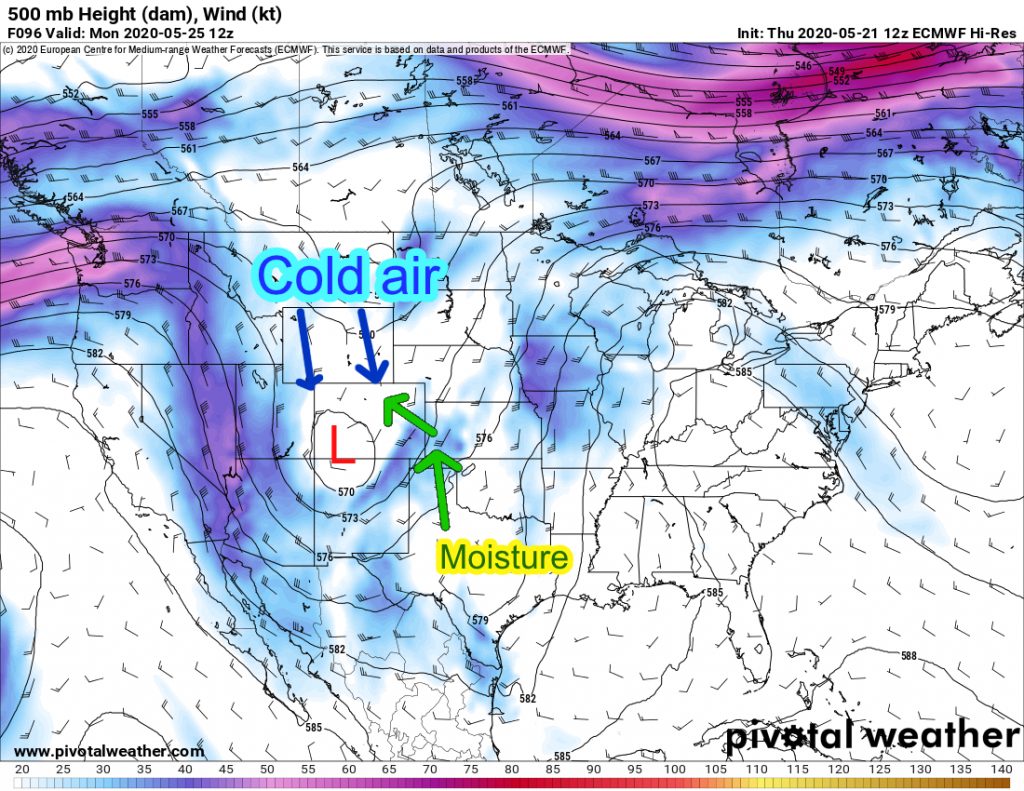 A strong trough and associated cold front is expected to impact the area late Sunday and into Monday. This "closed low" will set up initally over the four-corners region and eventually make its way East. Like a lot of storms we've seen in late winter and early spring, what happens with this storm will ultimately depend on what it does when it moves Eastwards across and outwards away from the mountains.
The trough will pull cold air down from our North and combine with gulf moisture from the South (remember low pressure has a counter-clockwise flow of air inwards towards its center) and while a lot of models do show it falling apart as it moves across the plains, when and where it does that exactly will make all the difference in what we see. Fall apart too soon and our moisture chances will drop significantly... wobble further North or South and so does the main bit of moisture/energy with the storm. We need a lot of little things to come together to see decent moisture out of of this storm.
Impacts/Timing
Saturday - May 32, 2020
Highs in the mid to upper 70's
Mainly sunny
Breezy conditions/ gusty winds possible
High fire danger likely
Late Saturday, a strong cold front moves in - you'll notice the effect on Sunday
Sunday
Highs in the mid to upper 50's... yes that's not a type-o
Partly to mostly cloudy early
Showers and thunderstorms likely after noon (80% chance)
Breezy conditions/ gusty winds for some areas
Cool, breezy and thunderstorms conditions continue through most of the afternoon and evening hours
Monday
Monday morning low temperatures could reach mid 30's for some areas - lower elevation areas will stay in the upper 30's to low 40's
Snowfall is possible in areas above 7,000 feet in elevation, but chance is low as of what we see right now (less than 20% chance for accumulating snow)
Continued rain showers for Monday morning for most of the region
Gradual clearing by afternoon
Afternoon thunderstorms are possible after 2PM as residual moisture and heating combine
Snowfall Chances?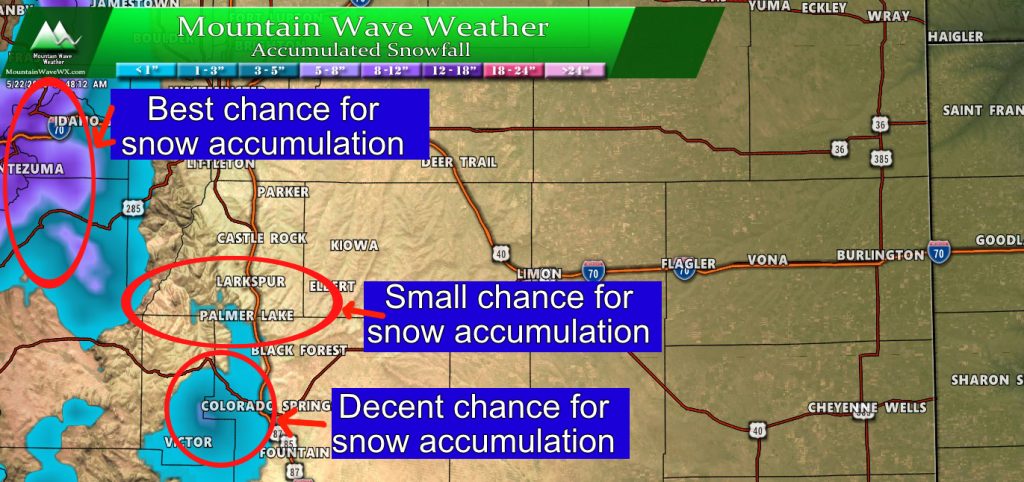 Shown above is the WPC 50th percentile snowfall product - this is most likely expected snowfall accumulation over the next 72 hours. As you can see, highest chance of accumulating snow will mainly be confined to the mountains above 9-10,000 feet in elevation. A smaller, but decent chance exists for the foothills and mountains West of Colorado Springs (think Pikes Peak mainly.) Finally, some of the highest elevations of the Palmer Divide could see accumulation up to an inch, but with latest modeling we are seeing it doesn't look like a good chance. Put that region at about a 20% chance of actually seeing any snow accumulate, so low at best.
Summary
Like a lot of forecasts at this range in time; we are still seeing models bounce back and forth on moisture and how far South that cold air set ups. These are really the wildcards with this storm and we will need to keep an eye on it to see how those come into play; especially with more short range/ higher resolution models coming into range Friday afternoon!
For now, keep an eye on the forecast and be prepared to:
Cover sensitive vegetation on Sunday night into Monday morning
Should colder air move South, be prepared to cover outdoor sprinkler equipment - everything below ground should be fine
As always, stay tuned here for storm updates over the next few days. We'll keep you ahead of it!