Weather Highlights
There are a few special weather statements related to the on-going thunderstorms and wind threat along the front range.
I won't post real-time stuff like that here as it would most likely be out of date by the time this post goes through.
You can find real-time weather alerts on my facebook page or on my website.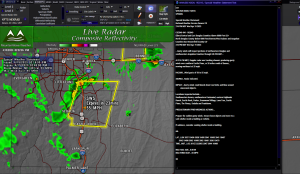 ---
Snowfall Forecast
There's actually 2 waves of snow set to move through over the next couple of days. Due to warm ground temperatures, marginal air temperatures and higher sun angle... neither is going to result in a lot of snow collecting - but the good news is that more moisture is indeed on the way!
Palmer Divide Wednesday evening through Thursday evening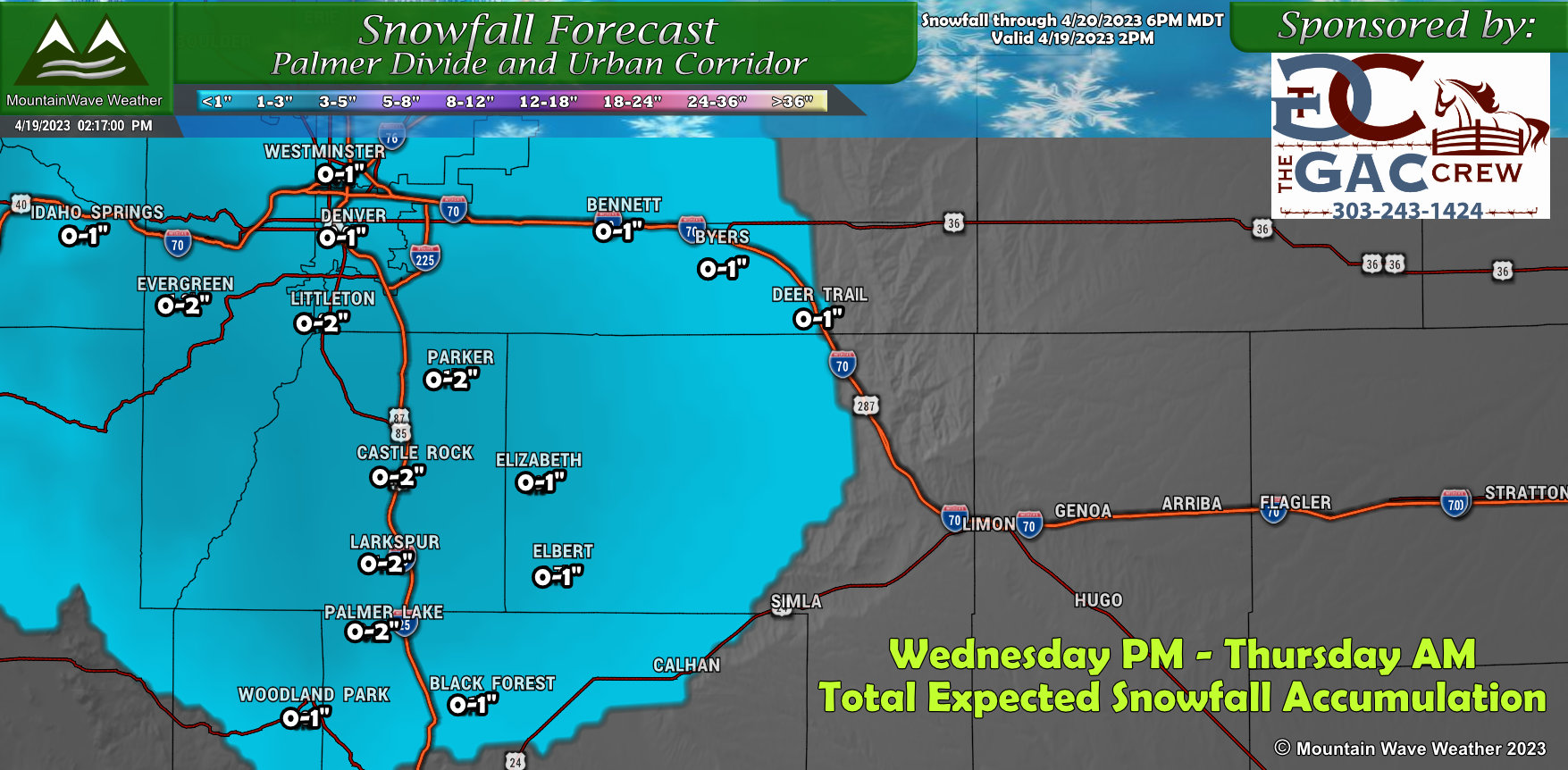 Palmer Divide Wednesday evening through Saturday evening - Storm Total Snowfall Expected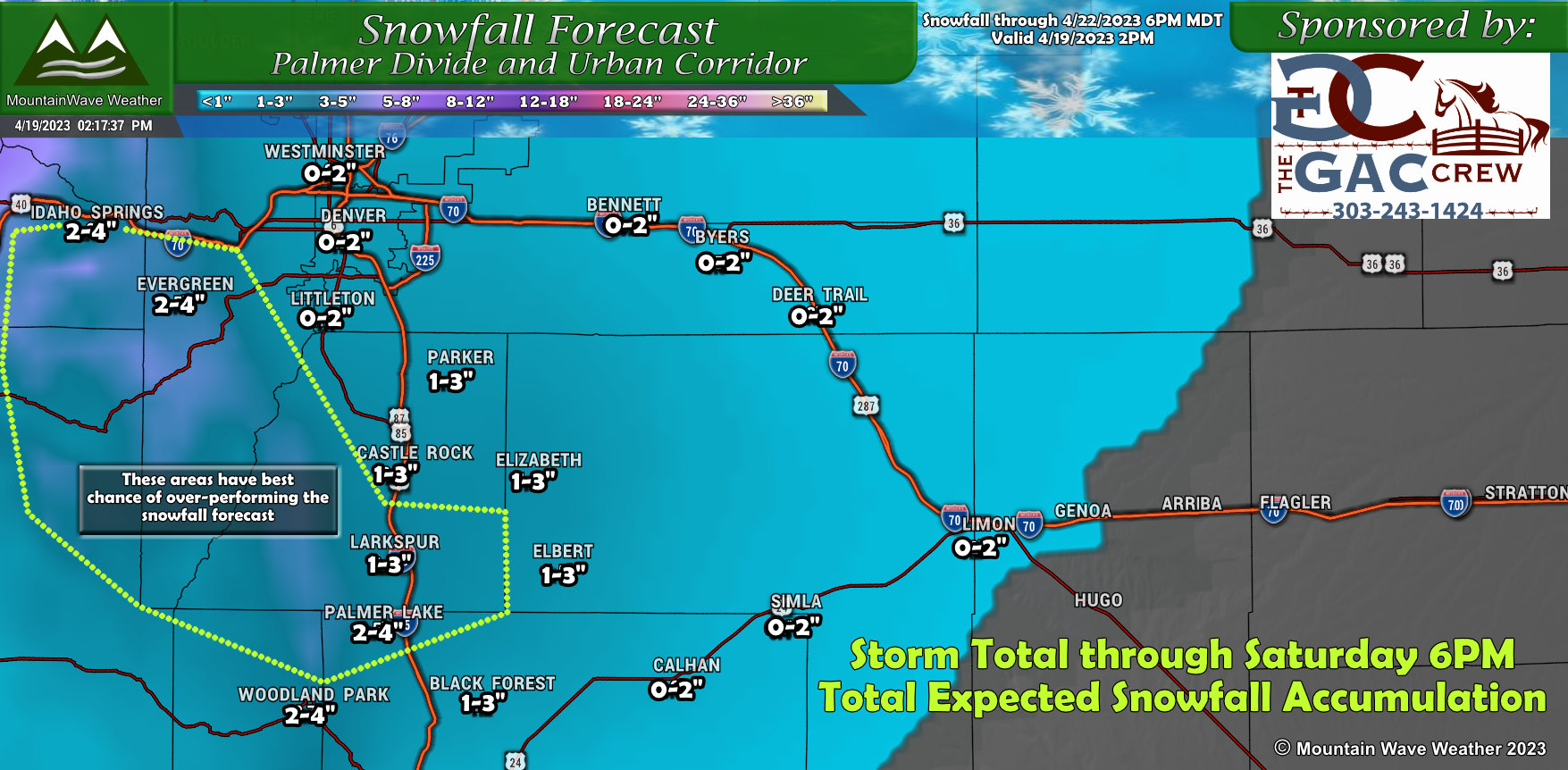 This graphic illustrates the total snowfall expected through Saturday evening. The best way to read this is that we know there are two waves of snow, the total when you add both up for Castle Rock for example would be 1-3" from now until Saturday evening.
As you can see, the snow accumulation won't be much to write home about... but we will have to keep an eye on the higher elevations of Douglas County, mainly South and or West of Castle Rock as possible locations to over-perform if the air gets a bit cooler than expected
The Rest of Colorado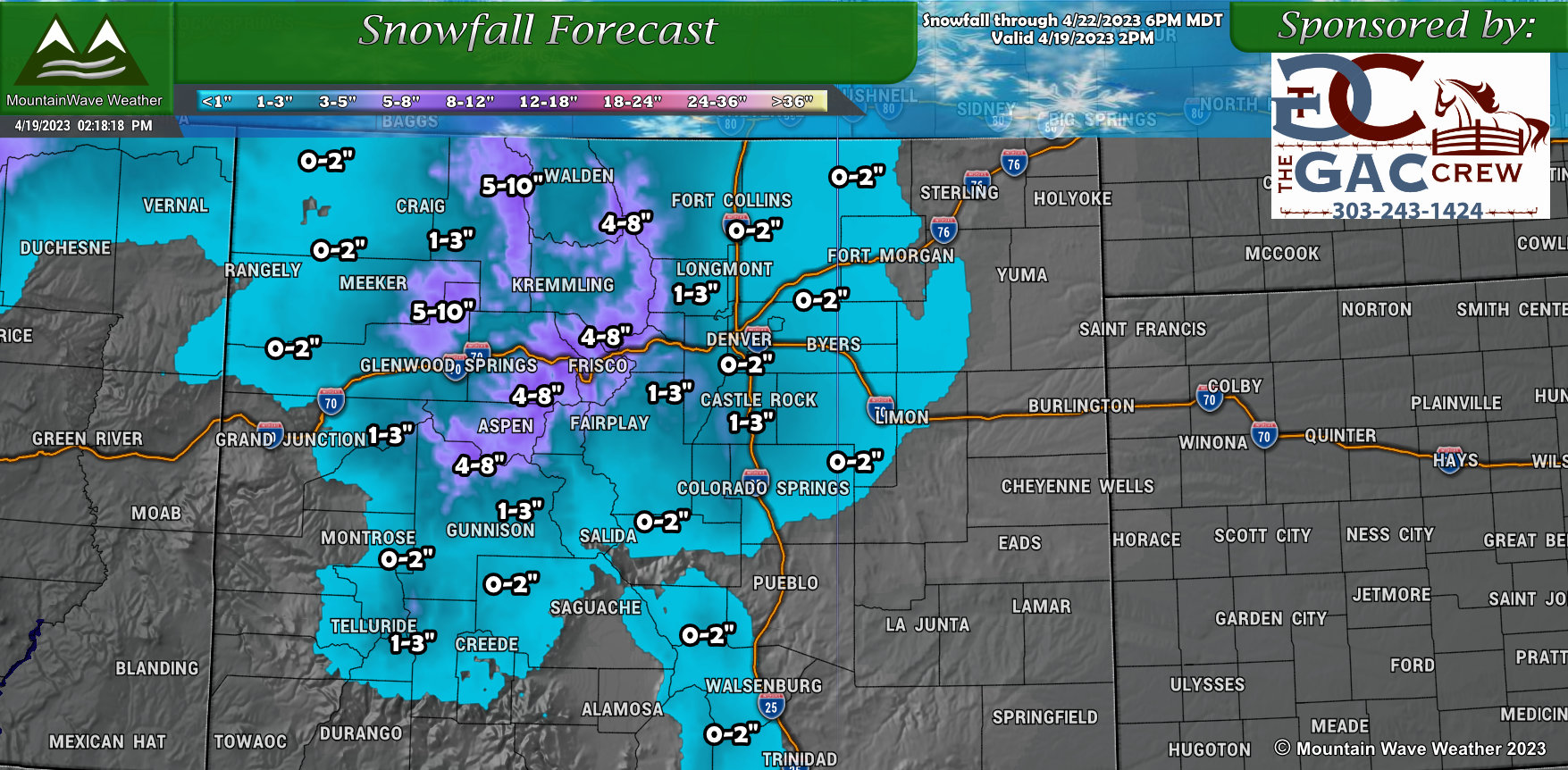 The mountains will do exceptionally well with this series of storms, the graphic above is storm total snowfall expected through Saturday. Many locations along the Continental Divide could see 4-8" of fresh snow, with some areas in and around Steamboat seeing 5-10". Mountain locations have passed their peak snowpack for the season so any additional snow on top of what they have this late in the season is always beneficial!
---
Timing and Impacts
As I mentioned above, there's really 2 waves that'll bring us chances for snow across the Palmer Divide region, here's the information on when and expected impacts:
Wave 1 - Weds PM through Thurs AM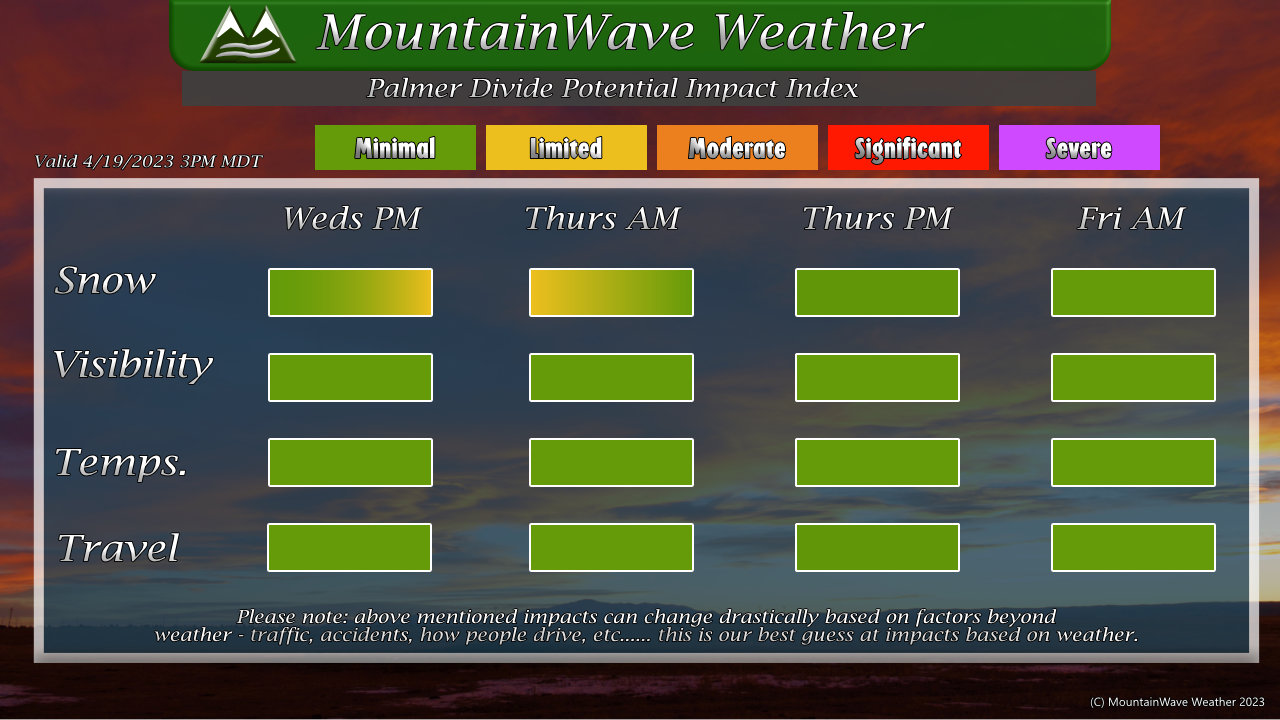 The first wave occurs Wednesday evening, into the overnight hours and through early Thursday. Rain and thunderstorms will kick off in the afternoon with rain becoming more widespread into the evening. At some point the rain changes to snow with light accumulations expected through Thursday morning.
Not expecting much travel impact with this wave as roads will likely remain wet with snow accumulation mainly confined to grassy surfaces.
Wave 2 - Fri PM through Sat AM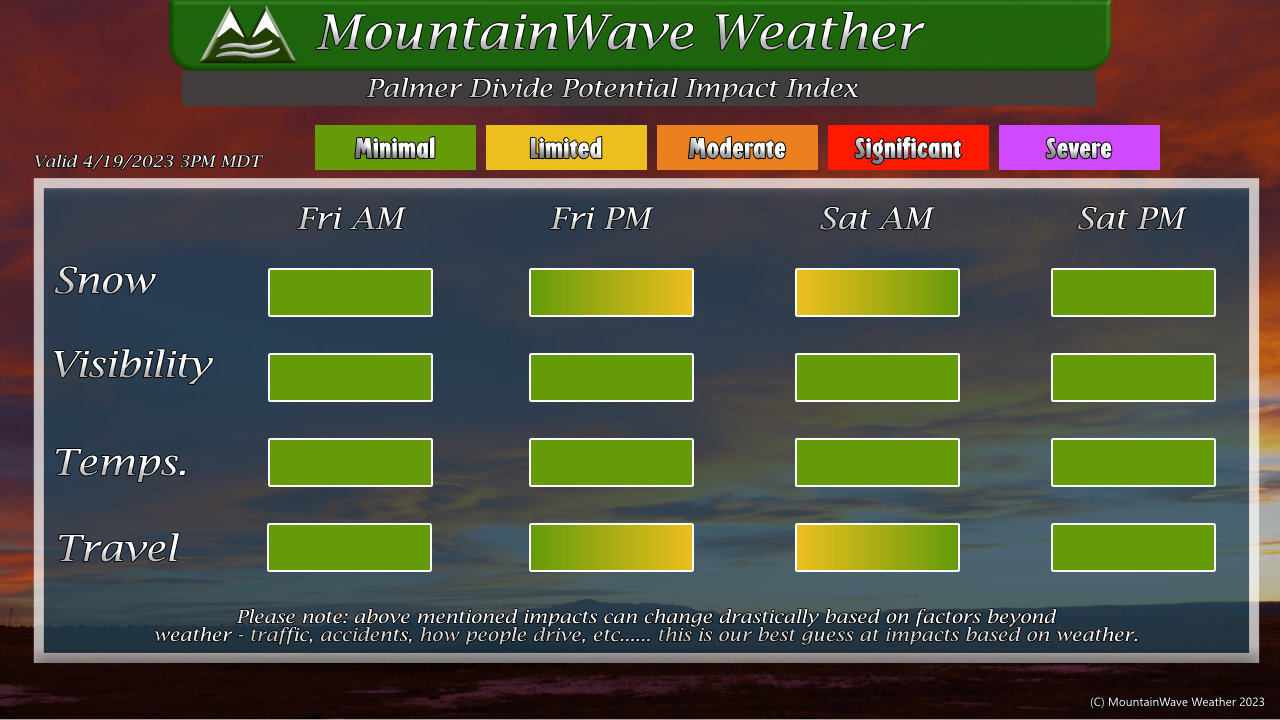 The second round of moisture looks likely late Friday and into early Saturday. Again, the overall snow accumulation doesn't look impressive here but the second wave is supposed to be slightly stronger than the first - as such I've put in a "Limited" impact to travel late Friday and into Saturday morning - but honestly travel doesn't look to be impacted terribly much.
---
Summary
The rest of this week looks unsettled and the long range stuff I've seen has continued bouts of unsettled weather into May. The good news is that if this verifies we should be getting decent shots of moisture every 7-10 days or so, this will help us out immensely as we move into spring and further ahead into the hot months of summer.
Stay tuned for more details on any upcoming weather - including severe weather which is typically right around the corner this time of year!