Many folks thought Tropical Storm Hillary that recently hit Southern California would send a ton of moisture towards Colorado and sock us in with rain. This did not pan out and often storms to our West do not make it far enough across the dry desert valleys and mountains to have much effect on Colorado.
Enter a week later and surprise, surprise... we are in for some heavy duty rain from a completely different tropical storm. Tropical Storm Harold made landfall late Tuesday in Texas and its remnants are caught up around a high pressure center. This feature will allow much of that tropical moisture to enter Colorado as early as overnight Thursday and into Friday morning for the plains and earlier for the mountains.
This will increase our chances for thunderstorms and showers in a big way and since the atmosphere is juiced up - a heavy rain and flooding threat exists.
Here's what you need to know about the next couple of days!
---
Harold's Remnants over SW U.S. on Thursday - Moving Towards Colorado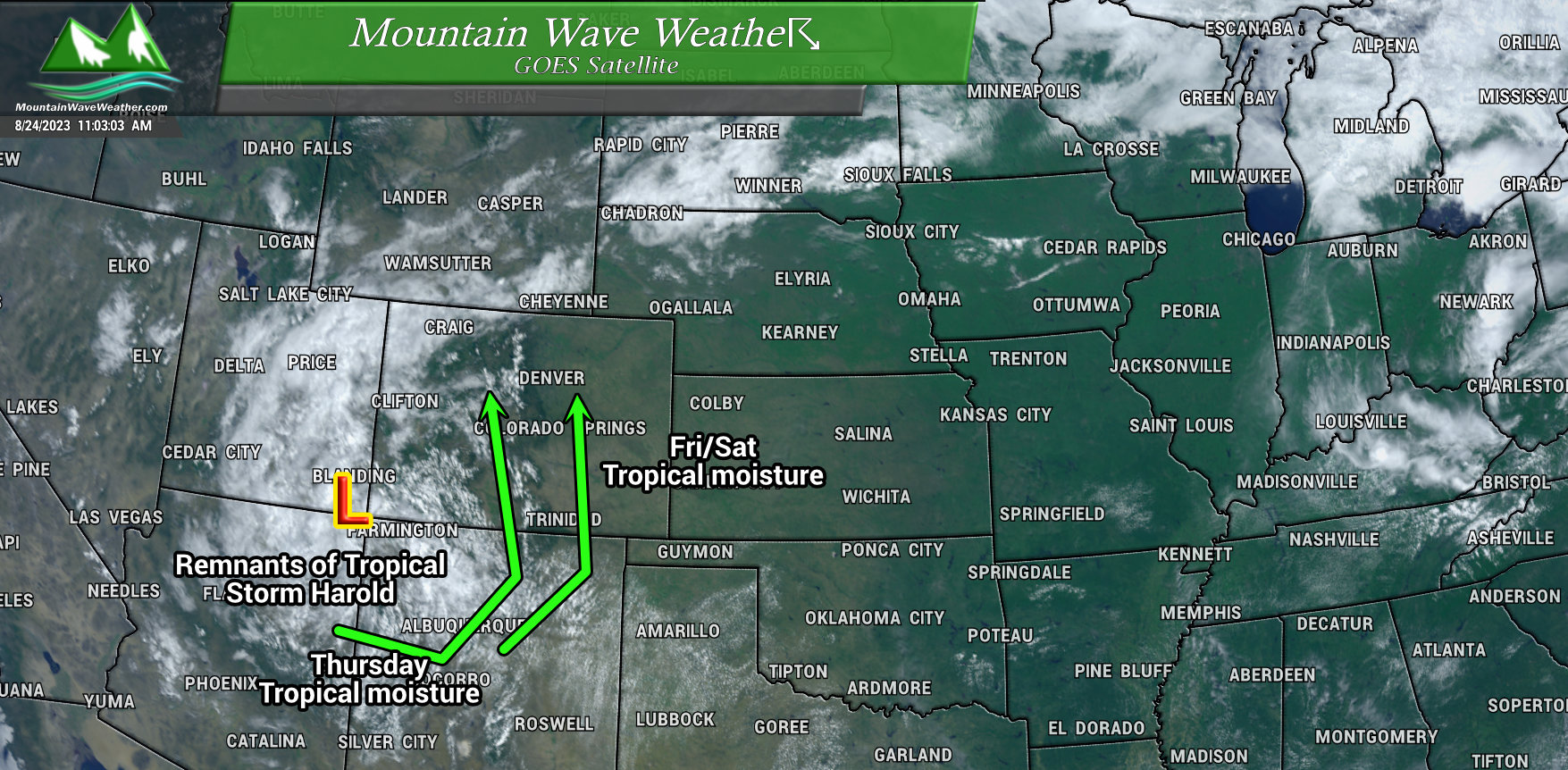 What's left of Harold is currently over the four corners region and entering Southwestern Colorado as the day goes on Thursday.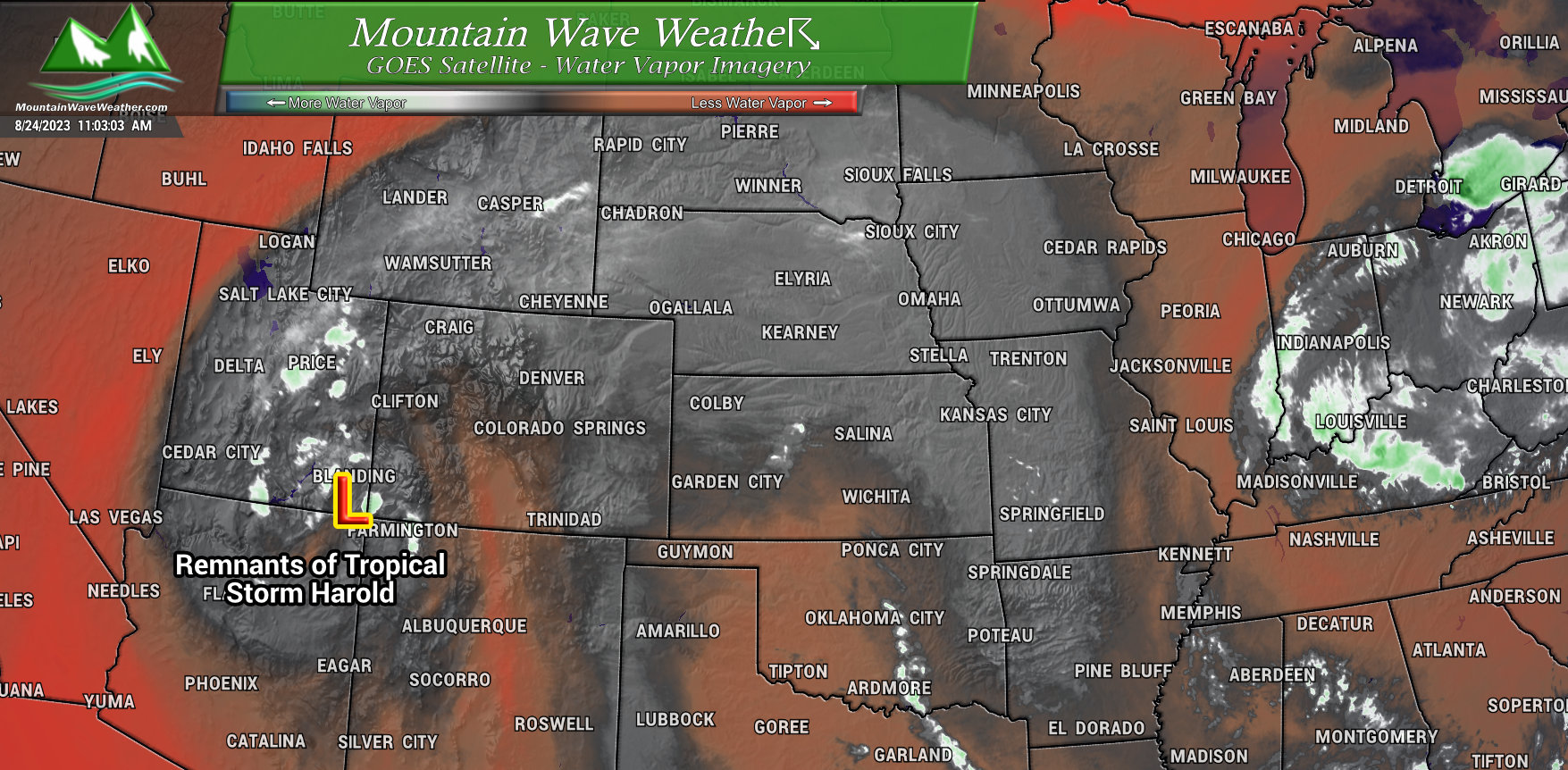 You can see in the water vapor imagery snapshot above, the red and oranges show the dryer air to the West of the storm and towards the South and into New Mexico. The areas absent of any red or orange coloring are areas of higher water vapor. This is a useful tool for us as we can observe how the storm system is behaving and where the moisture is getting spun off to... along with the greatest areas of moisture.
Remember, water vapor is thunderstorm fuel... so it's important to know where those higher concentrations are from a forecast standpoint.
Also notice that sliver of dryer air moving in from New Mexico? That may be something to watch as well...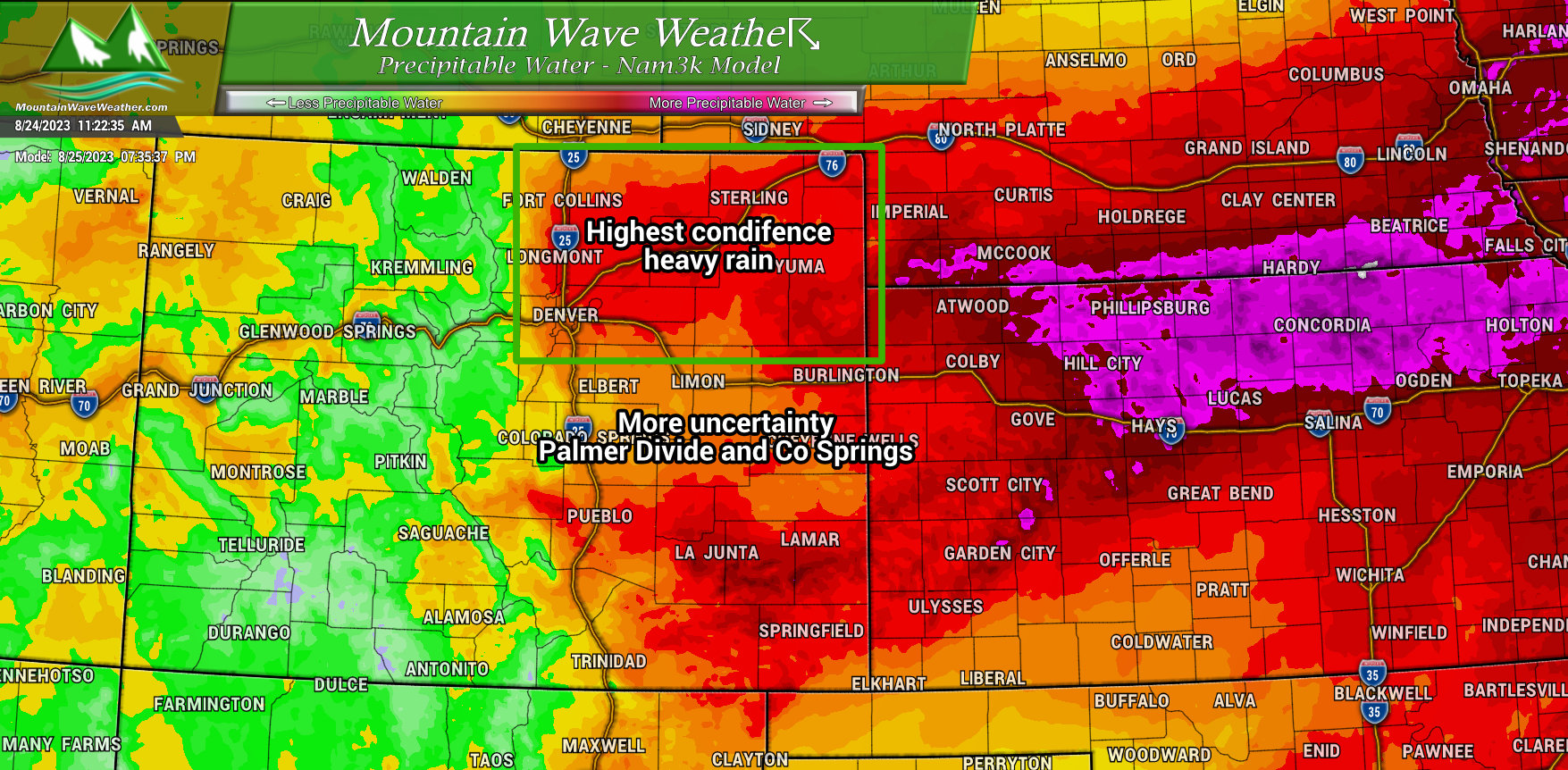 One other nifty took we can look at from a modeling standpoint is the precipitable water imagery seen from the Nam3K model above.
Without getting to science-y here's the definition of precipitable water: The total atmospheric water vapor contained in a vertical column of unit cross-sectional area extending between any two specified levels, commonly expressed in terms of the height.
If we know that water vapor is thunderstorm fuel, is precipitable water the same thing? Not necessarily, precipitable water is useful tool to help us understand that if there are thunderstorms, how much available water will they have to produce rain? In other words, higher precipitable water values in an area tell us those areas have a better chance at heavy rain and potentially flooding conditions.
You'll notice in the graphic above, the Northeastern part of the state has the best heavy rain threat as of this morning's modeling data. This has been a trend I've been following since yesterday - many models are shifting some of the best moisture further Northward.
Speaking of models, let's talk rain amounts...
---
Models Still Uncertain on Exact Locations of Heaviest Rain
I'm showing the Euro and GFS-Hi-Res below, but the picture is the same across most of the models - there's still a lot of disagreement on who sees the heaviest rain and the highest amounts.
The Euro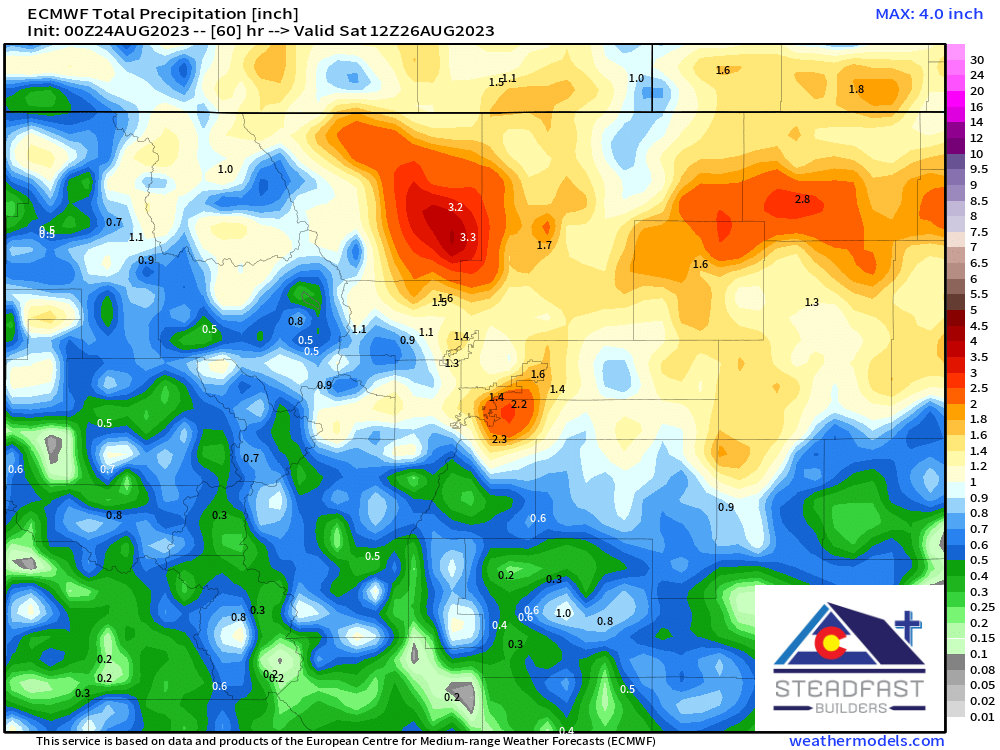 You can see the Euro has much of North Central and Northeastern Colorado in the bullseye for higher amounts. Notice it tapers off quickly as you move South towards the Palmer Divide - most likely because of the moisture available and upslope winds.
GFS (Hi-Res)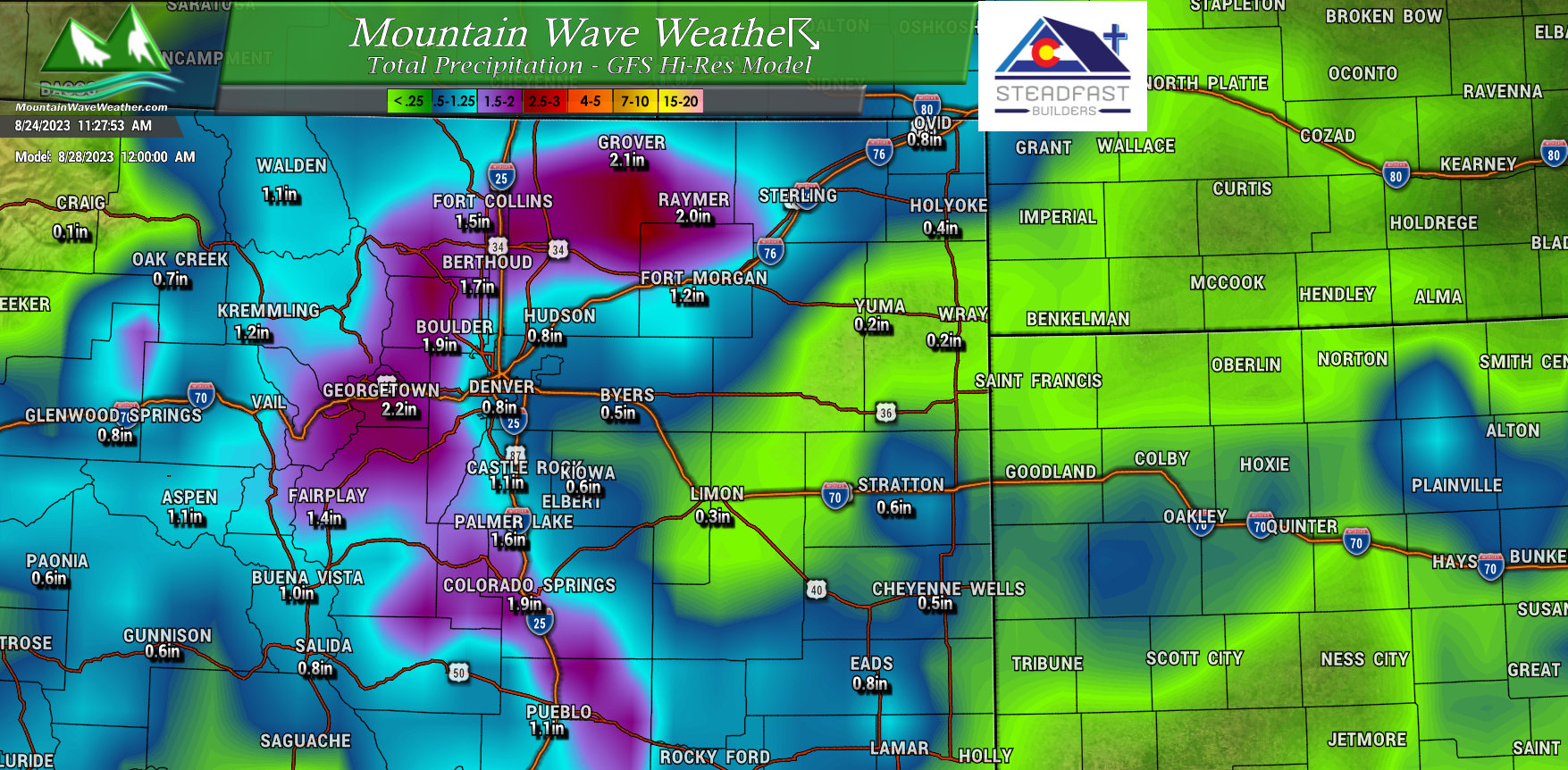 You'll notice the GFS like the Euro has many areas getting heavy rain with good amounts, but it disagrees on what areas those end up being. It tends to pull more moisture to the South and along the Front Range Foothills. This is interesting to me because we know due to the wind profiles in the models that upslope is going to aid in squeezing out the moisture and depending on how those winds set up... foothills and elevated locations South of Denver could be favored for higher precipitation.
So all in all, there's still a lot of disagreement about who sees the most rain.
There is not a lot of disagreement on this simple fact: all models show much of the area getting at least SOME rain and many areas getting A LOT of rain. So that will be the main messaging in the forecast going forward. We'll tighten up more of the details as we get more data in - many higher resolution models will come into range tonight and gives us a bit more firepower.
---
Forecast and Summary
The forecast is simply this: the weather is going to be less than ideal for outdoor activities and even some travel during the days Friday and Saturday. We will continue to fine-tune timing and impacts through the day Thursday and into Friday. Here's my thinking on timing:
Friday 9AM-11Pm is fair game for thunderstorms and rain
Saturday 11AM-9PM more chances for showers and thunderstorms
Both days will feature the potential for heavy rain and potential flooding IN SPOTS
Stay tuned for additional updates!