---
Weather Alerts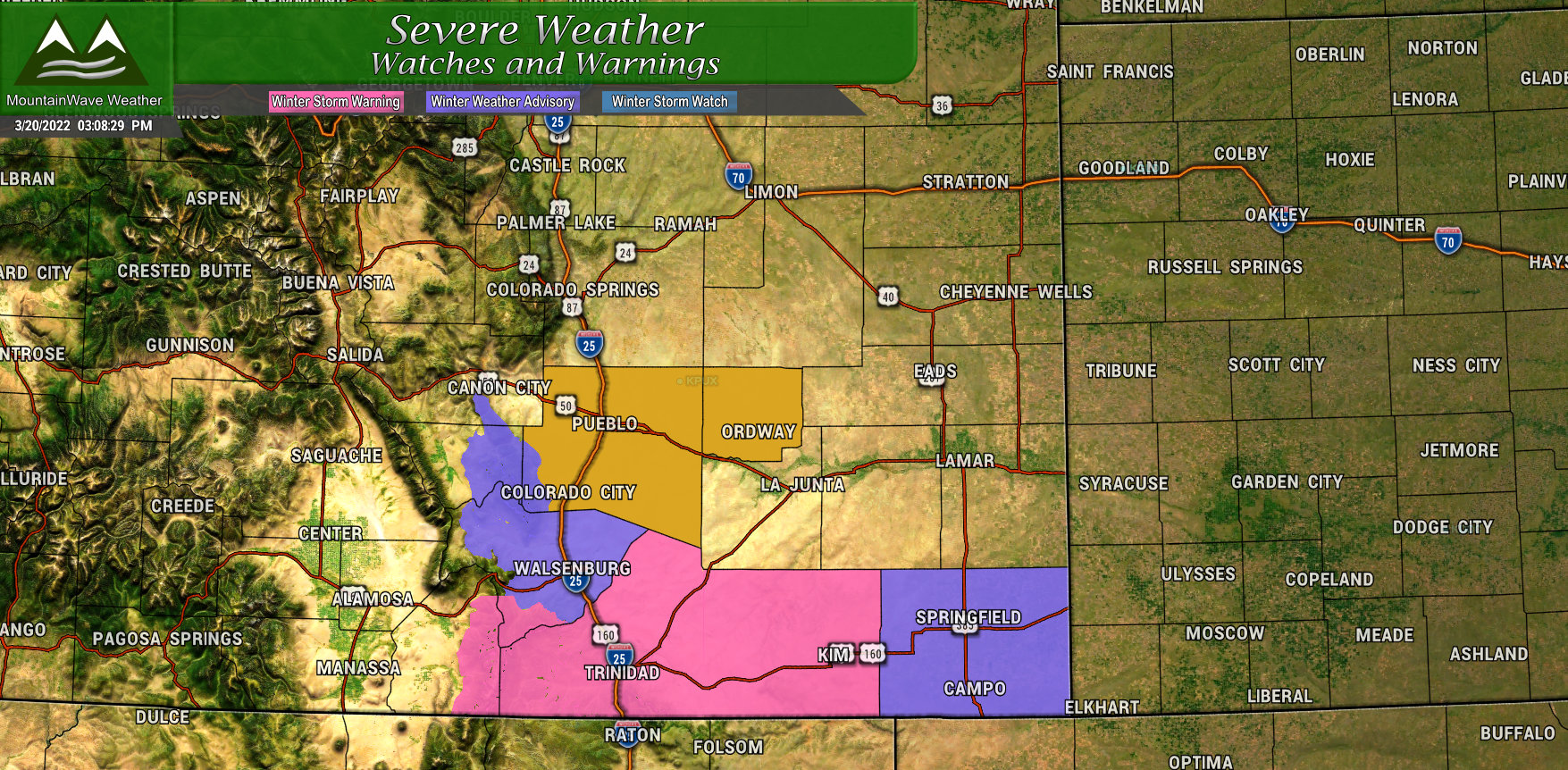 Currently the weather highlights with this storm are focused on Southern Colorado. A Winter Storm Warning is in effect for the Raton Mesa, where snow amounts could reach 8 inches in some areas. Outside of that there is a Winter Weather Advisory for difficult travel conditions due to falling and blowing snow. Finally, the brown area on the map further North is a High Wind Warning. These are all in effect for Monday.
Further North towards the Palmer Divide and Denver, there are no winter weather alerts for this storm. Should the storm continue on track the way models have been showing it, I think it's doubtful we will see anything near warning/advisory criteria in our neck of the woods.
---
Timing/Impacts
Looking at our impact index, the main impacts with this storm in terms of snow will be Monday morning, the commute may be a bit slick especially in areas South of Denver and into the foothills West of town. As the sun comes up I expect the roads to warm up and will probably be mainly wet for most areas. I have limited impacts specified for snow in the morning along with travel, by afternoon the snow should move out but kept impacts limited instead of minimal in case the snow lingers or there's any icy spots.
Visibility impacts stay yellow during the day as we are expecting a bit of wind with this storm so any snow that falls may be blowing around a bit, making visibility an issue for some spots.
By Tuesday morning we should see things back to normal with minimal travel impacts.
Snowfall should start early Monday morning between 3AM-6AM and last through 2-4PM ish according to our latest data. Those times may shift a bit but we have growing confidence in the forecast that those rough times should be good.
---
Snowfall Forecast
Palmer Divide and Urban Corridor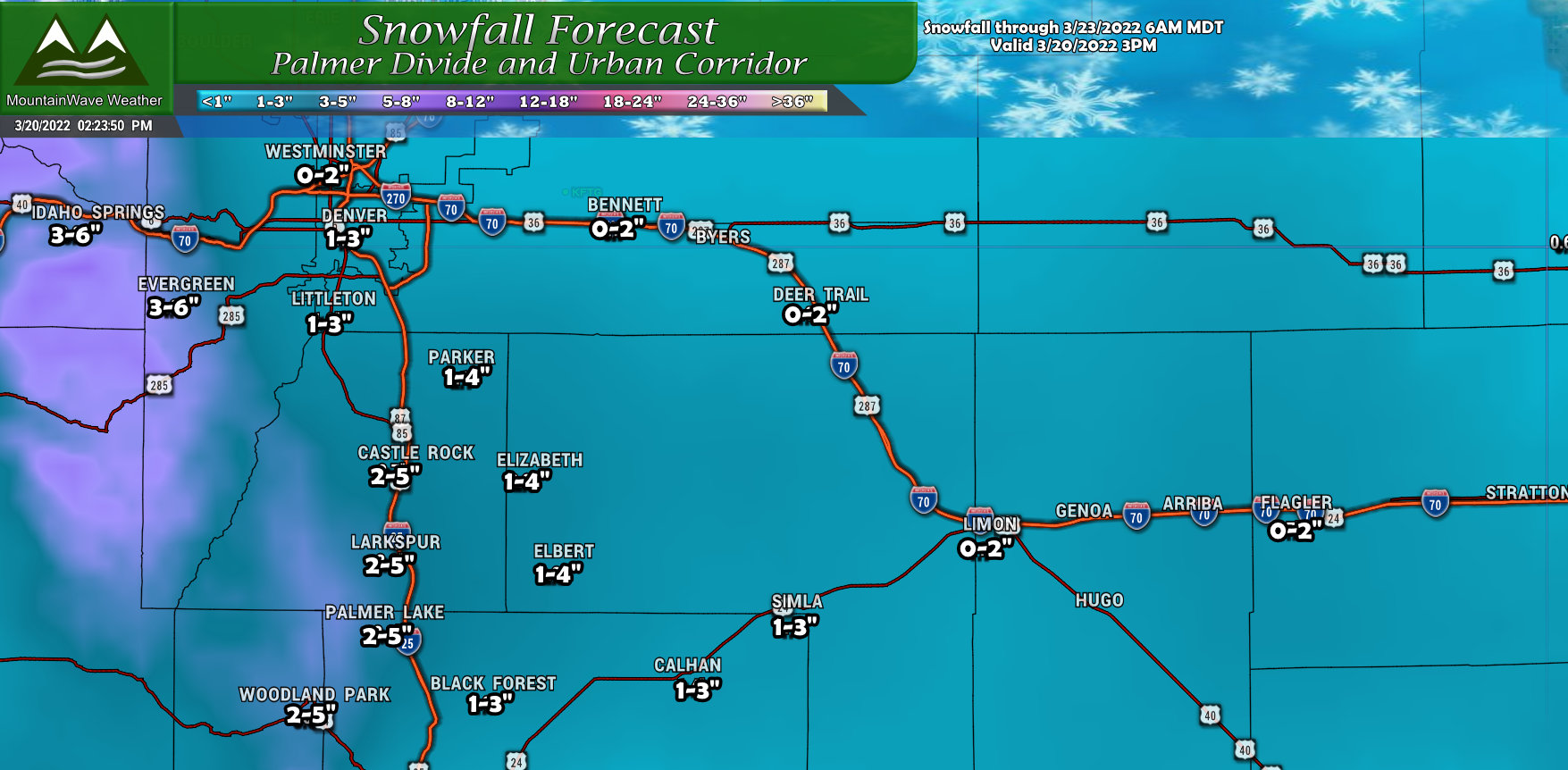 So not such a big snowfall event for us and given the warmer temperatures some melting may occur. You'll notice the slightly wider ranges for the snowfall on the Palmer Divide... this is mainly to compensate for any overperforming due to its favorable upslope terrain. The odds are currently on many of these areas seeing the lower end of these snowfall ranges, but upslope can throw a curveball sometimes. Wouldn't be surprised to see a few *very select* areas overperform a bit, but most of us won't get a ton of snow out of this one.
Southern Colorado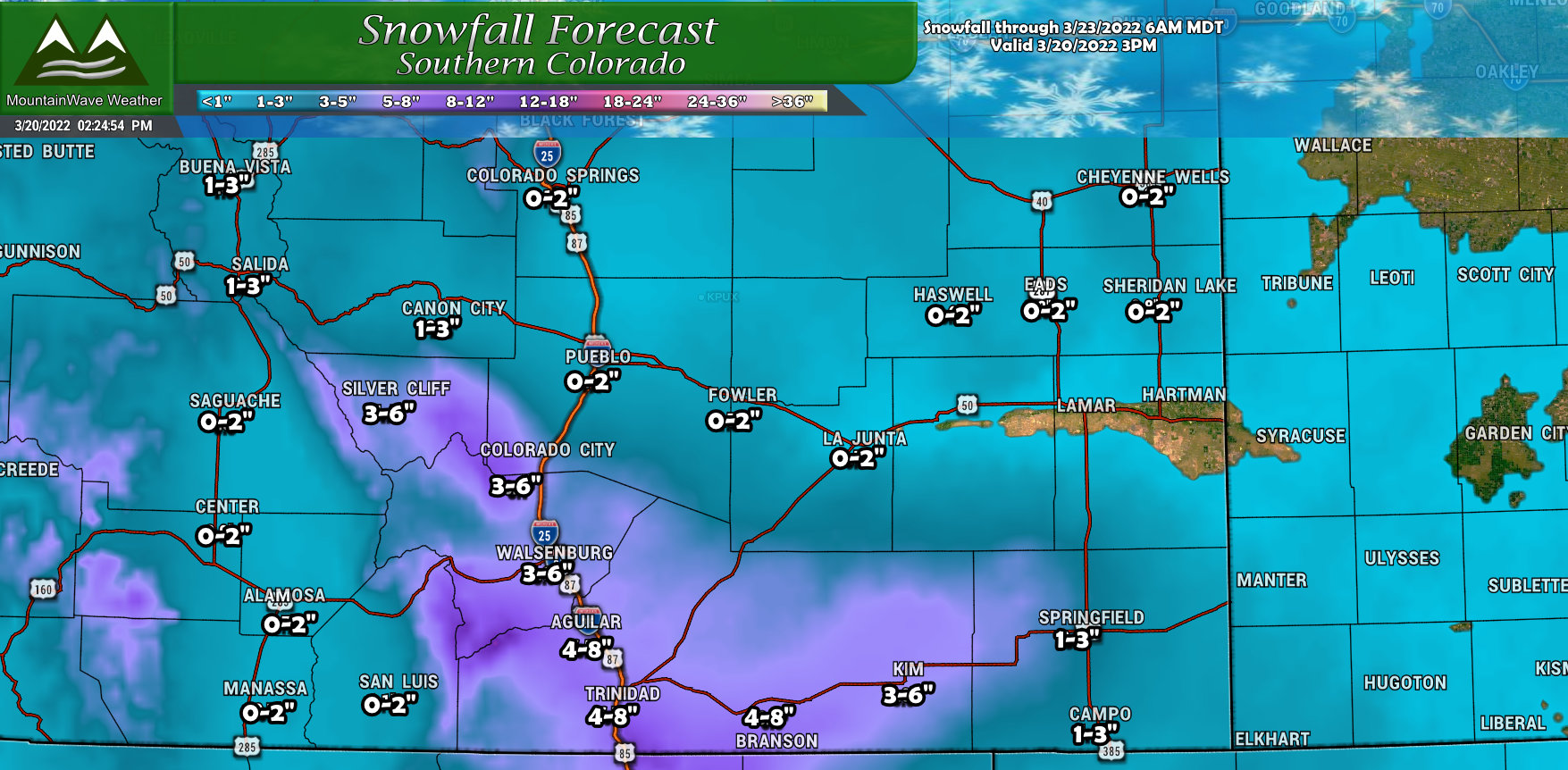 I included Southern Colorado as well because the storm shifting South means some of these areas will be favored for heavier snow as well. Just like the Palmer Divide to the North, the Raton Mesa in Southern Colorado is an area of elevated terrain and stands to do a bit better with snowfall with this storm than areas further North. This is mainly because the moisture flow will be closer to that area and the Northerly winds will allow upslope to lift that air and squeeze snow out.
If you're in the mountains or Northern Colorado, snowfall amounts look quite minimal.
---
Today's Model Data
You'll easily see the trend with all of the major longer range models is that they shifted the low further South which means even less of an impact for us in Colorado especially for the Northern half of the state. I've put the positioning yesterday vs today on the graphic below.
Even the GFS which was a major outlier yesterday with its more Northern storm track and heavier snow has shifted the storm South on its run and decreased its thoughts on snowfall for a lot of us.
---
Final Thoughts - Is This Storm a Dud?
There is still a small chance the storm goes further North than expected ,if it does higher snowfall amounts are on the table... but this probability looks low at this time.
I will continue to keep an eye for any more model shifts and update as needed. Otherwise the forecast shouldn't deviate a whole lot from what is described above.