The next storm system will swing through the state on Saturday and it honestly won't be much to write home about. The good news is we will add a tiny bit more snow on top of what we have received the past few days. The kicker is very few areas East of the Continental Divide will see any of this snow and even mountain locations in Southern Colorado will be pretty dry with this storm.
Here's a quick write-up of what to expect...
---
Weather Alerts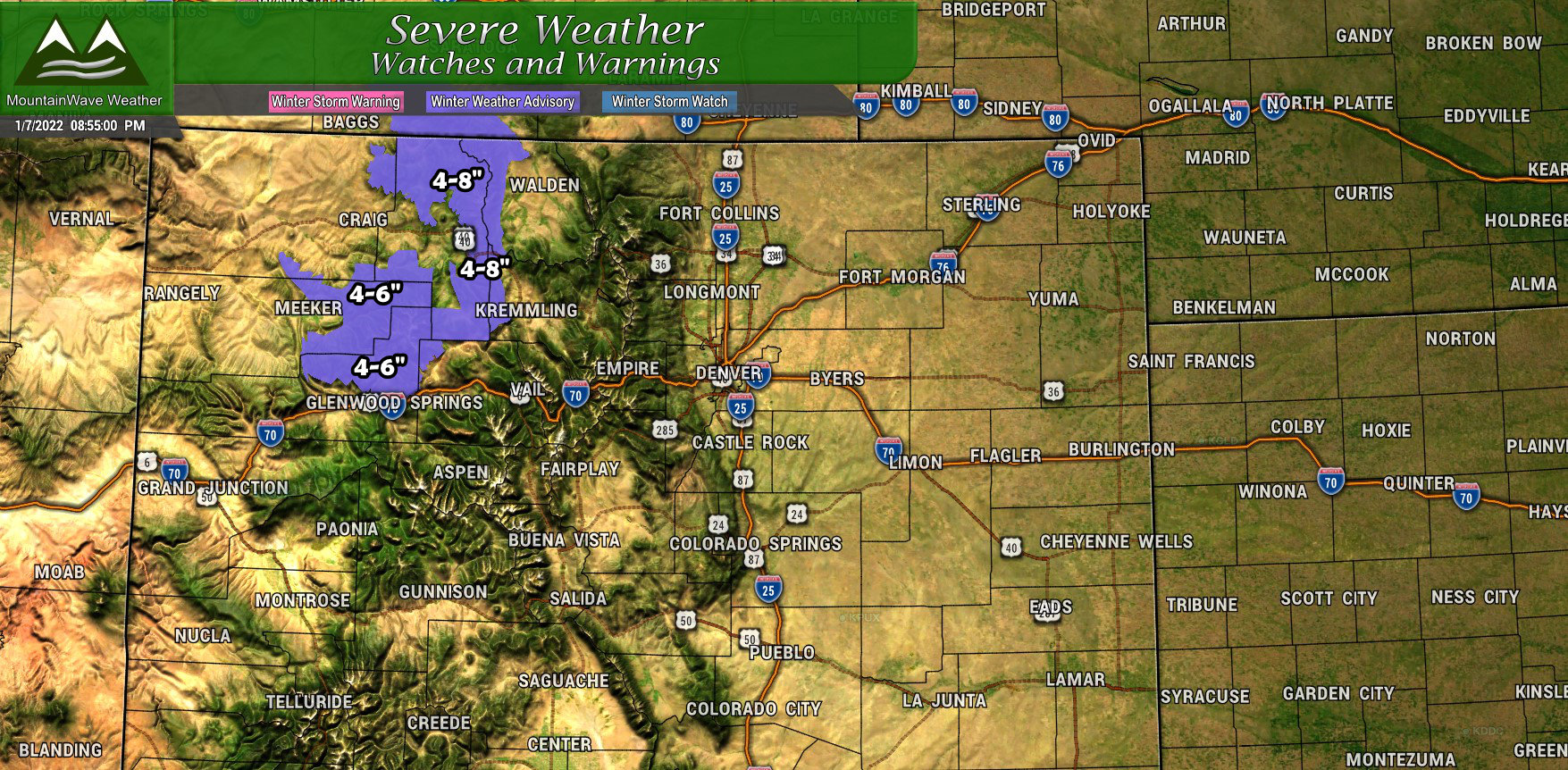 Only a few Winter Weather Advisories in effect for this storm system, mainly up in the flat tops North of Glenwood Spring and the mountain areas in and around Steamboat Springs. Those areas will see enough snow to make for tricky travel conditions on Saturday but the impacts shouldn't be as major as what we've seen the past few days.
---
Snowfall Forecast
Palmer Divide/ Denver/ Eastern Colorado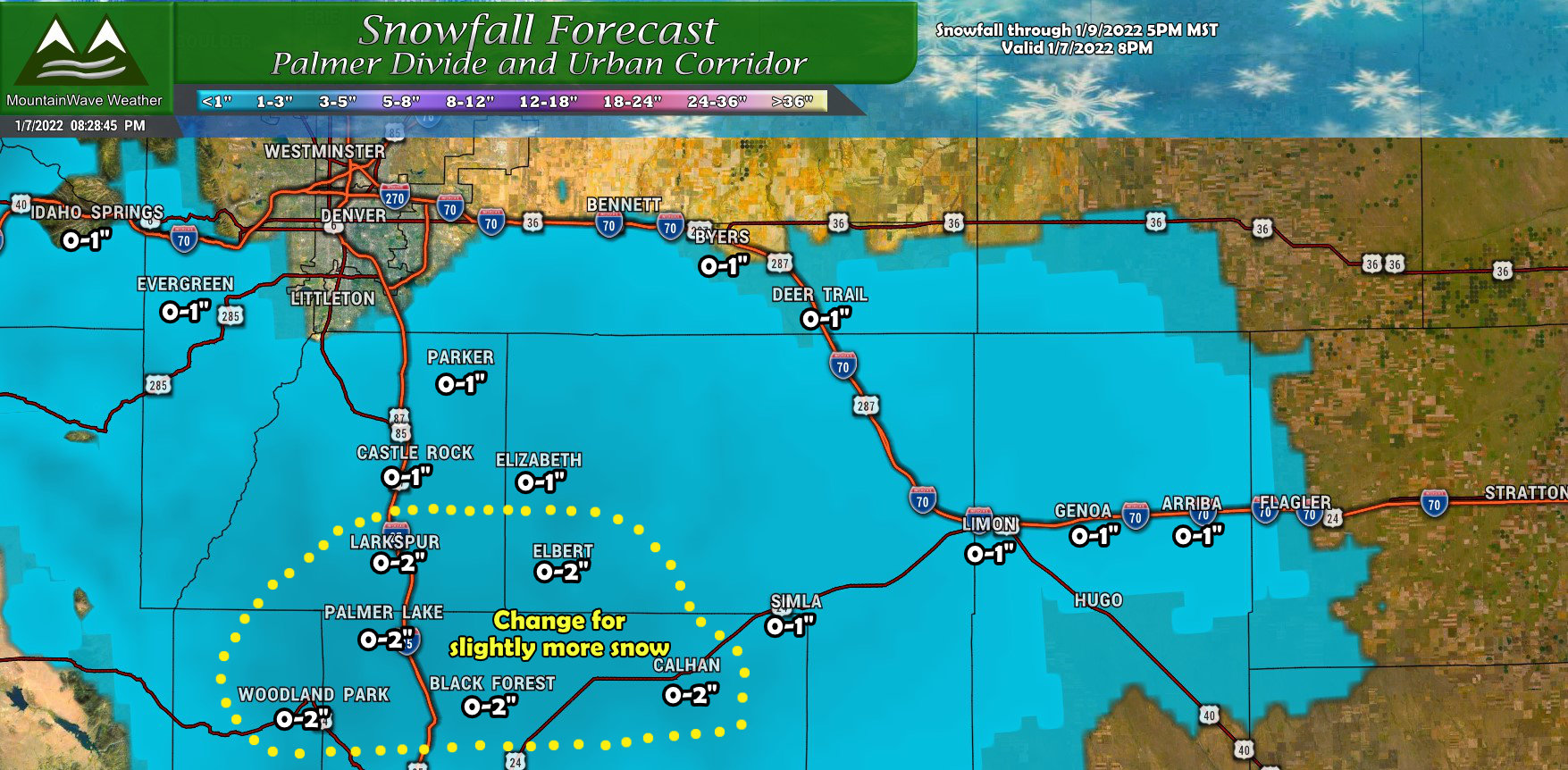 The focus for this storm system in terms of best chance for snowfall is along the Palmer Divide. Snowfall amounts will be quite light across the area, but the elevated terrain South of Denver and North of Colorado Springs will have the best chance of seeing snow stick. Most areas will see possibly up to an inch; I've highlighted an area the models are "slightly" more excited about that may get as much as 2 inches, but it's unlikely we see much more than that.
Northern Colorado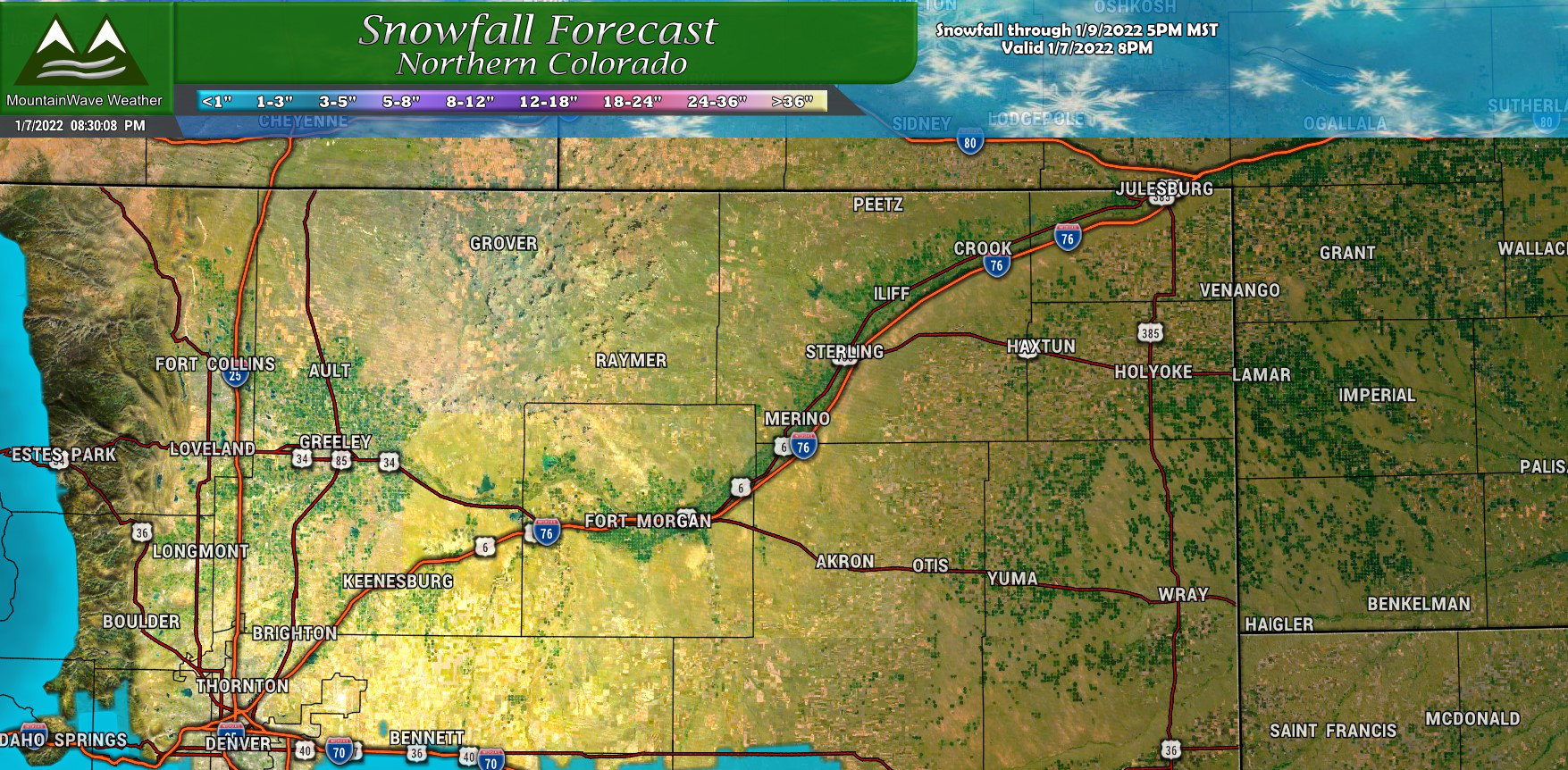 Not much to say here, NADA.
Southern Colorado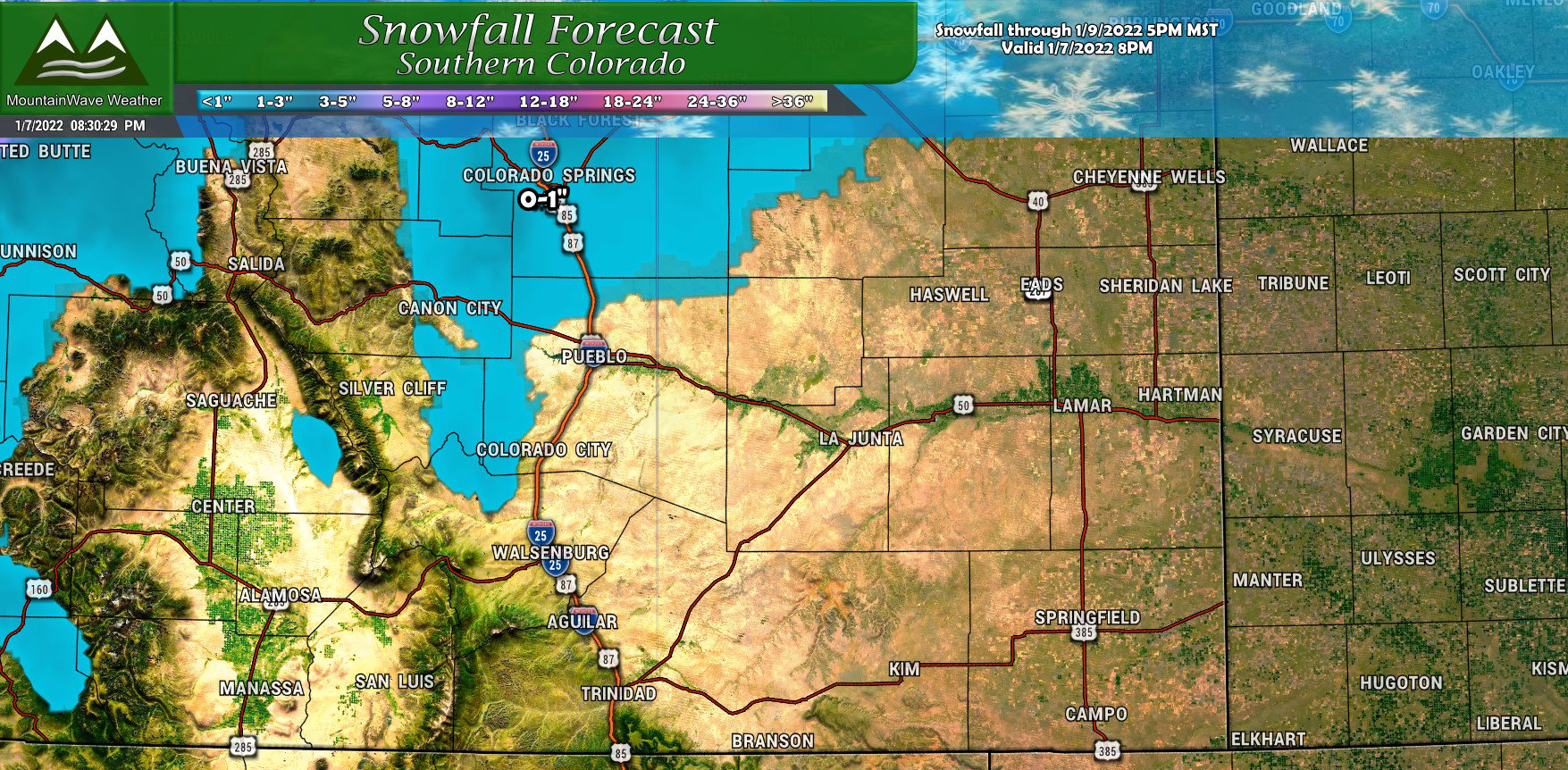 Southern Colorado will mainly miss out on this one as well... I do think it's possible that Colorado Springs and areas right along I-25 could see a bit of snow out of this, depending on how long that lift can stay active down that way. Just like most areas to the North though, overall snow amounts should remain on the light side.
North Central Mountains/ Northwestern Colorado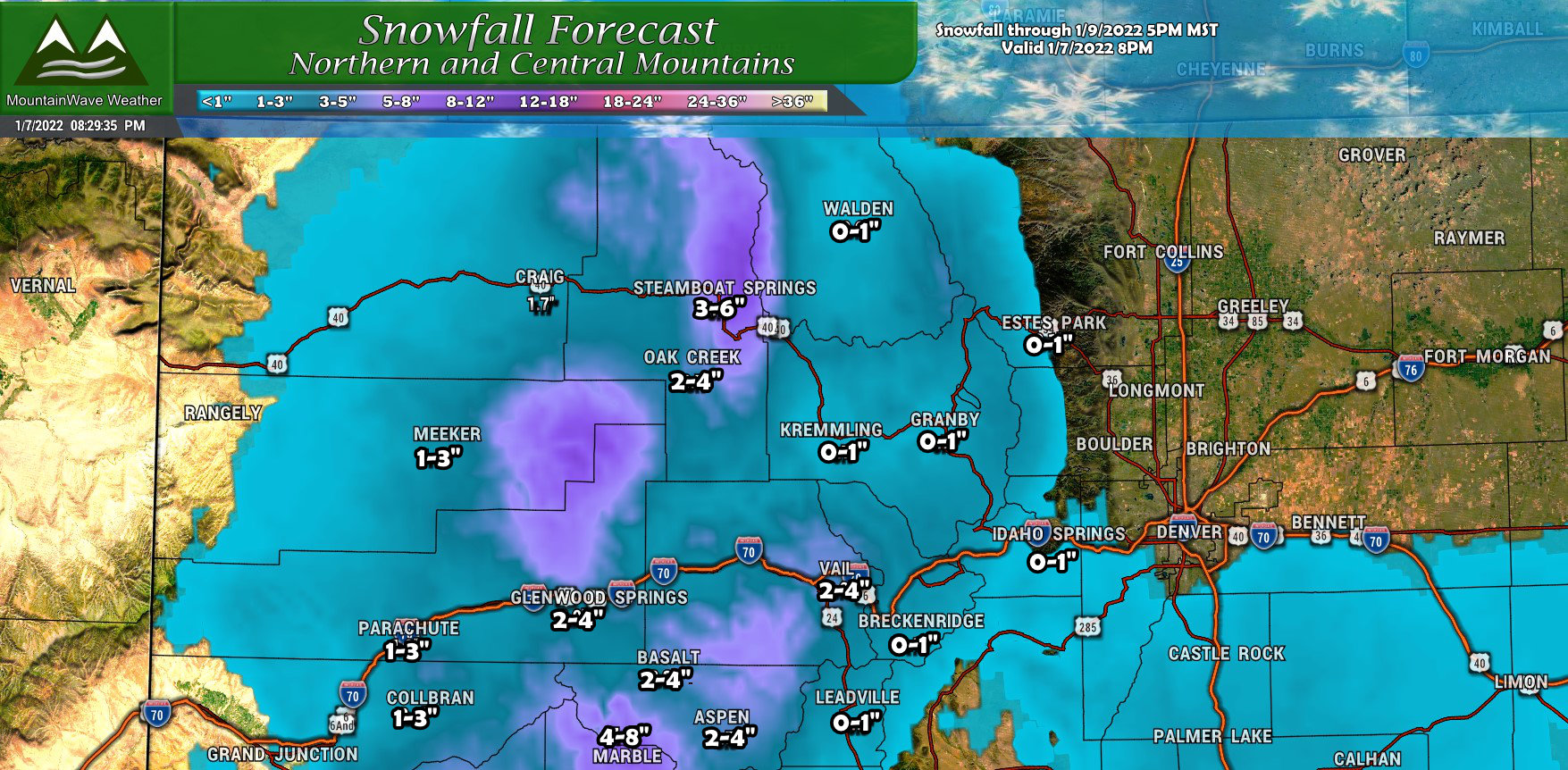 Mountain locations will pick up a bit more snow with most areas only seeing light accumulation. The exception will be the areas near Marble, the Flat Tops North of Glenwood Springs and the areas around Steamboat. Those areas can see anywhere between 4 to 8 inches of snow when it's all said and done.
Southern Mountains/ Southwestern Colorado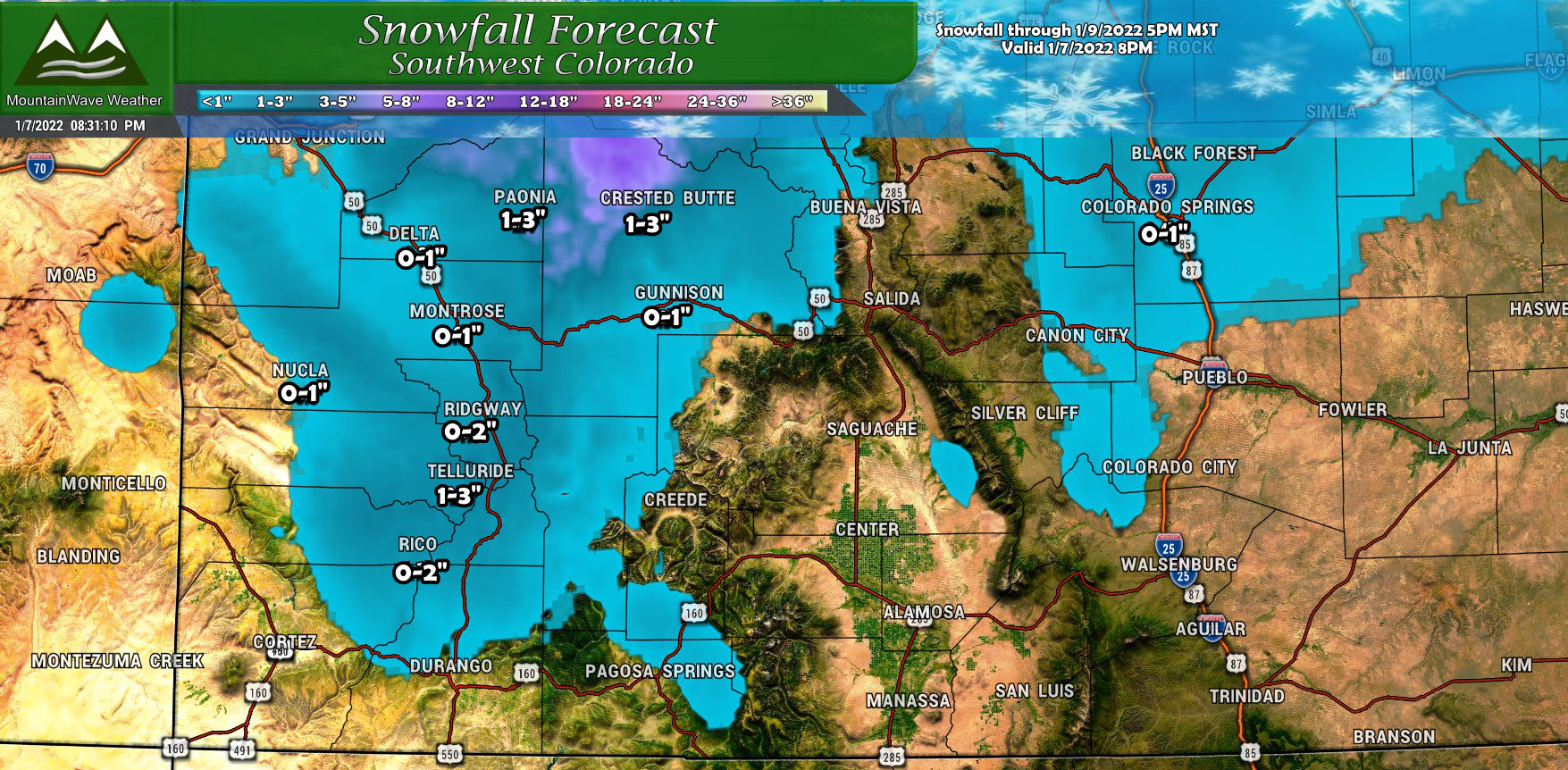 Spotty showers in the Southern mountains with mainly light accumulations.
---
Timing and Summary
This storm won't be much, but I figured I'd bring it up. That way you're not super surprised driving around Saturday evening when there's a bit of snow falling.
Expect snowfall possible Saturday afternoon and evening along the Palmer Divide. After 3PM until about 9PM is prime time for snow along the higher elevations South of Denver.
The snow will shift Southwards towards the springs and points South through the night.
Travel impacts should be fairly minor, but don't be surprised to see a few slick spots on the roads if snow should accumulate.
That's it! Short and sweet! Just be prepared for this one tomorrow, but we shouldn't see anything major out of this one. Have a great weekend!