Another storm system is slated to roll through the area starting late in the day Sunday. As always, these spring systems are a bit tricky to forecast due to a variety of factors but models have trended upwards with snowfall over the past several runs (more forecast confidence) and there are indications that this storm could bring many areas several inches of snow to all on the moisture we received last week. Make no mistake though, this won't be anywhere near as big of an impact as last week's blizzard.
Here's the latest as of this morning:
Winter Weather Highlights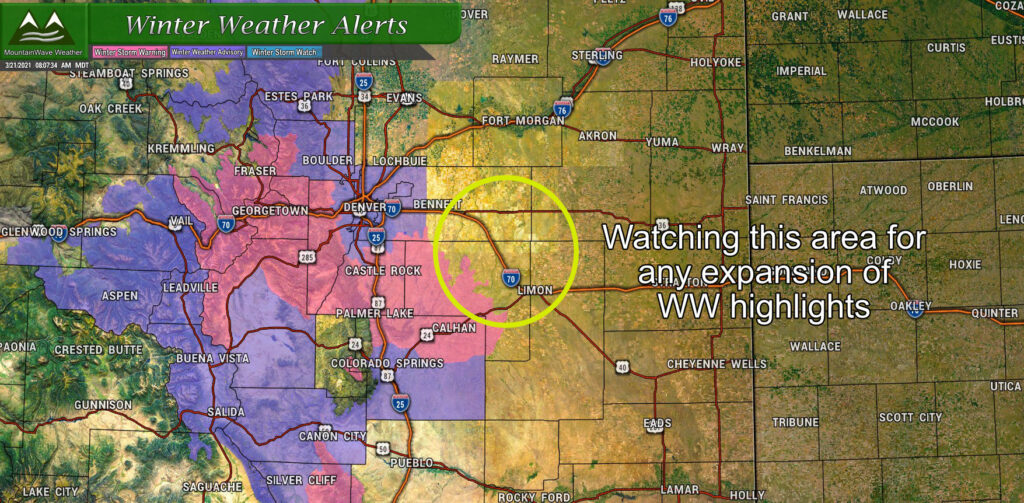 A couple of different highlights issued for areas along the Front Range by the NWS regarding this storm:
Winter Weather Advisory
Includes Denver, Boulder, I-25 corridor areas below 6,000 feet in elevation
2PM Sunday through 6AM Monday
4-10 inches of snow possible, depending on location and elevation. Snow amounts will be widely variable - difficult travel is possible.
Winter Storm Warning
Includes Palmer Divide locations above 6,000 feet in elevation (Castle Rock, Larkspur, Elizabeth, Elbert, Kiowa, Monument)
6PM Sunday through 12PM Monday
6-10 inches of snow possible, depending on location and elevation. Snow amounts will be widely variable - difficult travel is likely later Sunday and into early Monday.
***Note the later start time for the warning over the Palmer Divide (check out the timing section for more details around this)
---
Snowfall Forecast
Snowfall for this storm is a bit trickier to forecast than our last storm as warm temperatures, ground melting and banded snow are all wildcards that could play havoc with how much snow actually accumulates. With all of that going on, here's are latest stab at snowfall for this storm; probably go with a medium confidence level on these as most models agree with snow ending up somewhere in these ranges.
Palmer Divide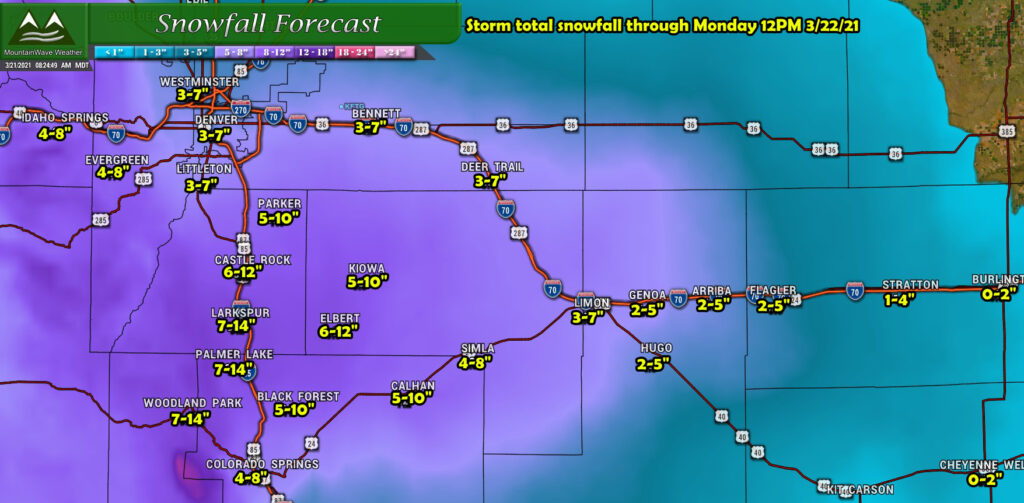 The Palmer Divide has the best shot at accumulating snowfall in the higher ranges with this storm, mainly due to it's higher terrain and areas of enhanced upslope. I think several areas could see decent snow with some localized areas seeing up to 12" (not all areas will though, remember snowfall ranges will be variable!)
Northern Colorado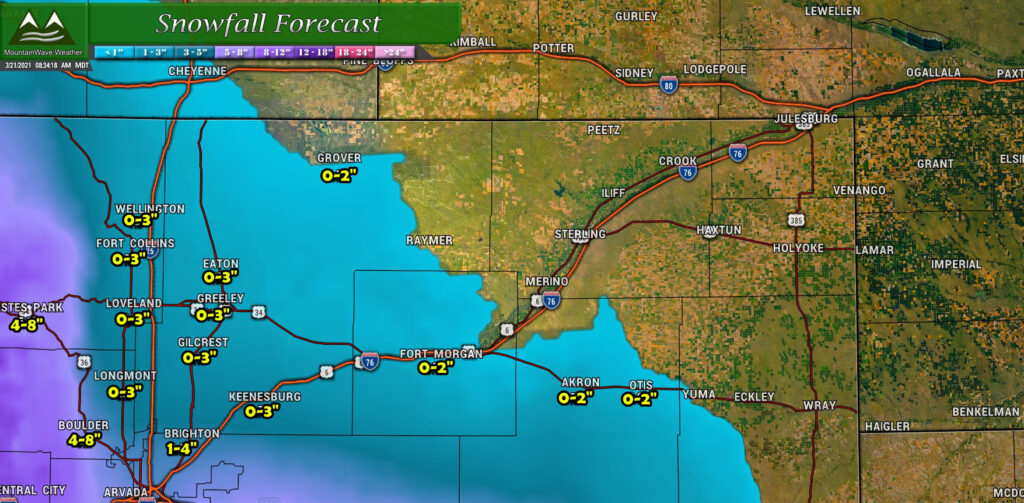 Not a whole lot of change to the snowfall forecast for Northern Colorado. Since this storm has a more southern track it's likely you'll see less snow and less impacts the further north you go. As such, most snowfall amounts North and East of Denver will be quite light while some of the foothills areas West of town will have the best chance at accumulating a few inches of snow.
Southern Colorado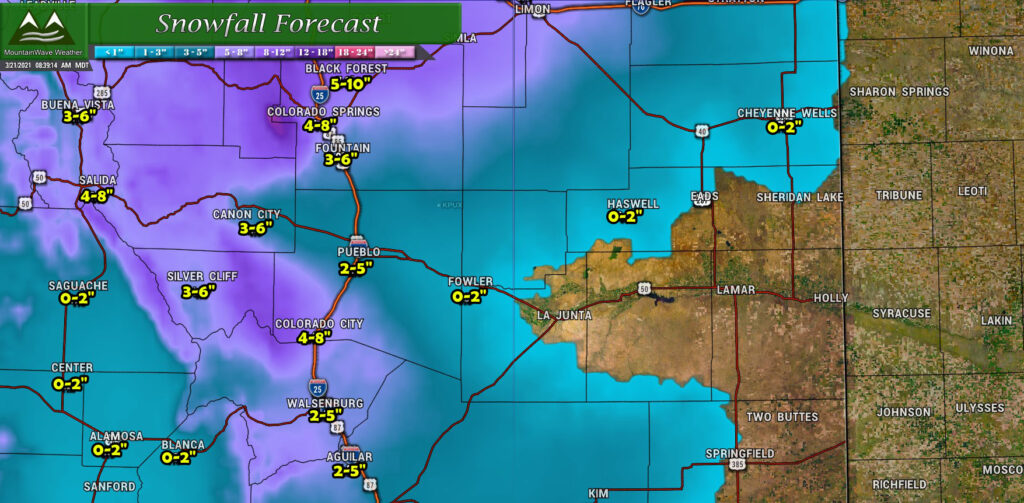 For Southern Colorado, most areas will see a decent few inches of snow with areas West of I-25 and into the mountains and foothills favored.
---
Timing/Travel Impacts
Sunday afternoon: rain and snow showers possible, rain will especially be prevalent at lower elevations
Sunday evening: Winter Storm Warning for the Palmer Divide goes into effect at 6PM. We expect rain to change to snow for lower elevations with snow continuing at higher elevations. Many models show areas of heavier snow setting up during the 6-8PM timeframe for the Palmer Divide.
Monday morning: snow looks to linger across the area Monday morning - it is likely the morning commute will be impacted in some way... especially for areas South and West of Denver
Monday afternoon: look for improving road conditions thanks to a higher sun angle. The storm looks to move out by around lunch time or a bit after on Monday.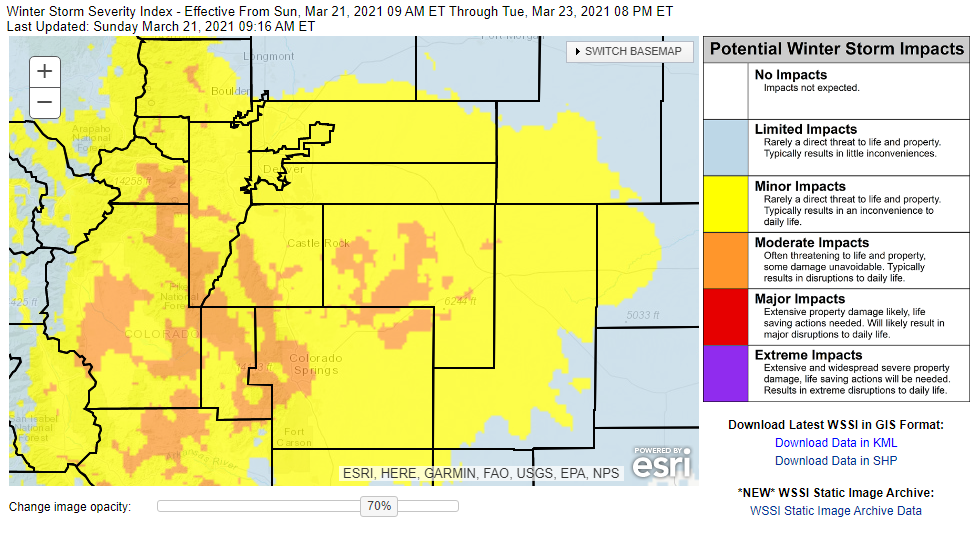 Travel impacts don't look as severe as our last storm but areas over the Palmer Divide could experience moderate impacts with this storm. Keep this in mind if you are travelling South of Denver into the Springs at any point later in the day Sunday and into Monday morning and potentially even early Monday afternoon. Slushy/snowpacked roads, slick conditions and poor visibility are all in play with this storm.
---
Tricky Forecast - Wildcards
Temperatures
Temperatures look marginal for snow accumulation for many areas - but we expect that if the storm does crank up enough that the atmosphere will cool off enough for us to achieve the snowfall ranges described above. Should the storm not set up properly and we don't see cooling rapidly enough that could have major impacts on the snowfall totals, with many areas busting low or achieving the low end of their forecast ranges. Again, elevation could play a key role in this situation with higher elevations still standing a better chance at accumulating snowfall (above 6,000 feet mainly)
The Dreaded Snowfall Banding
This will be the main player with this storm as the upslope component will not be the main driver of snow and won't be very strong. A lot of the lift we see out of this storm comes from jet enhance lift, which means snowfall banding could be the main driver of who sees the heavier snow. The kicker with storms like this is that snowfall bands can be very narrow, vary in intensity and nearly impossible to predict exactly where they set up and for how long.
Snowfall bands can play havoc with a snowfall forecast, for example a snowfall band setting up over Castle Rock could product 15 inches of snow there, while areas just a few miles North (Parker, Lone Tree, Highlands Ranch, etc...) could see 2 inches. In the image above from the Nam3K, you can see a stout snowfall band across the Palmer Divide - does this mean that this is exactly where the band sets up? Nope! If that bands sets up further North or South or doesn't linger long enough to put down a decent amount of snow then the Palmer Divide could bust on this storm. Alternatively if it does set up this way and lingers in the area, we will realize a lot of the higher end ranges of the snowfall forecast.
Most important thing to remember with a storm like this is that models can give us an idea of banded snowfall is possible or likely, but they cannot tell us how intense, how long, or what area they set up in. Forecasting the details around these is nearly impossible at this point.
---
Summary
A tricky spring storm system and I'm sure it will throw a few surprises our way. For now, model guidance is fairly on track with this storm but pay close attention to those wildcards I mentioned above. I'll continue to watch this storm and provide any updates if we see any changes going into Sunday afternoon, for now just plan to have your travel wrapped up by late this afternoon/ early evening.
One interesting trend to watch... the EURO is not at all excited about this storm but nearly every other model is. Should be interesting to see if the EURO comes more in line with the others this afternoon or all the others start dropping the snowfall totals to come in line with the Euro. Model confidence on the snowfall amounts remains medium at best until we see some of these come in line. The euro is one of the most reliable, so when it picks up on something like this (much less snow) we can't ignore it necessarily.
Should we see any drastic changes, we will let you know!