While we are seeing  a lot of things shut down or take time off for the next few weeks, the weather will keep humming along and brings us a chance for snow later this week. This has been an interesting storm system to track in the models because there is relatively decent agreement from the Euro and GFS (the 2 models we have to look at within this time frame) in terms of where and when they think this storm will hit... together. Both models show the low pressure center with this storm bouncing to the North and South, but both models have done it together consistently.
What can we infer with this information? Not much right now, it's nice that both models are in lock-step with each other but we still don't have great agreement overall about who sees the worst with this storm system.
Let's take a look at the details from where they stand as of right now.
This is a Powerful Storm System (Discussion and Timeframe)
This storm system will be moving onshore in California sometime during the day on Tuesday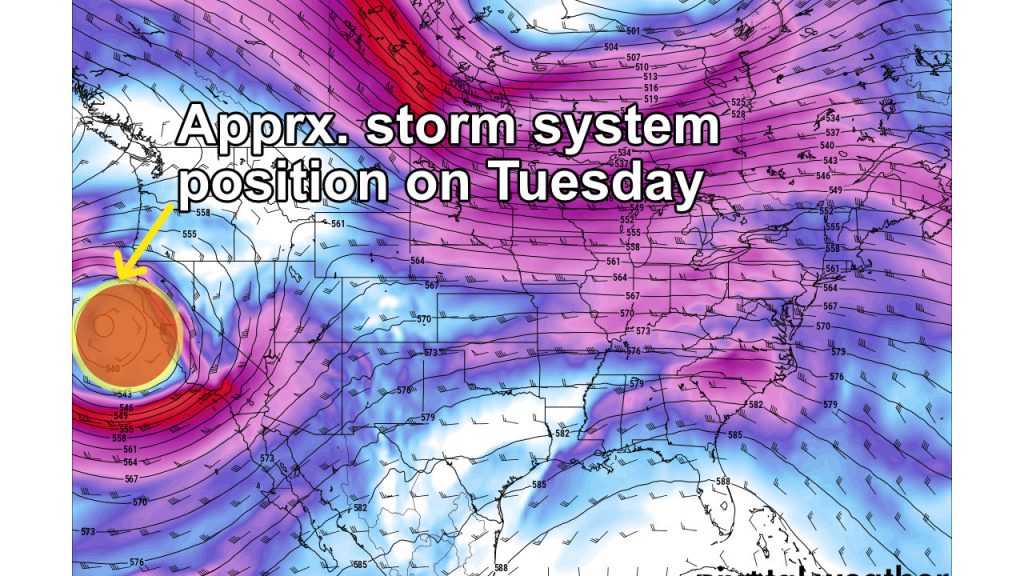 This is the Euro at 500mb shows the winds aloft at around 18,000 to 20,000 feet in elevation. We like to look at this chart because storm systems tend to follow these air patterns and are "steered" by them. Additionally, we can see upper level features such as upper level lows, upper level highs and even shortwave troughs. That's a lot of nerd speak but just remember this is important to look at for storm positioning and intensity in higher levels of the atmosphere.
Notice in the image above the low pressure trough off the coast of California and especially how strong it is; we know this because of the "closed off" nature of the low and the strong winds on its southern side and tightness of circulation.
---
A few interesting things happen as we move into later Wednesday...
As the low moves onshore it deteriorates and a lot of its energy shifts Southwards along the jet stream. This is important because of what happens next...
While you may think the low pressure over Nevada is the one to be watching with this storm system, keep an eye on that piece of energy to the South of Colorado...
Notice the tightly wound, closed low pressure system that develops over Eastern Colorado. This little feature will undergo what we like to call "cyclogenesis" and yes the less science-y term is a bomb cyclone but this system doesn't see nearly as strong of a strengthening and drop in pressure as last year's storm did.
---
Upper Air Charts Are Nice... But What Does That Look Like on the Ground?
Please note: the Euro and GFS showed a significant shift southwards with this storm system with the latest runs. While that may be intriguing, it's just one run so we can't take it too seriously until we see at least a couple more runs show this same trend. Nevertheless, given the relative location of this storm and what models are telling us, we need to keep a close eye on this one. Here's a few notable items we can see with this image above:
Rapid cyclogenesis means this storm falls apart as it comes across the mountains but quickly re-strengthens over the Eastern plains

Note: exactly where this feature strengthens and how strong it gets close to the front range is the difference between lots of precipitation or none at all
Too far East and we see nothing... location will be everything

Notice the cold air/warm air battle... or better stated where the rain vs. snow is in this storm

This is the biggest question mark with this storm... will it remain too warm to snow or will more colder air infiltrate the storm system and mean higher snowfall totals?
---
What to Know About This Storm System (with the data we have right now)
Make no mistake, this storm has the potential to be a high impact event for the front range of Colorado. Right now we can only say that with low confidence because while we know this storm is going to hammer someone with lots of wind and snow... we cannot pinpoint where that is with any high degree of certainty. Any shift North means Wyoming gets all the fun... continued shifts further South means we will have to keep a close eye along the front range and Palmer Divide.
What To Do Right Now?
We are not yet in the "action" phase of preparing for this storm... details are too uncertain.
Keep a close eye on a trusted weather source for updates on this storm over the coming days
Be ready to act, whether that means delaying travel or being prepared to spend a day or two at home (this may not be a problem with a lot of folks given current events)
Be prepared for treacherous/impossible travel conditions especially on Thursday. Stay tuned for updates on if this timeline shifts.
Storm Status: Watch Forecast Closely
We will have several  updates and maybe a livestream/video or two over the next few days. Continue to monitor the forecast closely, as always we'll give you plenty of heads up if this is something to get excited about.