Weather Alerts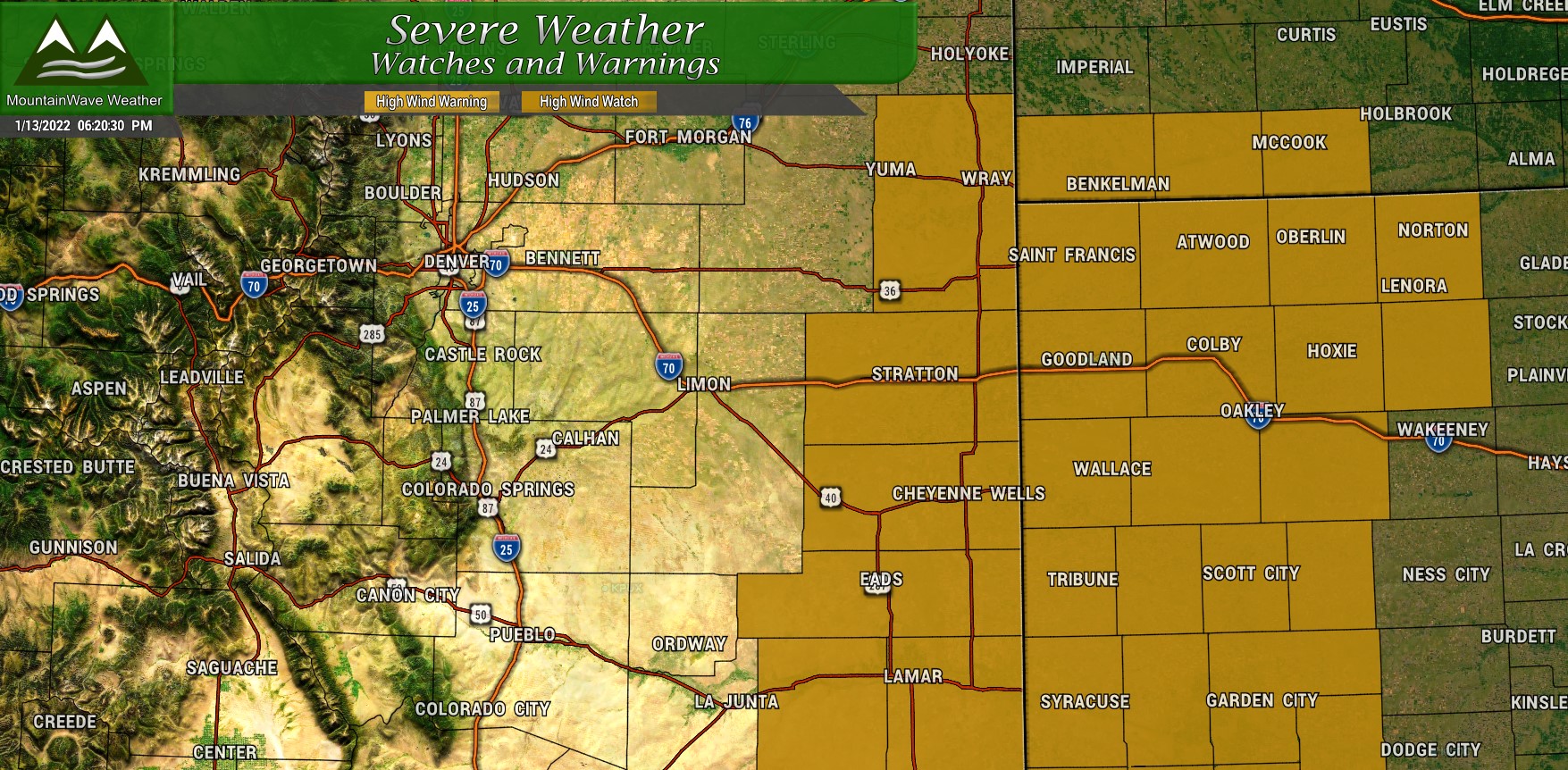 Currently a High Wind Watch is in effect for Eastern Colorado, including the counties right against the border with Kansas and into Kansas itself:
From: Friday morning through Friday afternoon 1/14/2022
Winds: 30-45mph sustained with gusts to 60mph
Impacts: Hazardous travel conditions are anticipated to be the primary impact, especially on west to east routes such as Interstate 70, where cross winds will be strongest.
Winds elsewhere will be quite breezy as well, but the strongest will be in and around the warning area. That's not to say we won't see anything a bit closer to home: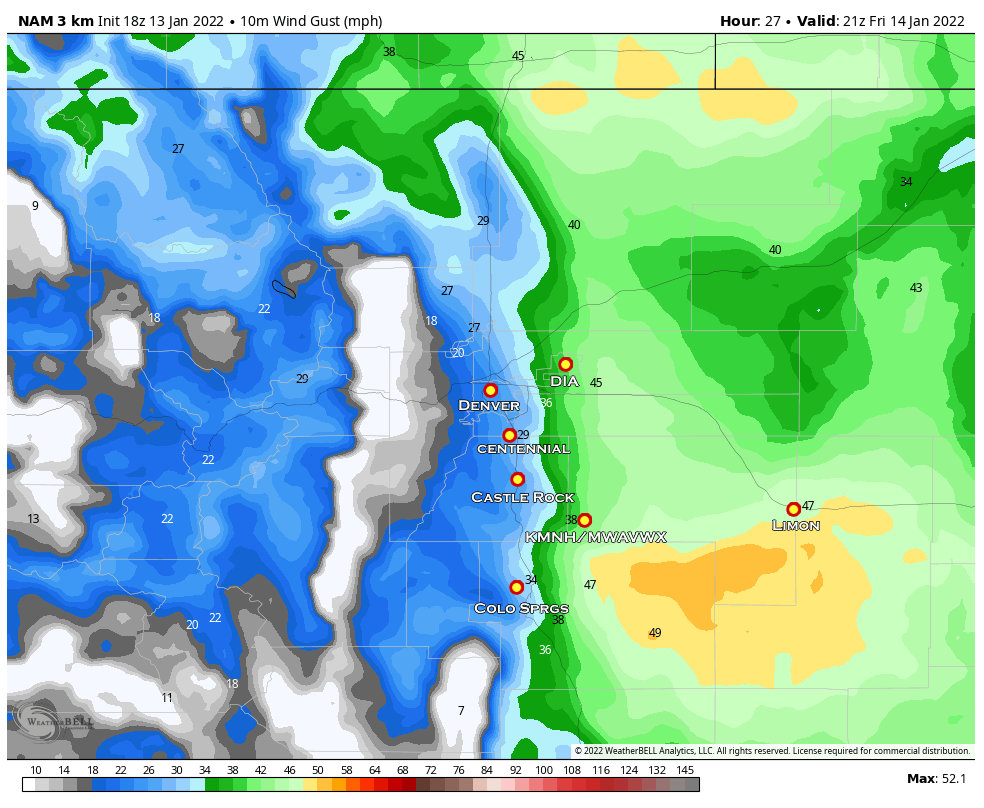 The snapshot from the Nam3k above is from about 2PM on Friday, it shows wind gusts along the front range and I-25 corridor pretty tame in the 20-30mph range. Further East (east of the Douglas County line) Elbert and El Paso Counties will see wind gusts in the 38-50mph range, so gusty but not strong enough for a High Wind warning.
Long story short, expect breezy conditions across most of the Eastern half of the state on Friday.
---
Storm Track/Setup
Friday morning a low pressure system will dive Southward out of Canada and across the Northern Plains. It will bring some colder air and snow showers with it but at this point it will be a rather disorganized open low with a positive tilt. I would like to point out that a low pressure system with a track like this does not usually favor Colorado for large amounts of snowfall. Clipper storms like this are often the bringer of cold air and a short period of upslope which can bring a bit of snow accumulation to favored areas.
Where it get's interesting is what happens through the day Friday...
By Saturday morning the low will drop further Southeast, we will have already seen the effects of any snow and cold in Colorado as this storm swings through. Through the day Friday, the back side of the low will scrape Eastern Colorado which is what will bring us a lot of our wind. Think of a rapidly intensifying low pressure system, we've seen things like this before but this one will be a bit too far East to bring us much more than wind and bits of snow.
Also, unlike some of our large snow storms we've had from weather system in the past, this storm will come from the North and that means it will be relatively moisture starved on the back side of the storm in Colorado. In front of the low, the Northern plains can expect bouts of heavier snow with decent accumulation while those in the warm sector in front of the storm may see rain, snow or an icy mix.
By Sunday the low continues further East... this is where you may have seen weather forecasters talking about snow as far South as Georgia and the Carolinas. I think it is possible that some of those areas will see snow and if the storm continues on this track and strengthens as expected... some areas in the Western Carolinas and even extreme Northeast Georgia. Some of those areas may see significant snow accumulation (at least what they consider significant...)
It should be interesting to see how that storm system evolves, but plan on travel impacts this weekend if you're heading out East.
---
Snowfall Forecast
I've only got graphics for the Palmer Divide and the Northern and Central Mountains as those locations have the best chance to see any decent snowfall. Areas outside of there may see showers here and there but accumulation should be light, if any at all.
Most models have the front moving through in the early afternoon hours on Friday. I'd say the best chance at snow is from about 11AM to 6PM. Most areas will see a quick shot of snow but it will linger for a couple of hours on the Palmer Divide. This is why that area is favored for slightly higher snow accumulation, but really not looking at a big snow event with this storm system.
Palmer Divide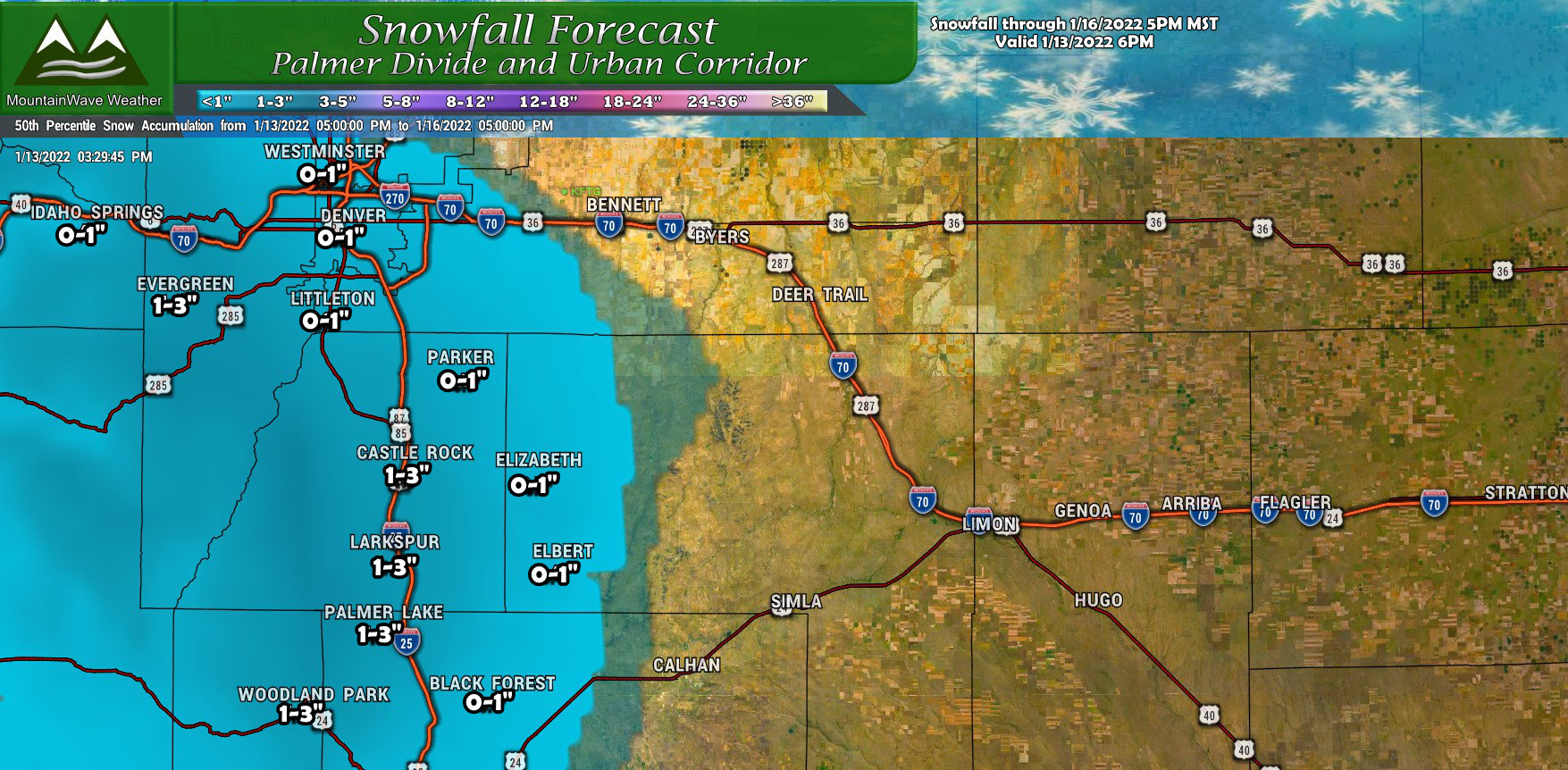 Models have been zeroing in on the Palmer Divide for a few days now... snow amounts will not be significant but the best shot at adding an inch or two will be right along the elevated terrain South of Denver. My forecast above shows mainly light accumulation across the area, this will be an "upslope" storm with lift being provided by Northerly winds with a cold front that passes through on Friday. The only snow we will squeeze out of the sky will be during that time of best lift - but honestly the moisture available is pretty unimpressive anyways.
Northern and Central Mountains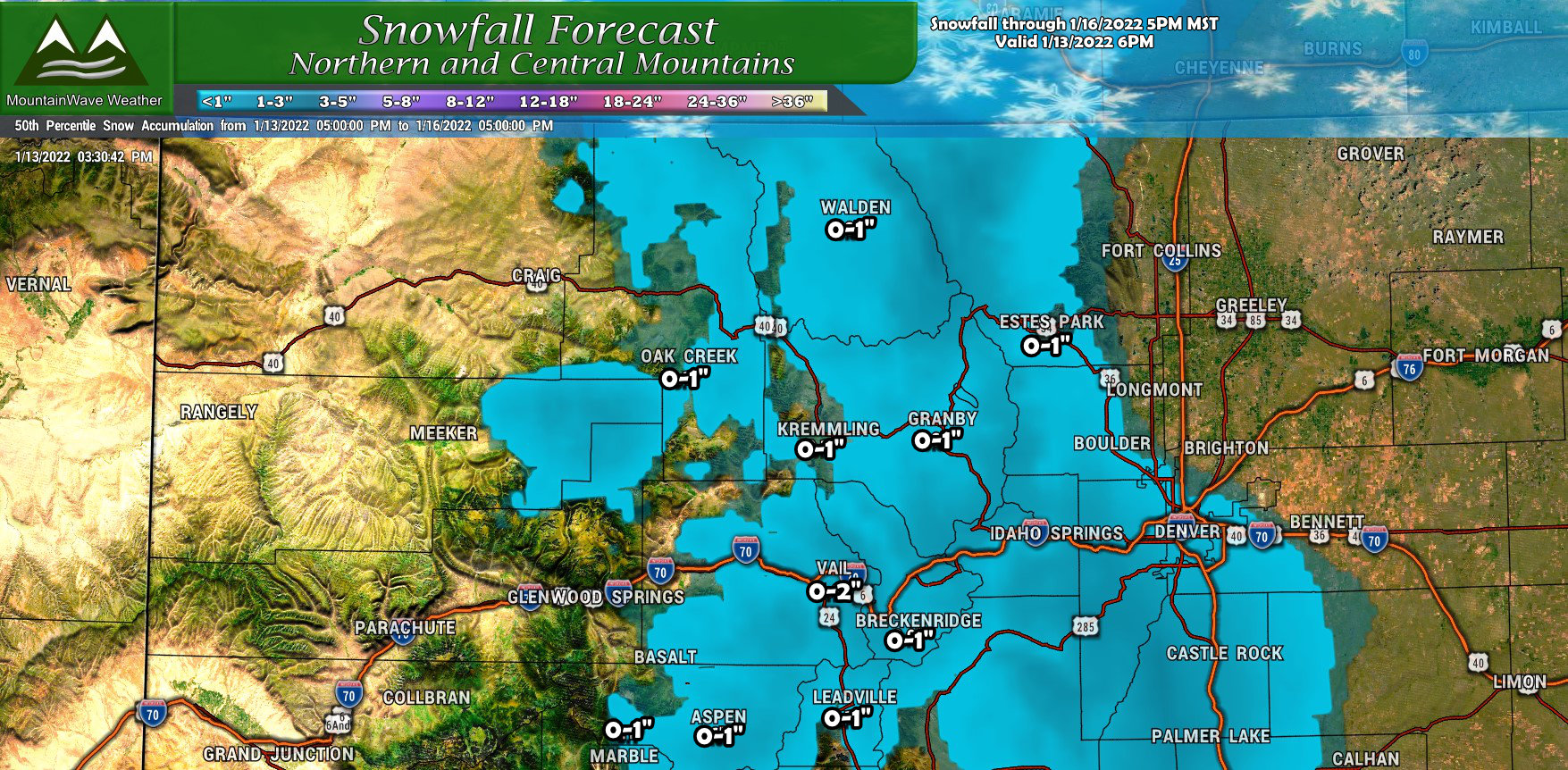 Mountain areas will receive a bit of snow, but amounts will be quite light. This storm is not coming from the West or Northwest so these areas really won't see favorable upslope... this means they will struggle to accumulate more than an inch or so. Most areas will see a dusting at best.
---
Summary
So be on the lookout for snow showers after 11AM tomorrow, they will pick up for a short period as the cold front moves through (you'll know when this happens when the wind shifts and the temperatures drop) Snow showers will be light through the day with accumulation mainly collecting along the Palmer Divide.
I don't see a lot of travel/road impacts, but don't be surprised to see some slick spots on the roads right when the front moves through and the best lift happens.
I'll let you know if any updates are needed tomorrow morning, otherwise enjoy the return to winter!