As much as some of us would like the snow to be over with for the year, we have to remember that March and April are often some of our snowiest months of the year. Both months often feature huge swings in temperatures and conditions; it's no surprise to see 60's and 70's with warm conditions and a massive snow storm just a day or two late. Strong winds are often a harbinger of a strong system lurking just off to our West.
Have you noticed the wind lately?
Details on the Next Storm
This storm looks similar in nature to the last one with a few differences. As the low swings across Colorado and out onto the plains it re-organizes a bit further East into Kansas. This means we don't see as much of the wrap around moisture like we saw with the last storm so that will be one less thing to work with. Additionally, the temperatures will be a lot less favorable for snow to fall and stick, especially in areas below 6,000 feet in elevation.
Wind will continue but it won't be as bad as this past storm along the I-25 corridor. It may be a slightly different story as you head East of the urban corridor, I'd expect winds to be strongest along the Palmer Divide East of the Douglas County/Elbert County line. As the storm strengthens and moves East strong winds will develop along the backside of the storm, depending on where this happens it may mean changes to the forecast so that's something we will need to keep an eye on.
Snowfall
Unlike the last storm, we don't see a lot of support for heavy snowfall accumulations with this storm. The cold air and moisture won't be as well entrenched... the biggest question mark is the temperatures. This will be a tricky forecast because if the cold air arrives with more force than expected, these snowfall totals could go up for SOME areas. It will be very difficult for lower elevations to accumulate much snow.
Here's a zoomed out look at what different parts of the state could be seeing in terms of snow accumulation: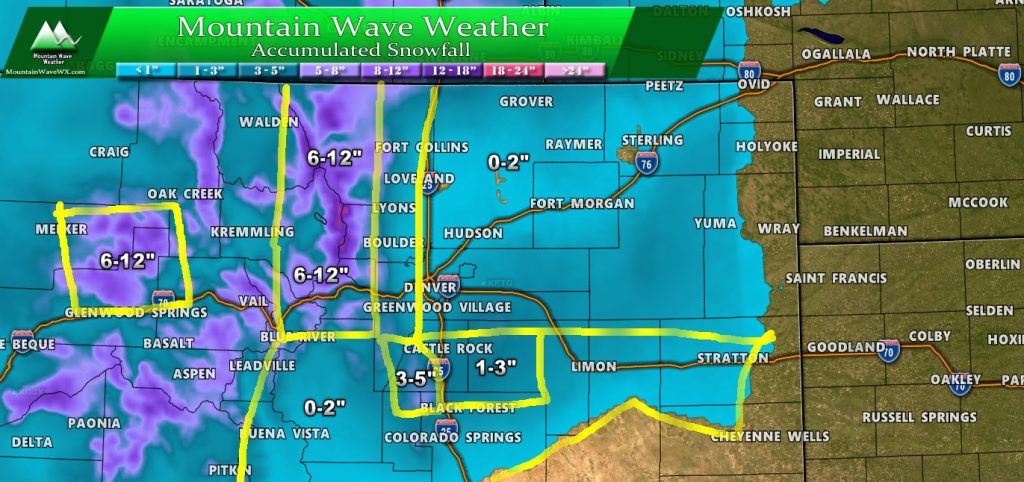 ---
The Rest of the Details
Timing
Friday

Rain/snow mix possible in the afternoon -spotty in nature
Transition to snow later in evening/overnight hours
More sustained snowfall possible for some areas overnight Friday
Higher elevations will see best shot at accumulation

Saturday Morning

Storm will move out by early Saturday morning
Mostly clear conditions will establish Saturday with highs in the low 50's for most areas
Impacts/Hazards
Rain/snow mix with snow later
Expecting a lower travel impact as many folks are staying home at this point
Higher elevation areas may see some accumulation and slickness on roads
---
Summary
Kind of a snoozer of a storm but it's important we receive consistent moisture in the spring months along Colorado's front range. As with all storms this time of year, we could see a curve-ball thrown with this one. Doesn't' look likely with the data we are seeing and the track this thing is expected to take.
For now expect cooler and wetter conditions later on Friday followed by quick clearing on Saturday, this storm won't linger around for very long!