Tropical Storm Madeline is churning away in the Pacific off of the Mexican Coast today. It does look a bit more organized, but is fighting some significant wind sheer, so we will see how strong it gets. I think only a small chance of becoming a Hurricane (it's close at sustained winds of 65mph) but most forecasts have it staying as a Tropical Storm and decaying into a Tropical Depression.
Why would I dedicate any length of time talking about this feature when looking at Colorado weather? It turns out, this little storm is going to do a couple of things this week that will heavily influence our weather in Colorado. Read on for details!
Note: the first part of this article is walking through the setup and a bit of my forecasting process... if you just want to know what the weather will be this week check towards the bottom for the forecast.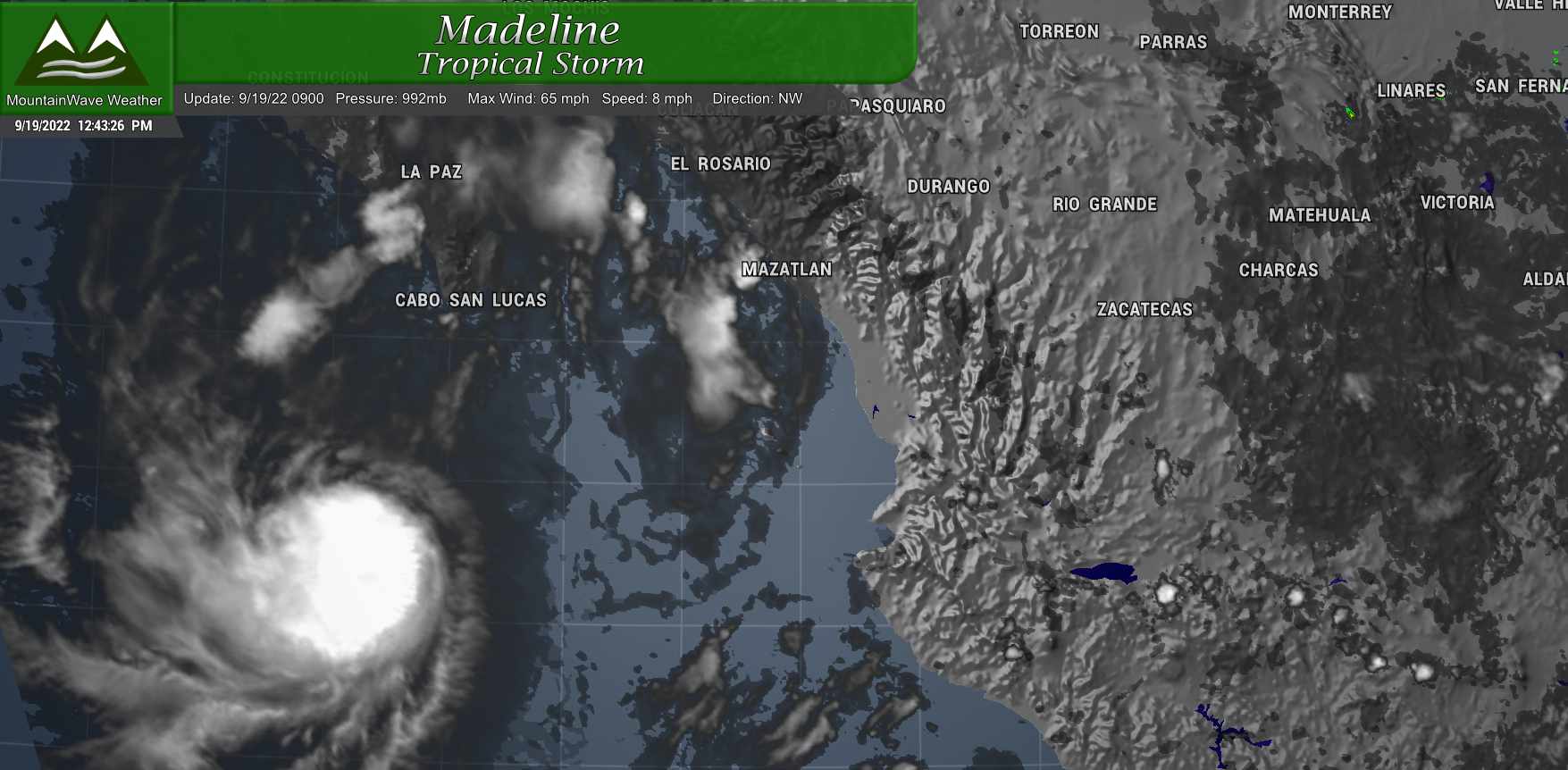 ---
The Setup For This Week
There's a couple of interesting factors that will help contribute to what our weather will look like in Colorado, can you see them on the 500mb map of the Euro below?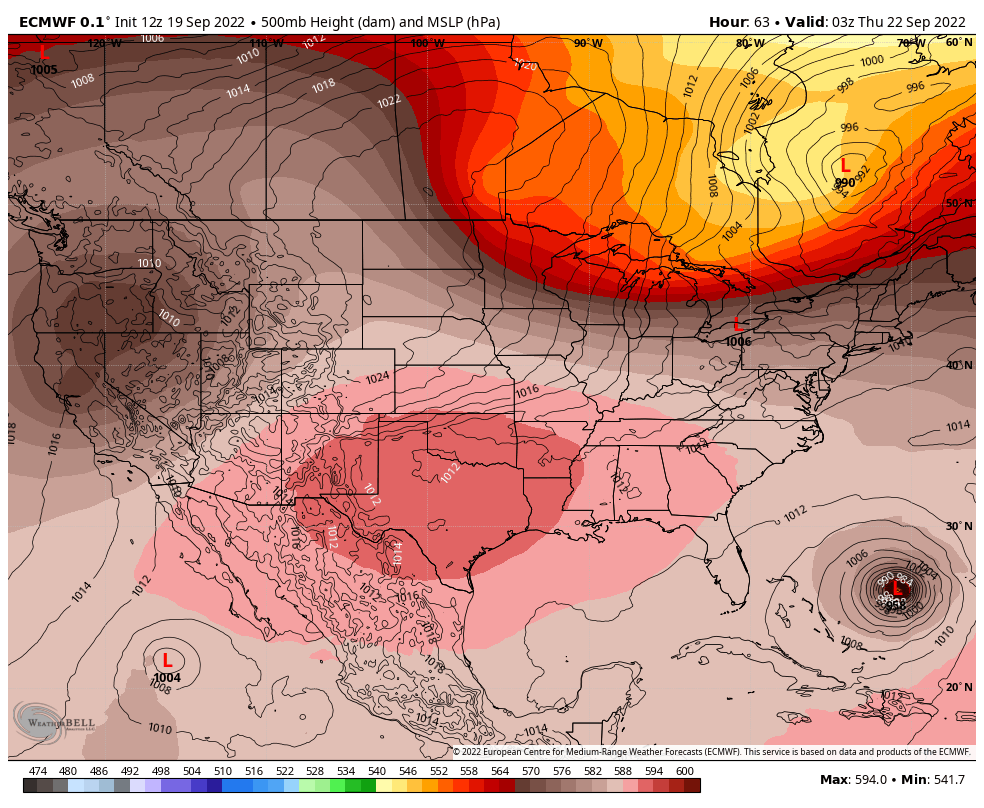 You can clearly see the high and low pressure areas, this can give you some idea of what is going to happen, but there are other details that are a bit harder to catch unless you understand how all of these things work together.
Allow me to carve this map up like John Madden...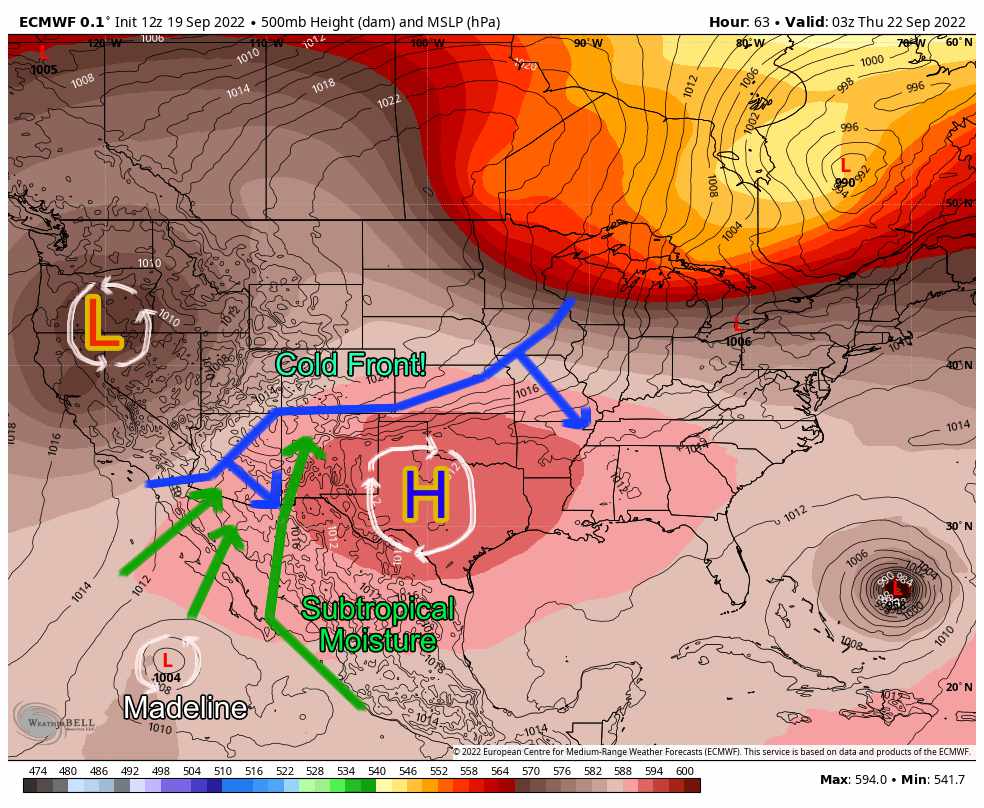 Let's go over these features and their meanings:
Strong high pressure over Texas, remember high pressure has clockwise flow outwards from the center
Low pressure to the Northwest of us... lows have air that flows counter-clockwise towards the center

When we see low pressures like this move in from the Northwest, there are typically cold fronts involved - I did my best to guestimate this

Tropical Storm Madeline, a strong low pressure system with additional clockwise flow
Subtropical moisture conveyor belt - thanks to the precise positioning of these pressure centers, we will see an almost "monsoon-like" influx of subtropical moisture
So what can we glean from all of this in simpler terms?
It will cool down at some point this week
There will be a good chance of moisture for a lot of Colorado, but especially Western Colorado
Let's check our work and pick out some finer details such as timing and intensity...
Here's the 24 hour temperature anomaly going into Wednesday afternoon/evening.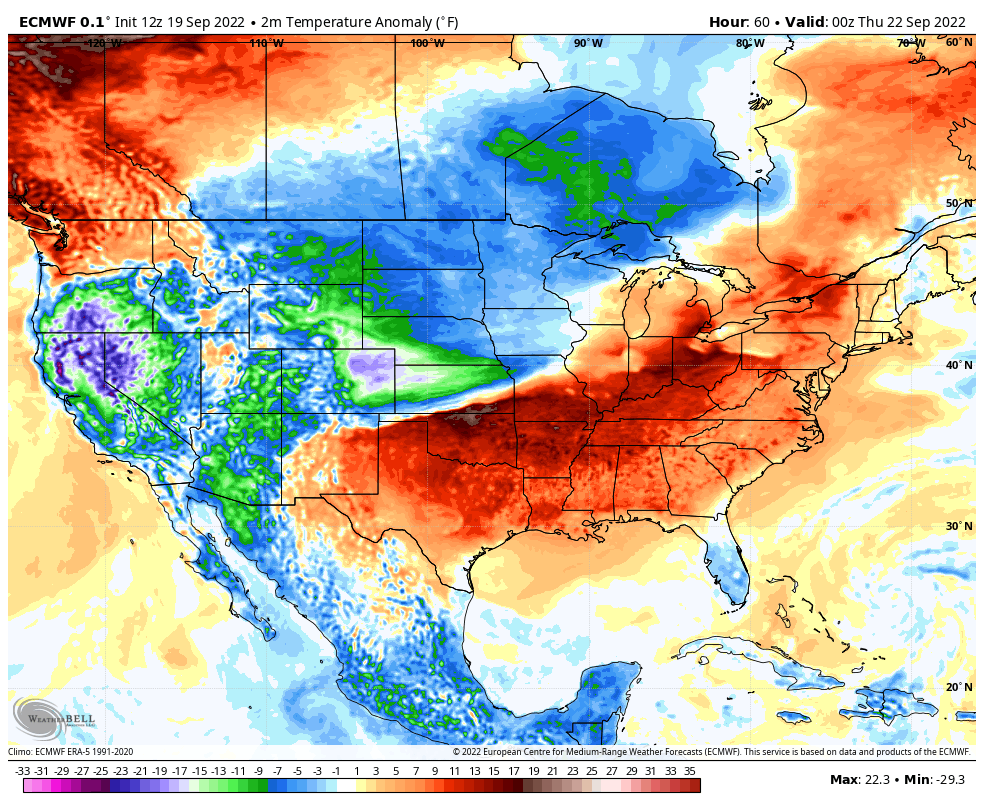 Looks like a pretty strong cold front signal so CHECK there!
Now, what about that moisture?
Here's the total expected precipitation from the Euro through early Thursday morning (midnight)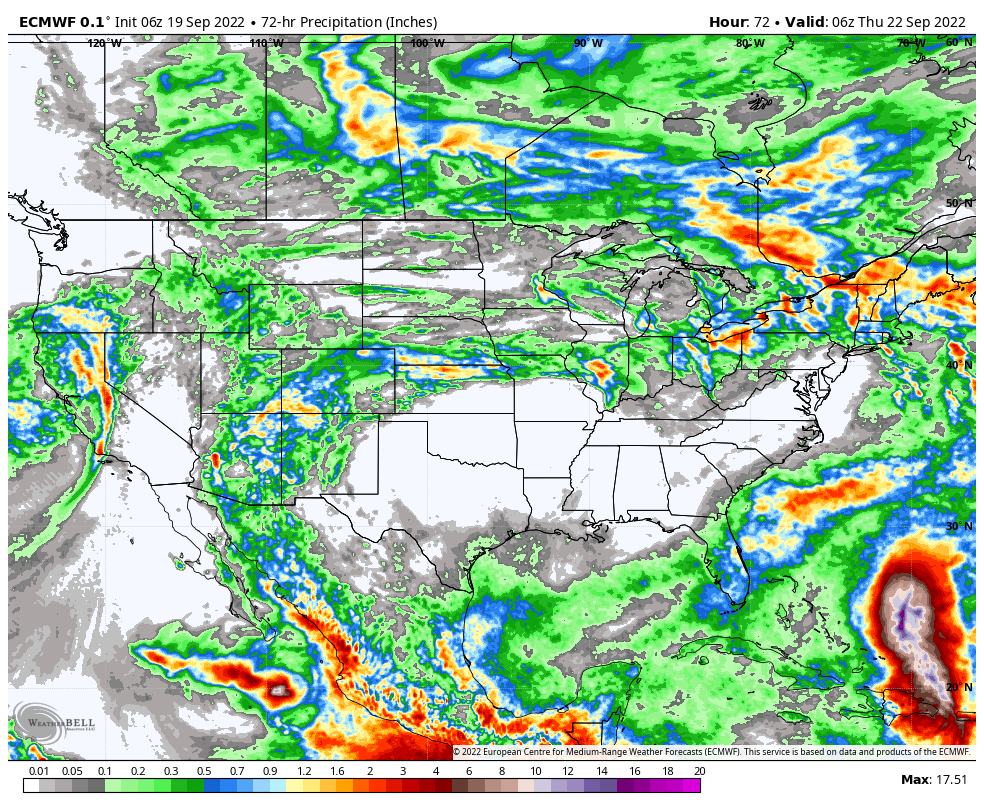 Again, you can pretty strongly see the moisture inflow from Mexico in the areas that receive the most rain over the next few days. There's a pretty strong signal for increased rain across the desert Southwest including Arizona, New Mexico and Colorado.
Moisture transport from the Southwest looks pretty well intact so CHECK there!
---
The Devil is in the Details for Eastern Colorado
The real question for Eastern Colorado will be, how much rain do we actually see? If you recall, we don't always get the benefit of good moisture from the monsoon or moisture pulses from the South or West. The mountains do a great job at trapping a lot of that moisture and we tend to get whatever (if anything) is left.
Here's what the National Blend of Models thinks we see though early Friday morning...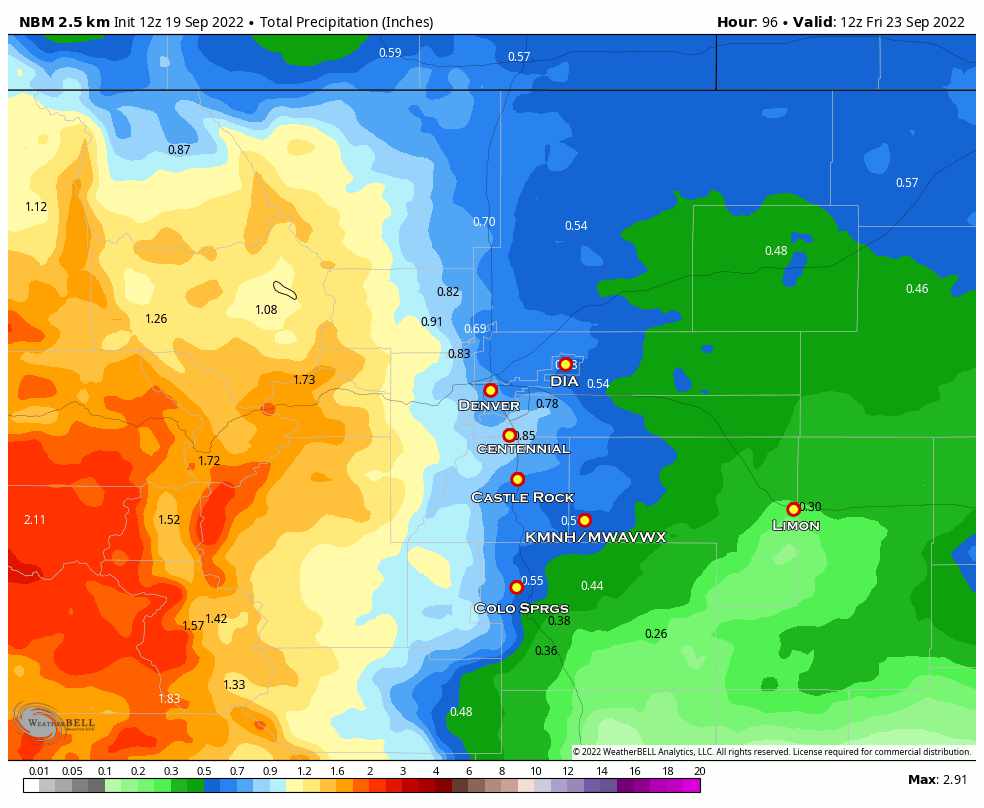 Other models are as follows in total rain:
Nam3K : not fully in range yet
Euro: matches up well with NBM seen above
GFS: much, much dryer
The main takeaway here is that yes, rain is in the forecast... but there is still disagreement on how much of this we see East of the Continental Divide. Don't get too excited just yet!
This will be one of those forecasts that may bounce around in the next few days but here's a rough rundown:
Total rain expected through Friday morning (this will change):
Denver Metro: .25 to .75 inches (confidence - low/moderate)
Palmer Divide West and Central: .5 to 1.0 inches (confidence - moderate)
Palmer Divide East: .2 to .4 inches (confidence - moderate/higher)
Palmer Divide South:  .5 to 1.0 inches (confidence - moderate)
Foothills: .75 to 1.5 inches (confidence - moderate)
Mountains (West of the Divide): 1.0 to 2.0+ inches (confidence - moderate/higher)
---
Castle Rock/ Palmer Divide Forecast for This Week (9/19/2022)
Below is the detailed forecast for Castle Rock and surrounding Palmer Divide locations - as always, add or subtract a few degrees depending your elevation.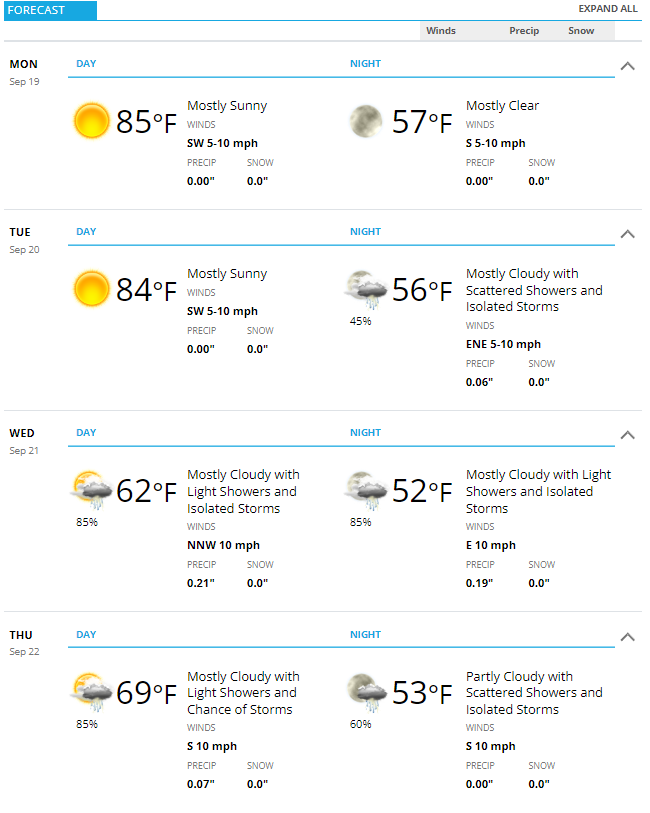 Monday and Tuesday will be our hot days with temperatures running about 5 or so degrees above average during the day and a bit above average overnight. By late Tuesday, you will notice the change as the front moves through and a chance of showers behind it.
By Wednesday we will see a cooler and cloudy day with on and off rain showers. Thunderstorms will be possible as well.
Thursday looks like more of the same with cloudy conditions and showers. Rain chances continue into the overnight hours on Thursday as well.
For both of those days, high temperatures will only be in the 60's so be prepared for that if you have outdoor plans.
It does look like we will warm and up and dry out again by the weekend so enjoy the much needed moisture during the week!