Here's a quick recap of our late Spring snow storm we experienced. Seeing such high snowfall amounts this late in May is a bit rate, but snow storms themselves are not that uncommon for this time of the year. Still, getting the snow to accumulate this much is tough; the odds are definitely against it between the warm ground, high sun angle and ample melting.
Below I have a map and forecast verification discussion on how I did. Let me know what you think!
---
Freezing Conditions Expected Tonight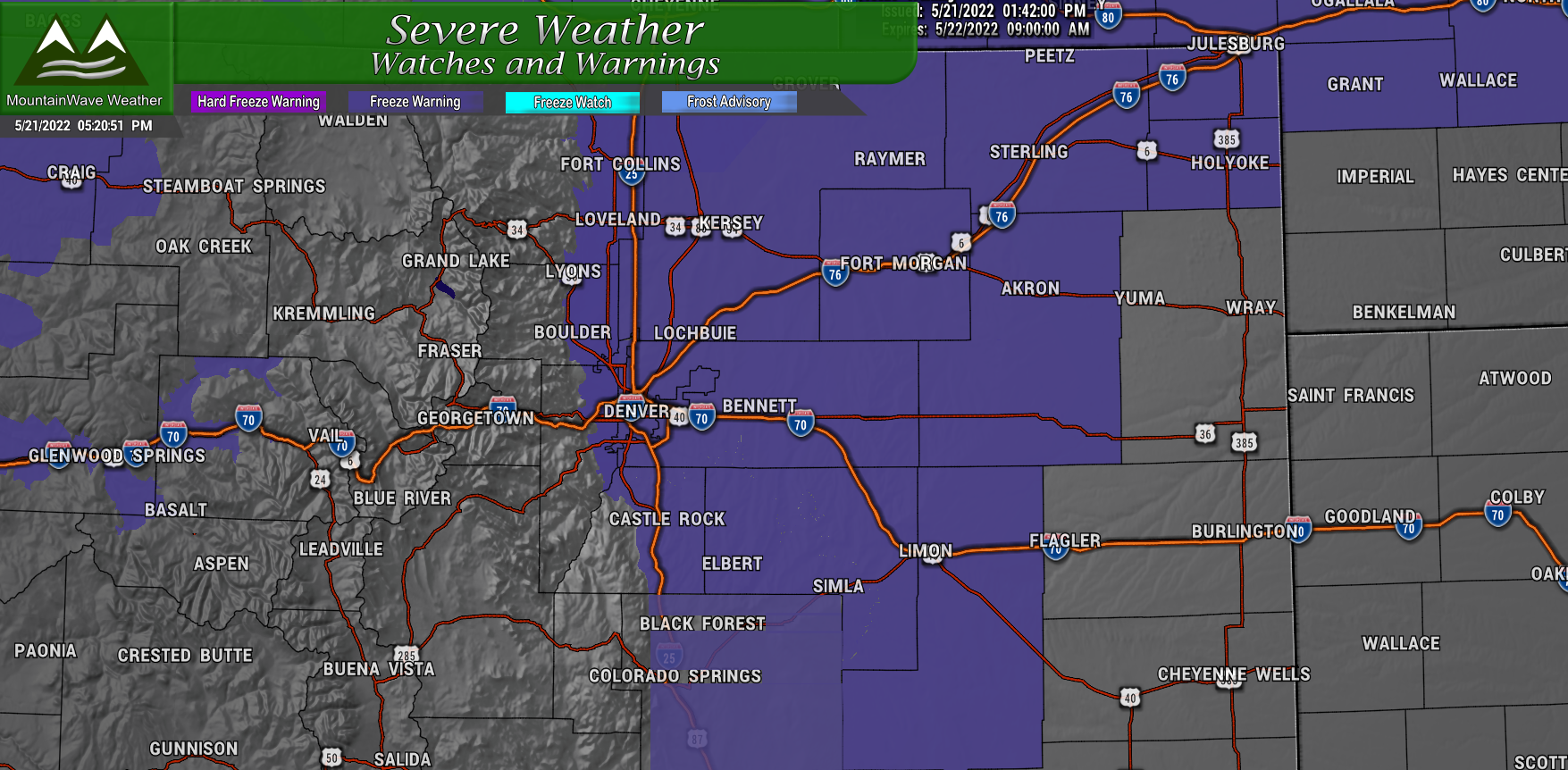 A Freeze Warning has been issued for tonight, here's the details:
...FREEZE WARNING IN EFFECT FROM 9 PM THIS EVENING TO 8 AM MDT
SUNDAY...
* WHAT...Sub-freezing temperatures as low as 29 expected.
* WHERE...Portions of east central, north central, and northeast
Colorado.
* WHEN...From 9 PM this evening to 8 AM MDT Sunday.
* IMPACTS...Frost and freeze conditions could kill crops, other
sensitive vegetation and possibly damage unprotected outdoor
plumbing.
---
Forecast Verification
Very happy with how this forecast went from a snowfall perspective. Every area I highlighted along the Palmer Divide reached its forecasted range, even down towards the springs, Black Forecast and the areas around Calhan and Simla behaved as expected. Some of the misses included Palmer Lake underperforming a bit, but I wonder a bit as only one official measurement was listed.
Additionally, a few areas around Evergreen also underperformed but there were several measurements within our forecast range as well.
Finally we go to Denver, most of those areas underperformed the forecast, but I won't get too perturbed by that because I made it clear that area had my lowest confidence in reaching the forecast snowfall range. These areas in lower elevations struggled to cool the ground enough to accumulate much snow; I thought that temperature would be fickle so those areas performed pretty much as expected.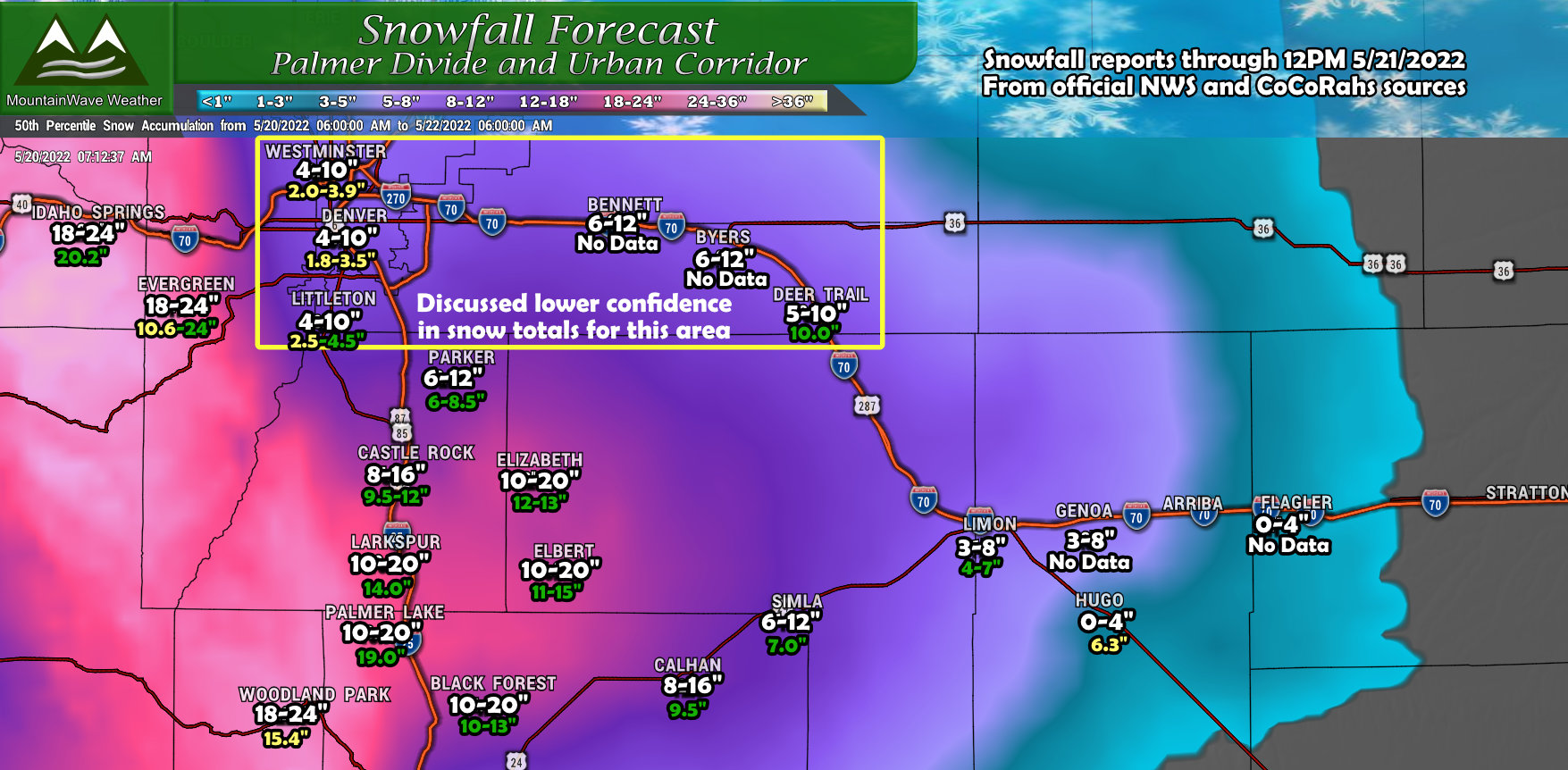 In the map above for the snowfall amounts I tried to include a range if there were multiple reports for that city.
Overall: very happy with what was a very tricky, late season, spring snow storm forecast!
---
Final Thoughts
We also mentioned 2 lifting mechanisms that would come into play, both of those panned out pretty perfectly. The upslope established with Easterly and Northeasterly winds as the storm moved through but we also saw lift from the jet as it moved overhead. Due to the Conditional Symmetric Instability we saw heavy snow bands set up and sit along the Palmer Divide for a good portion of this storm. This really helped those areas reach the higher snowfall totals.
Radar snapshot below taken around 6PM shows the stronger/heavier snow bands across the Palmer Divide.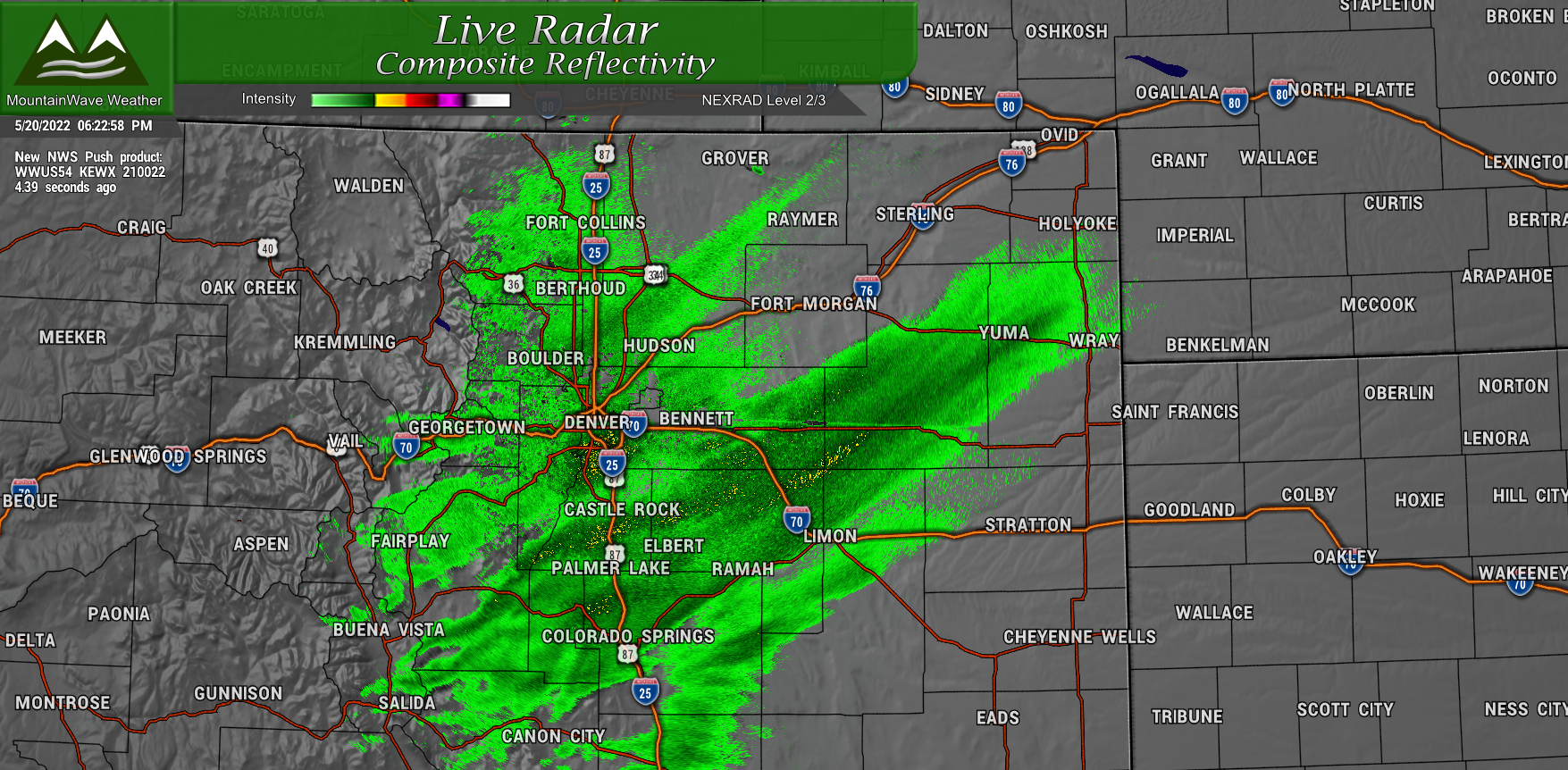 ---
Other Locations Snowfall Totals
Here's some snowfall totals for some other locations around the state. These appear to be updated so as of this afternoon so you shouldn't see anything too crazy in there.
Source: KDVR Fox 31 Denver
Air Force Academy: 13 inches
Allenspark: 12 inches
Alma: 17 inches
Arvada: 8.1 inches
Aspen Park: 15.5 inches
Aspen Springs: 18.5 inches
Aurora: 7 inches
Bailey: 12.7 inches
Bennett: 4.5 inches
Bergen Park: 12 inches
Berthoud: 2.7 inches
Berthoud Pass: 15.6 inches
Bellvue: 1.1 inches
Beulah: 13.5 inches
Black Hawk: 11 inches
Black Forest: 16 inches
Blende: 10 inches
Blue River: 15.6 inches
Blue Valley: 20.2 inches
Boulder: 8.3 inches
Brainard Lake: 10.8 inches
Breckenridge: 18.6 inches
Brookvale: 11.5 inches
Broomfield: 5.2 inches
Buckley Air Force Base: 5 inches
Byers: 5 inches
Cameron Pass: 12 inches
Campion: 2 inches
Cañon City: 10 inches
Carter Lake: 5.7 inches
Cascade: 14 inches
Castle Pines: 9.3 inches
Castle Rock: 14.5 inches
Castlewood Canyon: 17 inches
Cedar Point: 10.8 inches
Cheesman Reservoir: 10 inches
Cherry Creek Reservoir: 5 inches
Cherry Hills Village: 5 inches
Colorado Springs: 12 inches
Columbine: 7 inches
Commerce City: 2.5 inches
Conifer: 13.5 inches
Cope: 2.1 inches
Copper Mountain: 16.8 inches
Crescent Village: 13 inches
Cripple Creek: 20 inches
Crook: 8 inches
Denver International Airport: 2.3 inches
Downieville: 12 inches
Echo Lake: 21.6 inches
Edgewater: 3.5 inches
Elbert: 15 inches
Eleven Mile Canyon Reservoir: 15 inches
Elkdale: 6.6 inches
Elizabeth: 14 inches
Englewood: 2.3 inches
Erie: 3.9 inches
Estes Park: 14 inches
Evergreen: 10.3 inches
Federal Heights: 6.2 inches
Firestone: 1 inch
Florissant: 7 inches
Floyd Hill: 24 inches
Fountain: 10 inches
Foxfield: 6.1 inches
Franktown: 9 inches
Fraser: 4 inches
Genesee: 10.6 inches
Genoa: 10.3 inches
Georgetown: 11.3 inches
Glendevey: 12 inches
Golden: 14.5 inches
Gore Pass: 5.7 inches
Gould: 22.8 inches
Grand Lake: 11 inches
Grant: 10.5 inches
Greenland: 17.5 inches
Greenwood Village: 5 inches
Hahn's Peak: 6 inches
Heeney: 8.2 inches
Highlands Ranch: 8.5 inches
Horsetooth Mountain: 1.4 inches
Howard: 28.5 inches
Hugo: 8 inches
Hygiene: 4 inches
Idaho Springs: 20.2 inches
Jamestown: 12.1 inches
Karval: 2 inches
Kassler: 16.4 inches
Ken Caryl: 17.7 inches
Kiowa: 14 inches
Kinikinik: 6.2 inches
Kittredge: 12.1 inches
Kremmling: 8 inches
Lafayette: 5.5 inches
Larkspur: 6 inches
Leadville: 9.8 inches
Limon: 7.2 inches
Littleton: 4.3 inches
Lochbuie: 1 inch
Lone Tree: 9.2 inches
Longs Peak: 15.6 inches
Longmont: 5 inches
Louisville: 6.5 inches
Loveland: 0.5 inches
Loveland Pass: 14.4 inches
Lyons: 9.5 inches
Manitou Springs: 9 inches
Marshall: 8.1 inches
Mead: 0.8 inches
Meeker: 5.5 inches
Monument: 16 inches
Morrison: 8 inches
Mount Audubon: 15.6 inches
Mount Zirkel: 9.6 inches
Mountain View: 4 inches
Nederland: 15.5 inches
Niwot: 3.7 inches
Northglenn: 4.1 inches
Oak Creek: 5.5 inches
Palmer Lake: 19 inches
Parker: 6.1 inches
Parshall: 6.3 inches
Penrose: 9 inches
Perry Park: 20 inches
Pennock Pass: 0.6 inches
Peterson Air Force Base: 10 inches
Phippsburg: 5 inches
Pinecliffe: 13.7 inches
The Pinery: 8.5 inches
Pinewood Springs: 9.6 inches
Piñon: 5.5 inches
Pleasant View: 6 inches
Ponderosa Park: 13 inches
Pueblo: 6.8 inches
Pueblo West: 7.5 inches
Rand: 14.4 inches
Rocky Flats: 10 inches
Red Feather Lakes: 2 inches
Rollinsville: 14.1 inches
Rosita: 13.8 inches
Salida: 9 inches
Salida: 9 inches
San Isabel: 11 inches
Sawpit: 1.9 inches
Shadow Mountain: 17.5 inches
Shaffers Crossing: 6 inches
Sheridan: 6 inches
Simla: 11.9 inches
Silverthorne: 4.8 inches
Spanish Peaks: 12 inches
Spicer: 4.8 inches
St. Mary's Glacier: 18 inches
Steamboat Springs: 6 inches
Strasburg: 2.3 inches
Sunshine: 13.5 inches
Superior: 5.8 inches
Tabernash: 5.5 inches
Thornton: 1.6 inches
Tincup: 6 inches
Todd Creek: 2 inches
Toponas: 2.5 inches
Virginia Dale: 3.4 inches
Walden: 6.1 inches
Walsenburg: 10 inches
Ward: 16.8 inches
Westcliffe: 10 inches
Westminster: 5 inches
Wetmore: 13 inches
Wheat Ridge: 6.3 inches
White Ranch Park: 16 inches
Williams Fork Reservoir: 2.5 inches
Wilkerson Pass: 16.3 inches
Winter Park: 7.3 inches
Woodland Park: 16 inches
Woodrow: 1 inch