A strong storm system is brewing to our West and Colorado and much of the U.S. will see some sort of impacts from it. Here's the latest updates on what/when to expect and as always, I will have more updates on the finer details as we get closer and get better data.
---
Current Weather Highlights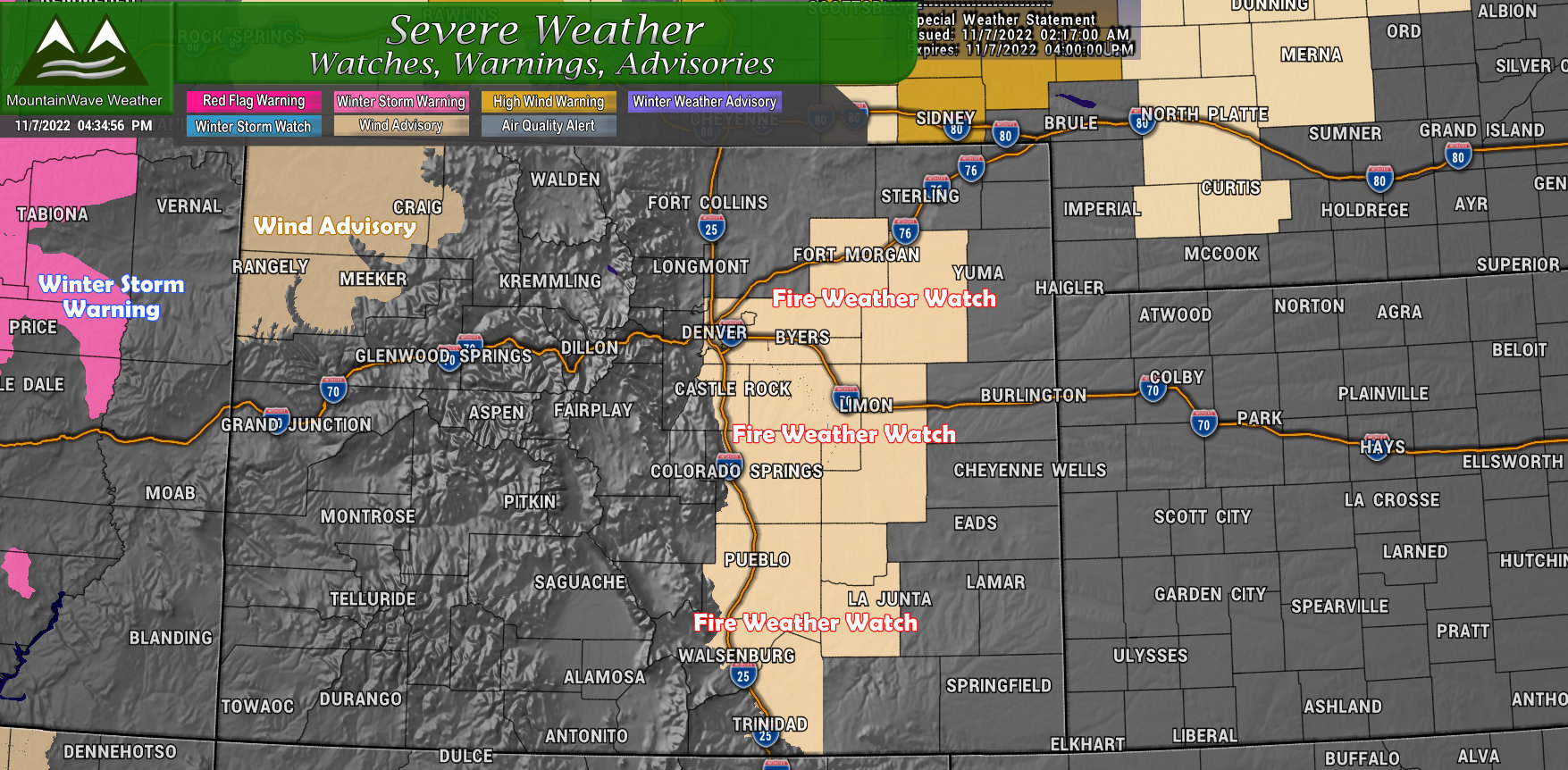 The weather map is not terribly active just yet, no winter weather highlights for the mountains in regards to our next storm, but I have a feeling they are coming. For now, we will focus mainly on more wind, low humidity and fire conditions, here's the alerts in Colorado as of 4PM this afternoon (Monday 11/7/2022):
FIRE WEATHER WATCH
Includes: DENVER METRO, PALMER DIVIDE, AND EAST-CENTRAL PLAINS
* Timing...Wednesday from 11 AM to 7 PM MST.
* Winds...South 20 to 30 mph with gusts up to 45 mph.
* Relative Humidity...As low as 11 percent.
* Impacts...Above normal temperatures, low relative humidity,
and breezy conditions could lead to rapid fire spread for
ready to burn fuels. Avoid any burning or outdoor activities
that may produce a spark and start a wildfire.
WIND ADVISORY
IN EFFECT FROM 9 AM TO 6 PM MST TUESDAY...
* WHAT...For the first Wind Advisory, southwest winds 15 to 25
mph with gusts up to 45 mph. For the second Wind Advisory,
south winds 20 to 30 mph with gusts up to 50 mph expected.
* WHERE...Lower Yampa River Basin and Central Yampa River Basin.
* WHEN...For the first Wind Advisory, until 6 PM MST this
evening. For the second Wind Advisory, from 9 AM to 6 PM MST
Tuesday.
* IMPACTS...Gusty winds could blow around unsecured objects. Tree
limbs could be blown down.
---
A Major Storm is Brewing - Model/Forecast Play-by-Play
I want to step through the European model for the next few days to illustrate what is going on and give a glimpse of the type of weather certain locations will be seeing and what to be prepared for. This information doesn't just focus on Colorado, it is good information for everyone to have across the Rockies, Front Range of Colorado and the Central and Northern Great Plains.
Tuesday
Tuesday morning a strong low pressure system is projected to be sitting along or just off the Coast of California and Oregon. This strong storm system will have a bit of cold air and a decent amount of moisture with it. Many parts of the Sierra Nevada are under Winter Storm Warnings for heavy snow mainly throughout the day on Tuesday. This storm will continue to track to the East into Wednesday.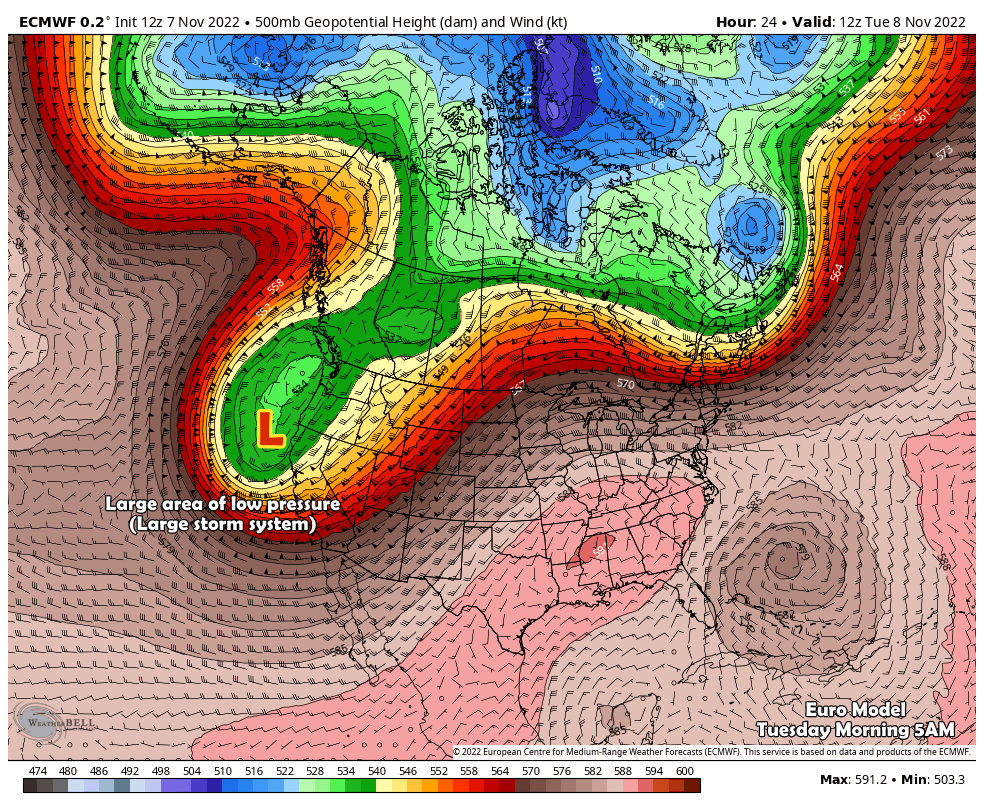 Wednesday
By Wednesday morning the low has shifted into Nevada. Models do show a bit of weakening as the storm crosses across the Great Basin. Don't let this fool you however, it will still be a strong-ish storm and will bring mainly strong winds across the Great Basin. This means areas like Utah and Nevada will see strong winds on late Tuesday and into Wednesday. There are a few High Wind weather highlights up in advance of this storm. Utah's mountains are under Winter Storm Warnings for heavy snow for late Tuesday all the way through Thursday morning. 1-2 feet of total snowfall will be possible in some of those areas!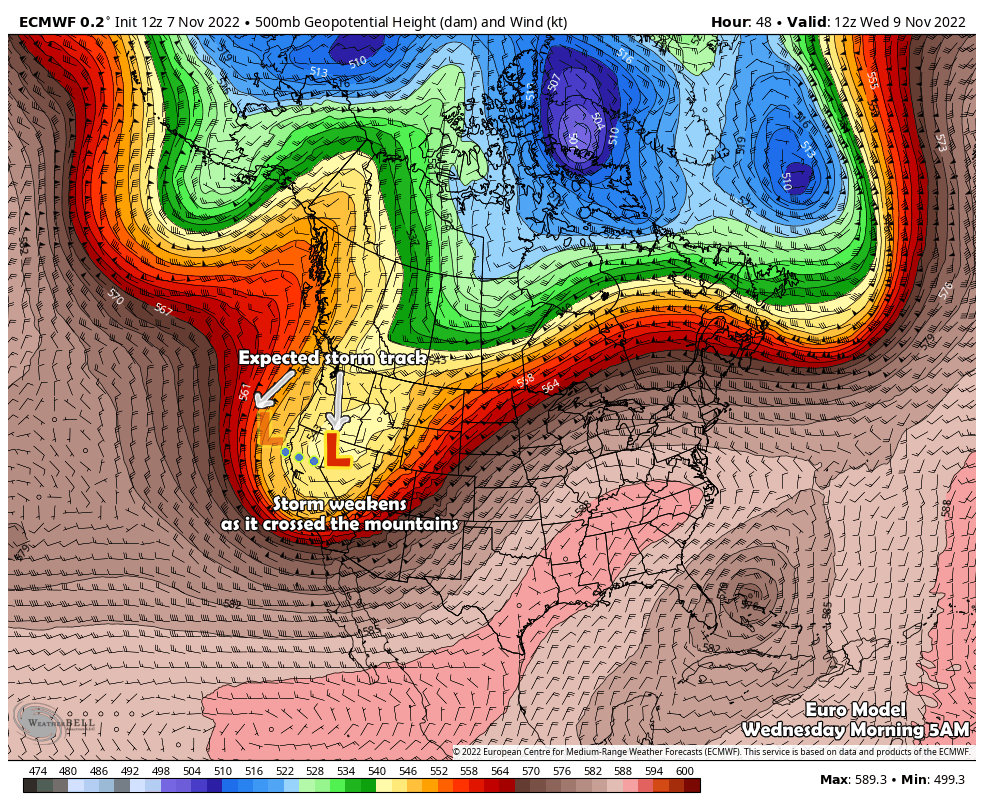 Thursday
Throughout late Wednesday and into Thursday we see a bit of strengthening and a more Northward shift of the storm track. This means Colorado will likely see snow primarily during Wednesday night, through the day Thursday and into Thursday night. We are still waiting to see ultimately how this storm pans out for out mountains - as of right now, no winter weather highlights have been issued for the high country. I have a feeling they will be issued in the next day or so.
Ahead of the storm system, we will be looking at more of a wind and cold event for the Front Range of Colorado. We will be on the dry side of this storm unfortunately once again (typical during La Nina years.) Not to say there's no snow in our forecast, but any amounts we see East of the Continental Divide look light at best.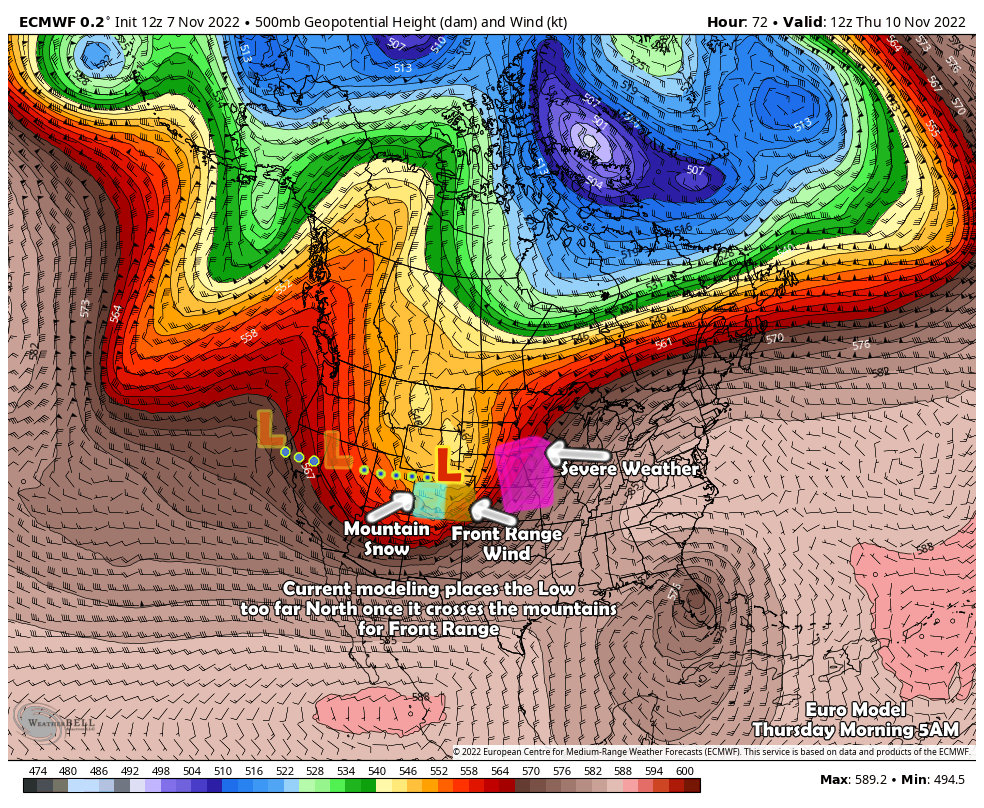 If you have travel plans to the Central or Northern Great Plains from Thursday into Friday - things will be rough. Ahead of the low in the warm sector, severe weather will be possible. We will have to see what specific threats evolve over the next couple of days, but keep it in mind if you have travel planned to those areas or have friends and family out that way.
After the front passes the Northern Plains will have another threat possibly materialize...
Friday
Friday, many models have rapid intensification of the low into a strong storm once again. This means that Colorado likely misses the biggest impact from this storm but areas around the Dakotas and into Minnesota and even Iowa need to be on alert for Blizzard Conditions on Friday. Again, this is just something to be watchin for those areas if you have travel or friends and family in the area.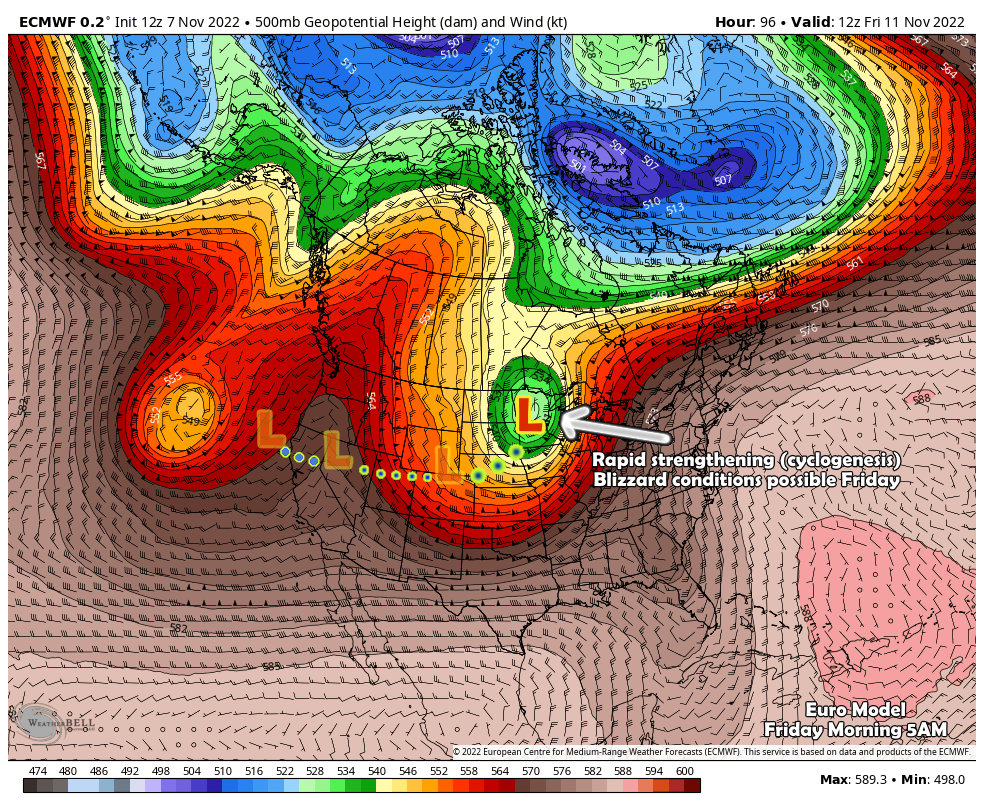 ---
Closer to Home? What to Watch For...
We're still a bit early in the forecast for finer details and ultimately how this storm tracks will majorly affect what we see. Here's the 30,000 foot view for now:
Timing
Wednesday night and Thursday morning will be the timeframe to watch for weather impacts
Impacts
Accumulating snowfall may occur during the above timeframe
At this time, snowfall amounts look light/minor for many areas East of the Continental Divide
Overall impacts are still to be determined
What to Do?
Change plans? NO
Cancel plans? NO
Watch forecast over the next 2-3 days: YES
As of right now, impacts look minor from this storm, no need to act on changing plans or canceling things. Most likely this storm will an inconvenience at most along the front range.
If you have travel planned through the mountains on Wednesday and/or Thursday
Keep a very close eye on the forecast
Stay aware of any weather highlights that get issued and their details.
Be flexible with dates/times you can travel
---
Summary
As always, I'll have more details as they become clearer.
Expect a snowfall forecast up sometime on Tuesday. Stay tuned!