After a brief cool down for Sunday we will be back to business as usual for summer along Colorado's front range. That means - you guessed it - more heat and more smoke! Interestingly, we are looking at a bit of a change later in the week where better chances of rain will be POSSIBLE especially for the mountains. The main question mark will be how much of the moisture from Hurricane Nora makes it over the mountains and along the front range. You can read our thoughts on this change here.
---
Smoke is Back
The smoke will be back, mainly from the fires to our West and Northwest, but one interesting thing you'll notice is a fresh, reinforcing batch of smoke will now be coming from a new fire here in Colorado. The Black Mountain Fire is currently burning in Grand County near Kremmling. Given the weather conditions expected over the next few days, it will most likely be later in the week before they get a handle on that fire. A lot of that smoke will drift Southeastwards towards the Palmer Divide... so a lot of the smoke we see around this area over the next few days will be from that fire.
Tuesday will see more of the same, smoke will remain over the area in moderate amounts. Definitely expect to see the haze in the air, the reduced visibility and don't expect to see the mountains for a couple of days.
---
The Forecast - Record Heat, Then Relief!
Below is the outlook for Castle Rock this week - add or subtract a couple of degrees based on your elevation and location. The main theme is the week will start off hot with temperatures in the low 90's. I think these temperatures may be a bit underdone honestly so expect the possibility of things to be a bit warmer. Denver, for example will push 100 degrees on Tuesday.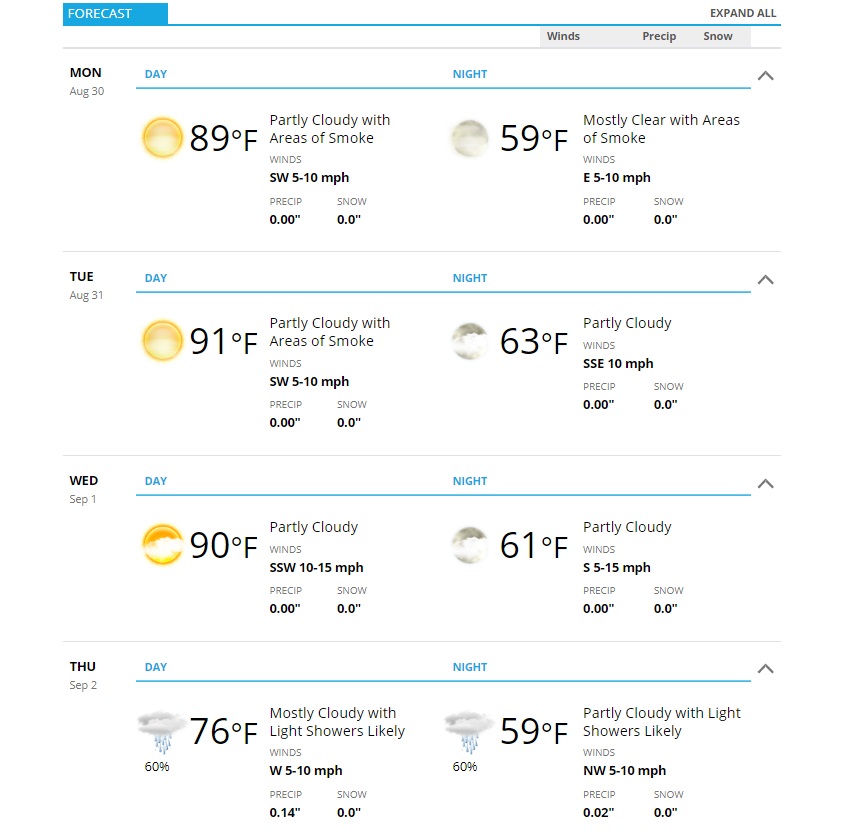 Look at what is coming on Thursday though! Subtropical moisture and cooler air will push into the area dropping our temperatures and giving us a decent chance of showers. Probability of your exact location seeing any rain is about 60-70% as of this morning's data - that's a pretty decent chance but not a lock by any means. Since a lot of this moisture is moving up from the Southwest and is remnants of a tropical cylone, we will need to keep an eye on it to see how it develops over the week. We will adjust the forecast as necessary.
One thing to keep an eye on in the mountains as this moisture arrives is the threat for flash flooding. If these storms set up as heavy as is expected, closures of mountain highways due to mudslides in and around burn scar areas will be a real possibility. Keep that in mind if you have travel plans!