All modes of severe weather possible today! Please note: severe weather will not be widespread along the Colorado Front Range but models have been focusing a lot of the stronger/severe storms along the Palmer Divide this afternoon. Since most of my viewers are in that area, that's why we're emphasizing staying weather aware this afternoon.
Here's the details: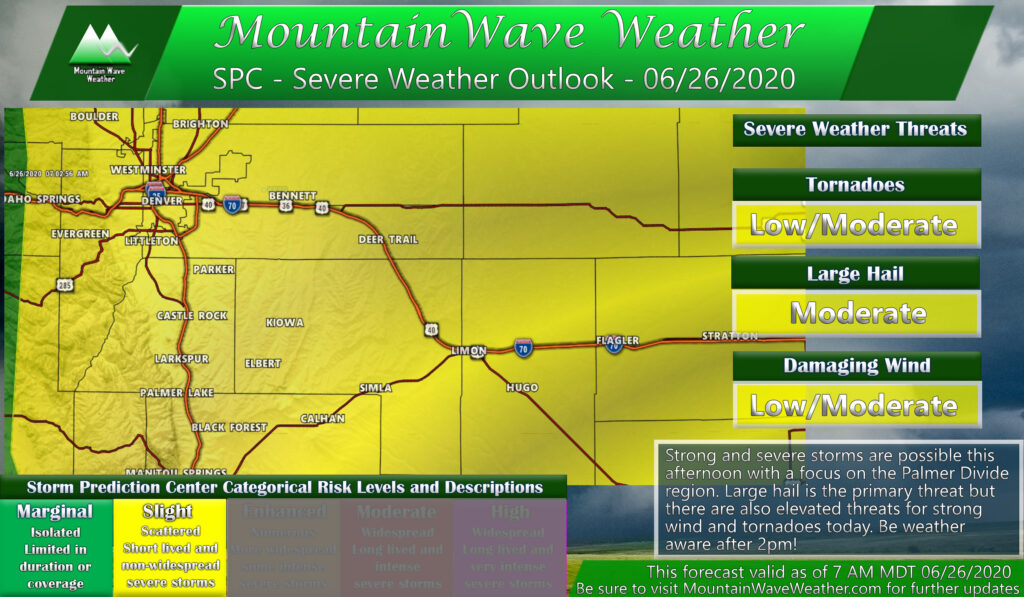 Timing
Storms form along the foothills after 12PM.
We expect storms to be in/around the Palmer Divide Region after 2PM
Main Threats
High

Large hail is the primary threat today. Strong instability means lift will be sufficient to cycle hail enough so that it can grow to a decent size
Largest hail threat will be early in the storm's lifecycle - transitioning into a hail/wind threat throughout the afternoon

Medium

Tornadoes are possible today with an elevated threat primarily along the Palmer Divide in Douglas and Elbert county
Tornado mode will primarily be landspout/weak tornadoes and funnel clouds
Strong winds are likely with storms as well, especially later in their lifecycle
Winds could be strong enough to blow lightweight objects around and cause damage
Preparedness Actions for Friday Afternoon
Stay very weather aware this afternoon, especially South of Denver
If in the foothills be prepared to take shelter if storms approach your area around or after 12PM
Along the Palmer Divide be prepared to take shelter if storms are in the area after 2PM
Large hail is possible, be prepared to move cars and sensitive plants indoors
---
Elevated Tornado Threat - Palmer Divide
Large portions of the front range are under a 2% risk while the Palmer Divide and Colorado Springs areas are under a 5% risk. While that number is still pretty low, in my experience in Colorado a 5% risk can turn out to be quite active. We have no way of knowing how if or how many tornadoes we see today (if at all) but we do know the atmosphere will be somewhat supportive of them this afternoon in Douglas, Elbert, Teller and El Paso counties.
This is nothing to get worried about or panic about. Tornadoes will not be dropping all over the place... this is not that kind of event.
What you should know is that people in these areas need to stay very weather aware this afternoon and be prepared to take shelter.
---
Summary
An interesting day on tap today, this won't be the biggest severe weather event we've seen... but it will be the most significant storm day we've seen in at least the past several weeks. The ingredients are pretty established today so just make sure to stay weather aware and be prepared this afternoon.
As always, I'll be watching things and will pass along updated information as I can. For real time weather updates keep an eye on the National Weather Service.