A strong spring storm system looks to impact the area on Thursday. While we are still working out some details on exactly who sees what and how strong this thing gets, we are beginning to see model confidence grow in regards to how they believe the storm will behave. Here's the latest...
Winter Weather Highlights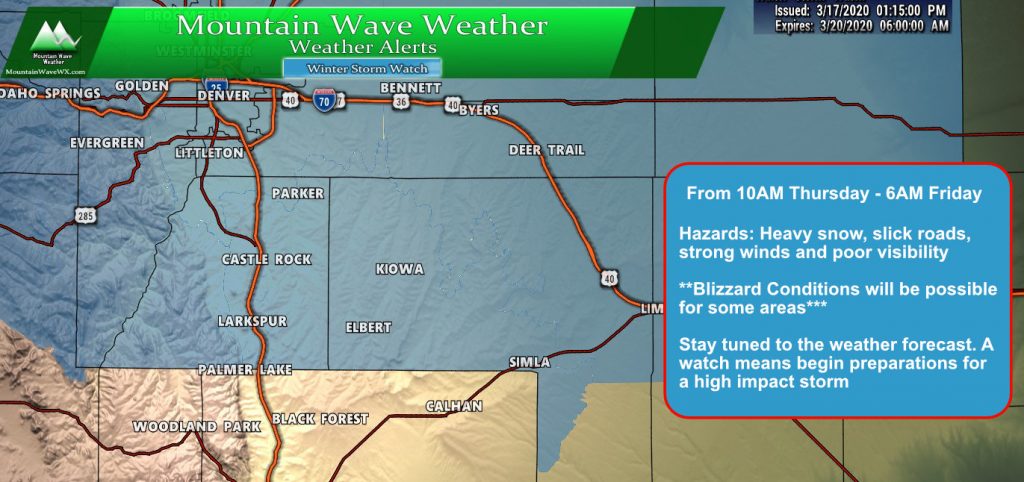 As of this evening the National Weather Service has issued a Winter Storm Watch for the entirety of North Central and Northeastern Colorado. This watch has been issued as a heads up that conditions with this storm may be impactful in terms of travel, snowfall and wind. Remember, a watch is not a guarantee that this storm will or won't happen... it is simply a statement saying watch the forecast closely and begin preparations for this storm.
Here's what the NWS is concerned about:
Heavy snowfall rates across the region
Decent snowfall accumulation, especially for areas above 6,000 feet or so. Higher elevations of the Palmer Divide like Eastern Douglas and Western/Central Elbert County will need to be watched closely
Strong winds - models have gusts in excess of 45-50mph... it doesn't take a whole lot of snow to create blizzard conditions with winds like that
---
Expected Snowfall
Palmer Divide Region/ South Denver
Not a "major" snowfall event by any means but snow totals could be decent... especially for higher elevations. Generally like the 3-7" range across the Denver Metro Area with a higher 4-8" range for higher elevation areas along the Palmer Divide. Remember, one of the big question marks is how much cold air and moisture makes it in with this storm; if we see less moisture or cold air expect the low ends of these totals with a potential storm bust. More cold air and higher moisture means higher ends with these totals.
Colorado
There's still some model disagreement that we see in which areas of the front range see the most snow. The WPC product we use for this graphic paints the Palmer Divide and South Denver, along with the foothills as the biggest snow accumulation areas. Some other models however, keep the snow mainly North of I-70 and not much along the Palmer Divide.
Given the dynamics associated with this storm we will lean towards what we have posted above and make adjustments as necessary. For a range, add or subtract 1-2" to each "pinpointed" number in the graphic above. Quite a few folks have asked about areas in and around Colorado Springs, to Pueblo and Southeastern Colorado; this won't be a major storm for any of those areas with what we see right now. Colorado Springs stands to get maybe 1-3" but the snow drops off pretty quickly the further you move South and East. Please note: a southward shift in the storm track could change this and will be something we have to keep an eye on.
---
Storm Discussion (Impacts/Timing/Hazards/Trends)
Timing
Thursday - early

Precipitation is expected to start as rain or a mix
Roads should initially stay wet as warm temps the past few days have made the ground a bit warm

Thursday - late morning/afternoon/evening

The Winter Storm Watch highlights 10AM as the action hour, given what we see on the models this looks good so far
Heavier snow forms with the addition of colder air by afternoon
Snow intensity could be heavy Thursday afternoon/evening
Strong winds could mean low visibility (blizzard conditions)

Thursday - overnight

Snow intensity decreases into the overnight hours
Some lingering snow showers possible into early Friday morning
Impacts/Hazards
Intense snowfall during the storm
Roads may be overcome quickly under areas of heavy snow and may quickly become slick
High winds will create blizzard conditions in some areas... we are still watching to see which areas these conditions may develop in so stay tuned for that
---
Summary
Given how dry March has been this will be much needed moisture if it pans out. It won't be a historic "March Blizzard" storm and it's certainly not on the level of last year's big March storm, but it should be fun either way. The good news is I think a lot of people won't be commuting and the schools are already closed, so there's that.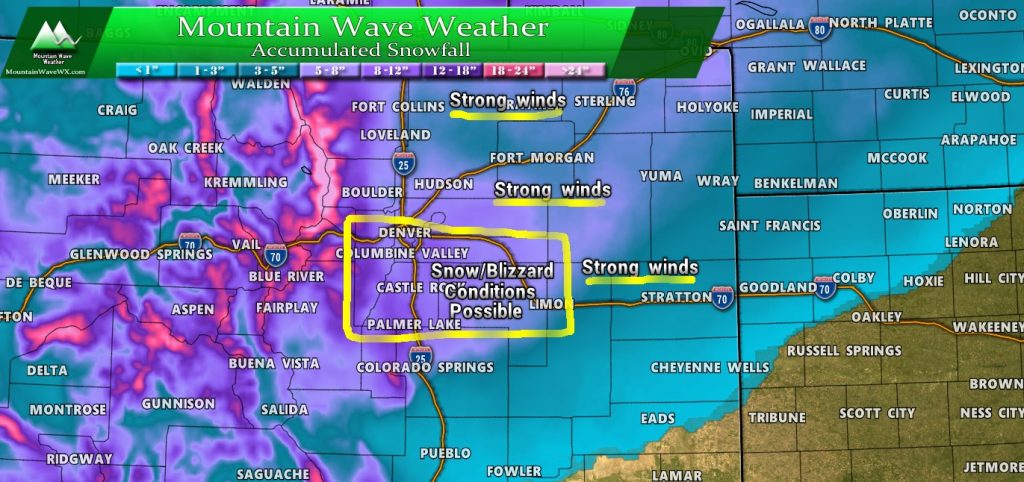 Keep in mind, there is still some model uncertainty so a lot of this can still shift... but at this point it's best to be prepared. Like always, we will continue to watch this storm system and update as needed. Expect one or more updates through the day Wednesday based on if things chance a lot or not.
Important Note!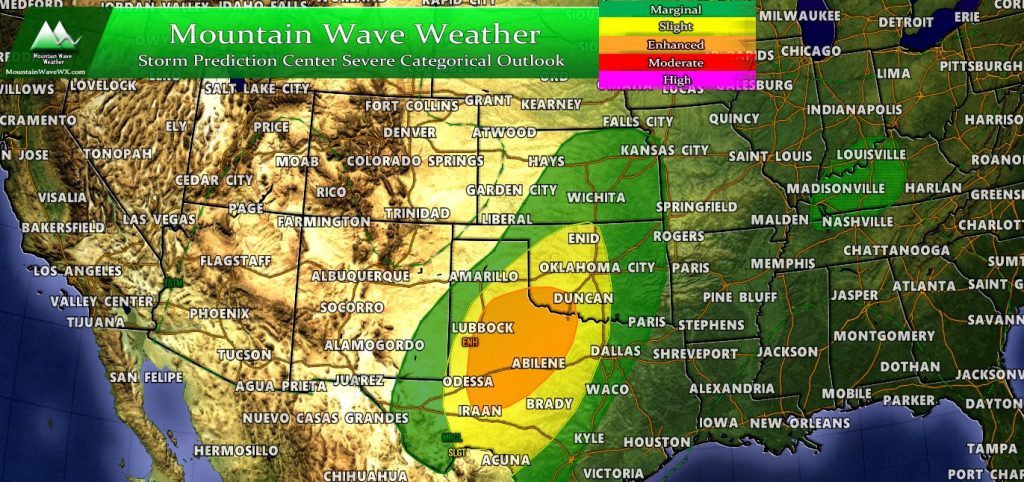 Here's the SPC Severe Weather Risk for tomorrow... why would I show this? With this type of storm, if it spawns too much severe weather ahead of the storm it can disrupt the moisture advection into Colorado. The best analogy is to think of the severe storms ahead of this system as sponges that suck up moisture as the move along, leaving little for Colorado in the end.
This is important to keep an eye on because we have seen large storm systems like this completely fall apart due to severe weather outbreaks ahead of the storm system. Models are absolutely terrible at predicting this but as a meteorologist it's something you have to be well aware of as it can drastically effect how our storm plays out here in Colorado.
Fascinating stuff, have a great evening!