Today's weather setup is brought to us by a pair of low pressure systems moving through to our North. This means the flow aloft is mainly out of the West or Northwest, which keeps our temperatures cooler overall.
Additionally, a surface low is set up shifting the flow at the surface to Southeasterly - this setup is well known to bring moisture up and across Colorado from the South.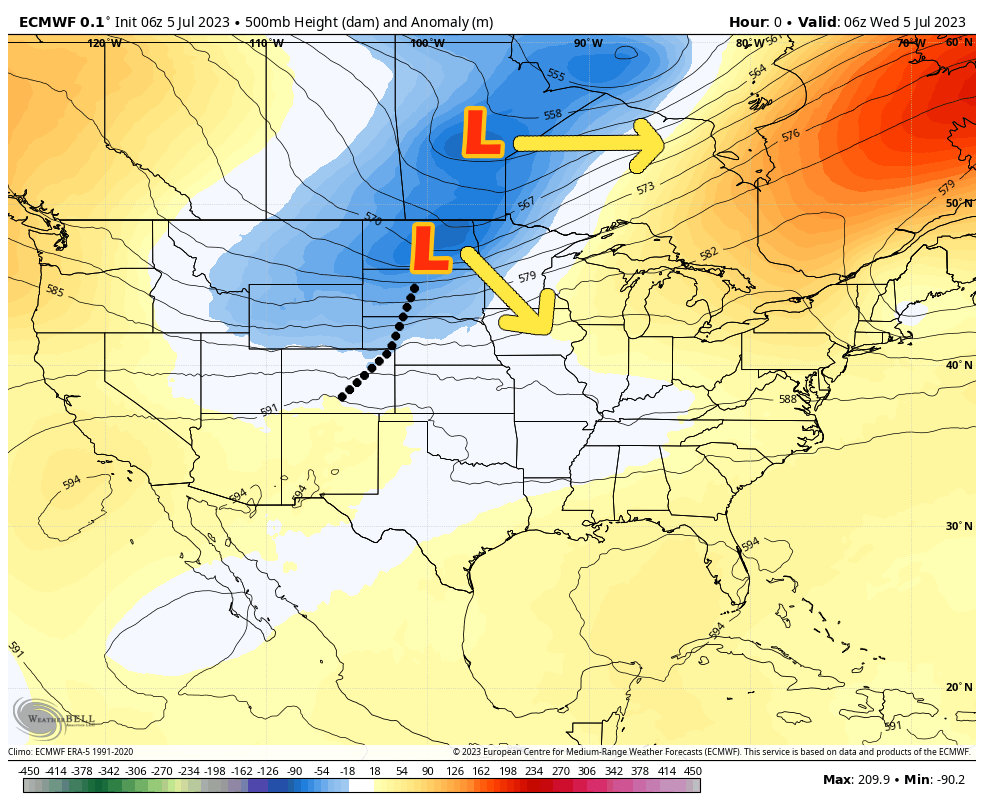 This Southeasterly surface flow sets up a feature known as the "Denver Cyclone" or known by it's official/long name "The Denver Convergence Vorticity Zone."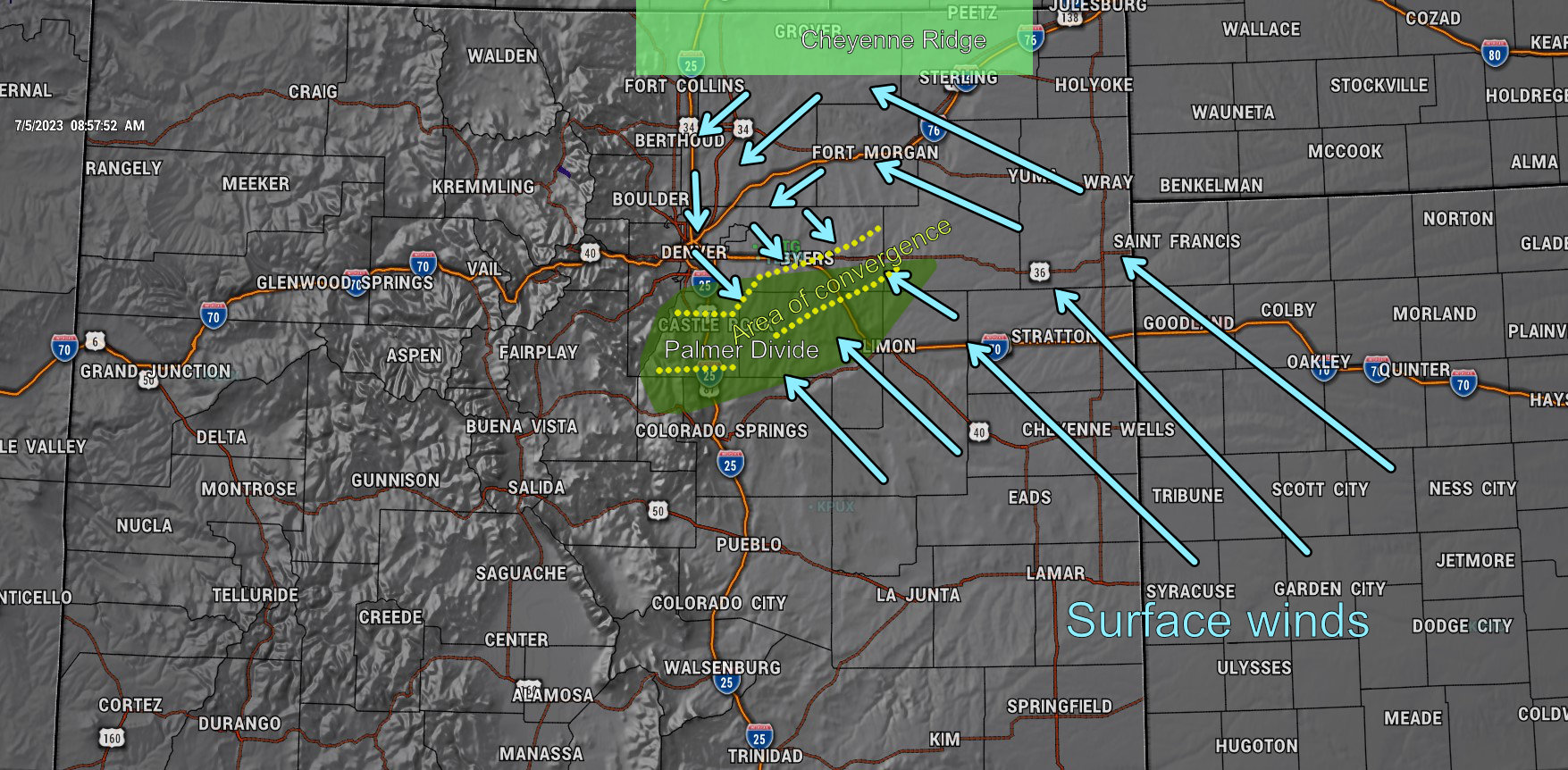 A quick geography lesson on Denver:
Most of the Denver Metro area is bordered by the mountains to the West, the Cheyenne Ridge to the North and the Palmer Divide to the South.
This means Denver sits in roughly 3/4 of a bowl when it comes to topography
When Southeasterly winds move in and around Denver, they get turned due to the terrain to the North and West.
Now we have winds from the Southeast meeting with wind from the Northwest. This typically occurs near or along the Palmer Divide during setups like this.
What happens when 2 air masses crash into each other? That air needs to go somewhere... it can't go down into the ground - so it goes up.
What do we need for thunderstorms? A strong source of lift...? That's exactly what we get along this convergence zone.
One thing to clarify: on days like this we don't need strong daytime heating to fire thunderstorms. As such, on a day like today - thunderstorm formation would be favored along this convergence boundary. This means the Palmer Divide is favored for thunderstorm formation today.
---
Severe Weather Outlooks and Threats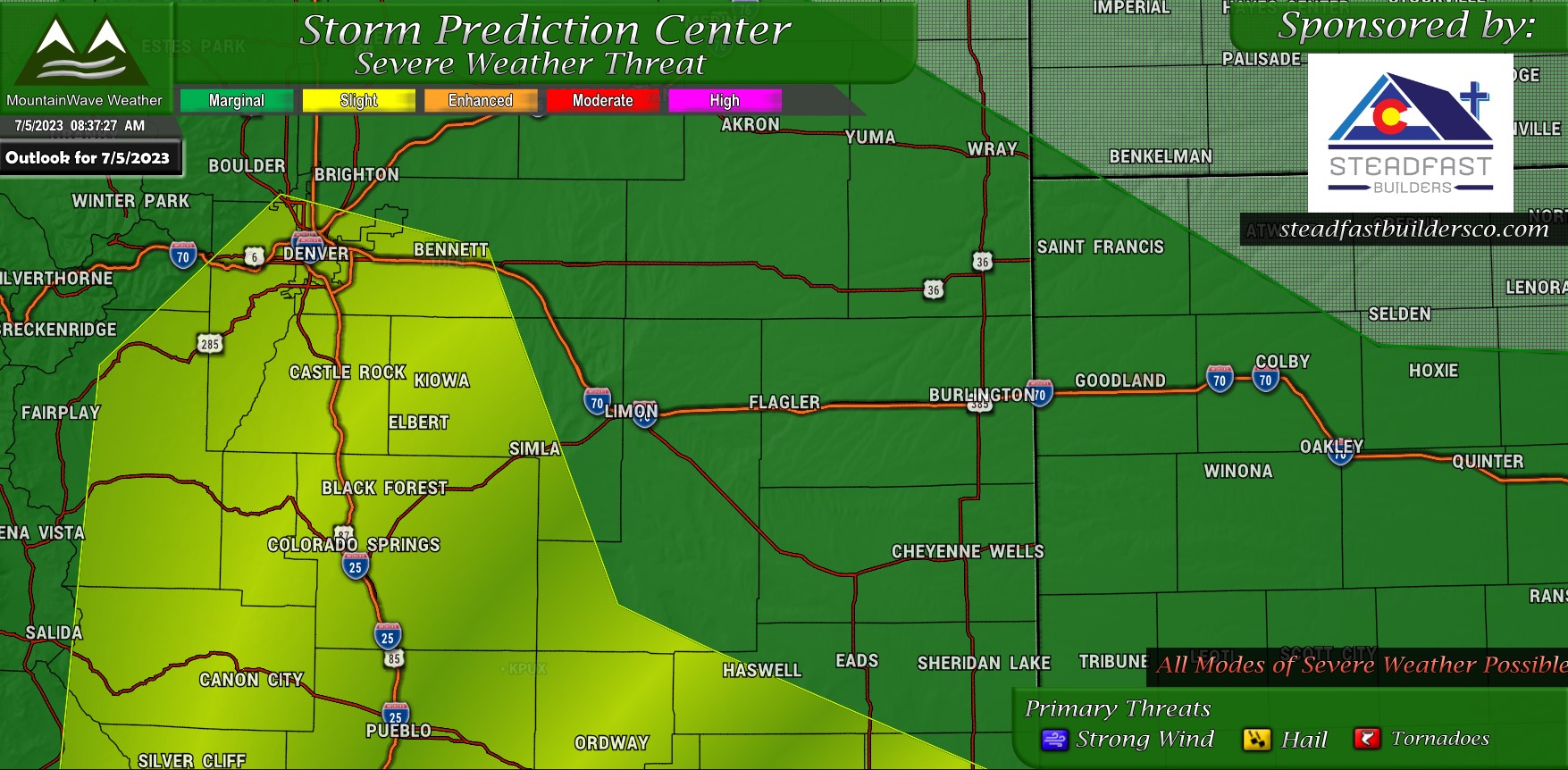 The Storm Prediction Center has much of Metro Denver and the Palmer Divide under a "Slight Risk" of severe weather today. While thunderstorm coverage looks decent again (mainly along the elevated terrain) there won't be a ton of severe storms. That being said, depending on where that boundary sets up and how intense it is will depend on where those storms fire and how strong they can get.
Tornado Threat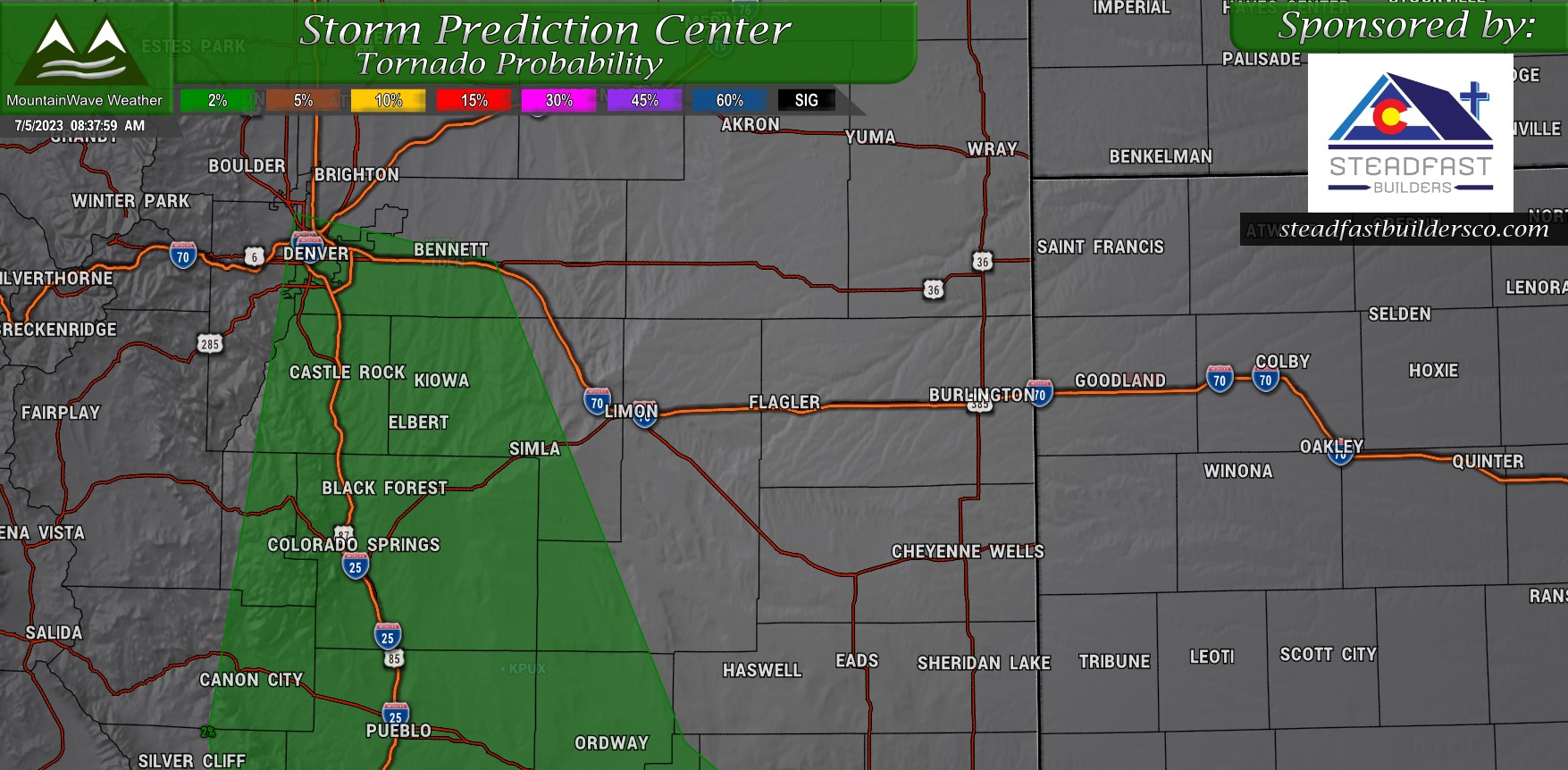 The tornado threat today is overall low, but not zero. Whenever we see Denver Cyclone setups like this - we often see weak/short lived landspout type tornadoes. Especially along converging storms or boundaries.
The threat is low today, but it's worth keeping an eye out on!
Hail/Wind Threat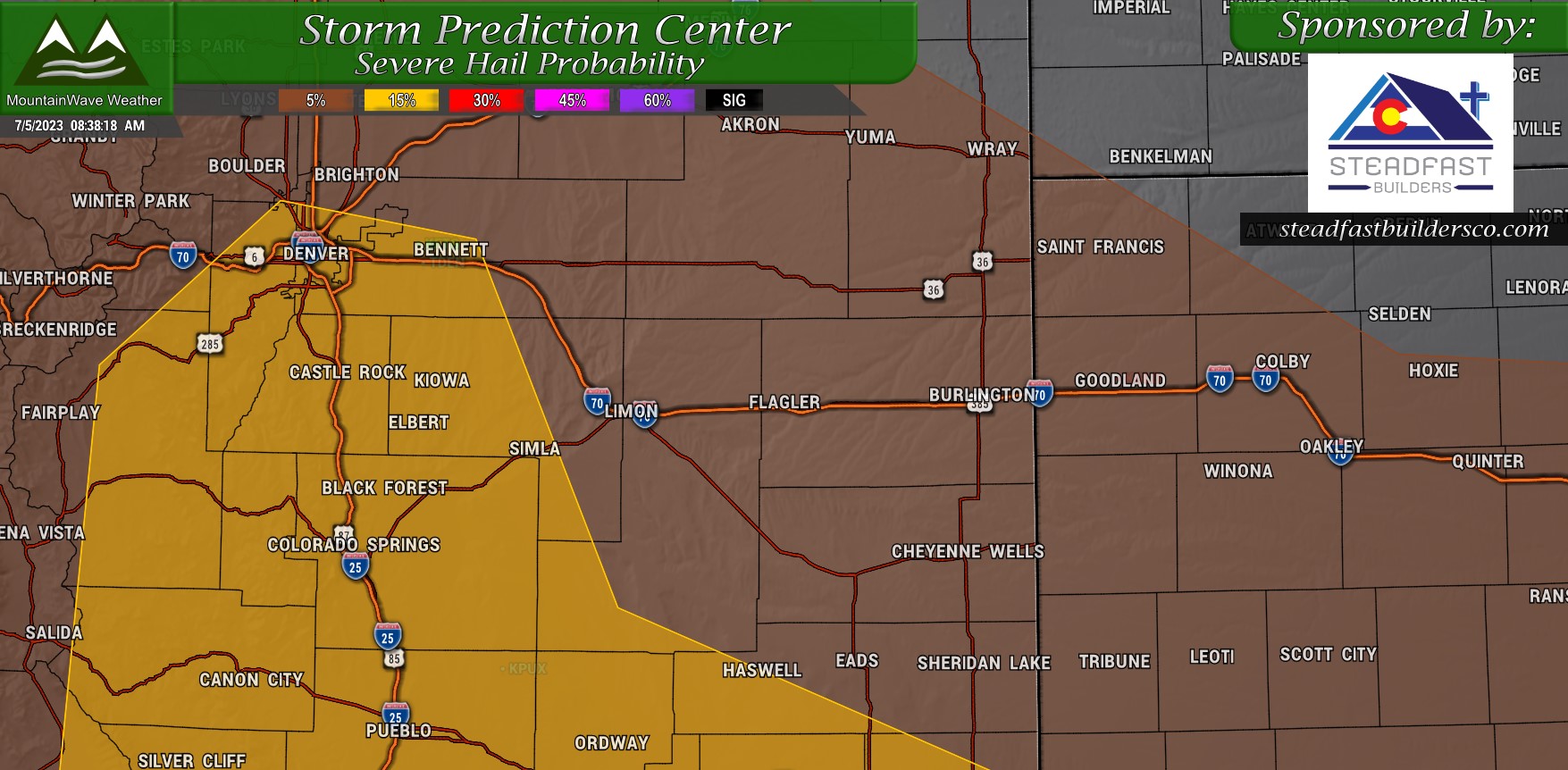 These are the two primary threats for today and they encompass the same area with the same probabilites.
Your chances of seeing severe sized hail and strong damaging winds is about 15% within 25 miles of a point in the yellow highlighted areas.
---
Message for Today
Timing for a lot of these storms looks to be between 2PM-10PM today.
If you're still enjoying the holiday and outdoors today - you'll want to stay weather aware and be ready to move inside if bad weather threatens.
More updates as/if needed this afternoon.