We have some very interesting activity going on in regards to our Hurricane Season; on the one hand we have a monster storm in Hurricane Ida, which will cause catastrophic damage along the Louisiana coast... on the other hand we have Hurricane Nora spinning away just off the coast of Mexico and slowly moving its way North.
Ida is not expected to have any affects on Colorado's weather - storms to the east get caught up in the upper level winds and that does a pretty good job at keeping any wind and rain away from our neck of the woods.
Nora however, may be a bit of a different story. Sometimes storms that get caught up in our "monsoonal flow" from the Southwest can cause a higher chance of rain and thunderstorms for Colorado. Nora looks like it may be in a good position to do that later this week, but there are still some questions on exactly how sees moisture and how much. Typically storms like this send moisture our way, but if it doesn't come in the right trajectory, the mountains can trap a lot of that moisture leaving little for anyone East of the Continental Divide.
Here's the data as of this morning:
Track and Intensity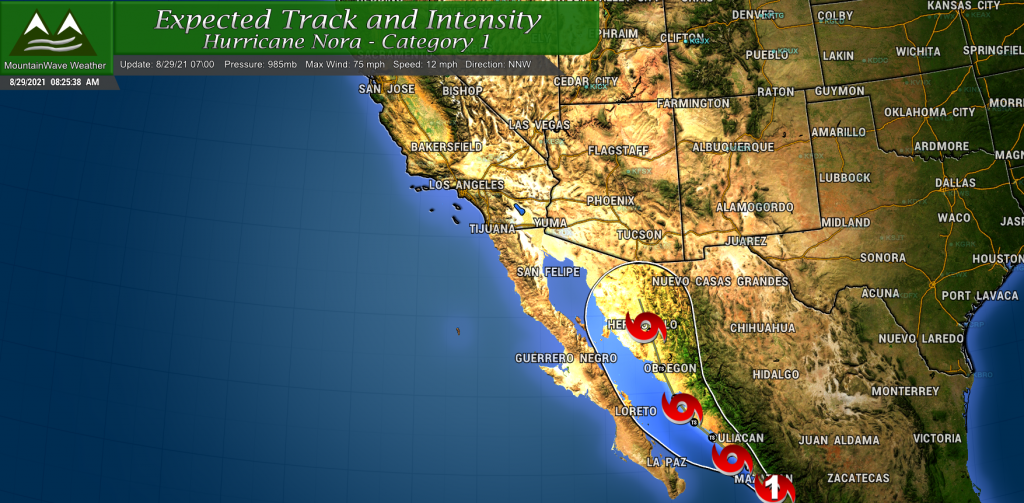 Currently according to the NHC: the storm's location is ABOUT 30 MI...50 KM SE OF MAZATLAN MEXICO
You'll notice that this storm is much weaker than Ida, it is just barely a Category 1 hurricane with winds recorded at 75mph. As it moves North-Northwest it will maintain tropical storm status well into Mexico. It should be pretty well dissipated as it reaches towards Arizona, but there should be a decent amount of moisture left behind. It's likely Arizona sees decent precipitation out of the remnants of this storm.
---
What Do the Models Say?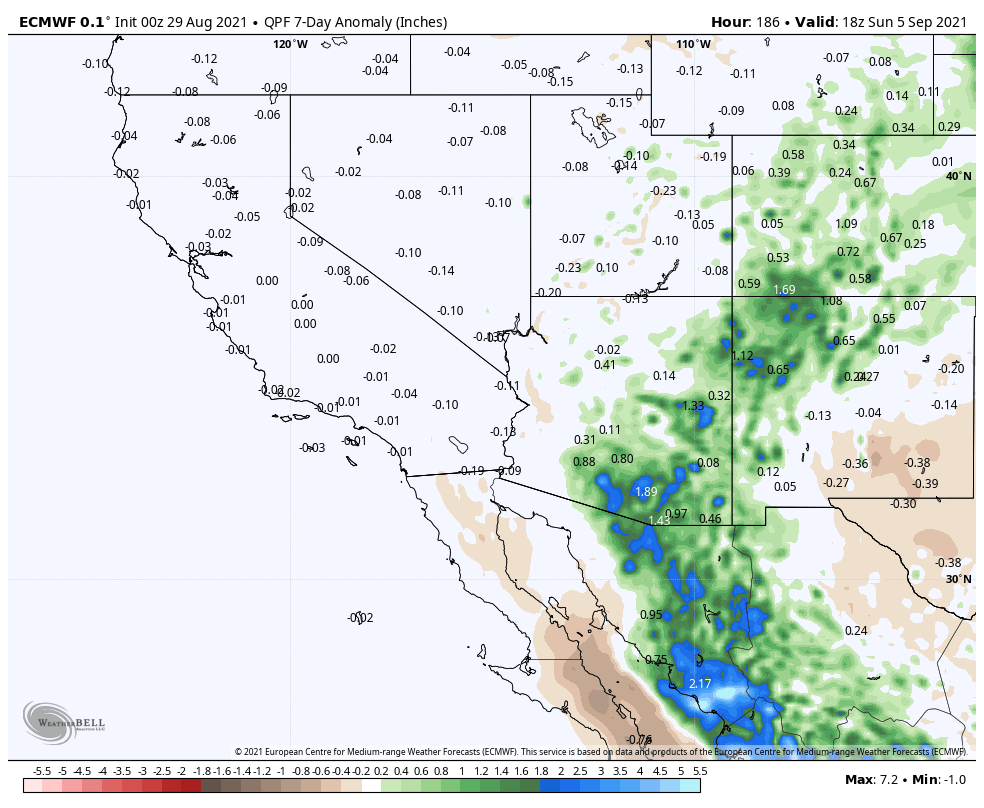 You can see on the Euro model above for precipitation expected over the next 7 days that it anticipates a lot of that moisture across Mexico, Arizona and New Mexico. It even brings some of that moisture up into Colorado, especially the Southwest corner which is an area that could definitely use it. The bigger question mark remaining is how much of that can make it across the divide onto the front range.
The Euro seems to think at least some of it will.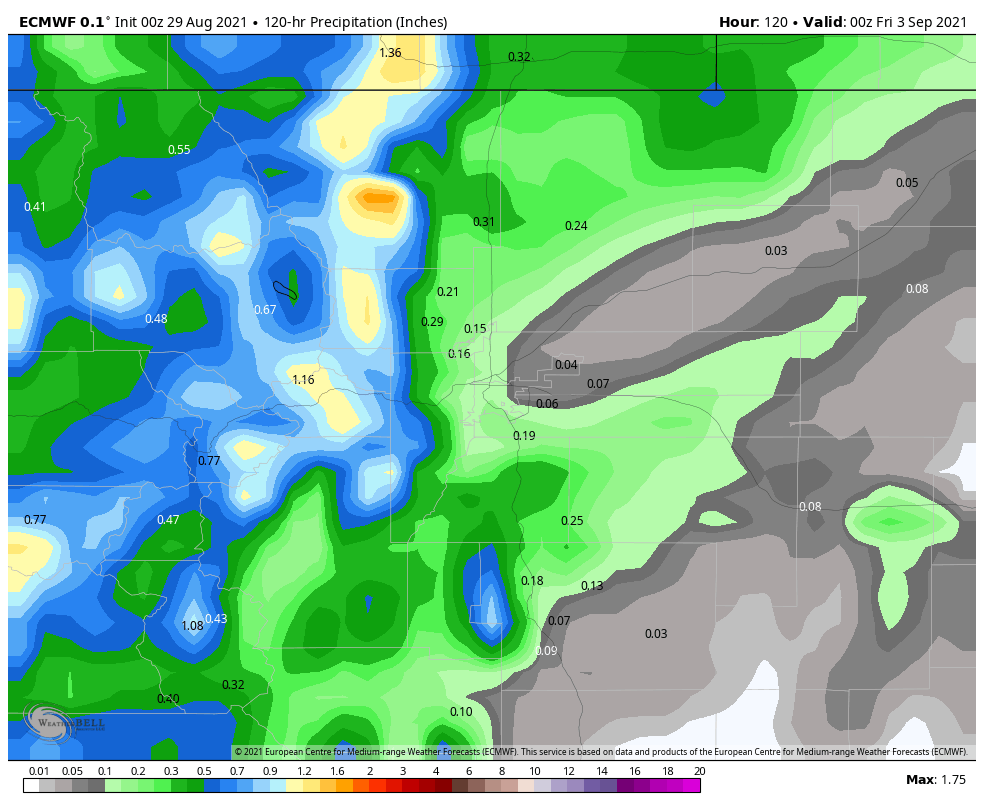 Zooming into Colorado you can see finer details, again the mountains stand to see the best chance of higher rain totals. This model believes some of that makes it over the hills onto the front range, especially across the higher terrain of the Palmer Divide and Southwards towards the Pikes Peak region
For what it's worth the GFS is even more bullish on moisture: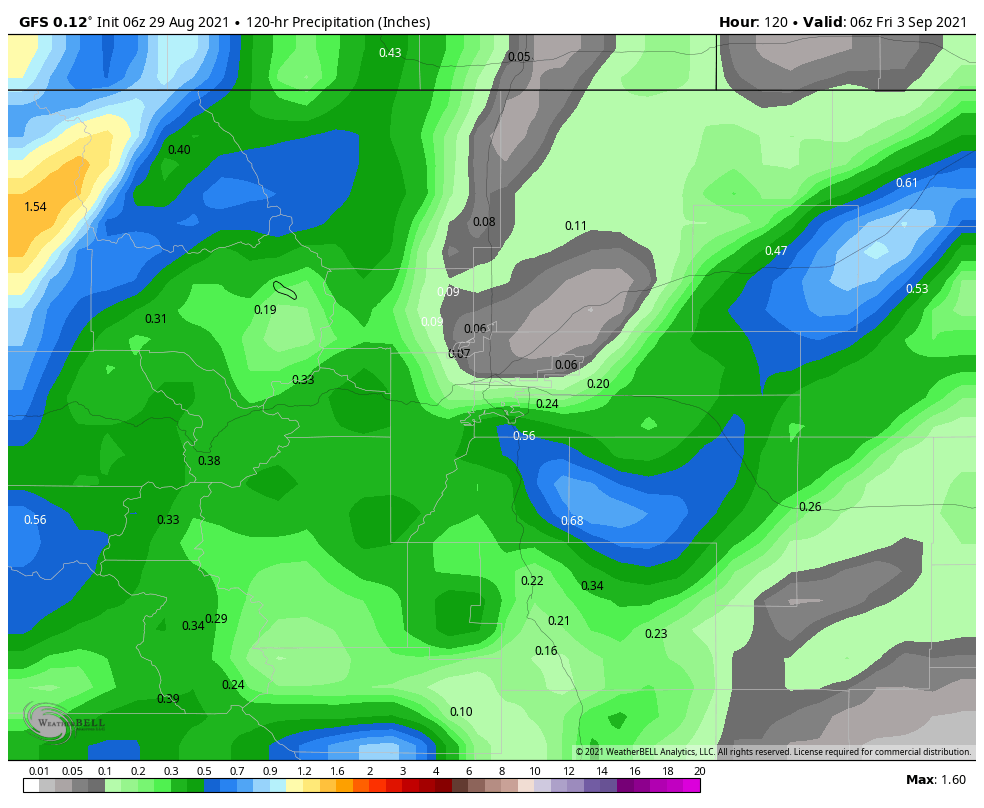 I won't post them here, but the ensembles are pretty close to the deterministic models on this subject. This gives us at least some degree of confidence that rain from what's left of Nora will make its way to Colorado later this week. Exactly how much though will have to be determined with additional model runs and data.
---
Watch for Increased Shower and Storm Activity Later This Week
With the increase in moisture from this storm, we will most likely see a drop in temperatures later this week along with increased moisture in the atmosphere. If we can get enough lift going, it is likely we see showers and thunderstorms during this period as well.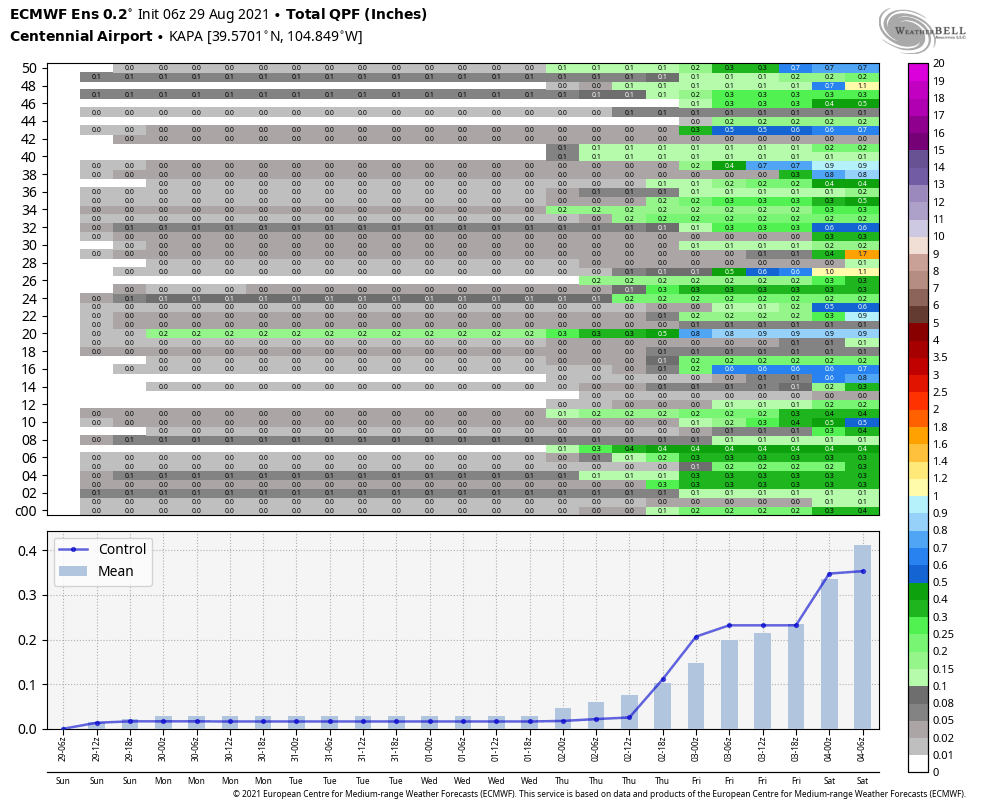 The Euro ensembles really hone in on the Thursday/Friday timeframe as the best shot at this moisture. A lot of other guidance I've looked at has 60-70% chances of rain for those 2 days. Remember, we still have time for this to shift, but it will definitely be something we will keep an eye on.
For now, unless the forecast changes - plan on possible soggy conditions Thursday and Friday this upcoming week.