You probably don't need my fancy graphics to tell you that there is an air quality alert for the front range today - not being able to see the mountains should be enough of a clue. Additionally, new Red Flag Warnings are up for high winds, low humidity and extreme fire danger. This is a picture we should all probably get used to this summer (as I've described in the not so distant past.)
Here's the rundown on the weather warnings/advisories for today...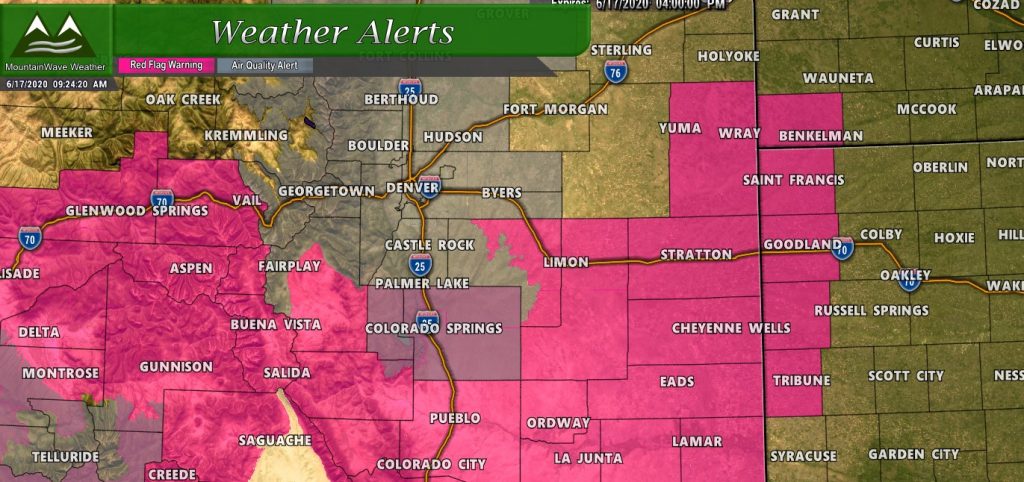 **Red Flag Warning**
Timing: 11AM - 8PM Wedensday June 17, 2020
Location: weather zones 220 through 237 which includes all of south central and southeast Colorado
Impacts: Humidity value as low as 6%, conditions will be favorable for rapid rates of fire growth and spread on Tuesday and again on Wednesday.
A Red Flag Warning means that critical fire weather conditions are either occurring now, or will shortly. A combination of strong winds, low relative humidity, and warm temperatures can contribute to extreme fire behavior
**Air Quality Alert**
Timing: 9AM - 10PM Wedensday June 17, 2020
Location: Including but not limited to: Douglas, Jefferson, Denver, western Arapahoe, western Adams, Broomfield, Boulder, Larimer, and Weld Counties
along with Colorado Springs, Manitou Springs, and Monument
Impacts: Increasing likelihood of respiratory symptoms and breathing discomfort in active children and adults and people with lung disease, such as asthma. Active children and adults, and people with lung disease, such as asthma, should reduce prolonged or heavy outdoor exertion.
---
Where's the Smoke Coming From?
If you've watched the news you know several fires have started in Southwestern Colorado but while those are contributing to our smoke along the front range the main culprit is large fires in Utah and Arizona. You can see on the HRRR model below where the smoke has come from this morning and what it anticipates the rest of the day will look like.
This model run is from 7-8AM  out for about 6 hours so takes us into the afternoon.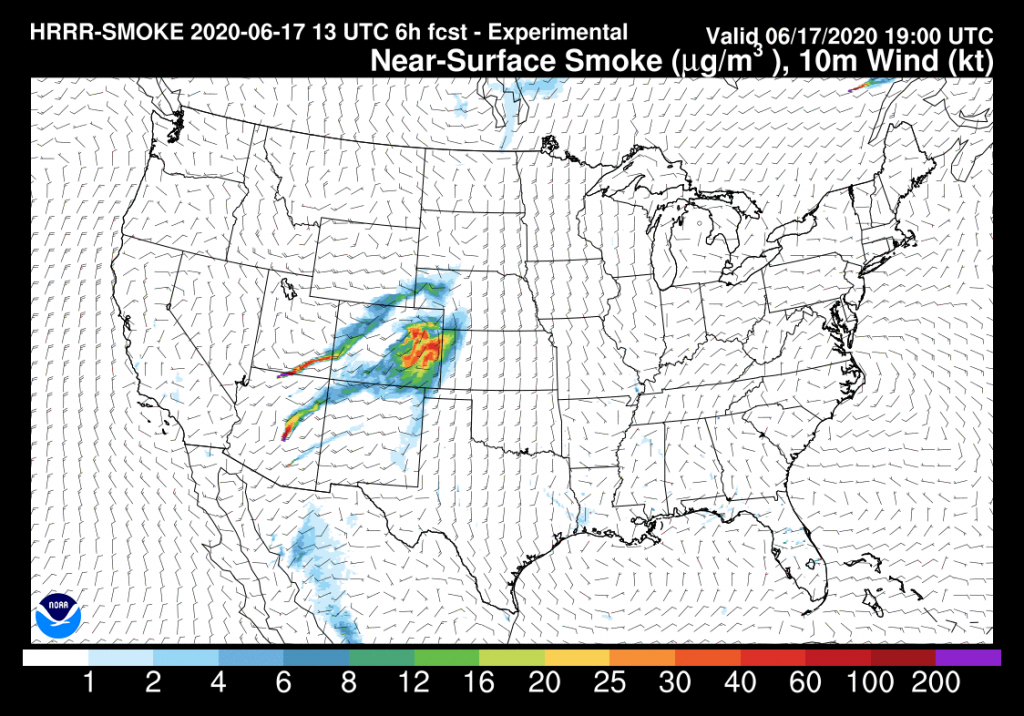 With Southwest flow aloft we expect the hazy conditions to improve a bit by this afternoon but still remain in the area. The air may possibly clear a bit when a storm system rolls through sometime on Thursday which would give us a nice wind shift. Luckily, Thursday should be cooler but breezy conditions and a better chance of thunderstorms throughout the day are likely.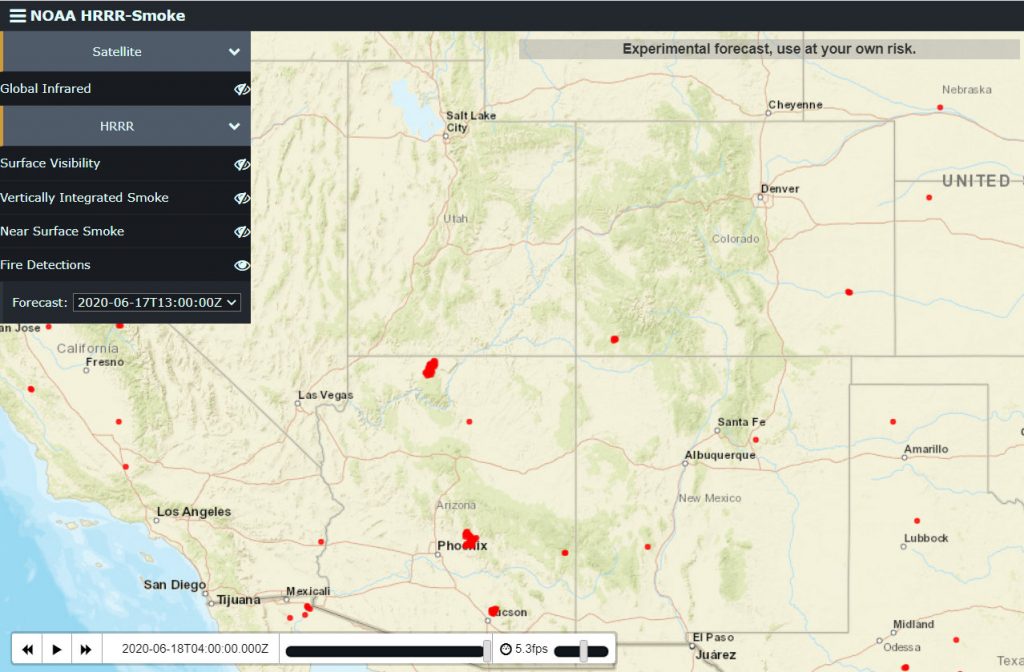 The red dots shown above are active fires across the Western U.S. and as you can tell it's an active season already. You can definitely see the larger fires in Arizona pushing a lot of that smoke our way today.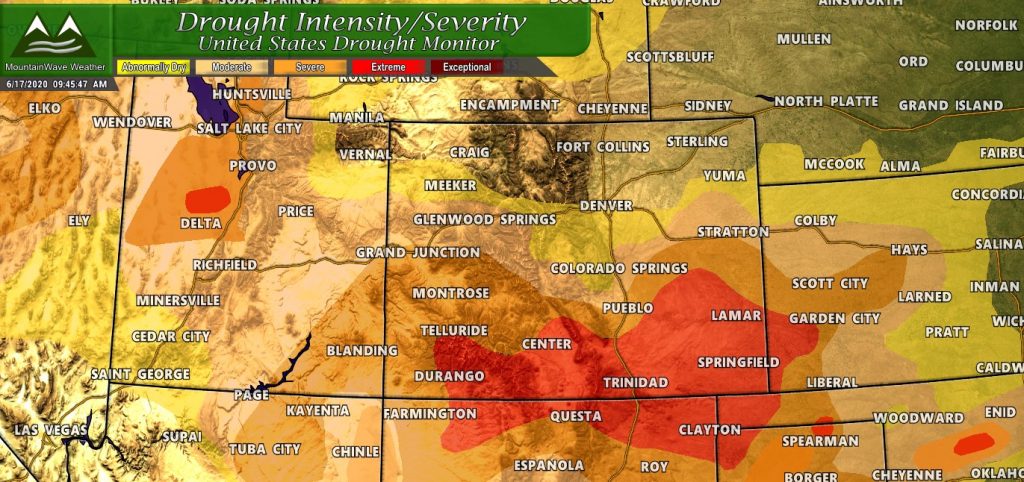 A good portion of Colorado, Utah and Arizona are all in some sort of drought conditions - combine that with the heat and the winds we've seen this year it's a recipe for a lot of fire.
---
Summary
The overall trend for this summer is looking like continued dry and windy conditions. Don't get us wrong, we will see reprieves here and there with a random storm system moving through (Thursday-Friday this week will be a nice break with cooler temperatures and a chance of mositure) but the longer term picture isn't looking great.
For now, expect hot temperatures and windy conditions and be extra careful with fires or anything that creates sparks. It's looking like one of "those" years...