An interesting fall storm system is slated to move in later on Thursday. As usual with storms this time of year, storm track, temperatures and moisture return (upslope) will all play a part in what we see out of this storm. The higher confidence items are around freezing temperatures and some sort of precipitation across the front range. The amounts, snow potential, timing and impacts will still see a bit of a wobble on those finer details, but here's the latest data as of this morning...
---
Timing
Rain showers and thunderstorms are initially possible after 12PM on Thursday
Precipitation is expected to transition to snow after 5PM along the Palmer Divide - lower elevations may see rain for a longer period of time so expect that transition later the lower you go
Scattered rain and snow showers will continue through the evening and overnight hours
Precipitation should come to and end by early Friday morning
Impacts
Due to the light nature of the precipitation and still warm ground temperatures - widespread travel impacts are not expected
Watch for some slick spots on roads especially after dark on Thursday in the higher elevations of the Palmer Divide - mainly between Castle Rock and Monument and out East into Elbert County
Some very select areas may see a higher snowfall rate which could result in slick travel conditions (see wildcard comments below)
Freezing conditions are very likely on Thursday night into Friday morning - be sure to have irrigation systems at least drained or covered
---
Snowfall Forecast/Thoughts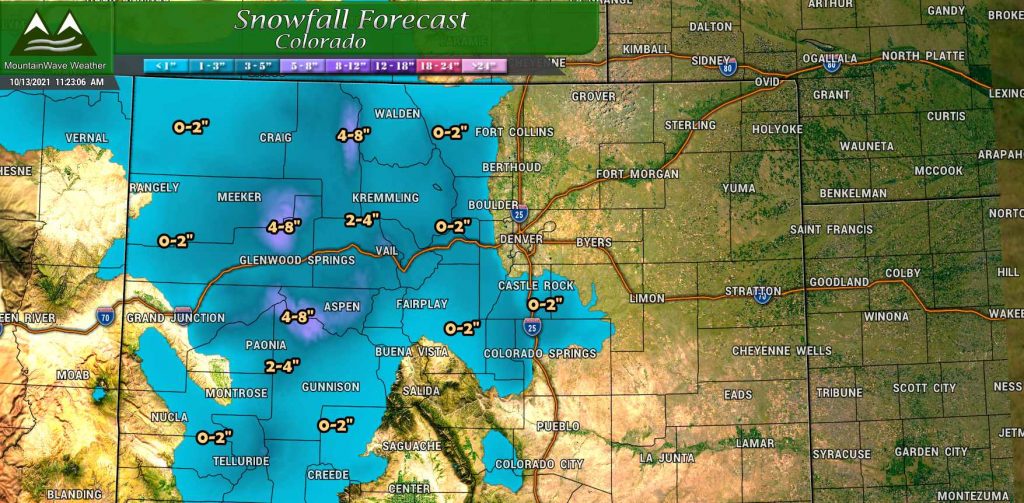 You'll see that this next storm system is mainly a mountain event when it comes to snowfall, but there is good agreement with models that some higher elevation locations East of the Continental Divide could see precipitation and temperatures cold enough to accumulate snow. The focus for many models for snow accumulation is the higher elevations between Castle Rock and Colorado Springs (AKA the Palmer Divide) alogn with areas West of Colorado Springs towards Pikes Peak. Snowfall amounts will generally be light with many areas East of the divide ending up in the 0-2" range. Most mountain locations will see the 0-2" or 2-4" range depending on location. Some of the highest peaks could see storm snowfall totals in the 4-8" range but those amounts will be very spotty.
Zooming In...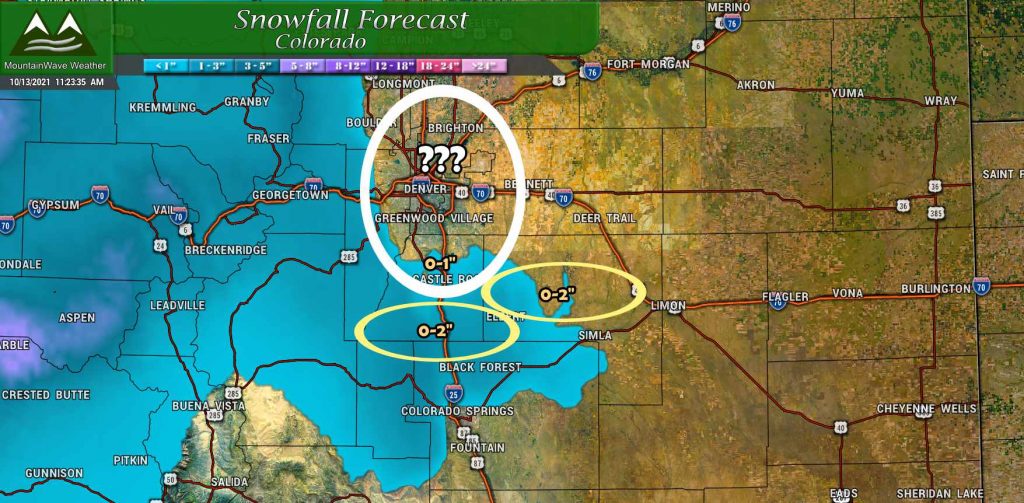 Taking a closer look along the front range, I've highlighted a couple of points of interest. The white circled area is still a question mark, models are not super excited about snowfall accumulation below about 6,000 feet in elevation. If this were to verify, it is likely Denver and surrounding areas could see snow in the air, but not much on the ground. Given the temperatures I'm seeing I think this is likely right now, but will have to watch for colder than forecast temperatures - that would mean Denver may get a bit of snow on the ground. Castle Rock will be right on that edge so while I do expect snow to accumulate in that area, it looks fairly minor at this point in time.
The yellow circled areas along the Palmer Divide are locations most likely to see snowfall accumulation - this is agreed on by nearly all models. The primary focus for a small bit of snowfall accumulation (most likely in the 0-2" range are areas just South of Castle Rock, Southeast of Castle Rock towards Elbert and some models even have a bit of accumulation further East into Western and Central Elbert County.
---
Forecast Wildcard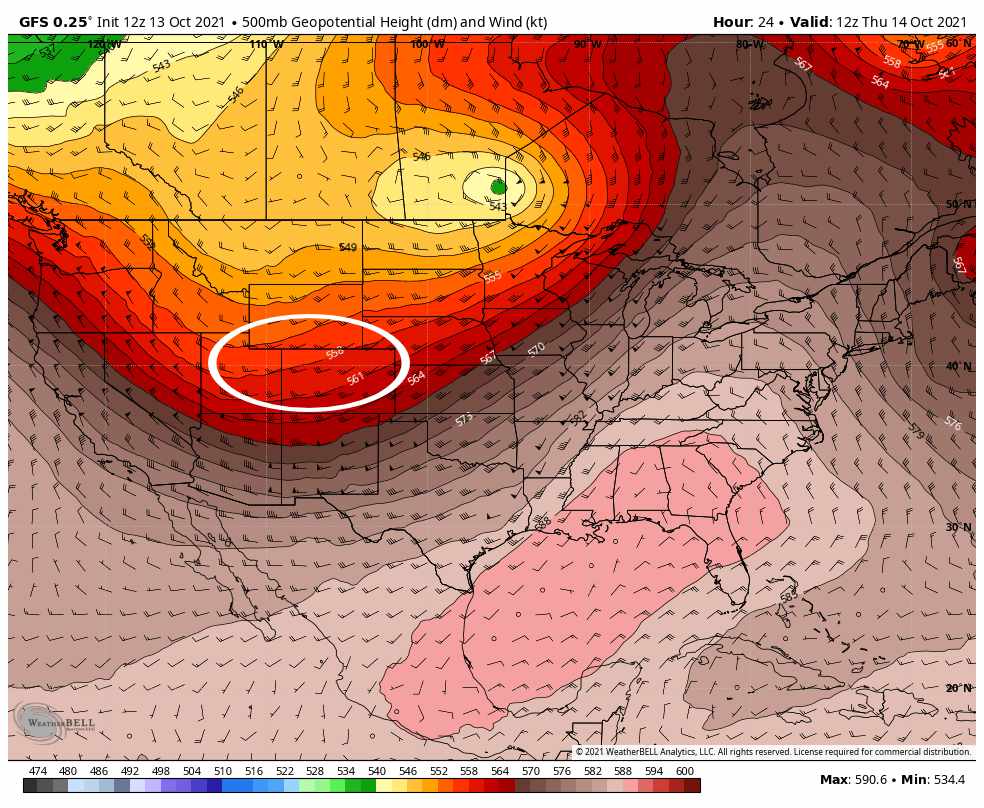 A different type of storm system on tap for us this go-round. The GFS pictured above shows an open, short wave trough moving across Colorado by late Thursday. This tends to give us a decent amount of Westerly flow and Northwesterly flow. These types of storms do not produce large snowfall amounts East of the Continental Divde, but they can be tricky as the jet stream above can enhance snowfall for very specific areas.
We call this "banding" or "banded snowfall." If you've followed us long enough, you know that these types of storms can humble many a weather forecaster. When you have banded snowfall, very localized areas can bust high on snowfall depending on where the snowfall band sets up. Models don't do a good job at telling us exactly where or when these snowfall bands set up, they just give us an idea if they are possible
See the NAM 3M below: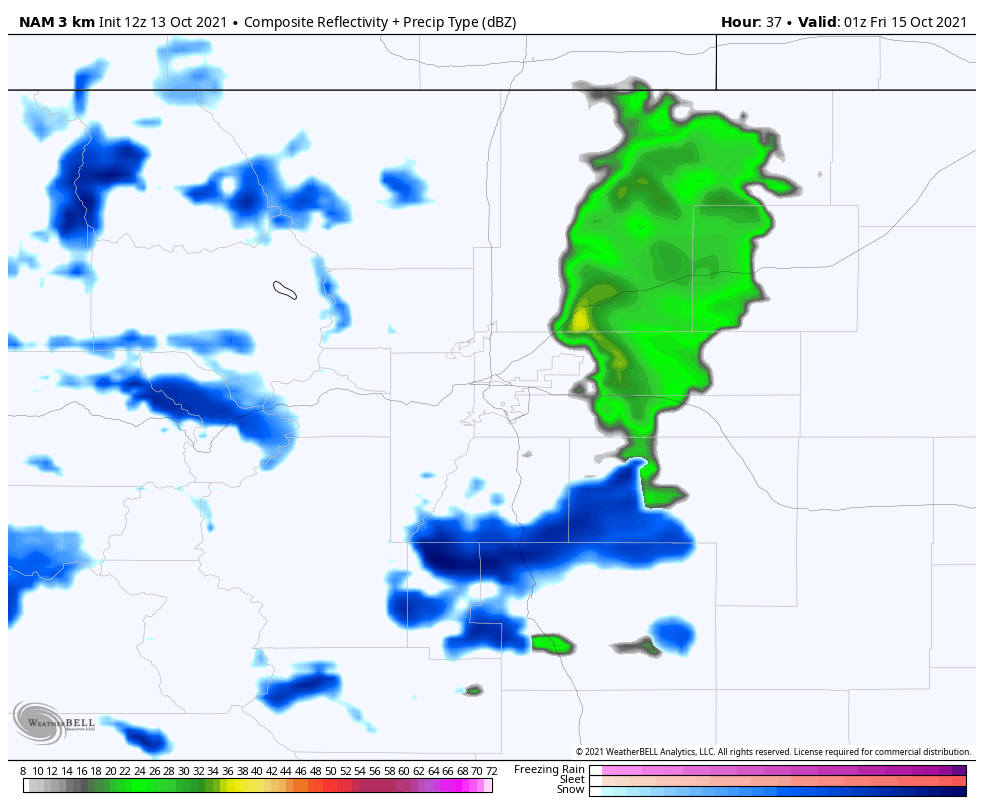 This snapshot for around 5PM Thursday shows what looks like a snowfall band set up over the Palmer Divide. Remember, don't focus on where, when or how intense this feature is - models can't tell us that. They just tell us that a snow band is possible. This doesn't necessarily give us the forecast confidence to say the Palmer Divide gets snow or even lots of snow - the temperatures and elevation play more of a part in that for this particular storm.
Still it is something we will have to watch as the storm sets up and begins to evolve. The where and when's of snow bands can't usually be predicted until very close to the time the storm is already here doing its thing. I do mention it though because if it does set up, areas directly under it could bust high on snowfall... it's just the name of the game with these types of storms.
One other quick mention though, see that large area of heavy rain and thunderstorms out East? That could effectively act like a sponge and soak up all the moisture leaving little left for the front range or Palmer Divide - this would mean very few areas actually make their snowfall forecast. More than one model has hinted at something like this... just another scenario we will need to watch.
Isn't forecasting fall storms fun?
---
Summary/Thoughts
While we are getting close to go time with this storm there's still a few variables out there that could swing it one way or another (mentioned in the wildcards above.)
As always, keep an eye on the forecast here and I'll pass along any updates as needed. For now, plan on freezing temps and some sort of precipitation Thursday late in the day through Friday morning. We'll keep working on the finer details around those points in the next 24 hours or so.