As we enjoyed a nice day with family and friends yesterday I was keeping an eye on our next storm system which is set to move through the area late Friday night and into Saturday. The models have been having a difficult time agreeing on exactly where this thing is going, but given its proximity to the I-25 corridor it's one worth keeping an eye on.
The National Weather Service agrees as they've issued a Winter Storm Watch, mainly for the Eastern Plains and generally areas well East of the I-25 corridor.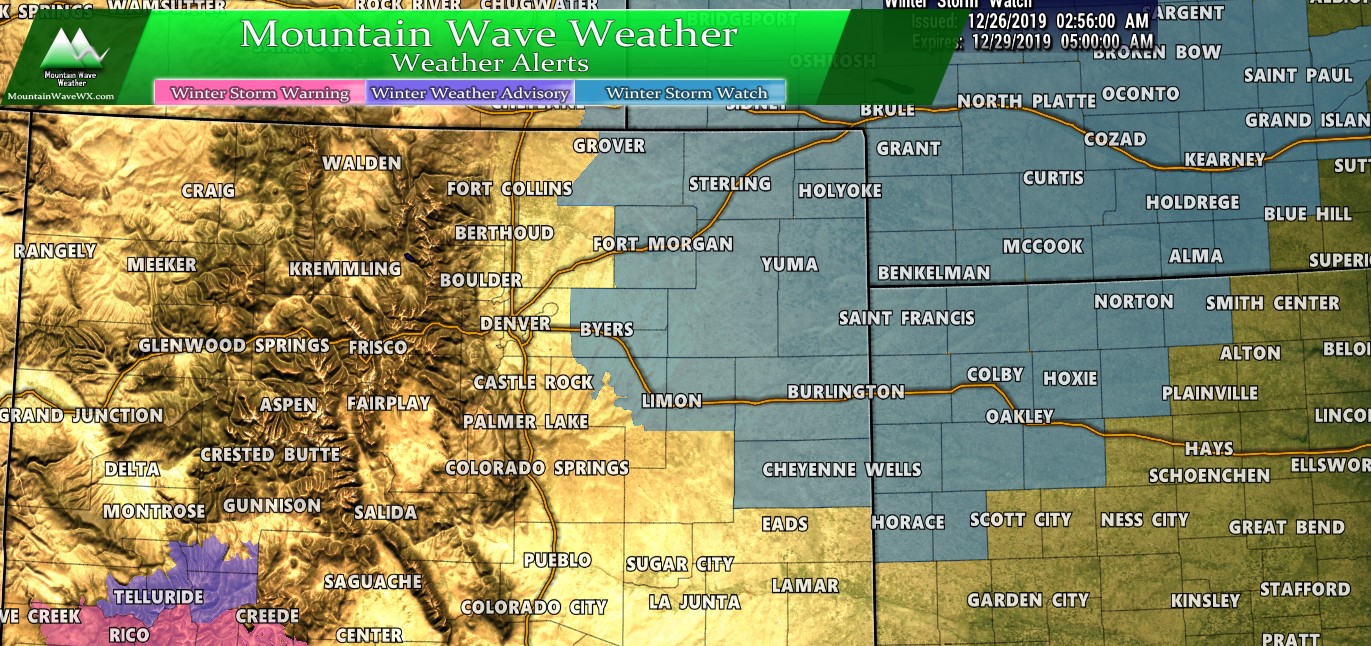 The Watch is currently in effect from Friday evening through Saturday evening.
The main concern looks to be heavy falling snow in combination with high winds; blowing snow will create travel impacts that may include road closures.
Currently the watch is for the areas outline above including the cities of:
Briggsdale, Grover, Pawnee Buttes,
Raymer, Stoneham, Brush, Fort Morgan, Goodrich, Wiggins, Bennett,
Byers, Deer Trail, Leader, Agate, Hugo, Limon, Matheson, Crook,
Merino, Sterling, Peetz, Akron, Cope, Last Chance, Otis,
Julesburg, Ovid, Sedgwick, Amherst, Haxtun, and Holyoke


Closer to Home
As is the norm with much of these storms, model consistency hasn't been too great between our major medium range models. Some are showing several inches of snow while some are showing nearly nothing at all. In situations like this it doesn't give us a lot of confidence in the forecast and just means we will have to keep an eye on how things evolve.
Model Madness
Here's what the major models are showing for this storm; notice the inconsistency on the snowfall amounts and locations.
Note: GFS is up there, but considering it's the only model showing significant snow totals, please treat it as an outlier for now.
With such model uncertainty it makes a good forecast hard to put together and leaves us with more questions than answers as of right now. As such we have some things we feel somewhat confident on saying and a lot more we don't... let's break it down.
What We Know
This is a powerful storm system with a decent amount of potential
It looks most likely to impact the Eastern Plains of Colorado, well East of the I-25 corridor
Some areas could see decent amounts of snowfall
Strong winds look likely resulting in poor visibility (possible Blizzard Conditions)
Travel could be highly to severely impacted late Friday and through the day Saturday
What We Have to Watch
Storm track is still largely up in the air
We don't yet know who looks to see the heaviest areas of snow (again bias is East of I-25 corridor
Does the storm system pull moisture further West? If so... we will need to keep an eye on especially areas along the Palmer Divide for a bigger impact
Snowfall amounts/wind strength and how far West that reaches on Saturday
Snowfall
If you had to twist my arm and have me put together a rough snowfall forecast this is where I'd arrive at right now. I went more conservative on amounts across the board due to the model inconsistency we are still seeing. Additionally, I went especially conservative along the I-25 corridor until I see something more convincing noting that region sees a bigger impact. Right now it's not there...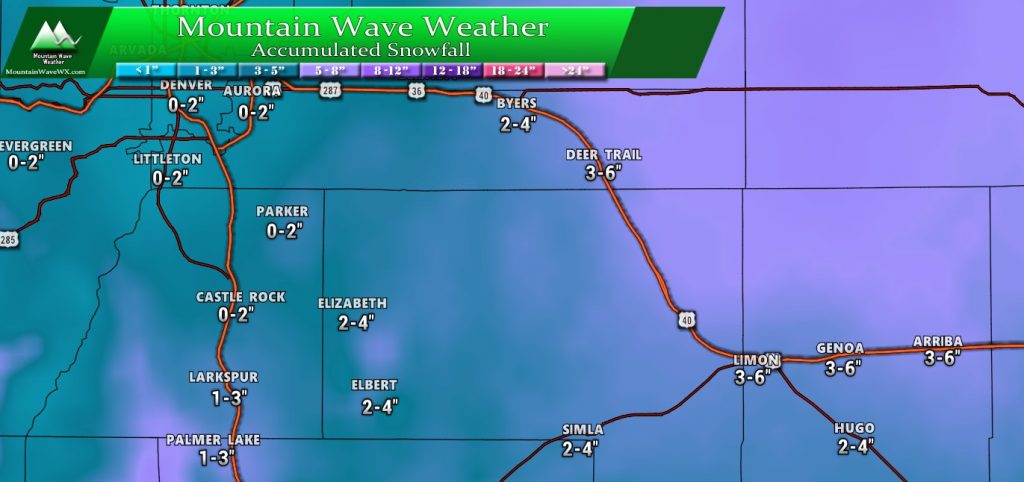 As always, the above amounts are preliminary and will change as we get more data in. This just gives a rough idea of what we are seeing right now. I will have more snowfall maps up including for Denver and more areas of Colorado later today so stay tuned for that.
Summary
An interesting storm system with some decent potential but honestly I'm not too excited about it just yet (at least for our area.) I need to see better agreement in the models about where this storm looks to go and who will see the impact before I jump on the bandwagon.
To recap, here's the quick breakdown of what you need to know:
Travel plans across the Eastern/Northeaster plains Friday Night or Saturday?

Pay close attention to the forecast, expecting the potential for high to severe impacts

Winter Storm Watch

Is just a watch, it means we are keeping an eye on that area. It is not guarantee that this storm is a sure lock as of yet

Closer to Home

As of right now, we are not seeing a high impact storm for most of the Palmer Divide
This may change! We will have to keep a close eye on it!
Hope everyone had a great Christmas, back to the grind!