As I scuffle off to work today I hope a lot of folks are able to get out and enjoy some time off! Christmas Weeks is upon us and there's a few weather-related things we will be keeping an eye on for this week.
Early Week
The warm weather will continue to start this week. A strong ridge of high pressure has been anchored over most of the U.S. this weekend and as we know that generally means warm, dry and quiet weather.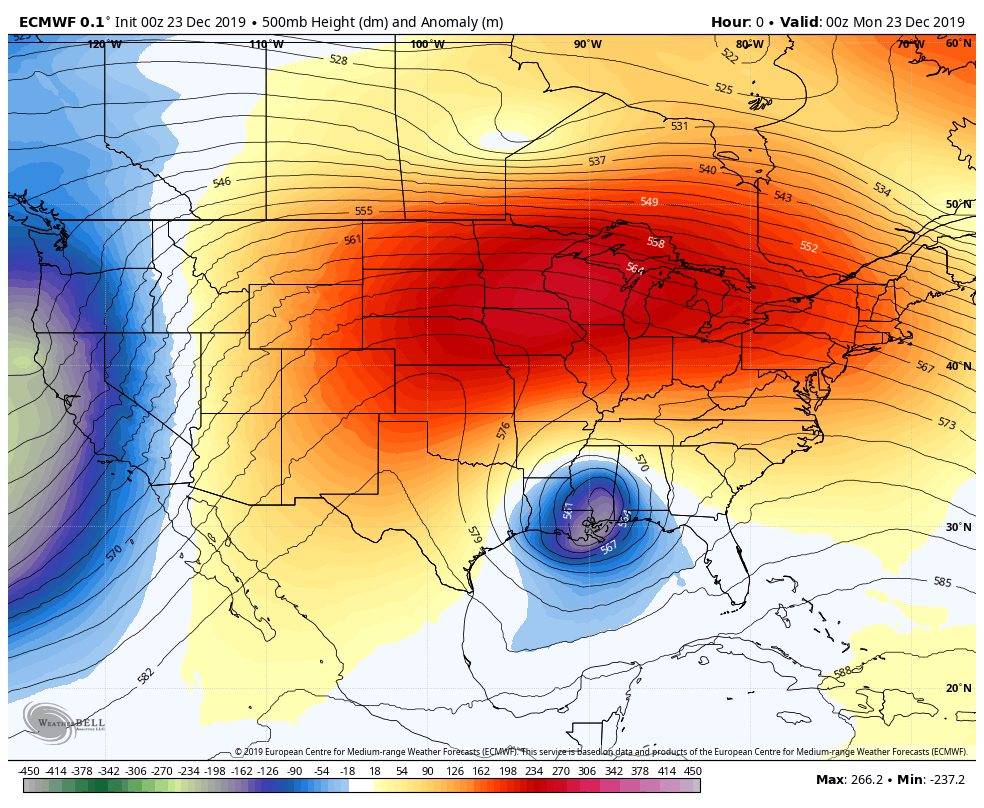 Remember, reds and oranges are high pressure and blues and greens are low. High pressure = calm weather and low pressure = unsettled weather. For the past several days a strong ridge of high pressure has sat over a good portion of the Central United States, funneling in warm air from the Southwest and keeping the storm track largely away from Colorado.
As we start the week this pattern will continue but it will begin to slide off to the East around mid/late week allowing cooler and unsettled weather to creep back into the area. Of course the timing and setups are still a bit in flux but overall we do see a chance at cooler and wetter weather this week. Timing will be everything!
Still Thinking White Christmas?
I've been scouring the models looking at the chances for snowfall accumulation for the Christmas timeframe along Colorado's front range and am sad to report it looks all but gone. Unfortunately the storm just doesn't look like it survives very well across the mountains and the moisture and temperatures just don't play ball.
I'm not going to post all the models because as a big fan of white Christmases (which are oh so rare for us) they just make me sad. Instead here's the Euro Ensemble (50 model blend) showing the next few days...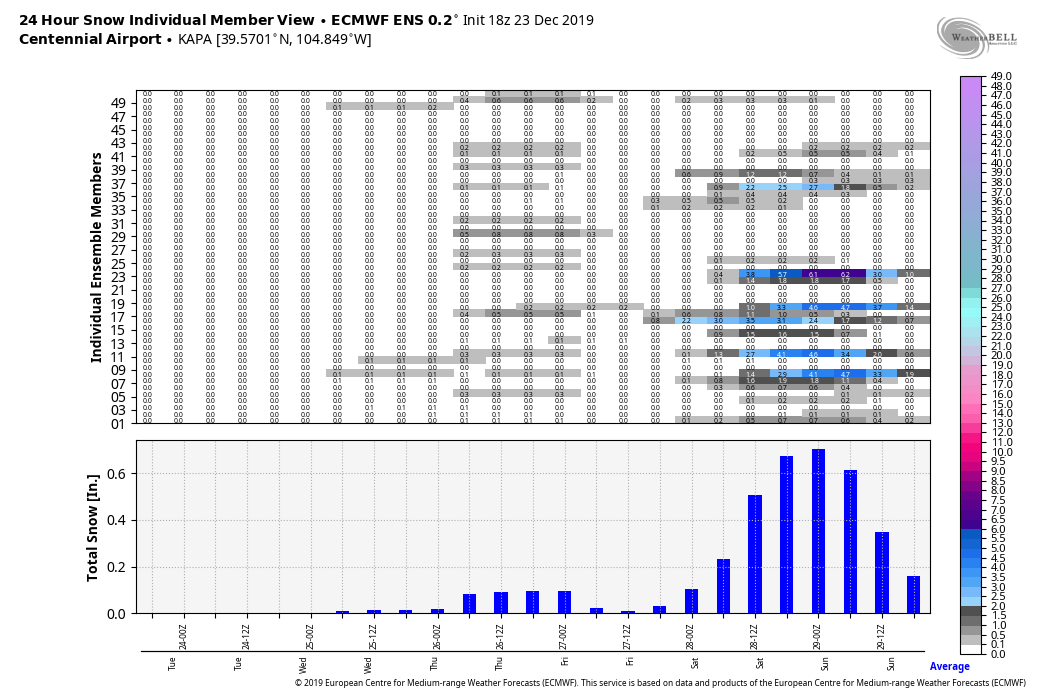 Some of the models still hold on to a chance of precipitation but it looks pretty scant. I'd say if you are lucky enough to see snow flurries on Christmas Day they will be few and far between with no accumulation.
Here's the Nam3K's thinking on accumulation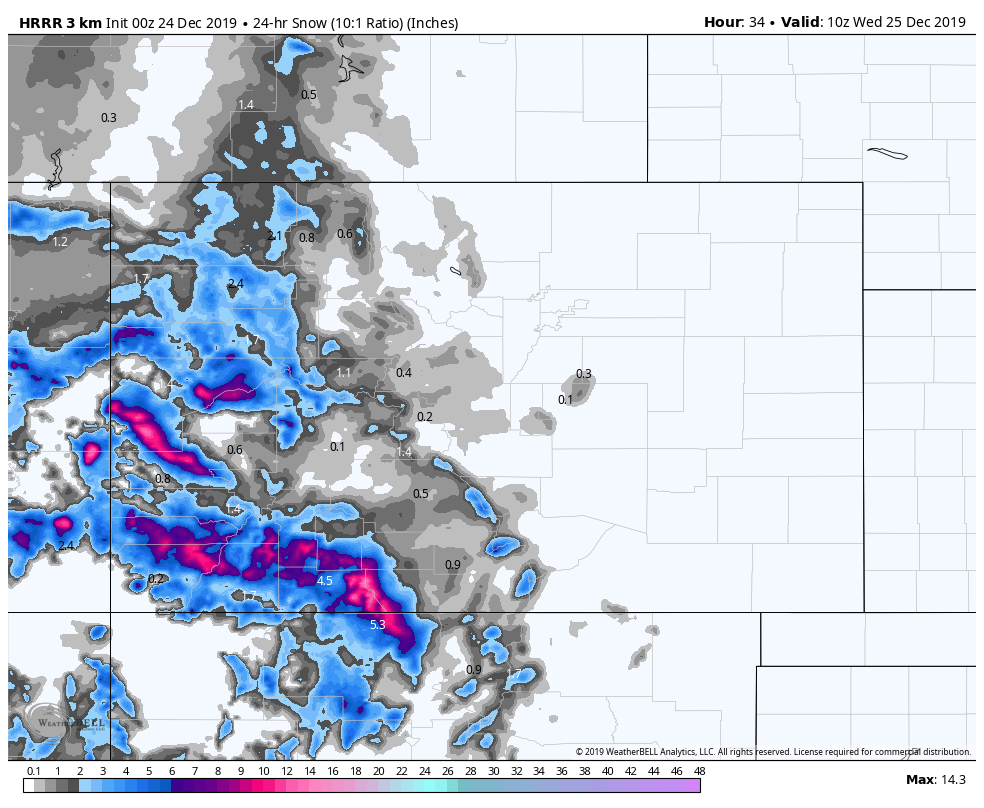 Snow showers are spotty and accumulation even more so. If you're looking for a white Christmas (snow on the ground or snow falling) by far your best shot will be in the mountains. The warm weather Monday and Tuesday with the lack of forecast snowfall means everything along the front range looks to remain brown and dry.
Front Range
Chance of snow falling
Chance of snow accumulation
Can't specify areas further than that, whether you're in Denver or along the Palmer Divide, white Christmas chances look extremely low.
A Quick Note...
If you recall the ensemble image above (here it is again...)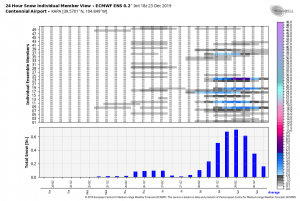 You'll notice there is snow being picked up in some of the ensemble models (for the Euro in this case) later in the week towards the weekend. This system doesn't look to be a big deal for most of our area, but will need to be watched closely for areas in Southeastern Colorado. I think it stays a bit too far South to bring much impact North of the Palmer Divide.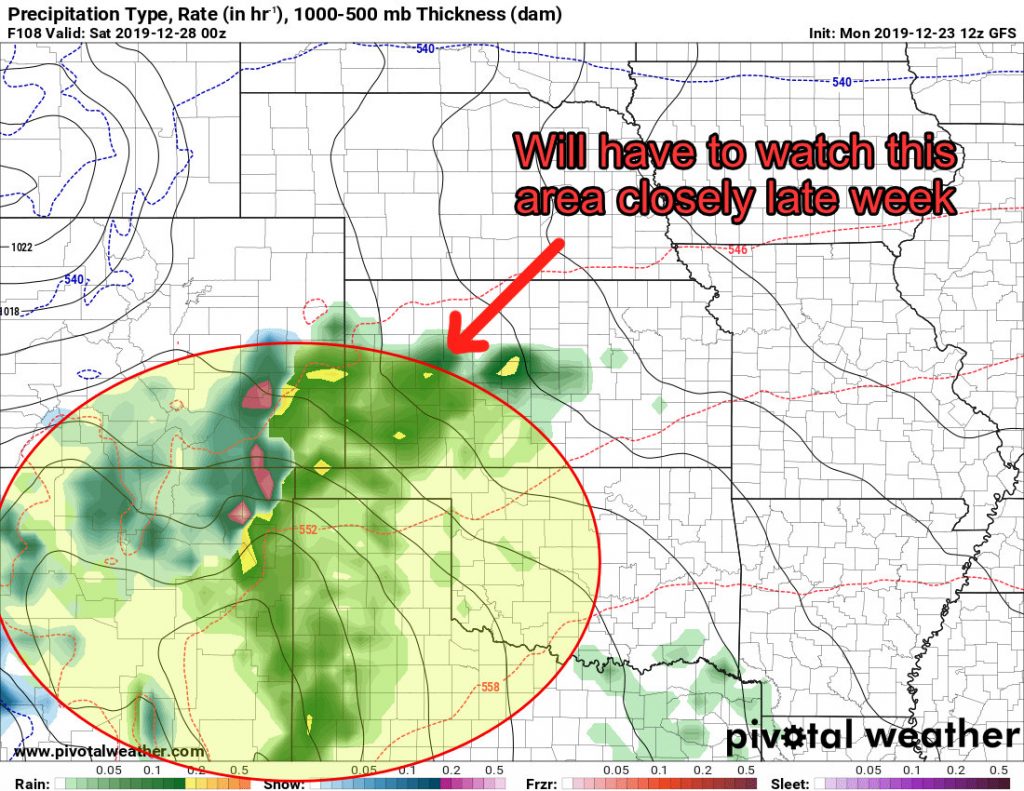 Summary
So the good news is if you have travel plans in and around Eastern and Central Colorado over Christmas you should be just fine. The bad news is that snow accumulation and even snow flakes will be hard to find.
The mountains may see travel impacts in some areas, but the most likely areas you will run into any problems will be the Southwestern mountains. I don't foresee big impacts in the Northern and Central Mountains or Western Slope.
Despite the snow not making a show, the warm temperatures will leave us. Here's a look at high and low temps forecast for Centennial Airport: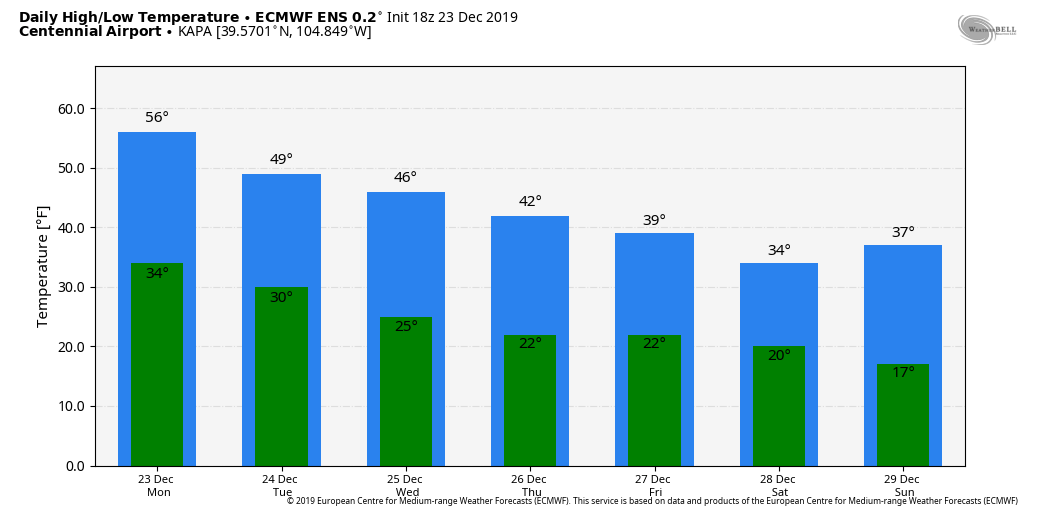 So there it is! Sorry to the snow lovers and to the folks wishing for a dry Christmas it looks like you will get your wish!
I hope everyone has a happy and safe Christmas, I will be away from the website on December 24 and 25. Should be back to normal operations on Thursday December 26.