There's three primary themes that will occur with our next storm system, some will be short lived and some will be long lived - and what you see will largely depend on where you are in relation to this storm.
Let's talk about all three and the setup/timing/impacts for this storm:
---
Current Colorado Weather Highlights
As usual, there's a lot of alerts out at the time of this post, so feel free to skip if you'd like. If you have travel plans across the mountains or plains - might be a good idea to glance at these to see if your travel could be impacted.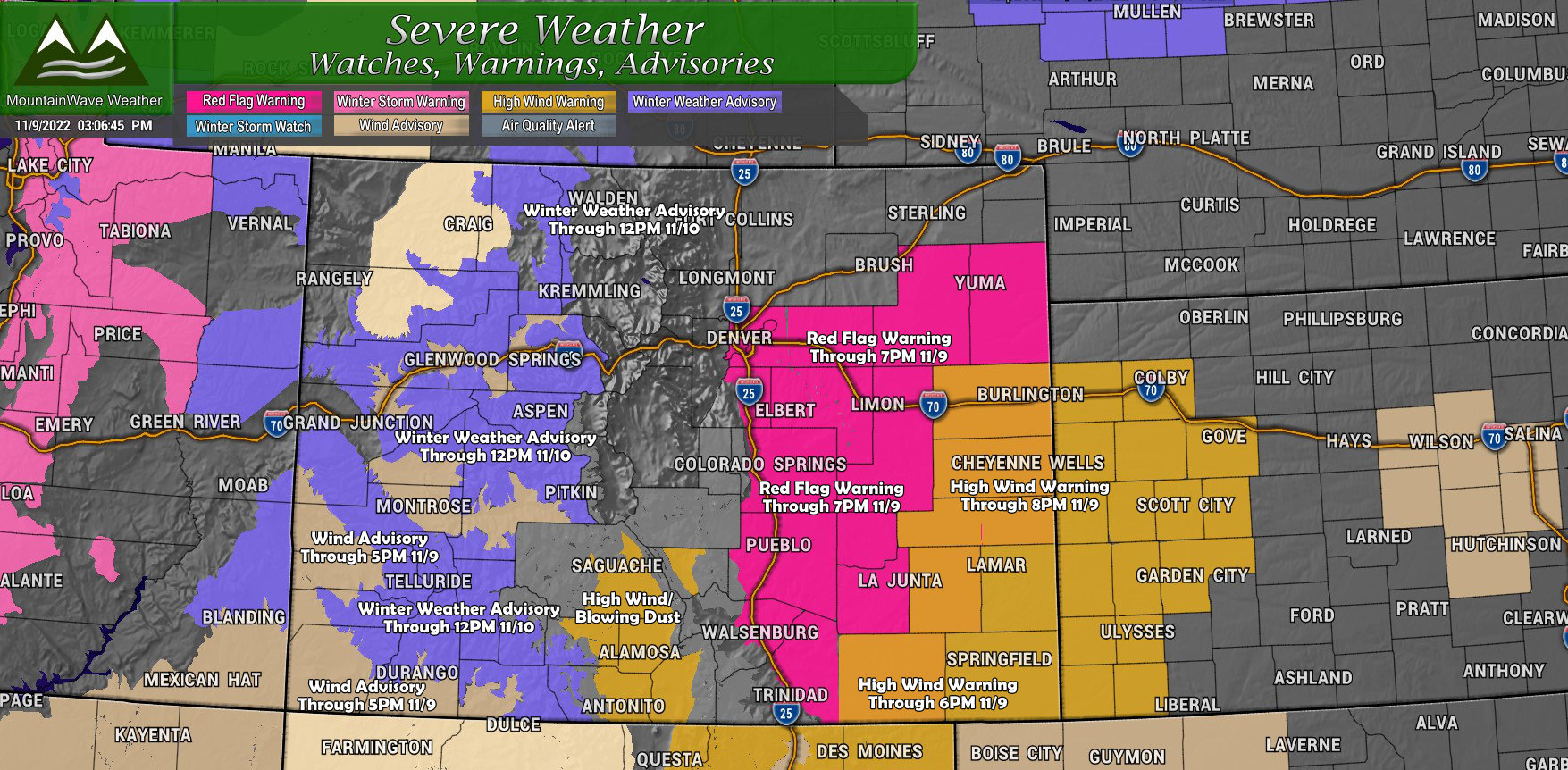 RED FLAG WARNING REMAINS IN EFFECT UNTIL 7 PM MST THIS EVENING
FOR WIND AND LOW RELATIVE HUMIDITY FOR THE SOUTH AND EAST PORTIONS
OF THE DENVER METRO AREA, PALMER DIVIDE, AND EAST-CENTRAL
PLAINS...
* Timing...Until 7 PM MST.
* Winds...South 20 to 30 mph with gusts up to 50 mph.
* Relative Humidity...As low as 9 percent.
* Impacts...Above normal temperatures, low relative humidity, and
very windy conditions could lead to rapid fire spread. Avoid
any burning or outdoor activities that may produce a spark and
start a fast moving wildfire.
HIGH WIND WARNING NOW IN EFFECT UNTIL 8 PM MST THIS EVENING...
* WHAT...South winds 30 to 40 mph with gusts up to 60 mph.
* WHERE...Kit Carson and Cheyenne Counties.
* WHEN...Until 8 PM MST this evening.
* IMPACTS...High winds may move loose debris, damage property
and cause power outages. Travel will be difficult especially
for high profile vehicles.
* ADDITIONAL DETAILS...Pockets of blowing dust will accompany the
stronger winds, reducing visibility to a few miles or less.
HIGH WIND WARNING REMAINS IN EFFECT UNTIL 6 PM MST THIS
EVENING...
* WHAT...South winds 35 to 40 mph with gusts up to 65 mph.
* WHERE...Kiowa, Bent, Prowers, Baca, and eastern Las Animas
counties.
* WHEN...Until 6 PM MST this evening.
* IMPACTS...Damaging winds will blow down trees and power lines.
Widespread power outages are possible. Travel will be
difficult, especially for high profile vehicles.

WIND ADVISORY NOW IN EFFECT UNTIL 5 PM MST THIS AFTERNOON...
* WHAT...West winds 20 to 30 mph with gusts up to 55 mph.
* WHERE...In Colorado, Central Gunnison and Uncompahgre River
Basin, Paradox Valley/Lower Dolores River and Four
Corners/Upper Dolores River. In Utah, Southeast Utah.
* WHEN...Until 5 PM MST this afternoon.
* IMPACTS...Gusty winds could blow around unsecured objects.
Tree limbs could be blown down.
WINTER WEATHER ADVISORY REMAINS IN EFFECT FROM NOON TODAY TO
NOON MST THURSDAY...
* WHAT...Snow expected. Total snow accumulations of 4 to 8
inches with locally higher amounts. Winds gusting as high as
55 mph.
* WHERE...Elkhead and Park Mountains, Grand and Battlement
Mesas, Gore and Elk Mountains/Central Mountain Valleys, West
Elk and Sawatch Mountains and Flat Tops.
* WHEN...From noon Wednesday to noon MST Thursday.
* IMPACTS...Plan on slippery road conditions. Patchy blowing
snow could significantly reduce visibility, especially on
ridge tops.
---
Theme 1 - It's Going to Get Windy
Many areas have been experiencing breezy conditions already this afternoon in advance of a strong cold front that is beginning to move through the area. Winds ahead of the front are generally out of the South at around 20-30mph, while winds behind the front are out of the North and Northeast.
The good news is, the winds will likely relax after the front has passed your location this afternoon. You'll also notice the temperatures falling.
Theme 2- It's Going to Get Snowy (for some)
This won't be a drawn out discussion as models continue to pull this storm away from us to the North. That means in addition to the lower elevations EAst of the Divide seeing little to no snow at all - the mountains won't see super impressive amounts either.
Palmer Divide/ Northern Colorado/ Southern Colorado
Not much to say here, little to no snowfall expected for most of these areas: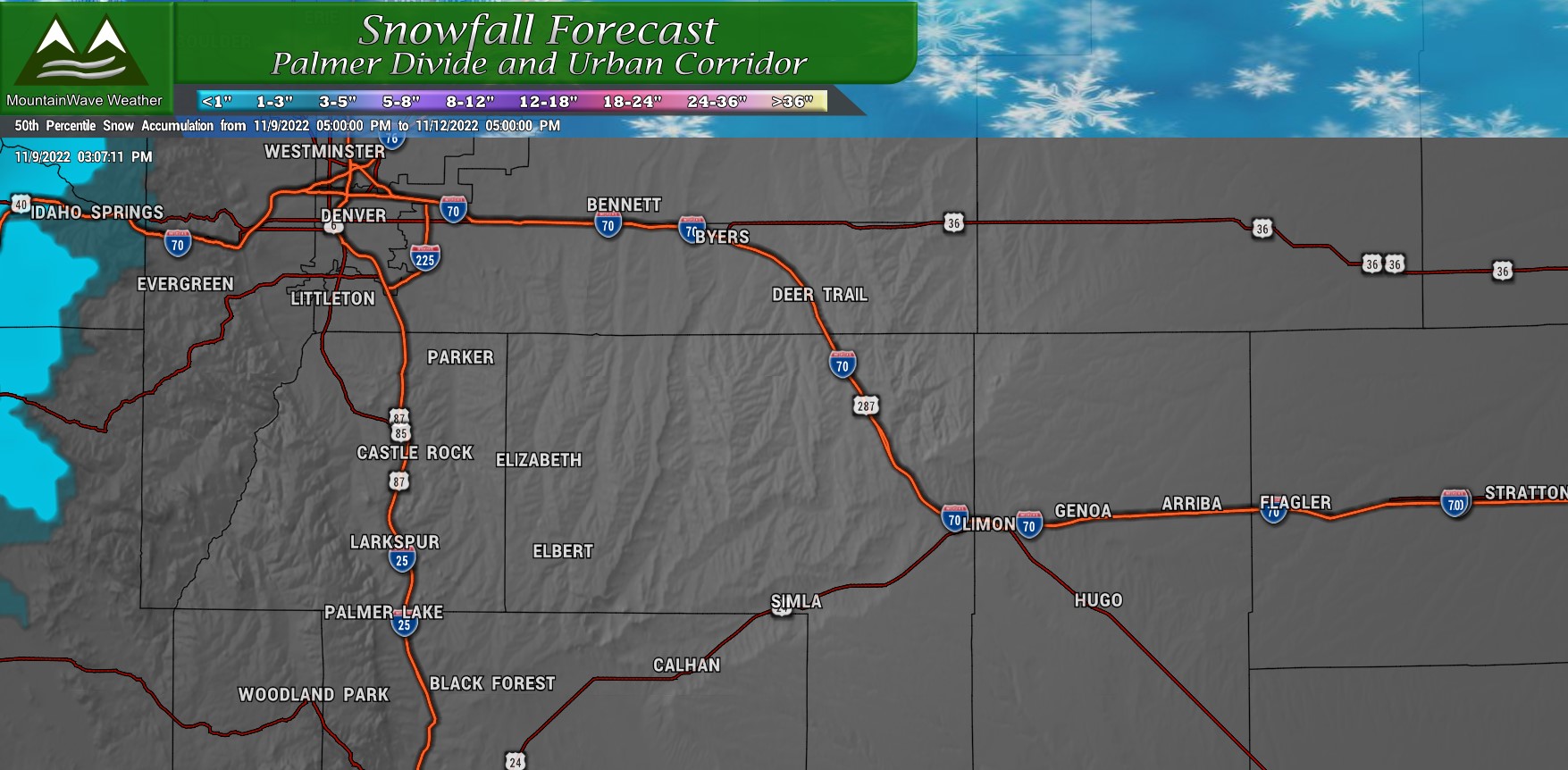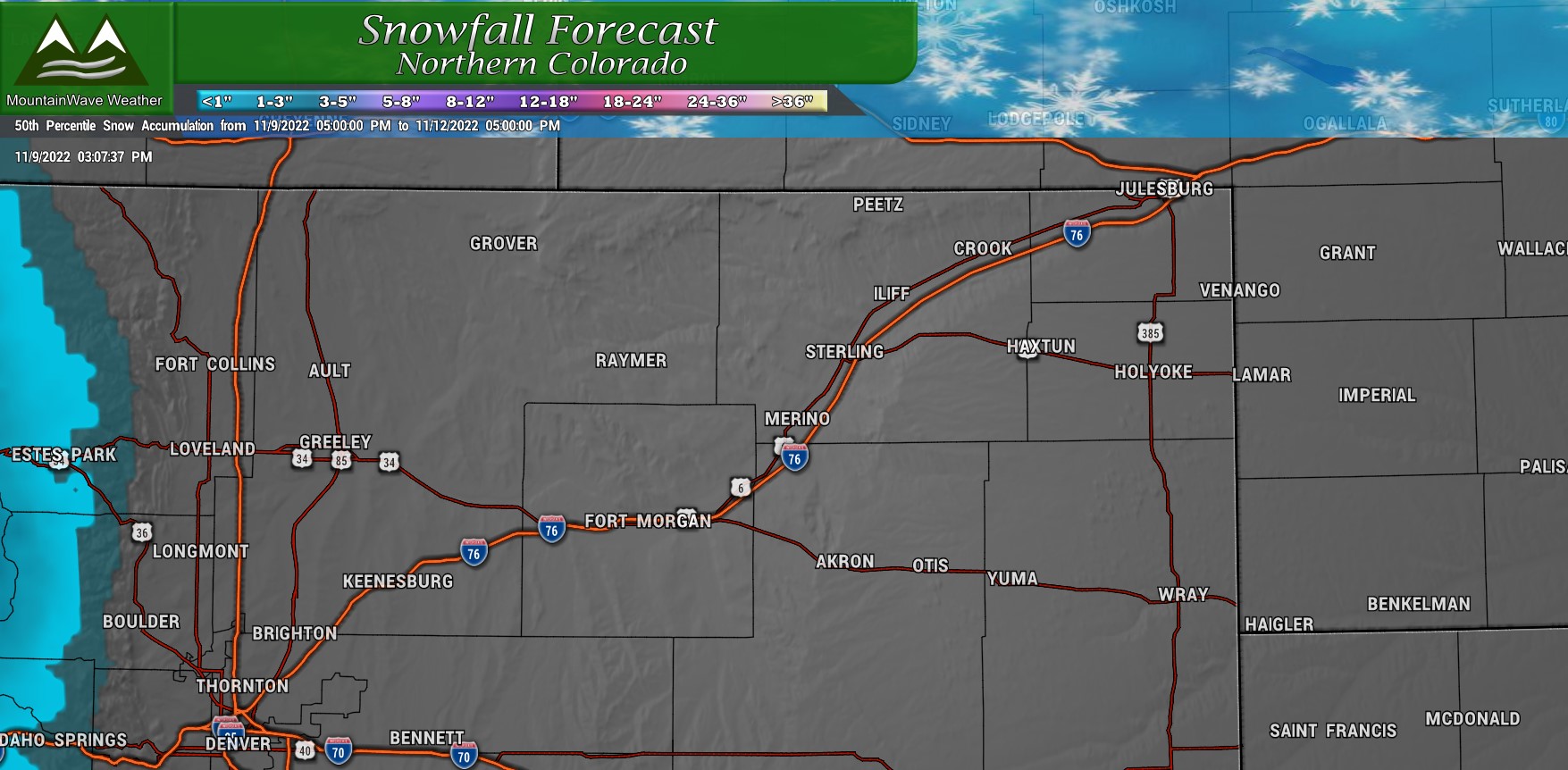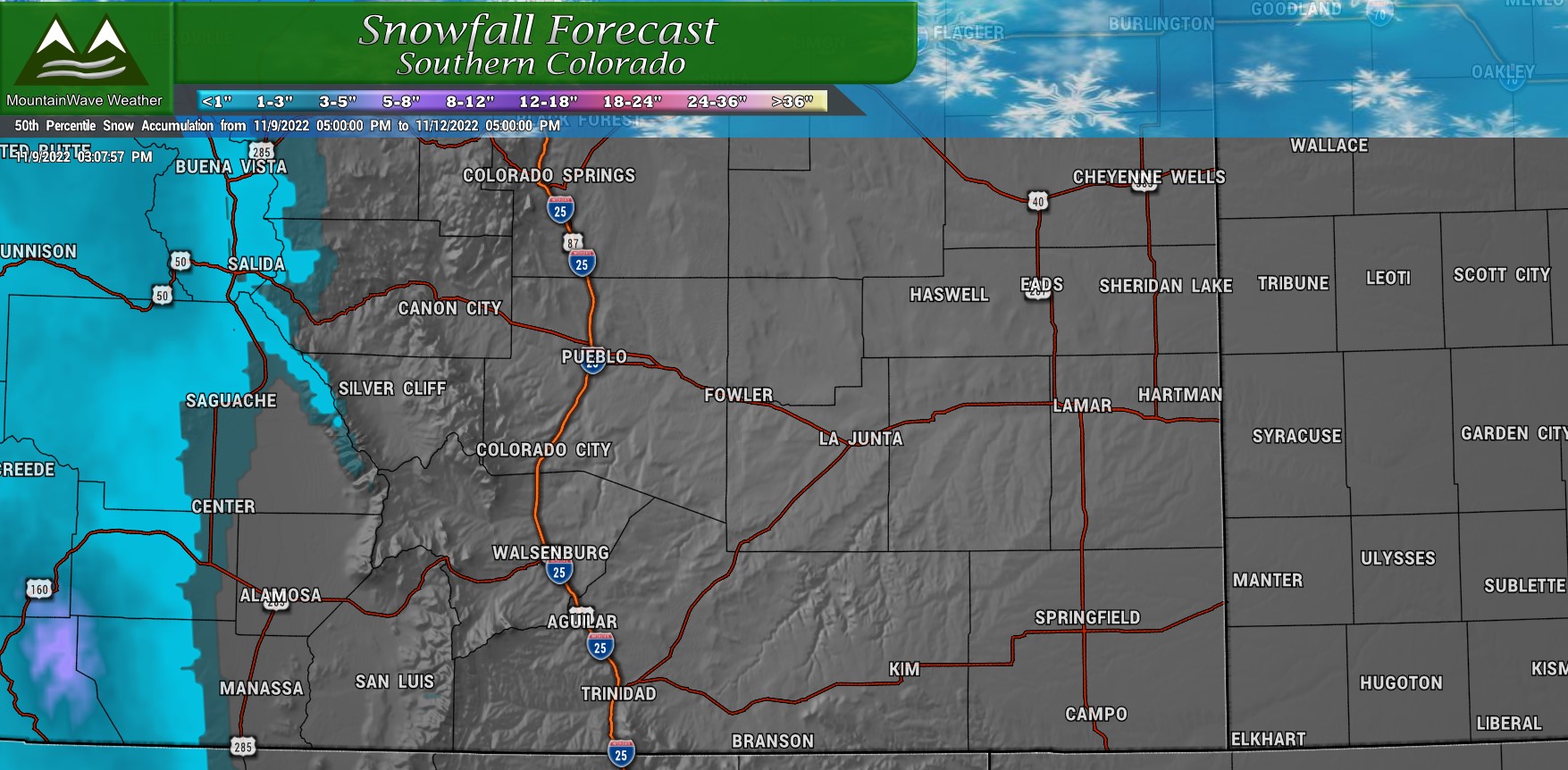 A bit depressing eh?
Let's get to the mountains...
Northern/Northwestern/Central Mountains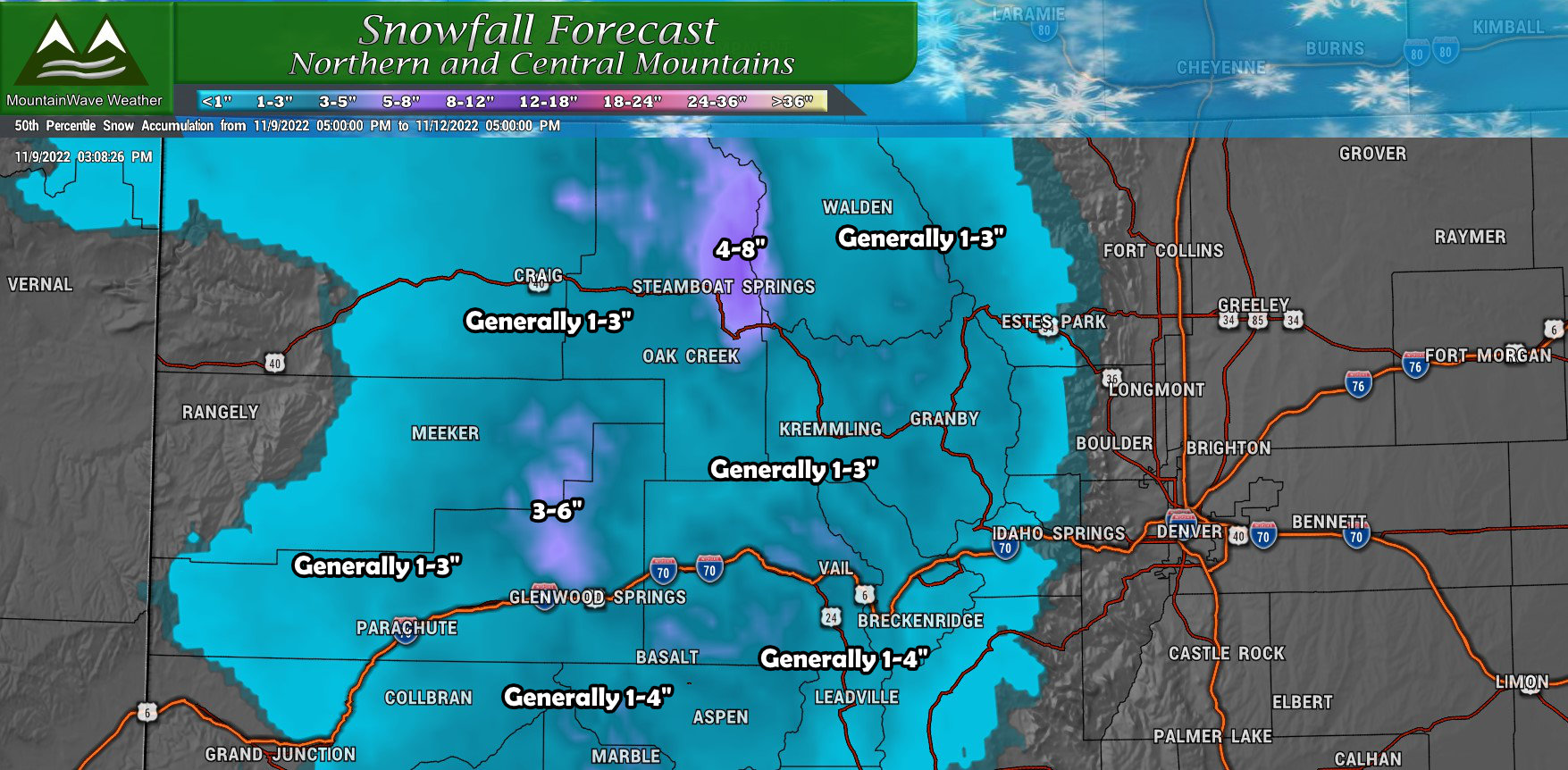 Southern/Southwestern Mountains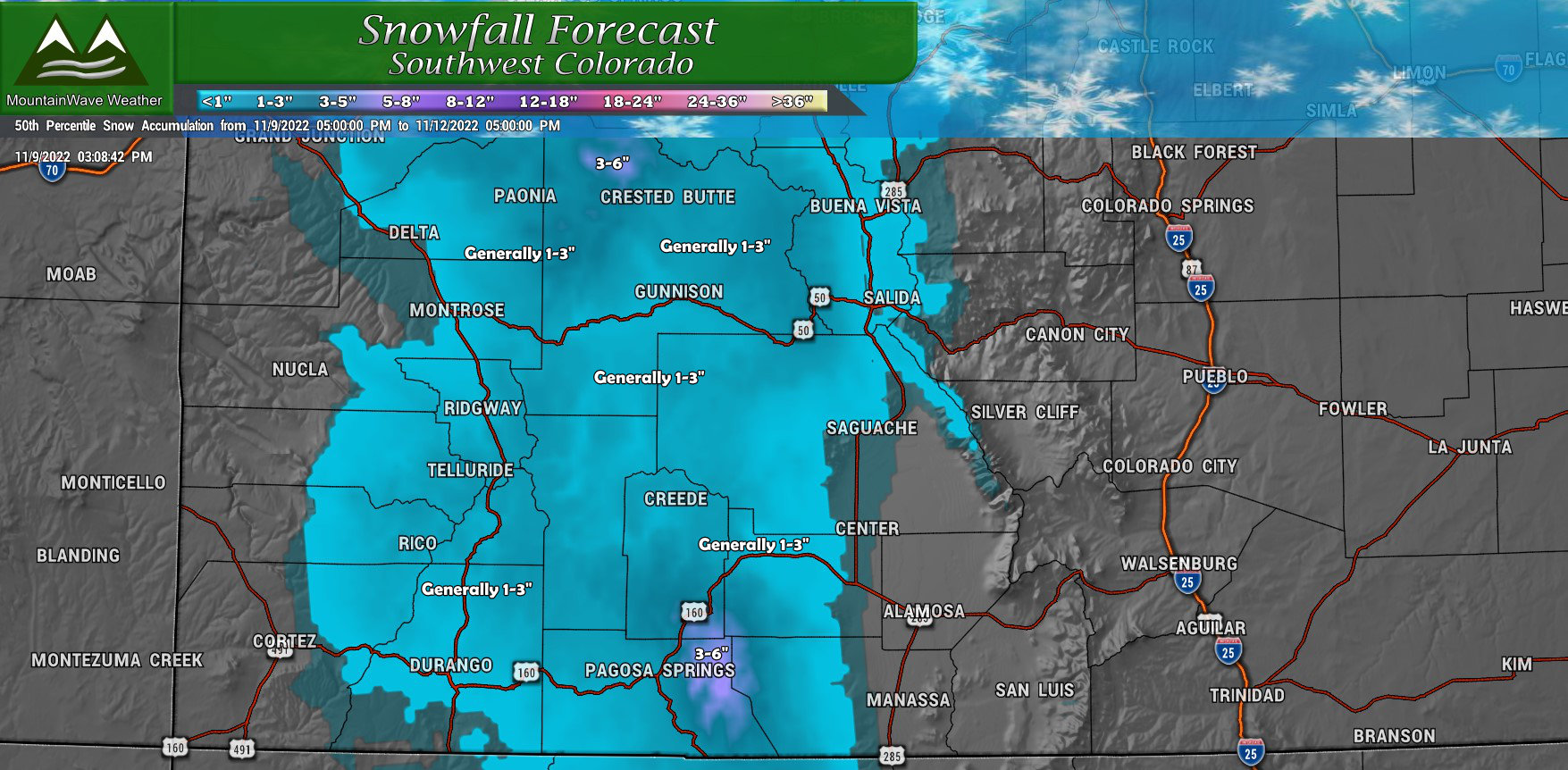 Keep in mind, some of these locations already received a few inches of snow today (Wednesday)
These amounts are additional snowfall expected through Saturday morning...
Theme 3 - It's Going to Get Cold (and stay that way for awhile!)
As the main part of the storm system passes through on Wednesday and Thursday, temperatures will drop and continue to drop for several days.
We only have a high of around 40-45 likely on Thursday and temperatures on Friday will likely be colder in the mid to upper 30's.
Here's a snapshot of low temperatures as of Friday morning: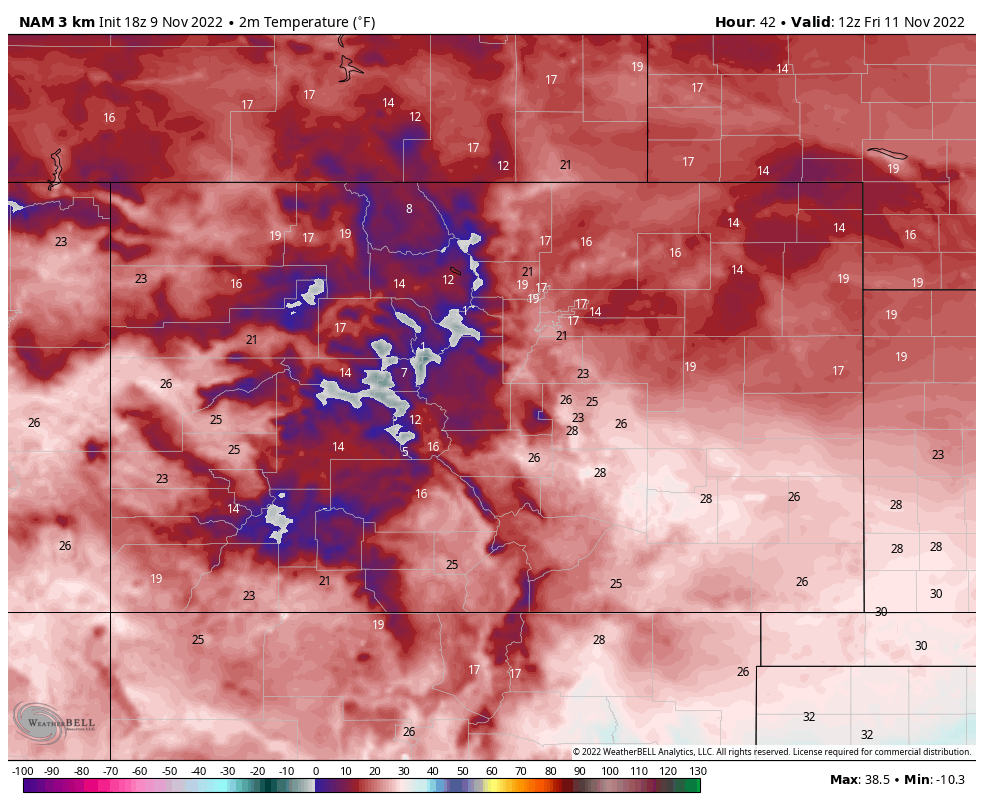 Expect minimum temperatures Friday and Saturday nights to be in the mid to upper teens for many locations across the Palmer Divide and even some of the lower elevations in and around Denver.
---
Summary
I'm not really going to build timing/impacts/severity graphics and forecast talking points because for many of us here along the Palmer Divide - this storm really won't amount to much.
One thing I will say is we are in for an extended period of cold temperatures: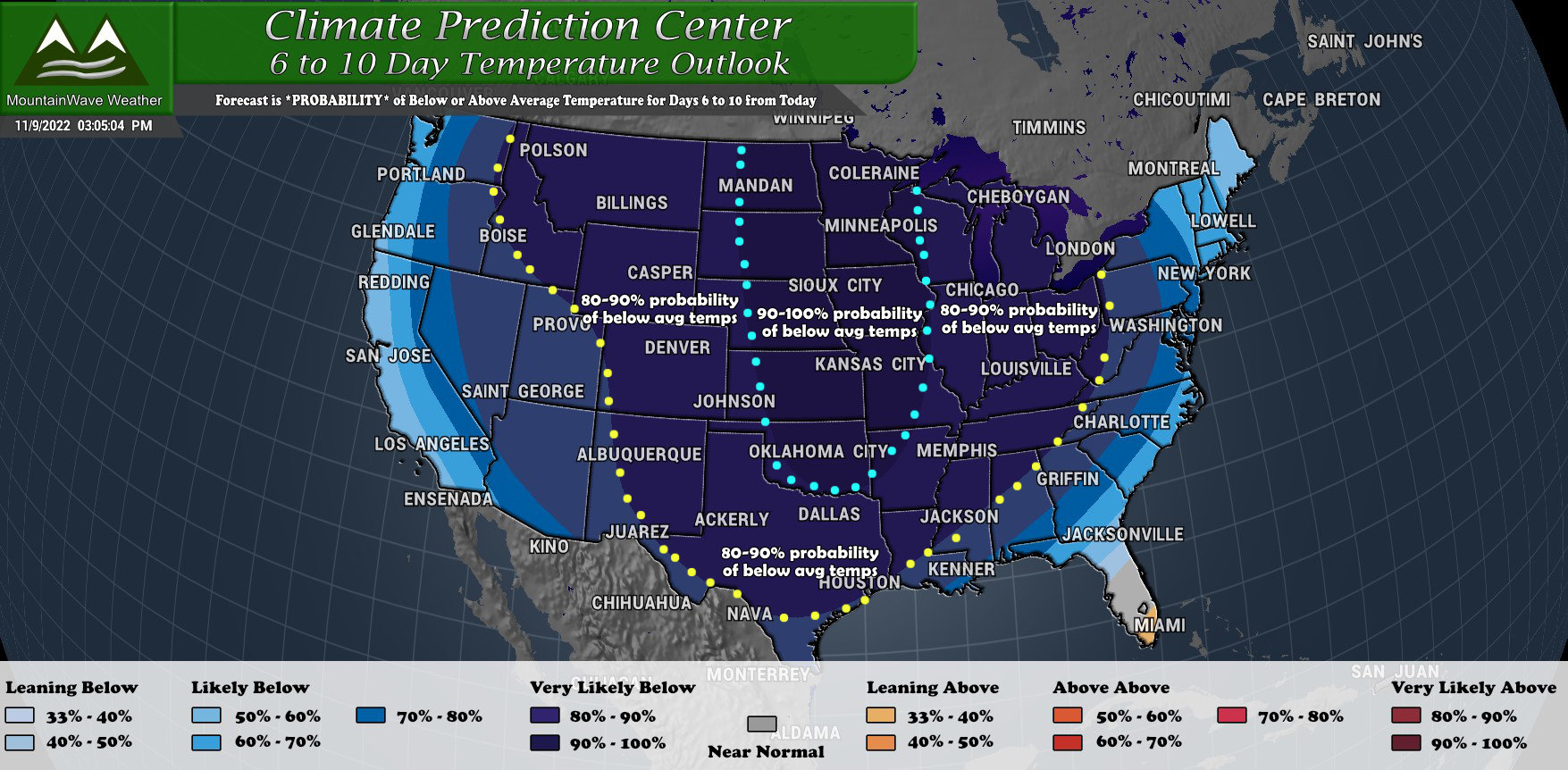 The latest CPC outlook has a strong probability of below average temperatures through day 10. This means we could see anywhere between 7-10 days (or even longer) of colder than average temperatures. Remember though, this time of year is colder on average, so colder than - colder on average is well... COLD!
I see another storm system on the horizon for late in the weekend, I'll be keeping an eye on that too.
For now, stay warm out there!