Winter Weather Watches/Warnings/Advisories
As of this article posting - no winter weather advisories, alerts or warnings have been issued for this storm along the Front Range or Palmer Divide.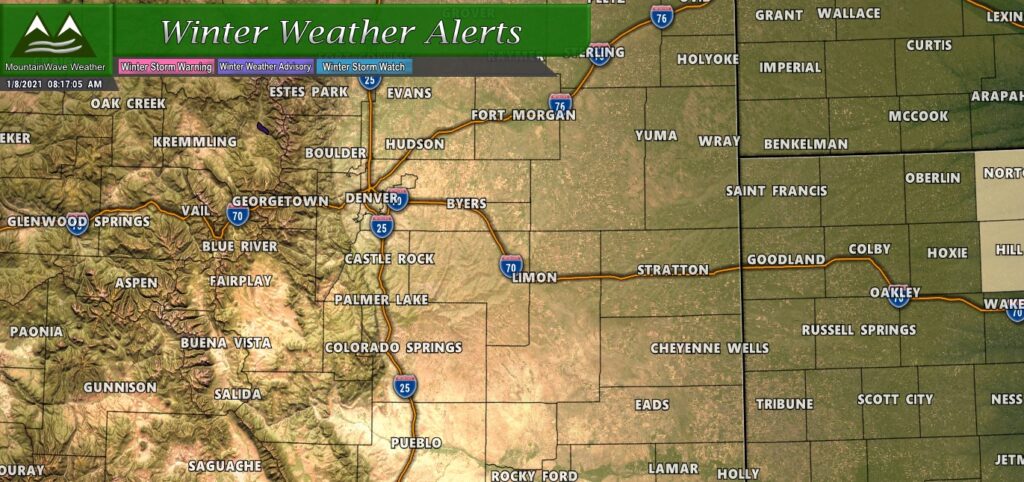 Due to the minor nature of this storm for areas in Northern and Central Colorado - we don't see any reason to believe that winter weather highlights will be issued in advance of this storm for the front range or palmer divide. The only thing to watch will be if snow is a bit heavier than forecast on Saturday night, road conditions may become a bit slick, but not sure this will be bad enough to warrant any advisory there.
---
Snowfall Forecast (Palmer Divide Region)
None of the models are super excited about this storm North of about Pueblo, the southern bias to the track and the tendancy for the low pressure center to drift that way means a lot of the best lift and energy will remain in Southern Colorado, New Mexico and Texas. Snow rates Saturday afternoon and evening will be light with total accumulation ranges listed below.
Palmer Divide has a better chance of picking up a bit more snow but we don't see a whole lot of evidence for any snowfall accumulation over about the 3-4" mark. We went with a general 1-3" range for that area as that is what most folks will see.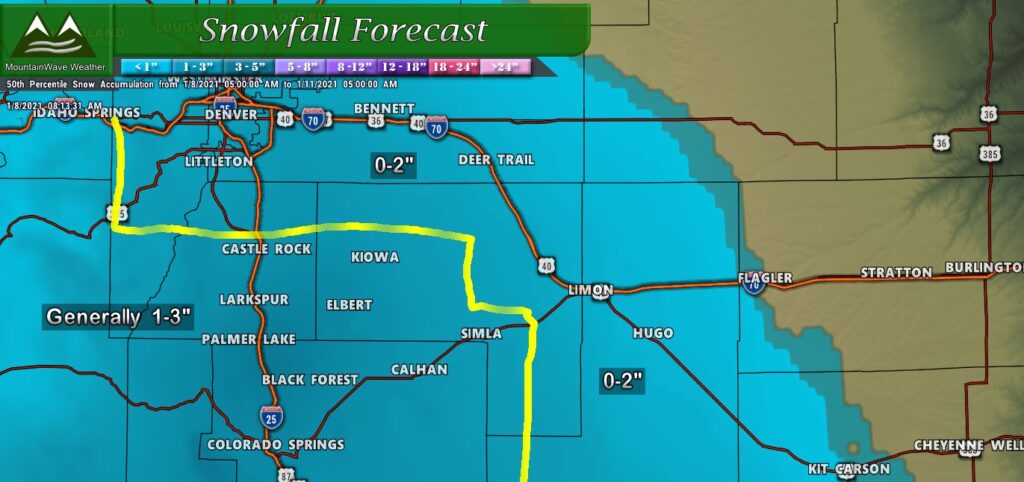 Snowfall Forecast Northern/Southern Colorado)
General rule of thumb with this storm will be; the further North you go the less snow you'll receive. Many areas in and around Denver along with the I-25 corridor will remain in the 0-2" range, areas North of Denver will really struggle to reach the 1" mark.
The real winners from this storm will be those South of Colorado but areas South of Pueblo towards the Raton Mesa will pick up a quick 4-8" with areas nearby going down in snow as you travel further North and East.
*All snow totals above are for the storm duration roughly Saturday afternoon through 12PM Sunday.
---
Timing/Impacts
According to the latest guidance, there will be sufficient energy and moisture aloft in the morning hours Saturday but due to the dry nature of the atmosphere it may take some time for it to saturate. With that we can probably expect a few flurries earlier on but the bulk of the snowfall looks more likely to start in the afternoon hours.
Snowfall Timing
Highly scattered snow flurries possible earlier Saturday
Snow showers will fill in late morning/early afternoon on Saturday
Snow continues through 3-6AM Sunday morning
Note: snowfall will be light in nature for most of the area; a few pockets of a bit heavier snowfall may exist but this will be the exception rather than the norm. Snowfall ranges given above are for the total period ending 12PM on Sunday.
Impacts
Impacts to travel look to be fairly limited for the front range and palmer divide
As we've seen this year, small amounts of snow can still cause travel chaos when people don't slow down and the roads get slick... this could happen with any storm including this one
Best chance for any slick conditions to develop will be Saturday evening and overnight into Sunday - mainly along the Palmer Divide. Most areas will see little to no travel impacts though.
---
Summary
Storms have missed us to the North and now to the South. We just can't catch a break this year!
The week ahead is looking nearly bone dry with above average temperatures, not seeing any big shifts in the overall weather pattern in our near future.