A ton of weather is coming at us over the next few days, so this post is a bit long but has a lot of good information for folks about Saturday's extremes fire weather and Sunday/Monday's winter storm system.
Weather Alerts
Saturday - Red Flag Warning until 7PM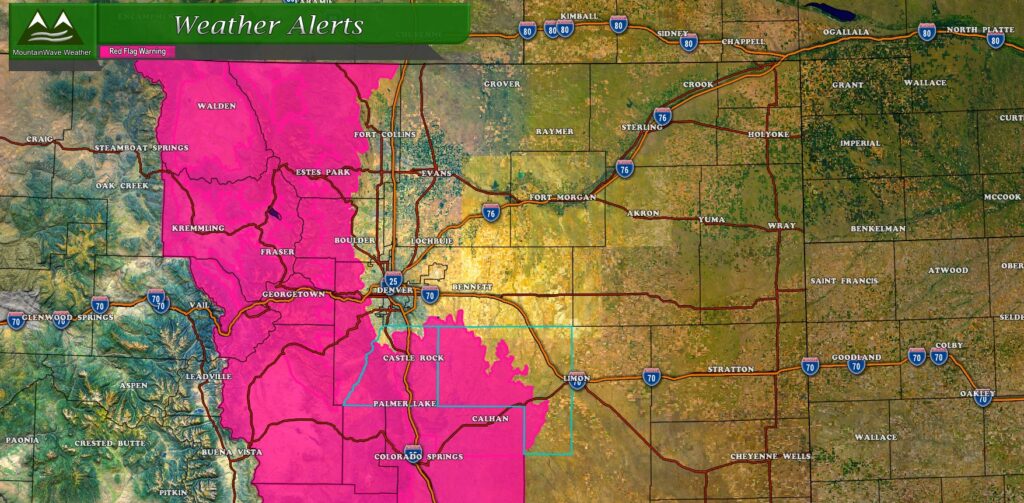 * Winds...West 10 to 20 mph with gusts up to 35 mph.

* Relative Humidity...As low as 14 percent.

* Impacts...Ongoing drought conditions combined with strong winds and low relative humidity mean conditions are prime for rapid fire growth.

A Red Flag Warning means that critical fire weather conditions are either occurring now....or will shortly. A combination of strong winds...low relative humidity...and warm temperatures can contribute to extreme fire behavior.
---
Sunday and Monday - Winter Storm Warning and Winter Weather Advisory 6AM Sunday through 6AM Monday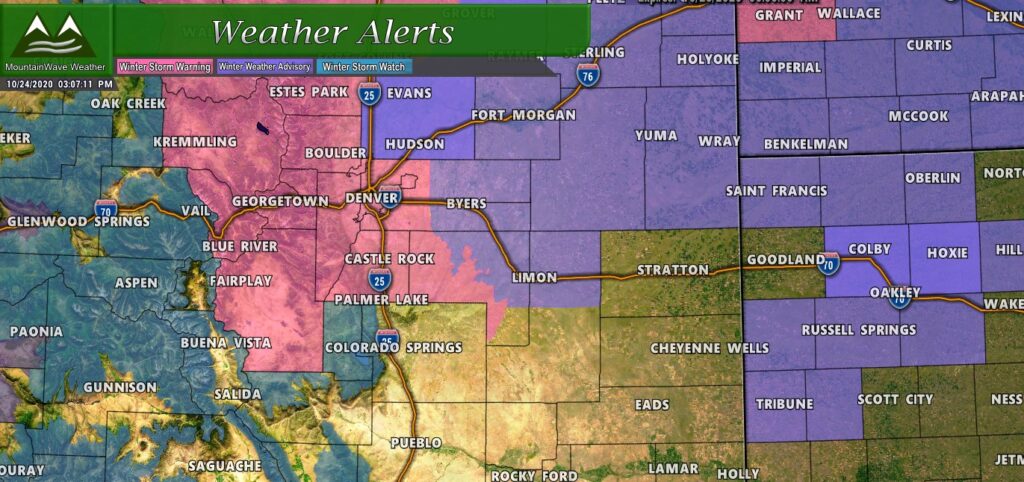 * WHAT...Heavy snow expected. Total snow accumulations of 5 to 10 inches. Highest amounts near the foothills.

* WHERE...Larimer County below 6000 feet and Northwest Weld County, Boulder and the western suburbs of Denver, Denver and Palmer Divide including Castle Rock, Elbert, and Larkspur.

* WHEN...From 6 AM Sunday to 6 AM MDT Monday.

* IMPACTS...Travel could be difficult with a slow morning commute, Monday morning.

If you must travel, keep an extra flashlight, food, and water in your vehicle in case of an emergency.

The latest road conditions for the state you are calling from can be obtained by calling 5 1 1.
---
Timing
Saturday
Strong winds and warm temperatures will be the primary concern on Saturday. The mountains may see gusts up to 60mph or higher in some cases. This will not be great news for the fires, many of those fires will expand through the day Saturday and the early part of Saturday night.
The mountains should see precipitation move in by the late evening/overnight hours. Most models have precipitation remaining very light and scattered for the mountain locations through midnight with only scattered pockets of light rain or snow across the front range Saturday night.
Sunday
By Sunday morning mountain areas will see more snow begin to fill in, but it looks like the heavier stuff will roll in early during the morning hours or around daybreak for areas West of the Divide..
For those of us on the plains, we may see snow showers in the morning but the heavier stuff looks to hold off until a bit later. Most models have snow going for the front range by noon and continuing through the afternoon and evening hours.
You'll notice in the model above (Nam3K, but HRRR sees this too) the highly banded nature of the snowfall. This means some areas will receive drastically higher amounts of snow than forecast while some will receive drastically lower. This always makes fore a tricky forecast in terms of snowfall; areas that get stuck under a heavy band will see the best snow totals.
By Sunday night most models keep spotty snow showers across the area - again the areas that sit under snowfall bands will see the heaviest snow from this storm system. Models can tell us very well that there will be snowfall bands, they just can't predict where, when or with what intensity they set up. This means don't take the position of snowfall bands as gospel shown in the above images.
Monday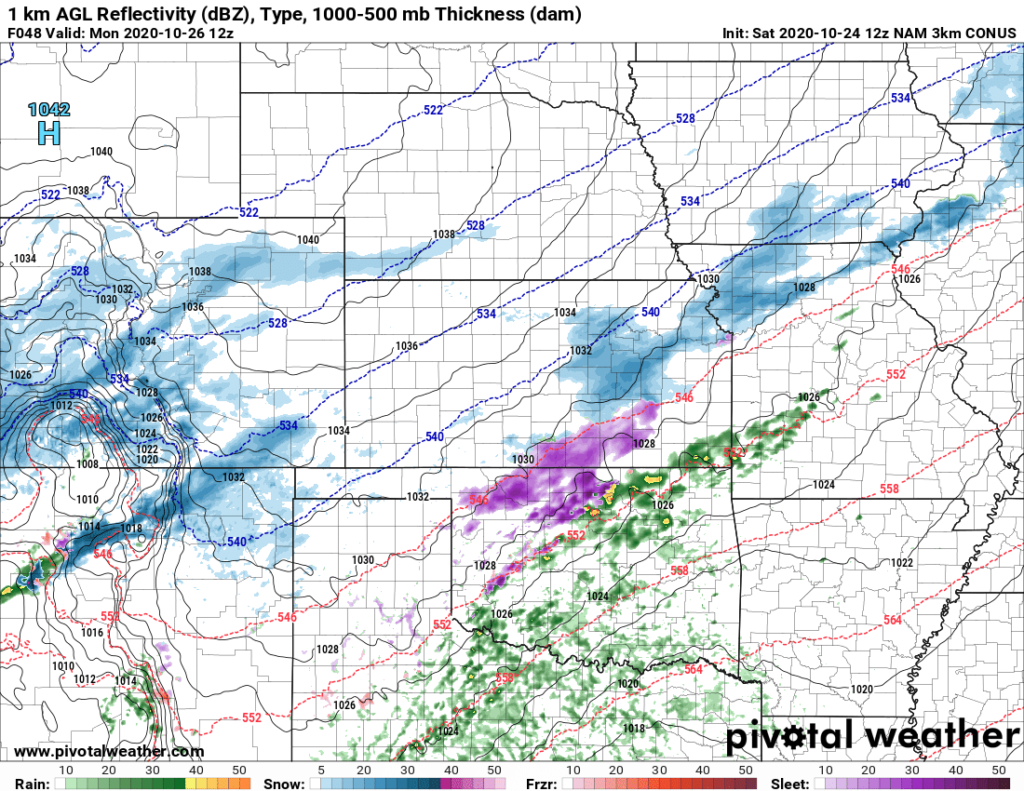 Models currently have snow continuing through Monday morning before clearing up late morning and into the afternoon. It is most likely the areas South of Denver (Palmer Divide) will see the lingering snow showers through the morning. Be prepared for difficult travel conditions to last into Monday morning before most likely clearing up late in the day.
---
Snowfall Forecast
One thing the models have been trending on lately is that Northern Colorado sees more snow than areas South of Denver. The exception to that may be the foothills West of Castle Rock and Larkspur. The graphic below reflect my thinking pretty well on where the heavier versus lighter areas of snowfall will end up.
Keep in mind, some areas will over-perform while others will under-perform based on the forecast for banded snowfall. It's not really a statement to cover bases for a missed forecast - it's just simply the reality of how this storm will turn out. When we see banded snowfall we see lots of areas that end up outside our forecast range.
Norther Colorado (including the mountains) stands to see the best chance of heavier snowfall and higher accumulations. The areas North of I-70 definitely look most likely to see the higher snowfall totals. This will be great news as the fire-stricken areas around Grand Lake, Estes Park and West of Fort Collins could see very beneficial snow.
---
Impacts
The main impacts from this storm will be bitter cold and difficult travel conditions. Roads will get icy and snow packed under heavier bands of snow while other areas will see slick conditions - even with less snow. The air will be very cold and so will the ground, so we do expect snow to stick for this storm.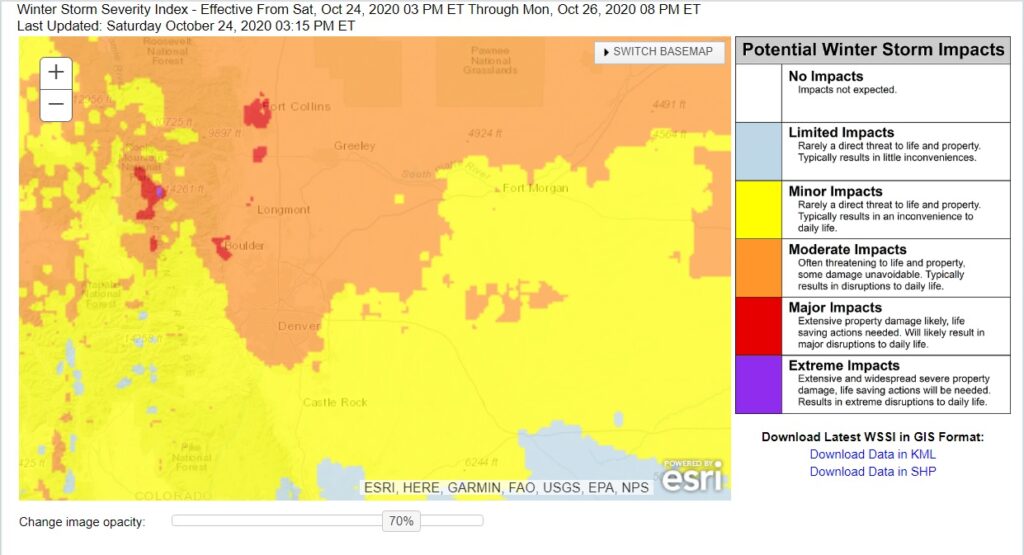 I really like this new product from the NWS - it gives a good idea of their thinking on which areas are most likely to be trouble areas. With this storm the best chance of impacted travel conditions is in and around Denver and to the North. Areas along the Palmer Divide will still see some impacts to travel - mainly with difficult travel conditions. some areas in the mountains will see major impacts with heavy snow and strong winds so keep that in mind if you are heading to or from the hills this weekend.
---
Summary
We will keep an eye on any late changes to the models. I really like Northern Colorado's forecast for snow and cold temperatures - those look pretty high confidence. From Denver to the South - even though we have a snowfall forecast put together, I have less confidence in the higher end numbers of that forecast. This means our area could very well end up on the lower end of the forecast or below.
We will just have to see how it goes. More model data coming in tonight so may have another update if we see any changes. Stay tuned!