Talking about the next 2 storm systems, both will be tricky as models can struggle with predictions with so many storms occurring in short succession with eachother. There will be a lot of bouncing, back-and-forth and uncertainty on tap for both of the next 2 storm systems, I'll try to break it down as best I can. Do be prepared for some surprises though!
Here's the latest!
---
Current Winter Weather Highlights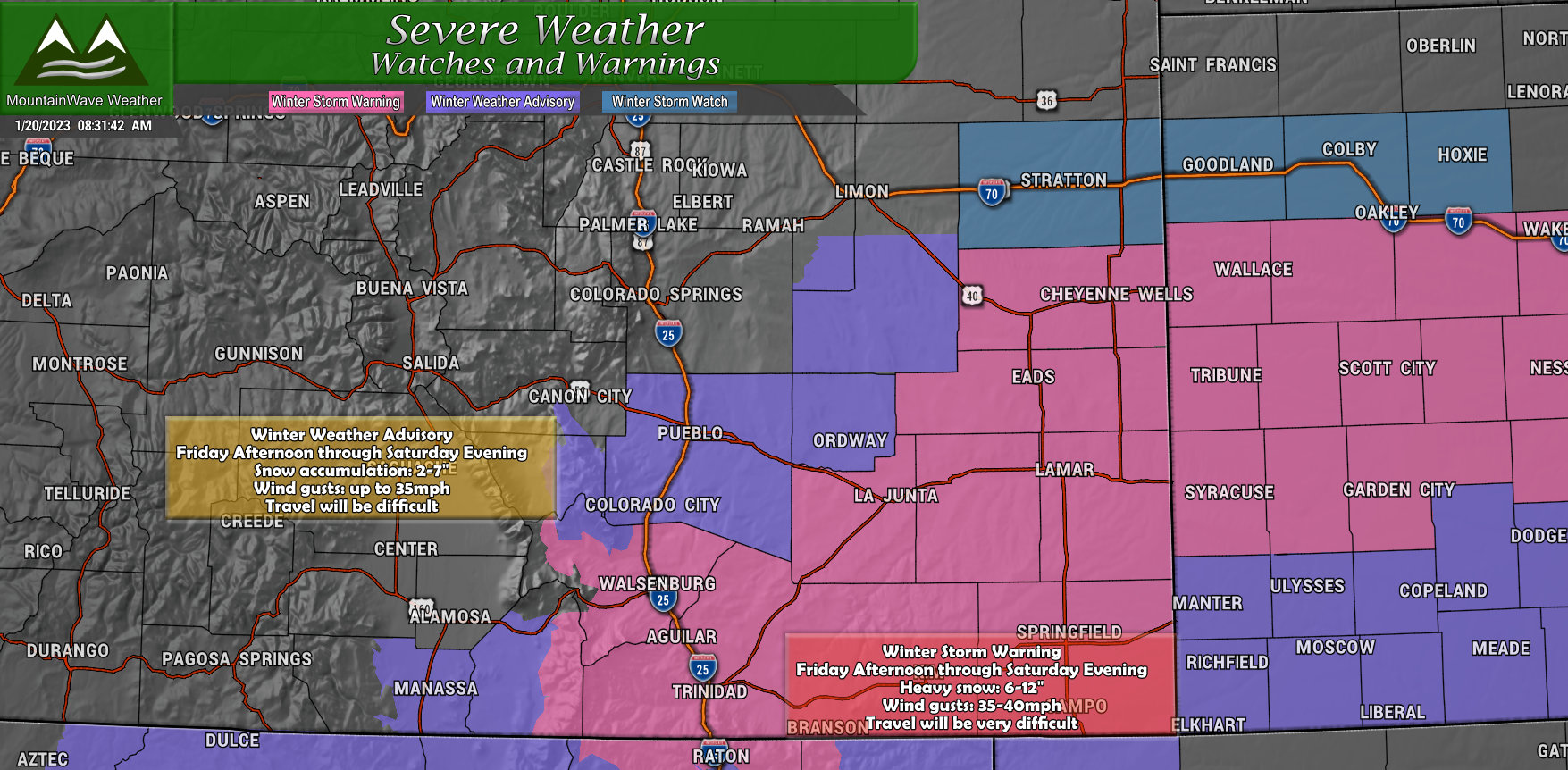 Taking a look at the current winter weather highlights, it will be obvious to see where we expect the heaviest impacts from this storm. The Southern and Southeastern parts of the state stand to see the most snow from this storm and the timeframe will be Friday afternoon through about Saturday evening. Winter Storm Warning areas will see heavy snow up in the 6-12" range, while advisory araes could see anywhere between 2-7" largely depending on where are are.
Keep all of this in mind if you have any plans to travel down that way on Friday or Saturday, travel conditions could be quite treacherous... especially in the Winter Storm Warning area. That highlighted area extends all the way into Northwestern and North Central Kansas as well.
---
Snowfall Forecast
The two areas of interest with this storm are really Southern Colorado primarily, with the Palmer Divide as a secondary area of interest. Event though overall snowfall amounts are projected to be fairly light along the Palmer Divide, a slight Northward jog of the storm system could add a couple more inches onto the forecast. Southern and Southeastern Colorado will do quite well with snow overall.
Palmer Divide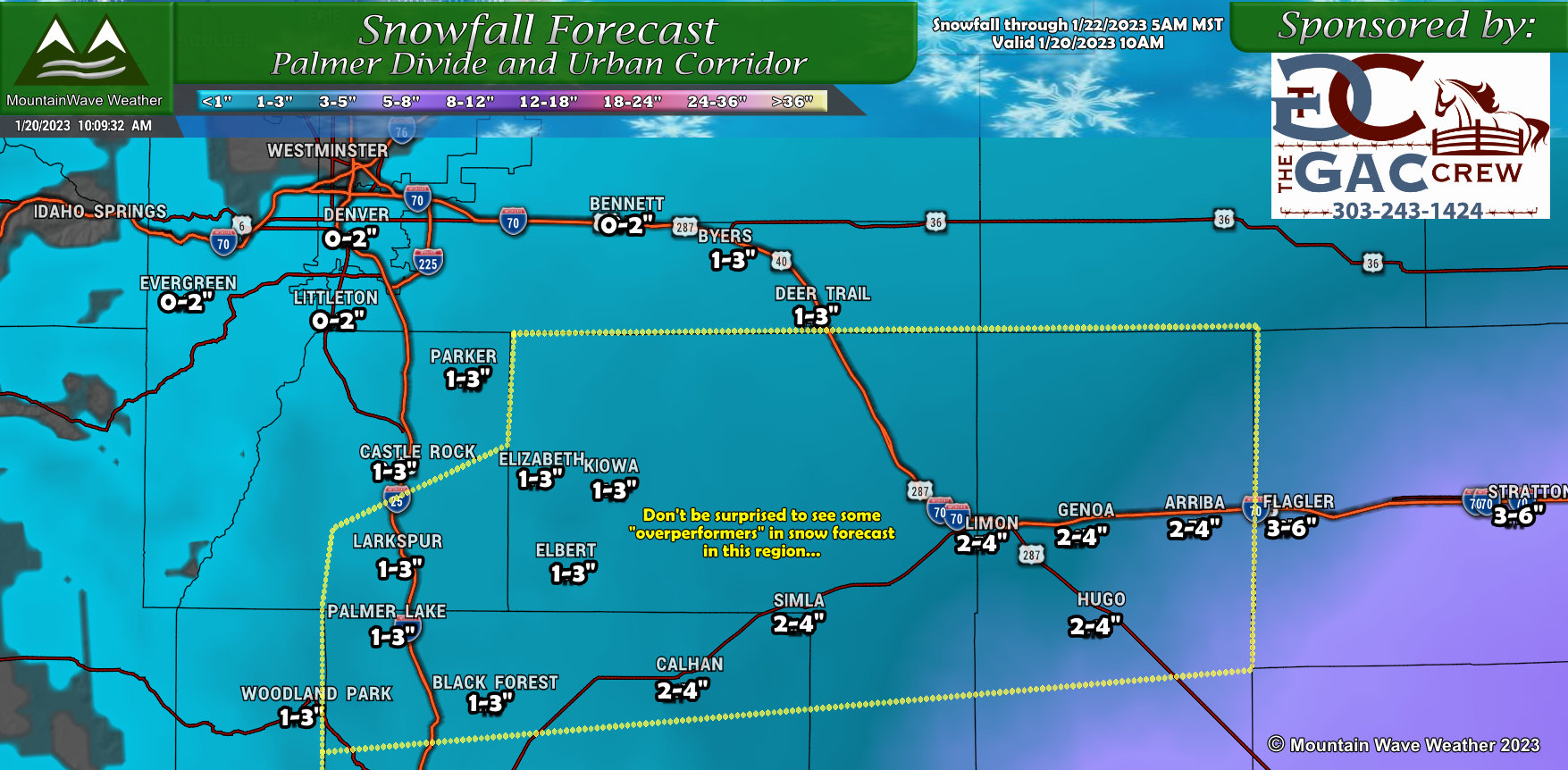 Forecast for the Palmer Divide, I like these ranges pretty well but there is a chance some areas into Elbert County and East towards Limon could see localized accumulation up to 4". For the rest of the area, accumulation looks pretty light. I've highlighted the area with the most uncertainty on snowfall amounts, take my range as a minimum and understand that if this storm wobbles North, some of those areas could well overperform the forecast. All in all, don't write this storm off completely, it could surprise us!
Southern Colorado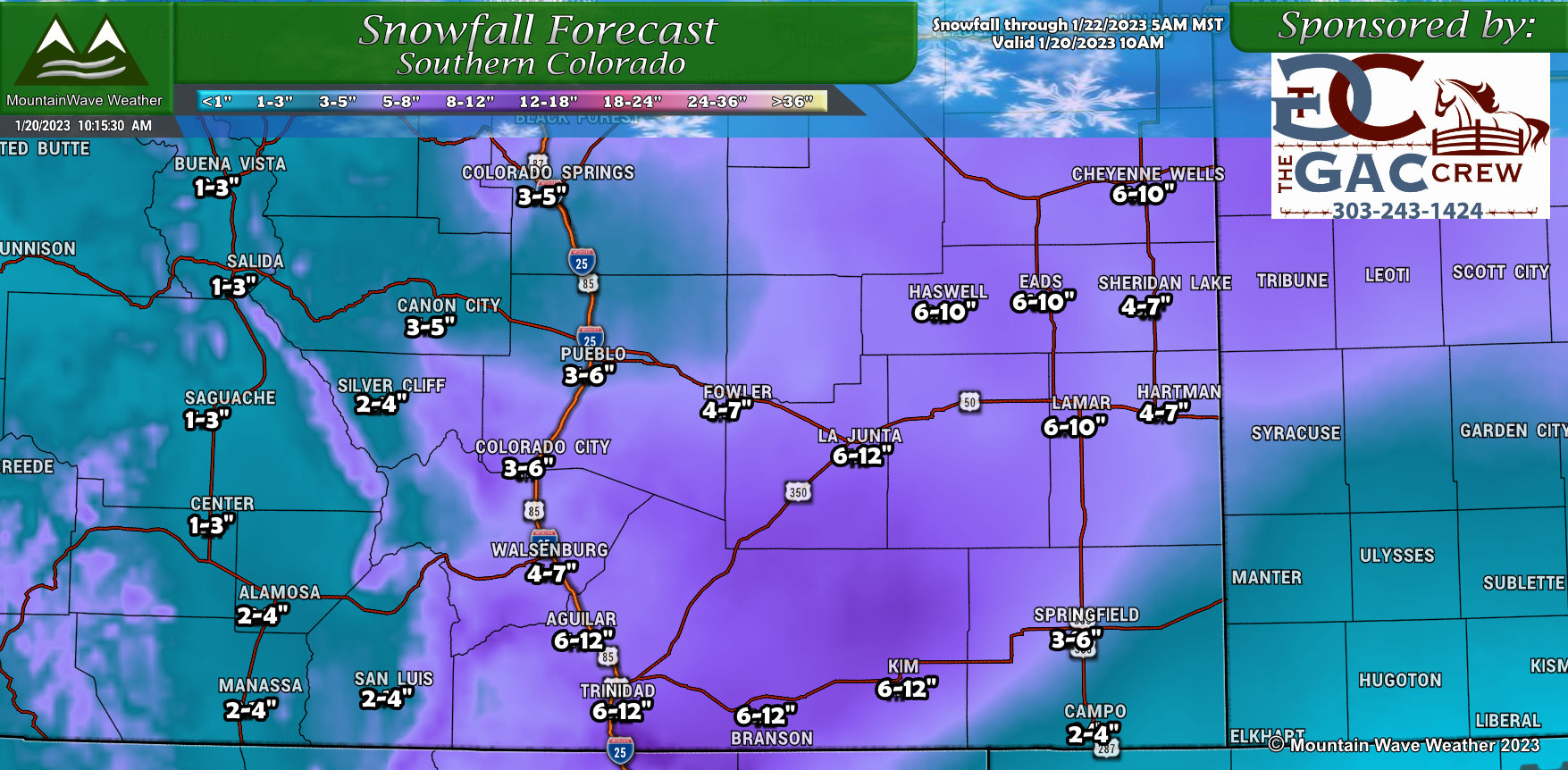 After getting shorted nearly the entire snow season, Southern Colorado will finally get its chance for a heavier snowfall event. I'll still be interested to see if the storm system shifts slightly Northward, as most of ours have this year, and brings the heavier snowfall slightly North. For the data we have now... this all looks good. Be sure to check back for forecast updates throughout the day on Friday though if any of this should change.
Elsewhere
Really not much to write home about elsewhere in Colorado... the next best area of snow accumulation will be the Southwest corner of the state, but snowfall amounts will still be generally light. Pretty much a non-event for Northern and Northwestern Colorado.
---
Timing and Impacts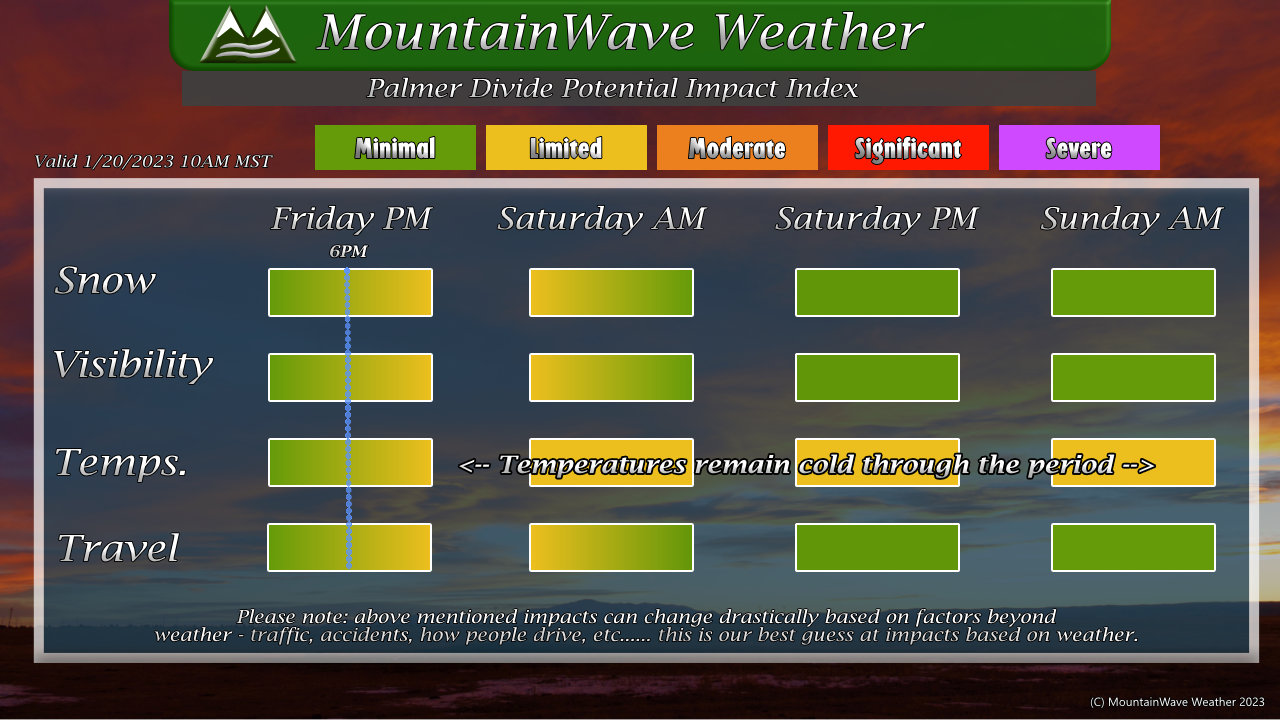 Not expecting a ton of impacts with this storm along the Palmer Divide. Snowfall amounts will be light, but we can't rule out a few areas of slick roads under any bands of moderate snow. As such, expect slick conditions a bit later on Friday evening and into Saturday morning with better conditions as we move into the day on Saturday.
You can see the graphic above for more details on timing and expected impacts.
---
Be Prepared for Storm # 3 Sunday/Monday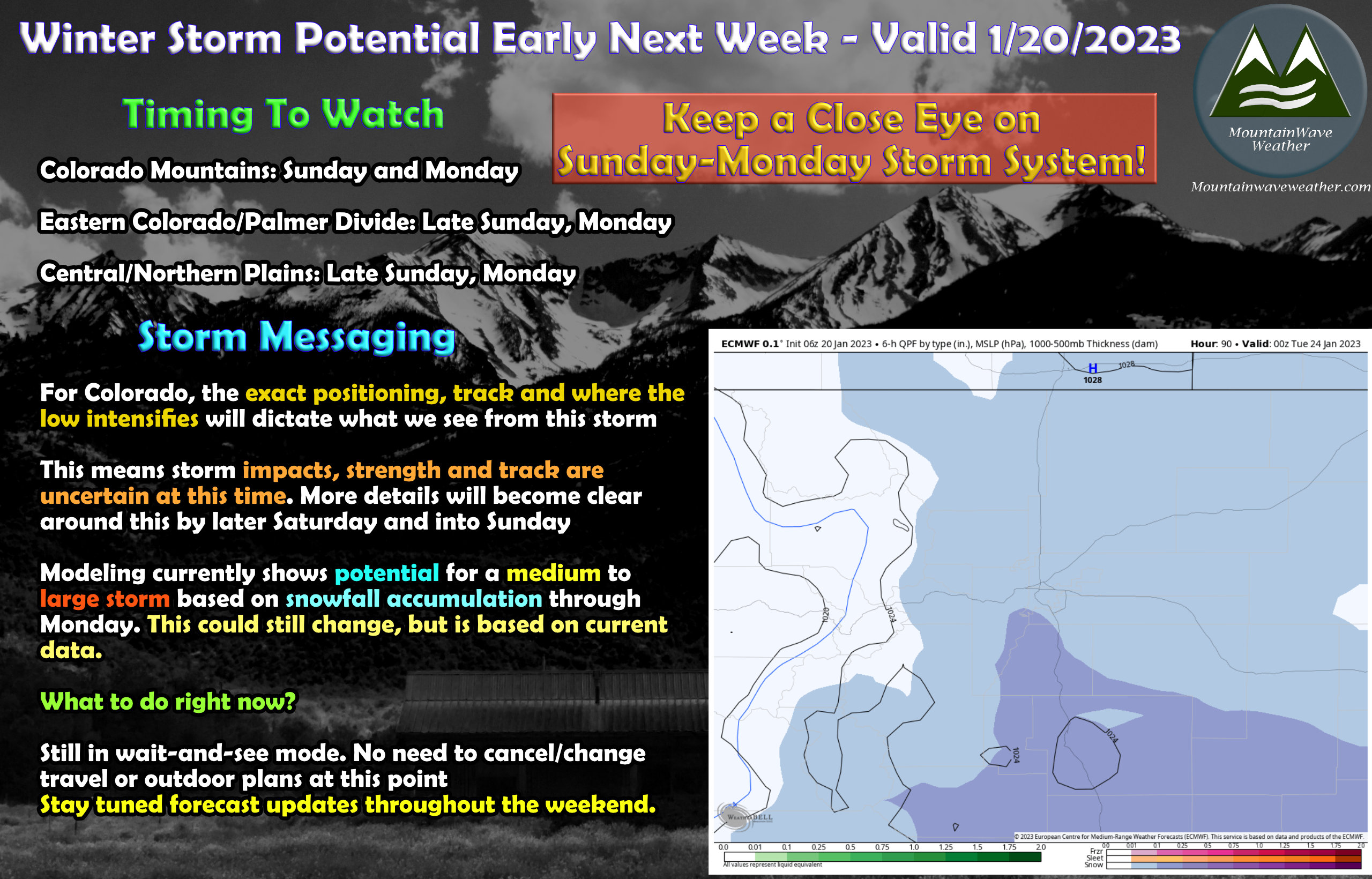 We will have to keep a close eye on the next storm system (the third in the last week or so) to impact our area on Sunday and into Monday.
Right now, we don't have solid details on track, timing, intensity, impacts... so please don't ask just yet.
I will say this, if modeling trends continue... from purely a snowfall accumulation perspective: this storm has the potential to be medium to large sized.
Some models have this storm shifting much further South and West which would mean essentially nothing for us... word of the day with this storm is still "uncertainty."
As such, if you need to make preparations for this storm, just in case... go ahead and get rolling on them right now. Still lots of uncertainty and the nature of that storm could change, but better to be safe than sorry.
I will have additional storm updates about this storm on Saturday and Sunday throughout the day! Stay tuned!