We've been talking about a shift in our weather pattern for a few days now and the results are manifesting themselves pretty well this weekend. After weeks upon weeks of scorching hot temperatures and little if any rain - it looks like our fortunes will change for just a little bit. We do see the likelihood of cooler temperatures in September than we experienced in August, but that's pretty typical. The main concern is that despite a few days with showers here and there, we still don't see a lot of moisture in the mid and long range forecasts.
Let's take a look at the near term though;
---
Weekend - A Nice Cooldown and Chances for Rain!
Many areas saw beneficial rain on Friday night, which is great news but its' not going to be enough to make a dent in our conditions. Recall that droughts are established and diminished over a long period of several weeks or months with above average precipitation. One day of a tiny bit of rain doesn't do much to change the calculation here.
As we zoom into the Front Range and Palmer Divide we see many areas ended up between .10 and .25 inches of rain total for yesterday. Some foothills locations saw .25 to .5 inches of rain which is great news for those areas as many of them are in worse drought conditions than the front range is.
For those areas that saw little to no rain yesterday the good news is that there is another chance today and in many cases it will be a better chance! Here's a look at the Castle Rock forecast for Saturday and Sunday.
Despite Sunday being warmer in general the temperatures will still be close to season for this time of year... it is still August after all!
---
Next Week - More Relief
Looking ahead to get an idea of what next week looks like we see continued chances for precipitation for most areas on Monday and Tuesday but storms will be spottier so not everyone will see that rain. I'd put that chance around 40-50% along the Palmer Divide so don't be surprised if you see a bit of rain, but don't be surprised if you don't.
In fact, it's likely that the bigger winners of precipitation for next week will be in the Southeastern corner of the state; another area with worse drought conditions than us that can surely use the moisture!
Again with most models, as we get further out don't focus on specific numbers but focus on the overall trends. Southeastern Colorado is in the bullseye for better chances for moisture while areas closer to home in Northern and Central Colorado will see chances of moisture as well but overall precipitation amounts will remain light.
---
Snow in the Forecast?
If you've lived in Colorado long enough this shouldn't be a surprise as areas of the state are no stranger to snow in late August into September. Denver and the front range will sometimes see snow in the month of September but amounts are usually small.
There is a chance for snow in a few mountain areas next week!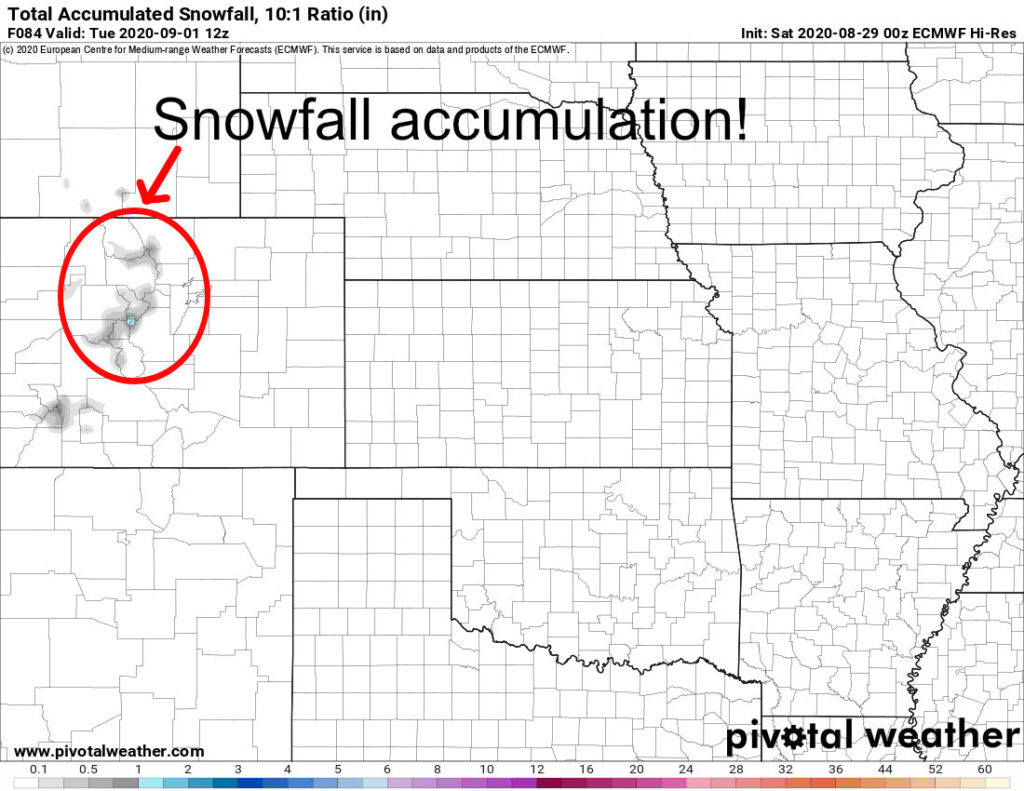 The Euro is shown above for total snowfall accumulation through Tuesday morning at 6AM. For what it's worth the GFS also shows snow in similar areas (slightly different locations) so the confidence that some specific areas of the mountains wake up with a dusting or so of snow on Tuesday morning is decent. A couple of notes:
Temperatures are still overall warm up there so any snow accumulation will melt quickly
Most likely areas of seeing any snow accumulate are the highest peaks along the continental divide - think over 12,000 feet or higher in elevation
Models don't see a lot of snow chances after this period for awhile...
Keep all of this in mind if you're travelling to the mountains on Monday night... you may encounter slushy or slick conditions on the high mountain passes and perhaps approaching the Eisenhower Tunnels.
---
Summary - Sunday's Article
So, a relatively active few days on tap compared to what we've seen. The good news is we will have decent chances of moisture and temperatures will be a bit more bearable.
Make sure to check back tomorrow as I'll be looking ahead a bit and discussing weather this is a longer term pattern change or just a short blip on the radar (excuse the weather pun!)
If you're a site supporter with access to our long range 30 day outlooks that will be updated for September sometime later tomorrow. We will have a lot more detail on that page for the September outlook than any posts so be sure to sign up if you'd like to support our content and you'll get access to that!
Long Range 30 Day Weather Outlook