In a word to describe this storm... WOW!
Here's the latest CoCoRaHS reports for total rainfall over the past 48 hours and the numbers are truly impressive. Here's some notable number: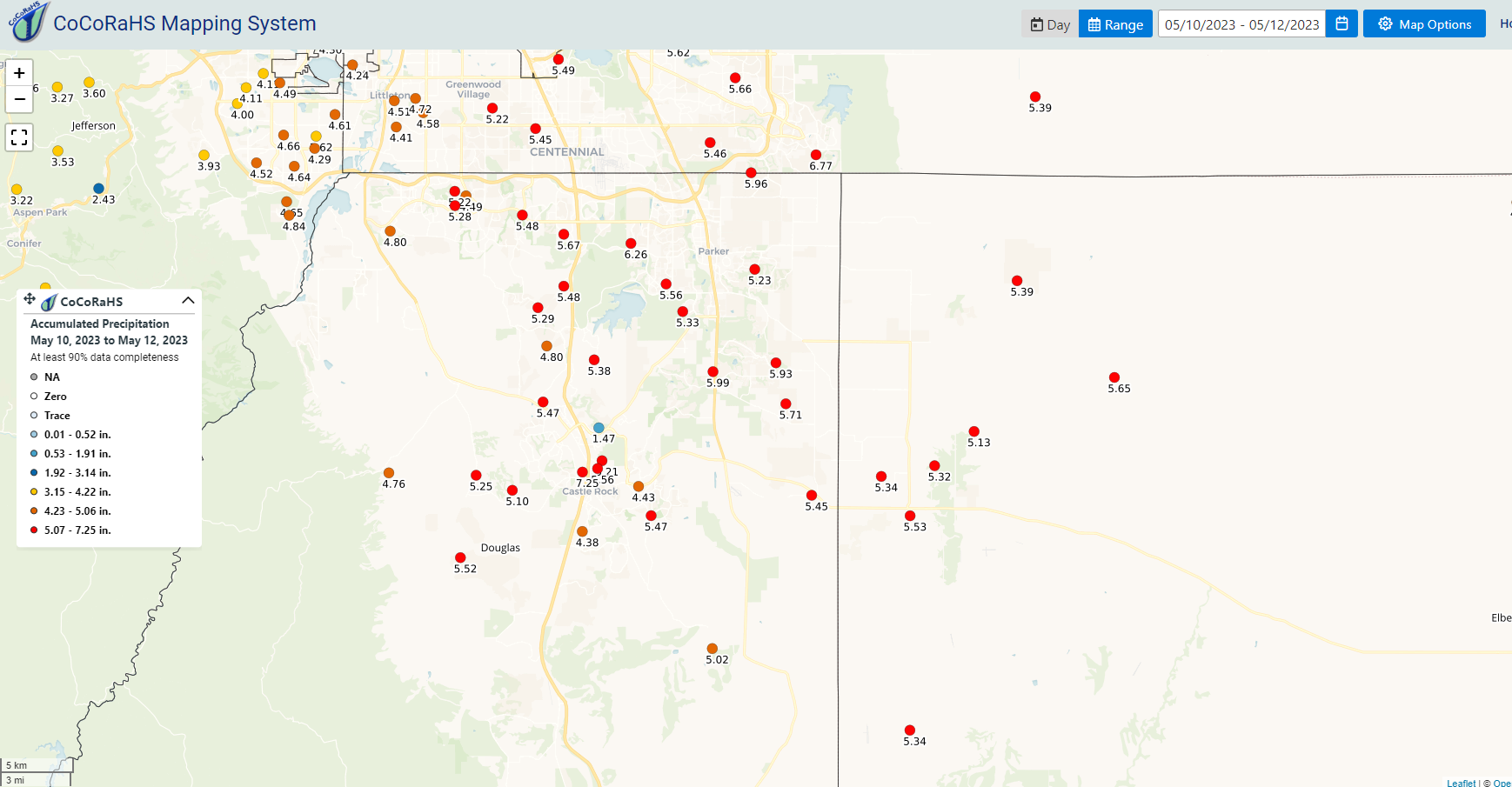 Castle Rock

5-7 inches
Flooding reported
High runoff of creeks and streams

Elizabeth

5-6 inches
Flooding reported
Many roads washed out

Elbert

4-6 inches
Flooding reported
Many roadways closed, flooding some significant flooding

Centennial

3.5-5 inches
High runoff of creeks and streams
Areal flooding reported

Denver

Record setting rain recorded
Areal flooding reported
High runoff of rivers, creeks and streams
---
Historical Context
Suffice to say, we don't often see rain storms like this very often. Was this one enough to get us into the history books though?
The answer is YES!
This storm edged Denver into the 8th most total 1 day precipitation accumulation since records began.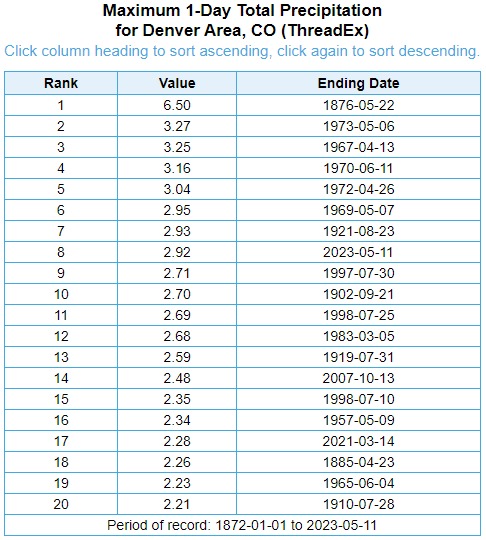 Special thanks to the National Weather Service for the graphic above... and the one below.
Here's an interpolated map of precipitation amounts across Colorado for this storm: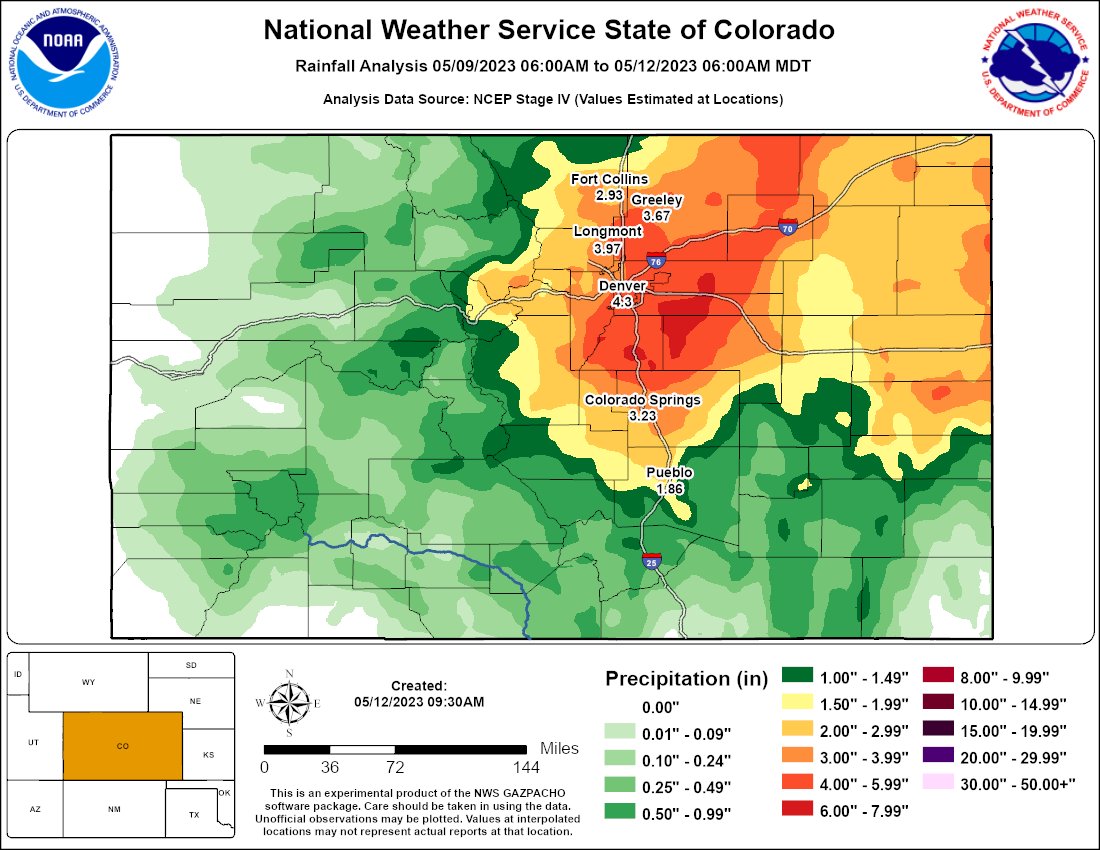 Note: this is total amounts since 5/9/2023 so think of it as a "storm total" rainfall map... the number from the chart is the one day accumulated precipitation.
That's why the numbers are different!
---
Fun to Speculate - How Much Snow Would We Have Received With This Storm?
I had spoken to many folks about how much snow we would have got out of a storm like this if it had hit in early March or February and had fallen as snow.
The NWS with the rescue on that one again, here's their handy graphic!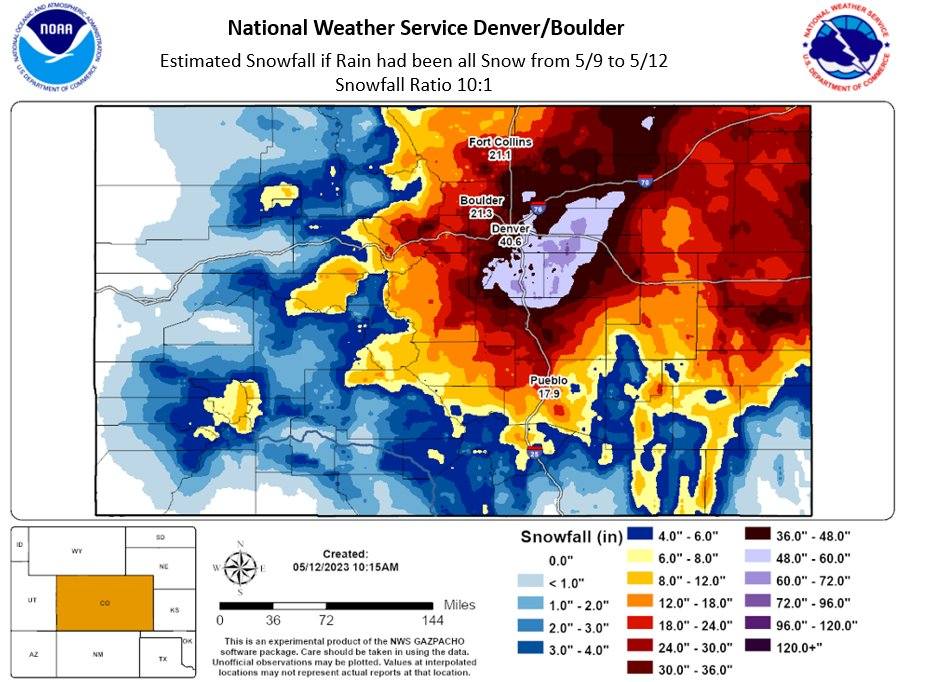 Highlights:
Castle Rock

Would have seen between 48-60 inches of snow

Western and Central Elbert county

60-72 inches would have been possible with this storm

Douglas County

Would have been absolutely hammered with snow
If this storm would have hit as all snow, it's no difficult task to surmise that it would have absolutely been a city crippling blizzard.
Luckily it's May and temperatures were much too warm and the sun angle much too high!
It's fun to think about it though!
Have a great weekend!