Our latest spring snow storm brought much of the area a quick shot of snow... like we said it wasn't going to be a major storm but we will gladly take the moisture as spring-time in Colorado is when we see a good bit of our snowfall during the year.
The areas that saw the most significant snowfall with this storm were the higher elevations West of Colorado Springs and along the Palmer Divide (generally above 6,500 to 7,000 feet.) As we expected, banded snowfall made all the difference with this storm as last night a bands set up in a Southwest to Northeast orientation over mainly El Paso County and parts of Teller County.
Not a ton of people took snow reports but with the best I could gather here are some location specific number:
Castle Rock: 1.8 inches
Denver International Airport: 0.8 inches
Longmont: 0.8 inches
Estes Park: 3.5 inches
Monument: 5.5 inches
Black Forest: 4.2 inches
Woodland Park: 7.5 inches
Peyton: 3.9 inches
Ellicot: 5.5 inches
Colorado Springs: 5.5 inches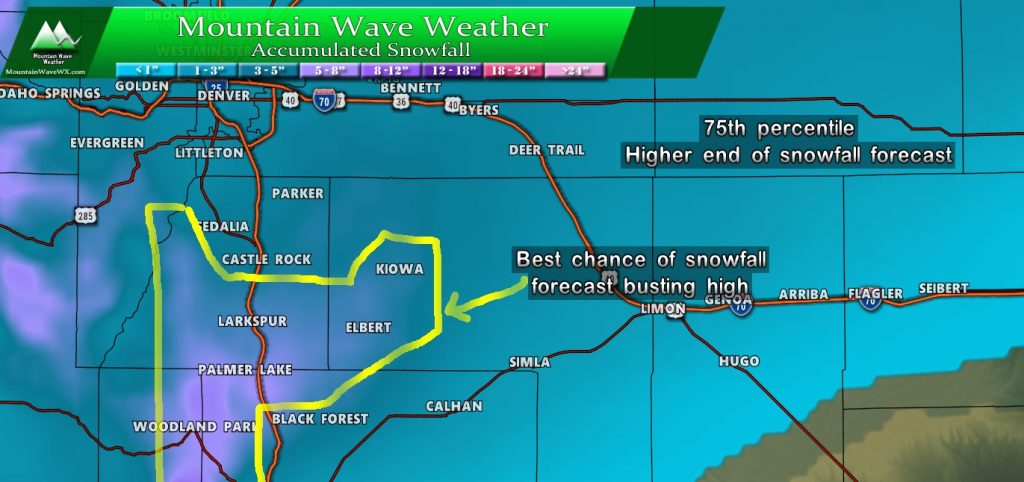 From our map yesterday the models definitely showed an area of heavier snow accumulation as we outlined above, but the heaviest stuff fell South of this region. We don't like to sound like a broken record but models are great at showing snow bands are possible, but they rarely nail the exact location. Overall, yesterday's forecast did very well.
Weekend
We look to have several warm, dry, spring-like days ahead of us before another storm system moving in towards the end of next week. We will keep an eye on that one and pass along any updates!