Forecast Adjustments
As you may have noticed this morning, the cold front moved through several hours earlier than expected. This means not only did we not reach our forecast highs but the saturation of the atmosphere and low clouds have meant many areas have seen freezing rain and fog for most of the morning. We expect another cold front to bring a re-enforcing surge of cold air this afternoon, but as temperatures are already much lower we have to account for that in our forecast from here on out.
Banded Snow - Makes for Tough Forecast
Honestly I kind of hate storms like this from a forecasting perspective because banded snowfall events are tough to forecast to begin with... they become even more so in the spring time when the sun is at a higher angle and temperatures are overall warmer.
The latest short range models push a decent amount of snow southwards and westwards but nearly all models are showing evidence of banded snowfall. There's a few things we can deduce from this:
Banded snowfall is extremely hard to predict where it sets up and how intense
Any areas stuck under a band of snow will see heavier snowfall rates, colder temperatures and higher accumulations
As we've seen though, shorter term models have had a tendancy to "bounce" higher on snowfall for the past several storm systems... so while it's easy to get on board with higher snowfall, the reality is that we may have to pick a range between the higher amounts forecast and the lower amounts we saw earlier
That's what we did in our latest snowfall forecast...
Snowfall
As I discussed above, I'm not ready to jump on board the "higher snowfall totals" train because of how models have handled the past several storm systems. Models this year seem to be struggling with temperature, moisture and location specific details. As such, you may have seen several news stations amp up their snowfall forecast for this storm as of this morning. My totals are somewhere between the lower end and higher end... I'm pretty happy with where they are.
One Caveat Worth Mentioning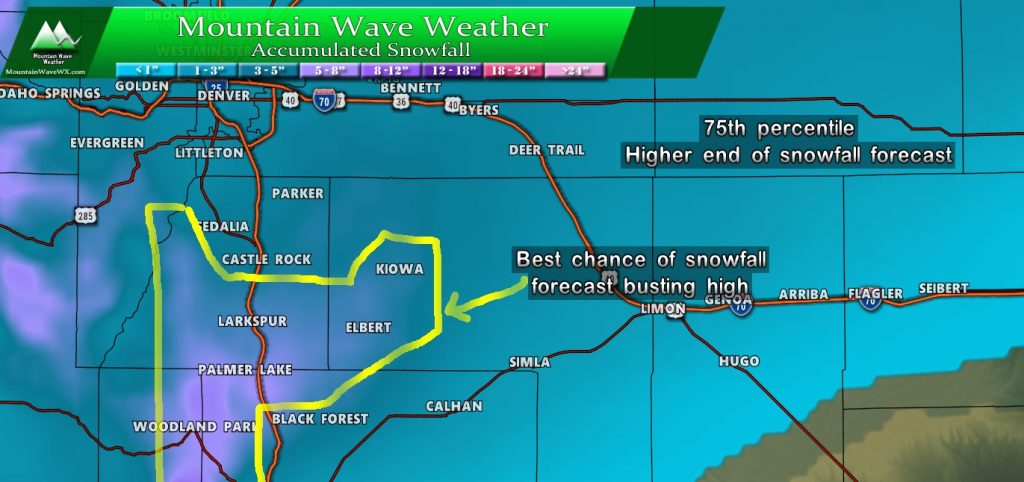 We still can't ignore that a lot of models paint a bulls-eye on the higher elevations on the Palmer Divide for higher snowfall accumulations. For that reason, I've highlighted the areas that have the best chance of seeing more snow than expected based on our model data this afternoon. Keep in mind though, because of the banded nature of the snowfall we can't tell for sure these areas are the correct ones... models are bad at predicting where heavier snowfall bands set up.
Summary
I don't see many more changes to this forecast beyond what I've outlined above. At this point the storm is close enough where I'd be surprised to see huge changes in modeling through the afternoon. For now, enjoy the warmth inside and be prepared for some snow and much, much colder conditions tonight!
Temps along the Palmer Divide could reach the low teens and single digits tonight... it will feel more like January than April!