A strong spring storm system will swing through the Western United States this weekend while what can only be described as an "arctic" cold front moves in the from the North. The combination of the storm system and cold air will usher in big changes for Colorado's weather. As is often the case with these types of storm systems, the ingredients have to line up just perfect if we are hoping for good snow and moisture along the front range. While models are all moving in one direction with this storm, they still disagree on the finer details... here's the latest as of this afternoon.
Brutally Cold Temperatures
Despite a lower confidence on any snowfall forecasts we may have at this point, one thing we are pretty confident about is the cold weather. Firstly, note that Saturday will be a gorgeous day with warm temps. It will be a great day to make sure your property is prepared for the brutally cold temperatures on the way.
Currently models have the cold front arriving late Saturday or early Sunday. This is different from what we saw last night so it seems models have sped the storm up a little bit and brings the cold air through earlier. Instead of a Sunday/Monday event it's looking more likely a late Saturday/early Sunday event. We will have to keep an eye on the models for any more timing changes.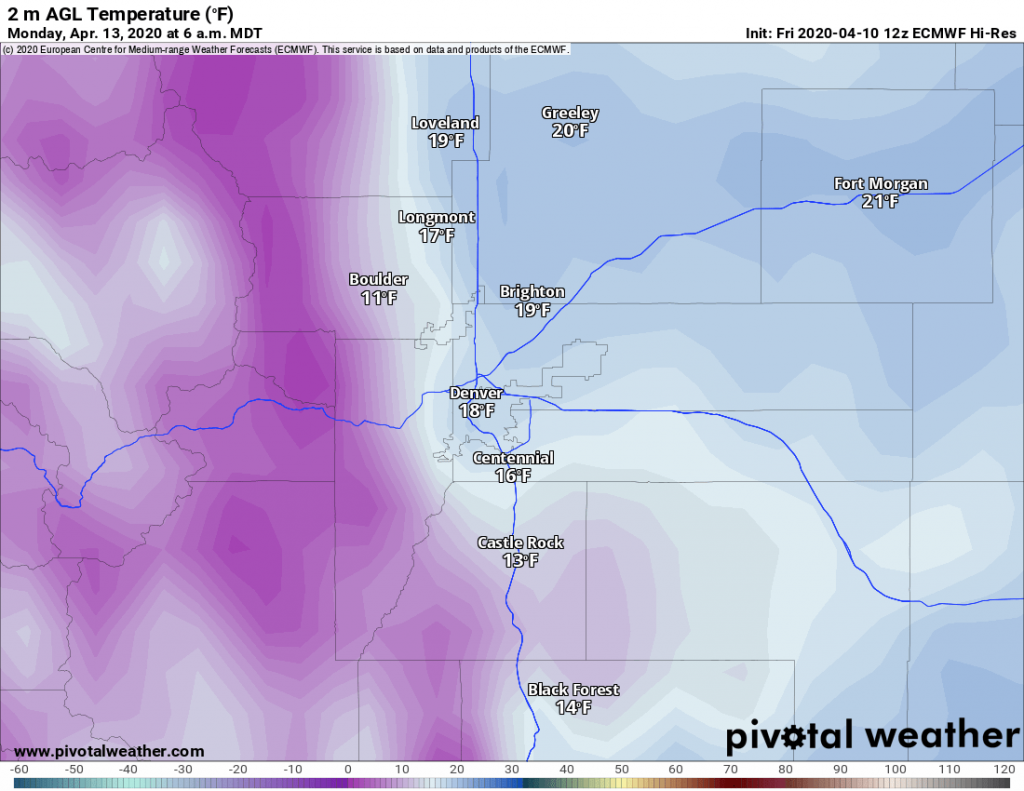 Here's the latest from the Euro High-Res for lows Monday morning. Note that many of these areas will see several hours well below freezing so sensitive plants could be damaged along with above ground sprinkler equipment. We've been saying it for a week now... if you have your sprinklers on already, be sure to have all the above ground stuff shut off and drained by Saturday evening!
Snowfall Accumulation
Models have still been bouncing around quite a bit in terms of snow. If you want to see what the trend has been like, I've made a GIF of the Euro Model and how it has been handling snow for the past day or two with each run.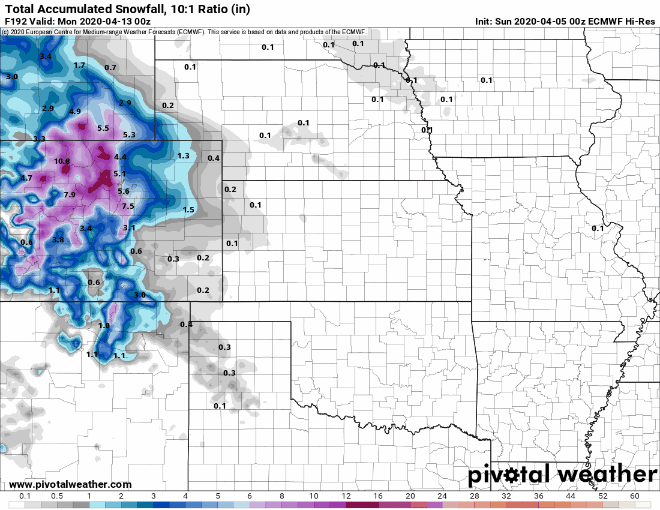 Notice the range has floated between 9 inches to almost nothing... and that's with this morning's model data! Talk about inconsistency! This means snowfall forecasts can be made but it must be understood that confidence will be low until we see more consistency... basically, expect the snowfall forecast to be fluid over the next 24-28 hours.
Given the trend we are seeing in all the models we can get a little more specific with a snowfall forecast but will still have to keep an eye on data coming in for changes.
The ranges will remain a bit further apart until we see better agreement on the data between models. For right now, the one area the models have been consistent about for higher snowfall numbers is the foothills and especially areas West and Northwest of Denver. The Palmer Divide region has seen little to no consistency between the models so this will have to do for now.
What to Know/ Summary
Use Saturday to make preparations for very cold temperatures

Cover sensitive plants
Drain sprinkler systems

Sunday

Expect highs only in the 20's and 30's
Record low cold temps are expected Sunday night into Monday morning
Some areas could see several hours in teens and single digit temps (a hard freeze)

Monday

Clearing by Monday morning
Another shot of snow possible late Monday into Tuesday (more details on that later)

Rest of Week

Cool and unsettled with more chances of moisture and below average temperatures
This should be a pretty fluid forecast over the next 24 hours so make sure to check back here for updates. I suspect more model bouncing will occur tonight and into Saturday and forecast adjustments will be needed on Saturday. As always, we will keep an eye on it!