As we continue on with what has been an interesting weather year for Colorado and much of the United States - we might as well throw in that we've had to drag the snow forecast and snow graphics back out for this post. Some areas are looking at precipitation and well below normal temperatures tonight meaning higher elevation areas of the foothills and Palmer Divide could be waking up to snow!
No joke!
Here's the update:
Powerful Storm System
The storm system responsible for Saturday's "Derecho" is moving off to the East, but a new low pressure trough is beginning to build in behind it to our West. This storm is powerful and is dragging a ton of cold air down from the North.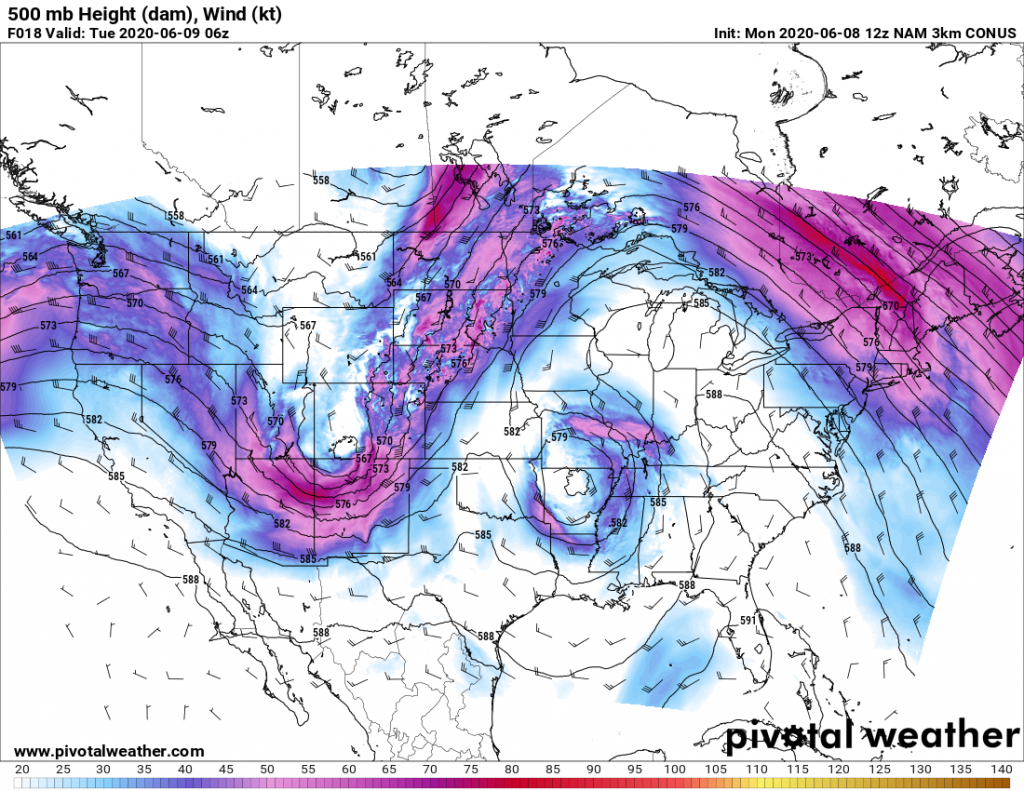 If this looks like a early spring/ late winter type setup to you - it sort of is! The Nam3K above shows the air aloft at 500mb or roughly the mid to upper levels of the atmosphere. You can see the upper level trough as a dip in the jet stream and as it moves across Colorado it will filter in much colder air from Canada all the way into Colorado and New Mexico. This will not only kick of showers and thunderstorms tonight but will also allow our wind to pick back up and even form a few snow showers around the region.
As the front moves through and a surface low sets up in Southeastern Colorado we will see showers and thunderstorms fill in overnight Monday into Tuesday morning.
By Tuesday morning, look how low the snow-line has dropped. Safe to say many areas above 6,000 feet could see some snow flakes with areas above 7,000-7,500 feet may actually see some snow accumulation.
Expected Snowfall/Temperature Forecast
Snowfall Discussion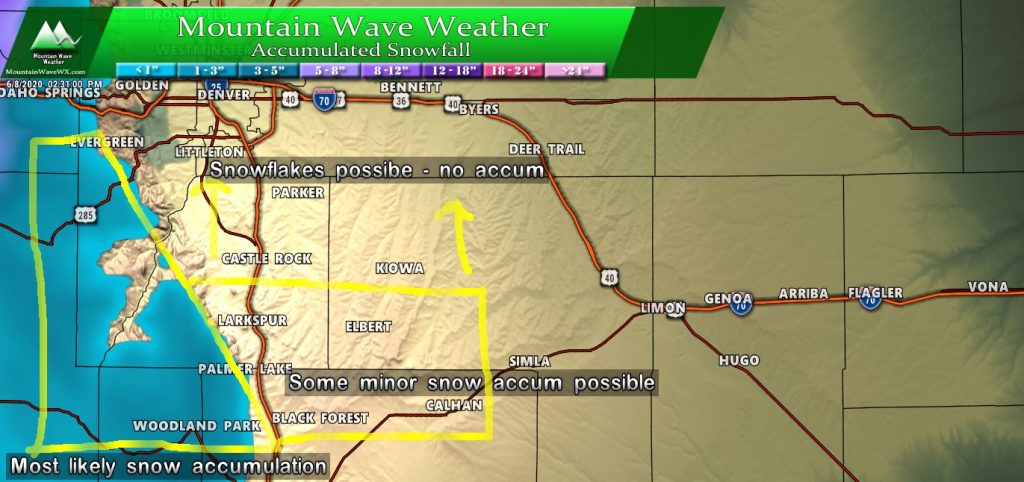 The most likely area to see snowfall accumulation looks to be the higher elevation regions of the Palmer Divide (west of the I-25 corridor above 7,000 feet) and in the front range foothills. There is still some question as to the area South of Castle Rock and towards Western Elbert County. Some models show snow accumulation for those higher elevation areas and some don't. Given how warm the ground is and expected melting, if any accumulation sticks in that area it will most likely be very minor.
Areas in and around Castle Rock towards Lone Tree and Parker may see snowflakes but with the lower elevation and warmer ground temps it looks unlikely those areas see any snow stick.
Temperatures... BRRRR!
The forecast low temperatures for Tuesday morning are downright chilly for this time of year. Suffice to say if you're along the Palmer Divide or foothills you will get very close to freezing or even slightly below in some areas tonight!
Here's a few recommendations:
Bring in or cover any sensitive plants tonight
Sprinkler systems should be ok
Make sure any outdoor animals have somewhere to go to stay warm - I know a lot of mine have already lost their winter coats!
Summary
Just another typical spring in Colorado - although I must say this one has been a heck of a ride so far this year between the baking heat we've had, strong wind, a derecho for I believe the first time ever... makes me wonder what's coming next!
Have a wonderful Monday and remember to dress warmly if you're out tonight or in the morning!