Warm Weather Coming to an End!
It looks like the weather pattern responsible for our abnormally warm and windy conditions will begin to break down by this weekend. This storm system could be the first decent chance at moisture we've had in over a month so it's an important storm to track!
Here's where our weather pattern has been the past week or two...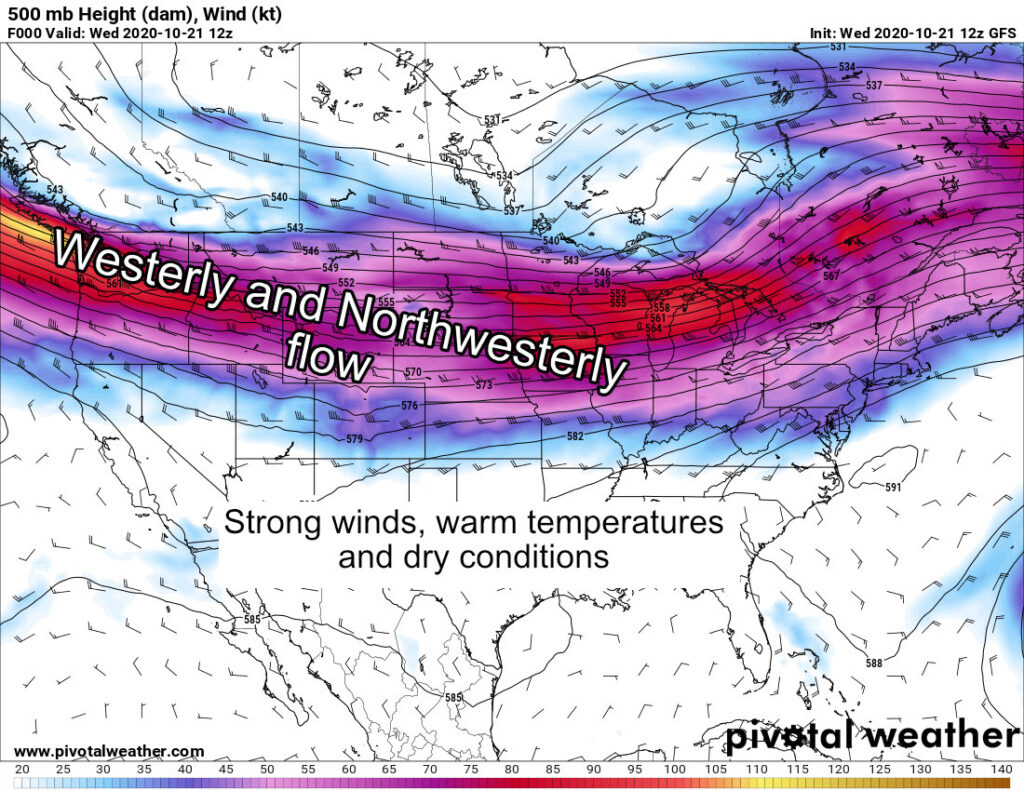 Strong westerly and northwesterly flow has been in control of our weather around Colorado. During setups like this we see strong winds in the mountains and the foothills, warmer than average temperatures and very dry air at the surface along the eastern slopes of the foothills, front rage region and plains. We can tick off all of those boxes over the past few weeks - it has been very rough conditions for the fires we have burning.
Strong Storm System - A Change is Coming!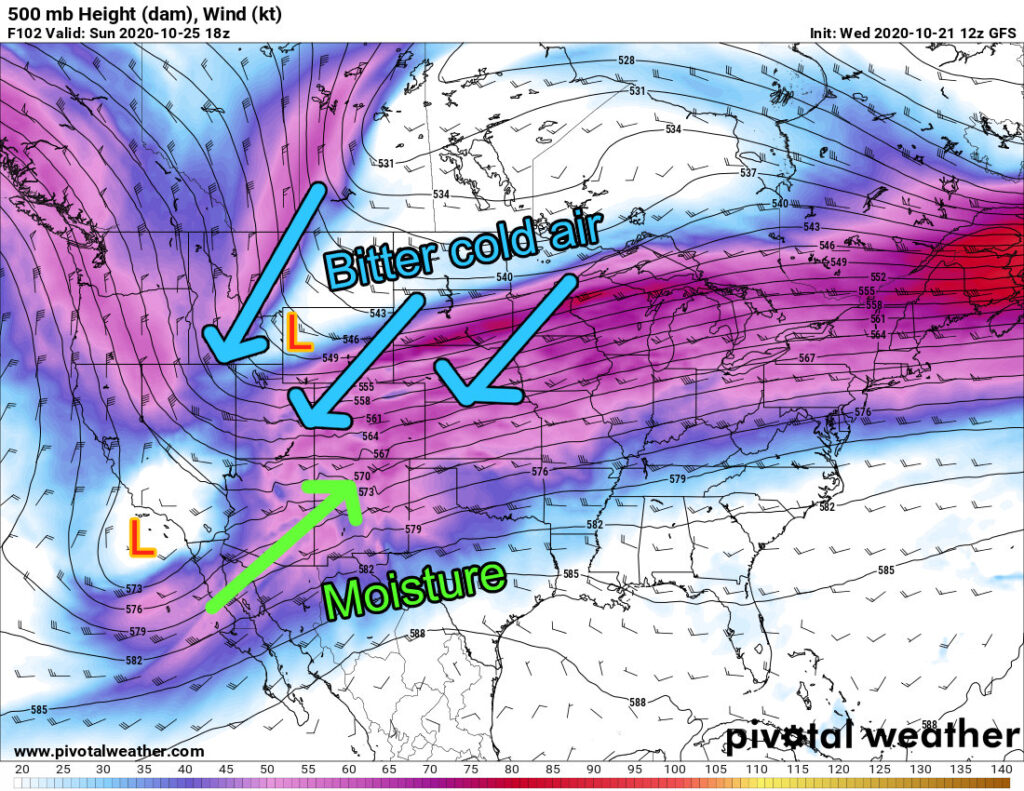 Notice how different the jet stream looks by Sunday. A large trough moves in from the North along with another trough forming out to our West. We will have to watch how these two features interact with each other very closely as what they do will have a big impact on our chances for snow. The cold air is pretty much a lock though, make no mistake it will be very cold this weekend!
In the image below, look what happens as we move into Tuesday next week. That trough to the West moves across Colorado and keeps colder and more unsettled weather over the area for a decent period of time. Of course, the exact track of that low is very important and being as we are looking at that 6+ days out right now, we can't draw any conclusions about if we see another shot of snow and how much - but it will be a feature we need to watch closely as we move in to the weekend.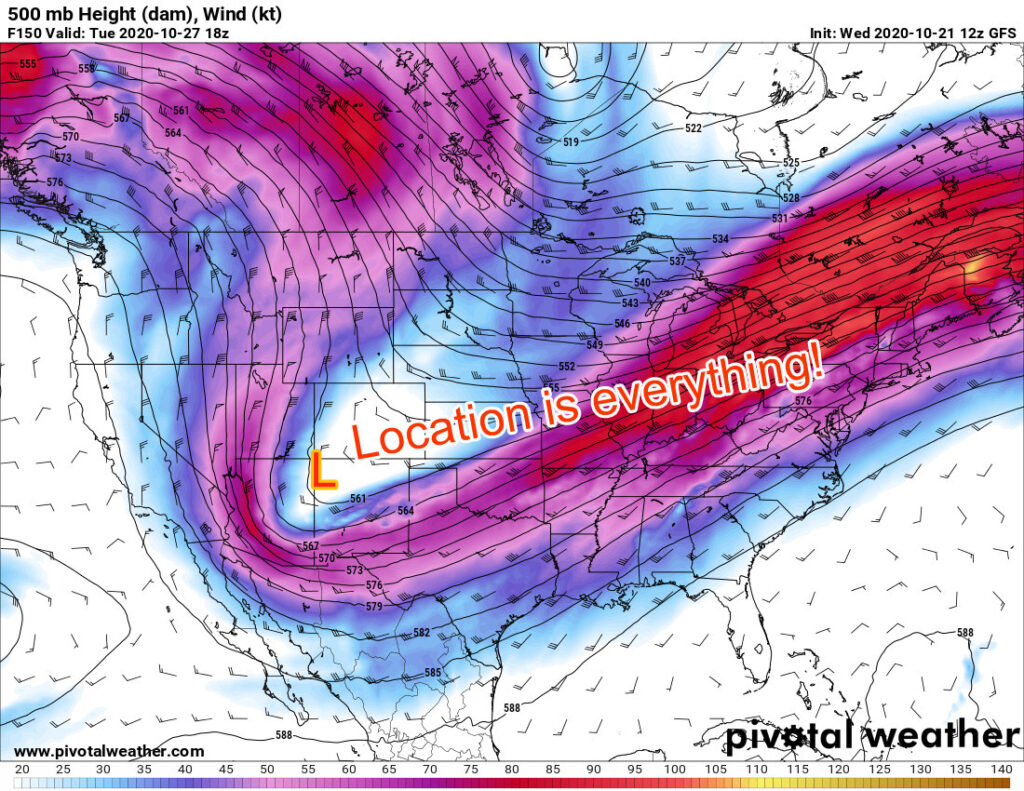 Cold Temperatures? - High Confidence
One thing the models have been very consistent on is the presence of arctic air moving in with this storm system. This gives us high confidence that these cold temperatures will occur. How Cold? The graphic below built by Meteorologist Chris Tomer in Denver explains it pretty well... please keep in mind that due to the higher elevation along the Palmer Divide, many areas (including Castle Rock) will likely be a few degrees colder than what is seen in this graphic.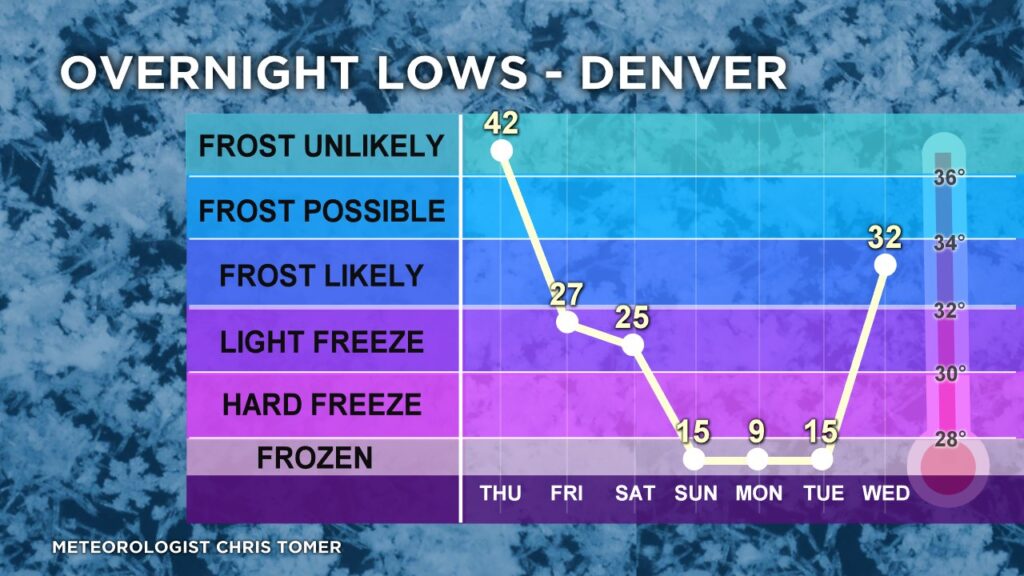 Sunday, Monday and Tuesday will likely experience well beyond Hard Freeze Conditions. We've been getting the word out to folks to winterize those sprinkler systems for 3 days now... don't ignore that warning!
Snow Accumulation - Medium Confidence on possibility - Low Confidence on Snowfall Amounts
Both GFS and Euro have been consistent about bringing accumulating snowfall to the front range with this storm. Given that these details began to appear on Monday and continue through today, that gives us at least medium confidence in some sort of snowfall event for the front range. We will need to monitor how the storm evolves and get within range of a few more models for verification.
The lower confidence part of the forecast still centers on snowfall accumulation. The Euro brings nearly double the snowfall to the urban corridor that the GFS does, this doesn't really mean anything too significant this far out in the forecast - but it means we need to watch both models to see if this is just "bounce" from one run to the next or if both models start to come into line on a solution.
Timing
We are still working out the finer details, but here's a quick rough draft of what timing details we do have:
Saturday - day starts out nice with falling temperatures during the day

Note: have all freezing weather preparation finished by afternoon

Sunday - bitter cold temperatures move in on Sunday, currently highs look to top out around 25-30 degrees for many areas along the Palmer Divide. Lows will be in the low teens.
Monday - Very cold, highs in the mid 20's for most areas along the Palmer Divide. Low temps could be between 7-10 degrees
Tuesday - will watch to see if this storm lingers, may have more chances for snow and very cold temperatures
Summary
I will repeat this again: have all freezing weather preparations completed by Saturday afternoon! There is high confidence in the cold weather forecast - these temperatures will be well beyond a hard freeze!
Stay tuned to our website and Facebook page as we will have continuous updates on the storm... and of course we will have snowfall accumulation forecasts coming up as soon as we see good enough agreement to disclose that information.