The main story again this week is a continuation of our late summer pattern with a decent amount of heat and a lot of smoke and haze mixed in with poor air quality overall. An air quality alert will remain in place for the entire state of Colorado through at least later Tuesday - we may see a bit of relief a bit later in the week but how much still remains to be seen. For planning sake, just bet on poor air quality for the week...
HEALTH INFORMATION...Public Health Recommendations: If smoke is
thick or becomes thick in your neighborhood you may want to remain
indoors. This is especially true for those with heart disease,
respiratory illnesses, the very young, and the elderly. Consider
limiting outdoor activity when moderate to heavy smoke is present.
Consider relocating temporarily if smoke is present indoors and is
making you ill. If visibility is less than 5 miles in smoke in
your neighborhood, smoke has reached levels that are unhealthy.
Keep that in mind if your outdoors, if you're at higher risk for breathing/circulatory issues or doing some sort of strenuous activity, you will probably feel the effects from the poor air quality.
---
Bring on the Heat!
Looking at our forecast for the week for the Castle Rock and Palmer Divide region; we will continued very warm temperatures with a few days approaching record territory mainly in and around Denver. The temperatures along the Palmer Divide look quite toasty as well, but nothing I'd consider oppressively hot. For what it's worth, I'd consider the temperatures shown below a little underestimated and would not be surprised to see things end up a few degrees warmer in most locations.
---
Smoke and Poor Air Quality Will Linger
The other story through the week will be the smoke and haze lingering in the air. Expect poor air quality to remain as we don't see a lot of wind shifts, weather pattern shifts or even thunderstorms around to pull some of that smoke out of the air.
We will see improving conditions here and there, but ultimately the smoke looks to stick around for the foreseeable future.
---
Any Change in Sight?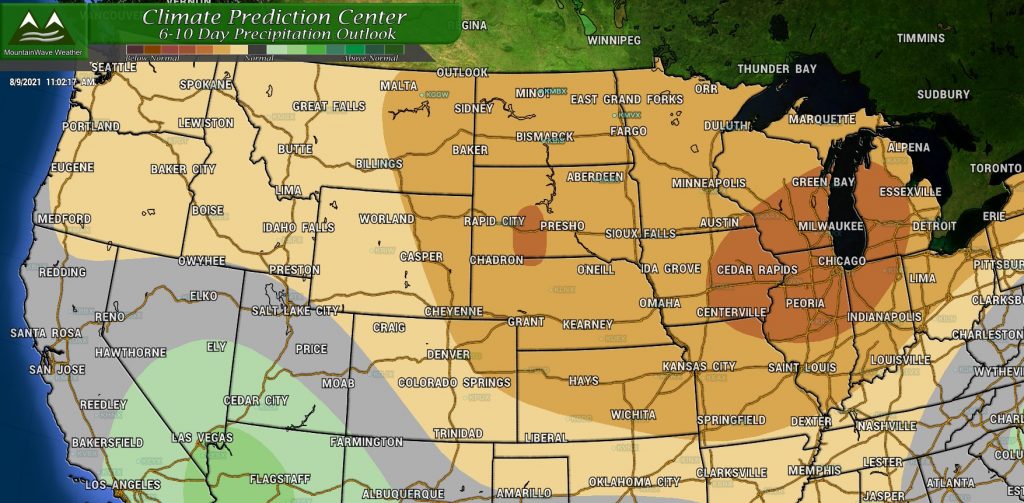 Not much in the way of large scale weather pattern changes likely in our future. The CPC 6-10 day outlook shows a good chance of dryer than average conditions. Combined with the dry conditions we see this week it looks likely that our dry pattern sticks around for a bit. The monsoon looks like it will be limited to just the Southwest part of the U.S. with not much of that moisture making it into Colorado as we remain under Northwesterly flow instead of our typical monsoonal southwesterly flow.
Is the monsoon finished for the year? Hard to say yet, we are still in the season but given we're coming to the end of it... we will just keep an eye on it.
As always we will keep an eye on things and pass along any updates as needed. Have a great week!