Understanding Severe Thunderstorm Risk Categories Issued by the Storm Prediction Center
The Storm Prediction Center (SPC) in Oklahoma issues severe weather risk categories to alert the public of potential severe weather. Severe weather risk categories are issued days in advance, and they range from "Slight Risk" to "High Risk". Each of these risk levels indicates the probability of a certain type of severe weather, such as tornadoes, damaging wind gusts, and large hail. The SPC issues these risk levels to help the public plan for possible severe weather events so that they can take necessary precautions ahead of time.
Severe weather categories are based on factors such as atmospheric instability, vertical wind shear, and moisture content in the atmosphere. The SPC will then combine these factors with current weather data to formulate a risk category for each day.
When the public is alerted of a specific risk level, they can use this information to determine how best to prepare for possible severe weather in their area. This can include seeking shelter from storms, stocking up on supplies, and monitoring their local media for up-to-date information. Knowing the SPC's severe weather risk categories can help people stay safe during potential severe weather events.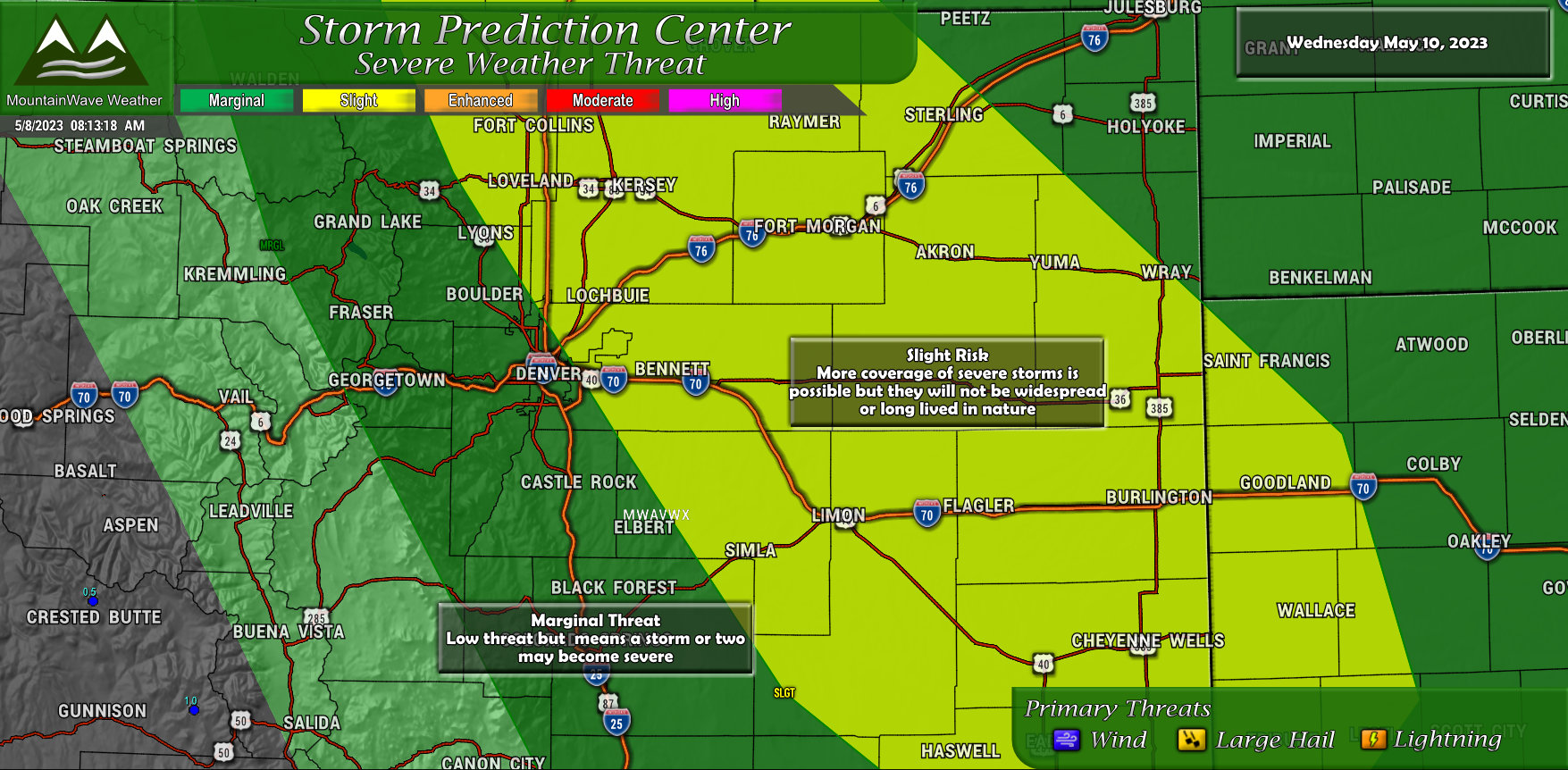 What Classifies a Severe Thunderstorm?
Severe thunderstorms are classified as thunderstorms with certain criteria. Any thunderstorm producing hail at least 1 inch in diameter or wind gusts of 58 mph or higher is considered severe.
Other criteria for a thunderstorm to be considered severe include tornadoes or intense rotation that is visible in the storm clouds.
Thunderstorms that meet these criteria are classified as severe, and can be dangerous and cause significant damage to property and threaten lives.
Description of Severe Thunderstorm Risk Levels
Marginal Risk ( Level 1 out of 5)
A marginal severe thunderstorm risk is a level of risk issued by the Storm Prediction Center (SPC). This risk level indicates that there is a low probability of severe thunderstorms occurring in the area, but they cannot be completely ruled out.
A marginal severe thunderstorm risk means that there may be some isolated instances of severe weather, such as strong wind gusts or hail, but these will be relatively minor and localized.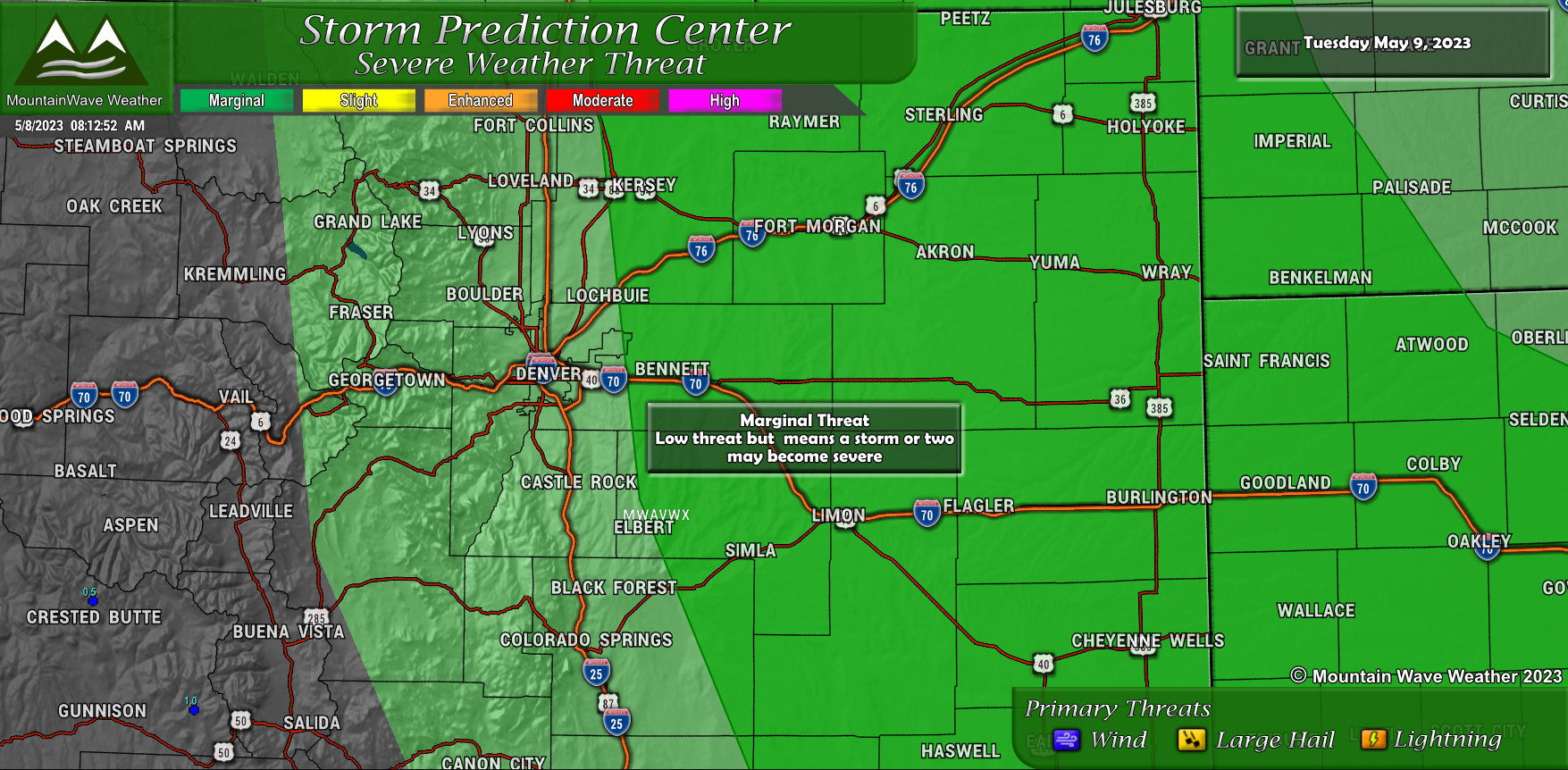 Slight Risk (Level 2 out of 5)
This risk level indicates that there is an elevated probability of severe thunderstorms occurring in the area. A slight severe thunderstorm risk means that there will be more widespread instances of potentially damaging winds, hail, or tornados than with a marginal risk.
Our area commonly gets placed under this category during severe weather seasons along Colorado's Front Range. It is rarer to see a risk level higher than this but it can happen.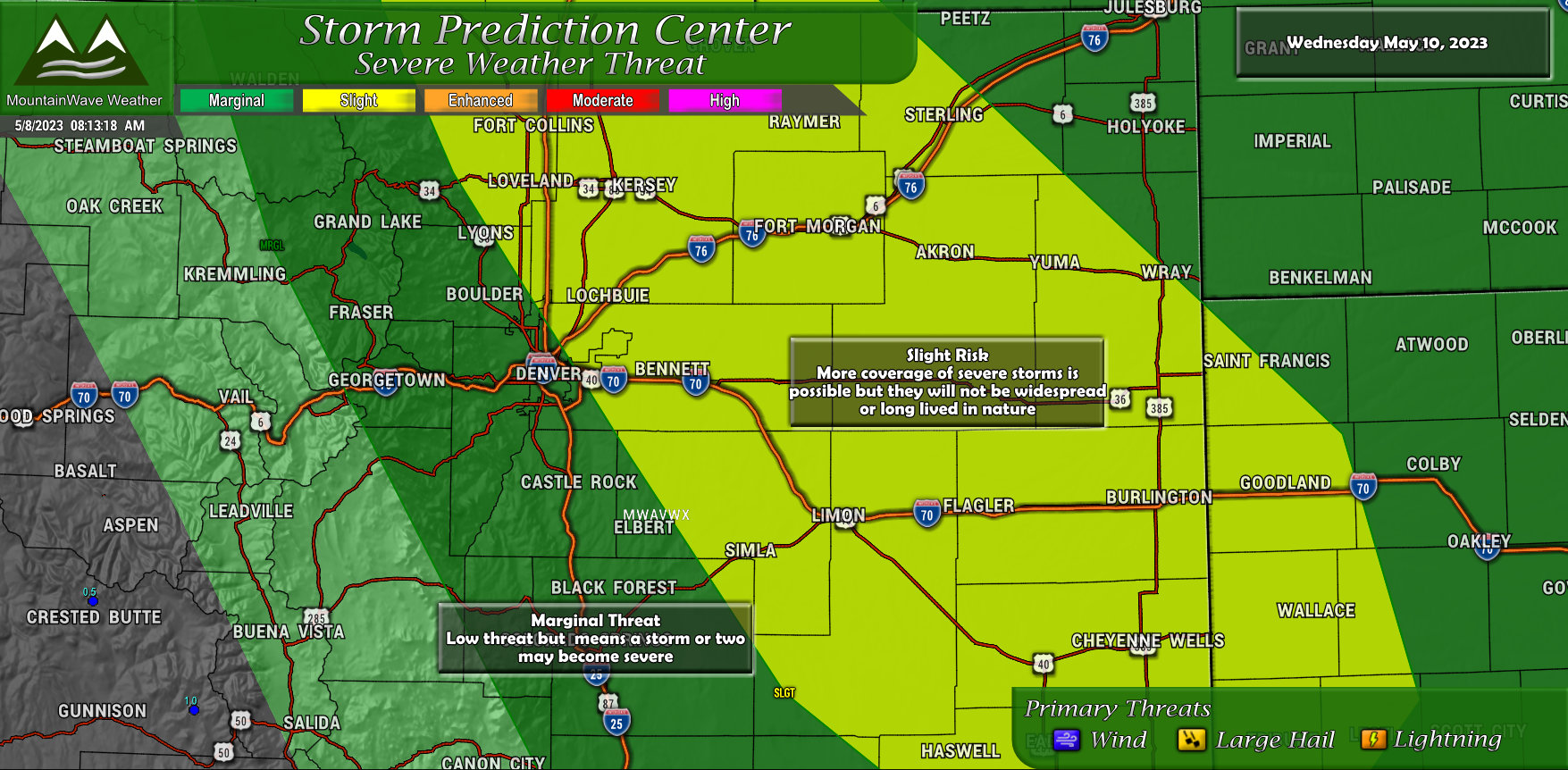 Enhanced Risk (Level 3 out of 5)
An increased likelihood of severe weather conditions could result in multiple, long-lasting, and extensive severe storms, including a few intensely powerful ones.
Areas under this elevated risk may experience harsh winds and/or massive hail that can cause damage to properties. There is also a higher probability of more significant winds and hail occurrences. In some cases, a handful of tornadoes may develop, and they could be on the stronger side.
Colorado receives this type of outlook category but its is not very common. It is usually reserved for those days with the most notable setups. It is slightly more common than "moderate" or "high" risk days as those both are extremely rare for our neck of the woods.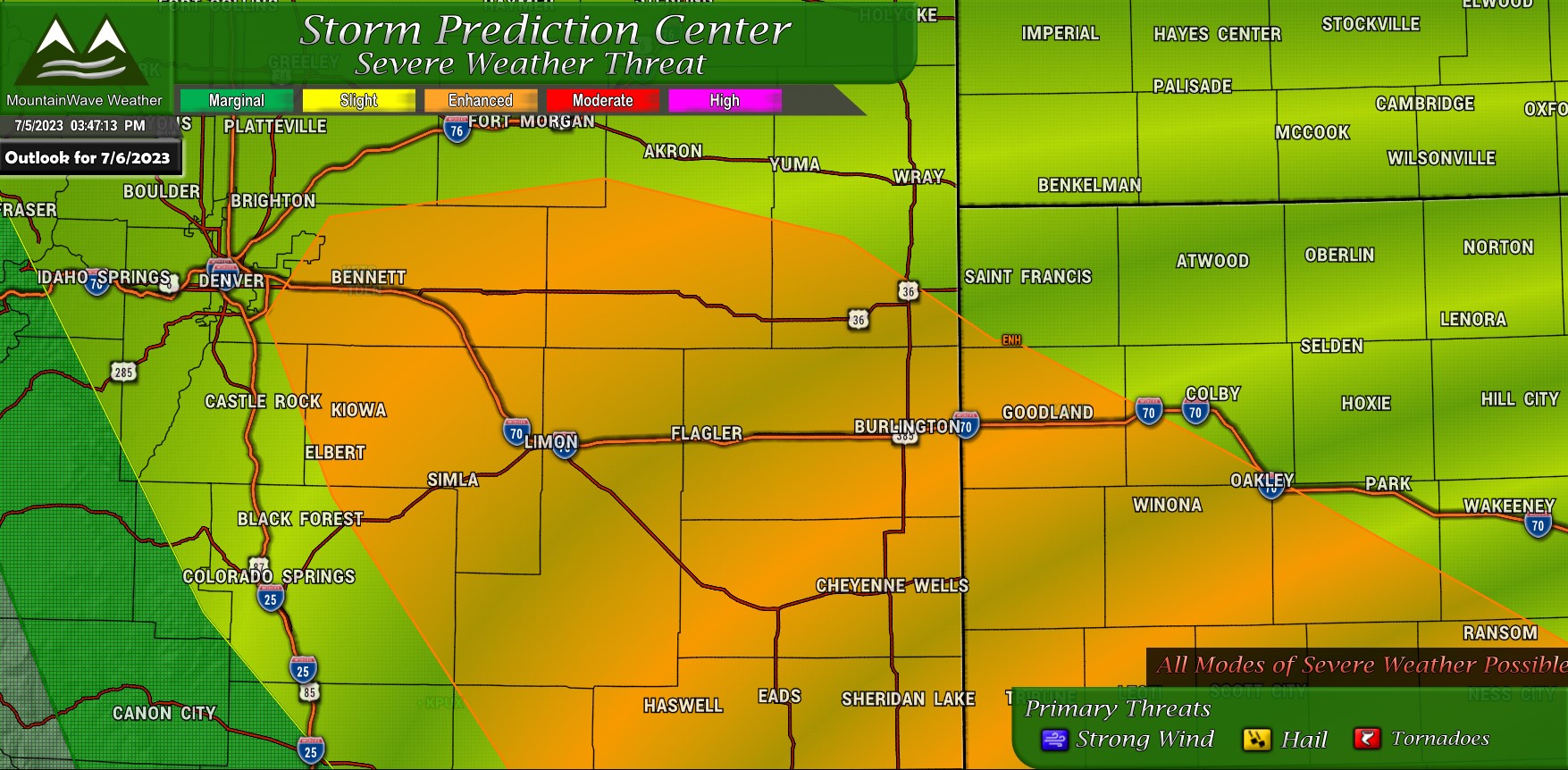 Moderate Risk (Level 4 out of 5)
A significant potential for severe weather exists with a widespread impact expected. Powerful and long-lasting storms are anticipated to bring damaging winds and large hail within a 25-mile radius.
Extreme supercells or significant straight-line winds could develop, increasing the likelihood of tornado outbreaks. With these conditions, it's crucial to take necessary safety precautions.
Moderate risk issuance for Colorado is extremely rare - so we don't see these often at all.
High Risk ( Level 5 out of 5)
A high risk for severe weather warns of an impending threat of long-lasting, extensive and powerful storms. These conditions often result in major tornado outbreaks or derechos.
Such warnings are rare but necessary to keep everyone ready for the worst possible outcome. Stay informed, stay safe, and be prepared.
High risk outlooks issued in Colorado have only happened a couple of times in history and were all on the Eastern plains along the Kansas border. High Risk has never been issued along Denver's Front Range.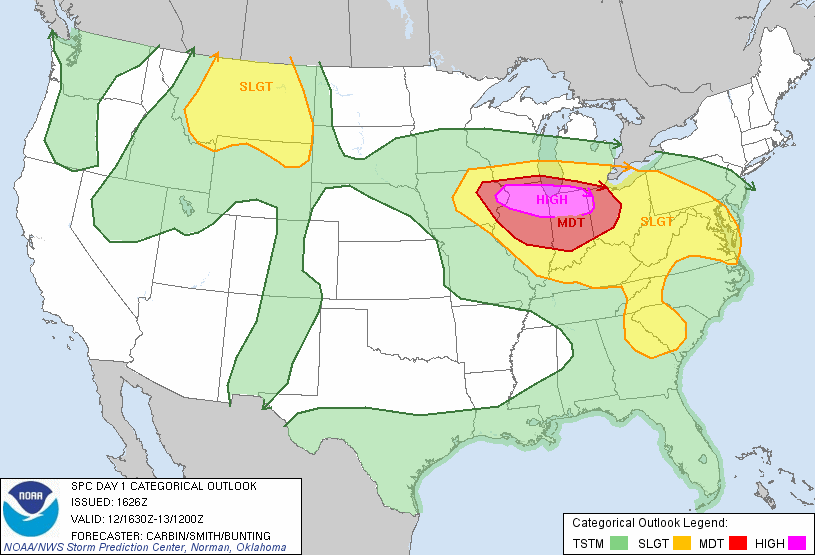 Severe Weather Outlook Categories Infographic
If you're more of a "visual learner" this handy infographic from the National Weather Service should help bring some good perspective to the above mentioned risk categories.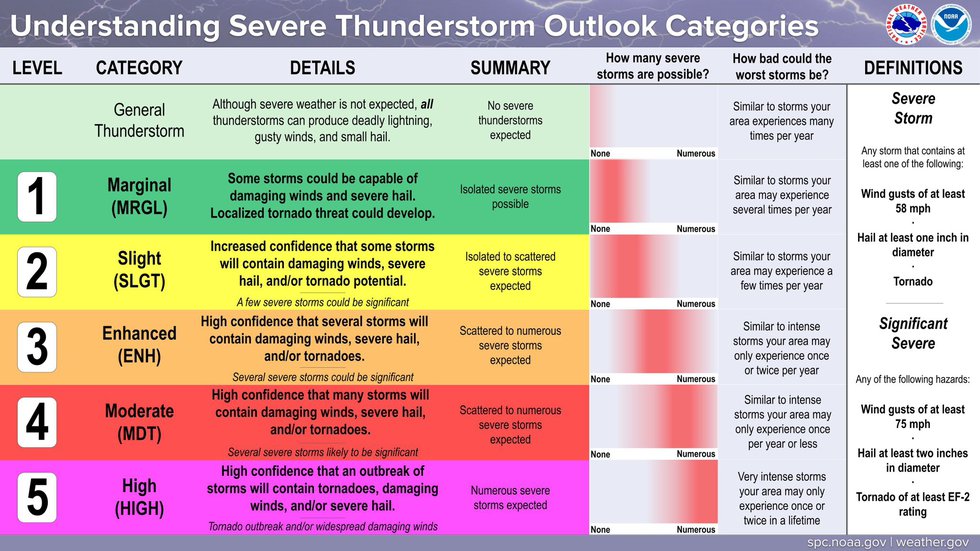 Hopefully this helps you learn a bit more about the Storm Prediction Center's Severe Weather Categorical Risk Outlooks. Be sure to come back to this page throughout the upcoming severe weather season for any additional information.