The first in a series of storm systems will begin to move through on Thursday and the National Weather Service has issued some weather alerts in advance of the storm.
You'll notice the Winter Weather Alerts are confined mainly to the mountains and foothills, while wind alerts and fire alerts to the plains. Another interesting thing to look for is the lack of fire weather warnings for the Northeaster part of the state. This is mainly because northeastern sections of the state stand the best chance of seeing precipitation, while the odds don't look too good for areas South and East of Denver.
---
Storm Analysis -- Why We're Not Excited About This One
Sadly this is the type of storm that will bring more wind to the front range of Colorado... the National Weather Service put together this handy graphic this morning of what's going on.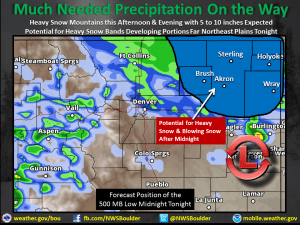 This is excellent in one regard; it is exactly what we look for in a big storm, spring snow storm. There's a ton of moisture, lots of lift due to upsloping and a strong low pressure system. The only problem is; it's much further North than what we'd like to see.
Models have been pretty consistent about bringing moisture to the front range with the main bullseye over the Northeaster corner of the state.
What To Expect Along the Palmer Divide
Moisture?
I do thing we will see a bit of rain and even snow out of this system. The question is how much? While the low is pulling a ton of moisture in the return is on the Northeastern and Northern sides so those areas tend to see the most out of storms like this.
Expect: chance of thunderstorms, rain into the evening hours... possibility of snow later tonight. Doesn't look like any major accumulation at this point but any shift in the location of these spring storms can make a huge difference!
Wind
Strong winds will accompany the back side of the storm system. Expect winds along the Palmer Divide to be gusty and even strong late Thursday and into early Friday. High Wind Watches are up for the foothill locations of the Palmer Divide.
Travel Impacts?
The main travel impacts will be the high winds, but we can't rule out a convective snow shower putting down a quick shot of snow and making driving tricky. Odds are low for snow related impacts along the Palmer Divide and chances increase the further North and East of the area you go.
Summary
I suspect this storm like many storms when we get into spring may have a curveball or two to throw our way. Any shift in that track will mean more wind and less moisture or less wind and more moisture. We'll keep an eye on the models and data today and be sure to pass along any updates this evening.