Another set of weather disturbances is set to impact the state starting as early as Thursday afternoon and evening and it does appear that the front range will again see a slight impact from these storms., but it will become clear quickly which areas of Colorado will see the major impacts.
Given what the models and forecasts are showing for this storm, I'm not highly confident the front range will see any major warnings with this storm. I could see an advisory issued for some areas that could see an icing concern (I'll explain that below.) We'll keep an eye on this to see if anything changes.
---
Thursday-Friday
There could be impacts from this storm along the Palmer Divide and Northeastern Colorado, but not necessarily from snowfall accumulation. Some of the latest model soundings a picking up on an interesting setup in the atmosphere with the arrival of the first wave of this storm...
The above image is from a forecast sounding from the NAM3k model for tonight around 11PM-midnight. Keep in mind, some models say precip will have already been falling for a bit of time by the time this sounding is forecast. The key takeaway here is the setup of temperature/dewpoint with height and the presence of easterly winds for upslope.
Notice the warm air aloft (red line moving from left to right) above the surface, this is a layer of warm air over a temperature inversion. So depending on how shallow the moisture is with upslope we would see liquid precip (rain) from in this area and fall. It then falls through a cold layer at the surface, at first glance you'd be thinking snow though right? Not so fast, the saturated layer of cold air will make it difficult to completely freeze before it hits the ground, instead the rain may become supercooled (in a liquid state but temperature below freezing) as it falls. As we know, this stuff remains liquid until it contacts a surface and then instantly turns to ice. Fascinating stuff but may cause some very icy conditions in some areas.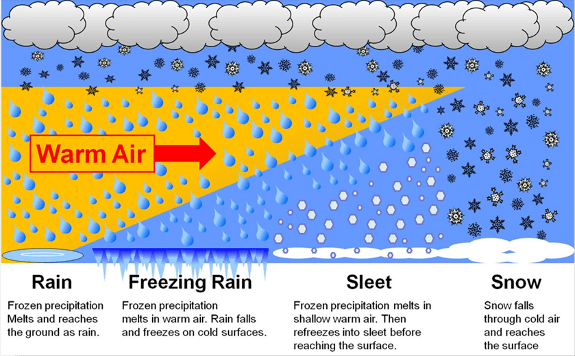 As you can see above, any variation in how large that warm layer is can make a big difference in what precipitation type you see. Being at a higher altitude, sometimes the warm layer isn't as well established along the Palmer Divide so we could see snow or sleet instead.
What to Expect
Expected Snowfall (through Friday 12PM)
*These are our forecast numbers and may not always match the NWS official forecast numbers*
Castle Rock and surrounding areas

0-2 inches - be aware of ice accumulation!

, Parker, Lone Tree, Highlands Ranch areas

0-2 inches - be aware of ice accumulation!

Elbert, Elizabeth, Kiowa

0-2 inches - be aware of ice accumulation!

Larkspur, Monument

0-2 inches - be aware of ice accumulation!

Woodland Park, Palmer Lake, W. Colorado Springs Foothills

1-3 inches - be aware of ice accumulation!
Overall, not an impressive storm as far as snowfall is concerned.
Timing
Precipitation will begin Thursday evening
Some areas will start as rain, others as snow depending on elevation
Nearly all areas have the potential for freezing rain
Impacts
Be prepared for slippery road conditions for the morning commute where freezing rain falls.
Expect a light to moderate impact on driving conditions
Freezing rain means some roads will be covered in ice that could be nearly invisible. Plan on these tricky conditions for Friday. Freezing rain chances are higher as you go North of the Palmer Divide into Denver.
---
But Wait... There's More!
Another wave will move in late Friday and into Saturday, this storm will similarly have a chance to bring light snow accumulations across the front range into Saturday morning.
We will have a post up regarding the next wave of this storm on Friday near mid-day!