---
Winter Weather Alert Discussion
As of this morning, no winter weather alerts have been issued but according to the National Weather Service's morning report - they are coming. I don't issue watches and warnings, I leave that to the smart people, but I've highlighted a few areas I'd be watching for alerts to go up sometime this afternoon. Areas West and Northwest of Denver in the foothills and mountains could see a Winter Storm Watch, with snow and travel impacts a lot of those areas would meet criteria for a Winter Weather Advisory.
Closer to home, the Palmer Divide and surrounding areas will most likely see a Winter Storm Watch and will meet criteria for a Winter Storm Warning should this forecast stay on track. There are still a lot of moving parts with this storm, so a watch seems very likely and then we will see what it ultimately gets upgraded to based on how the forecast changes today.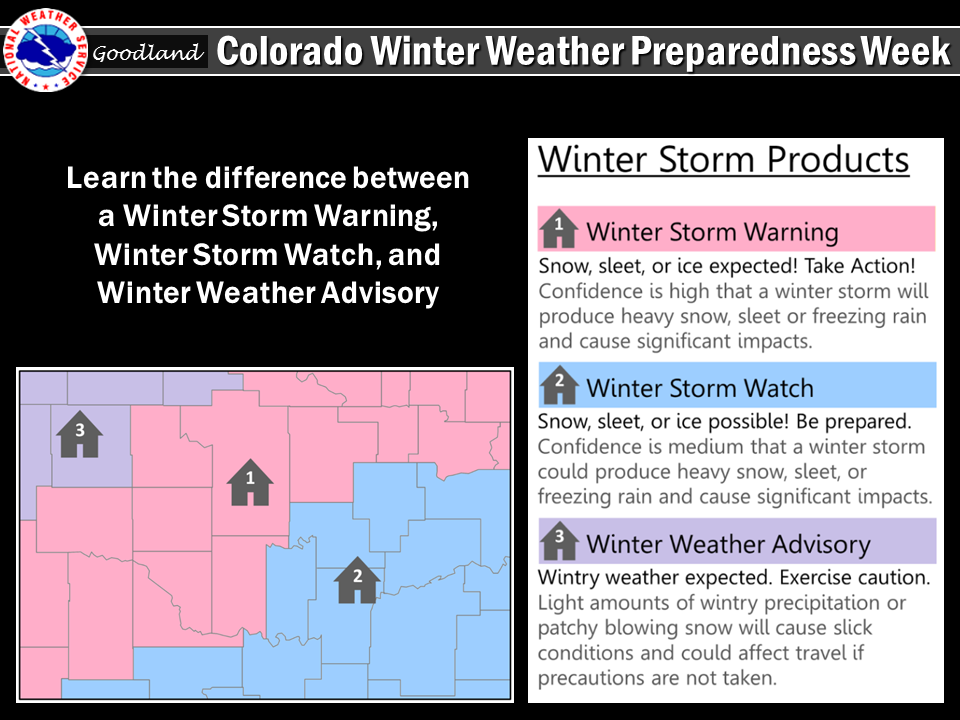 If you need a refresher what those alerts mean, I've added the graphic above. For a Winter Storm Watch, these are issued when confidence is at least medium that an impactful winter storm will cause issues in the area.
At this point in this storm we are still in the WAIT AND SEE phase, once a watch is issued we will transition to the GET PREPARED phase of the storm. This means if you have ranch/ag interests you will need to get your animals prepared for heavy snow with significant accumulation, make sure they have shelter and water ready to go. If you live in the city, it means making sure you have what you need from the store and making arrangements to move travel plans if need be.
---
Snowfall Forecast
Snowfall for this storm is going to be incredibly tricky, here's why:
Temperatures will be warm, almost too warm for snow in most areas
Elevation will play a huge role. Higher elevation means colder air and a better chance at accumulating snow
Topography will play a part, this is an upslope storm so upslope favored areas will see the best shot at accumulating snow with colder air and elevation
With all that, keep in mind this forecast will most likely change as more data comes in today, but here's my best stab at it right now.
Palmer Divide/Urban Corridor
The Palmer Divide will have the proverbial "bullseye" on it with this storm, mainly because of it's higher elevation and upslope favored terrain. Suffice to say it looks like that if you are over 6,000 feet in elevation you will see some snow - it could add up to a few to several inches. Those around or above 7,000 feet have the best chance of seeing higher snowfall amounts out of this one. We will have to keep an eye on if this changes over the coming model runs, colder air would produce more snow at lower elevations while higher temperatures would mean less snow system-wide.
Northern Colorado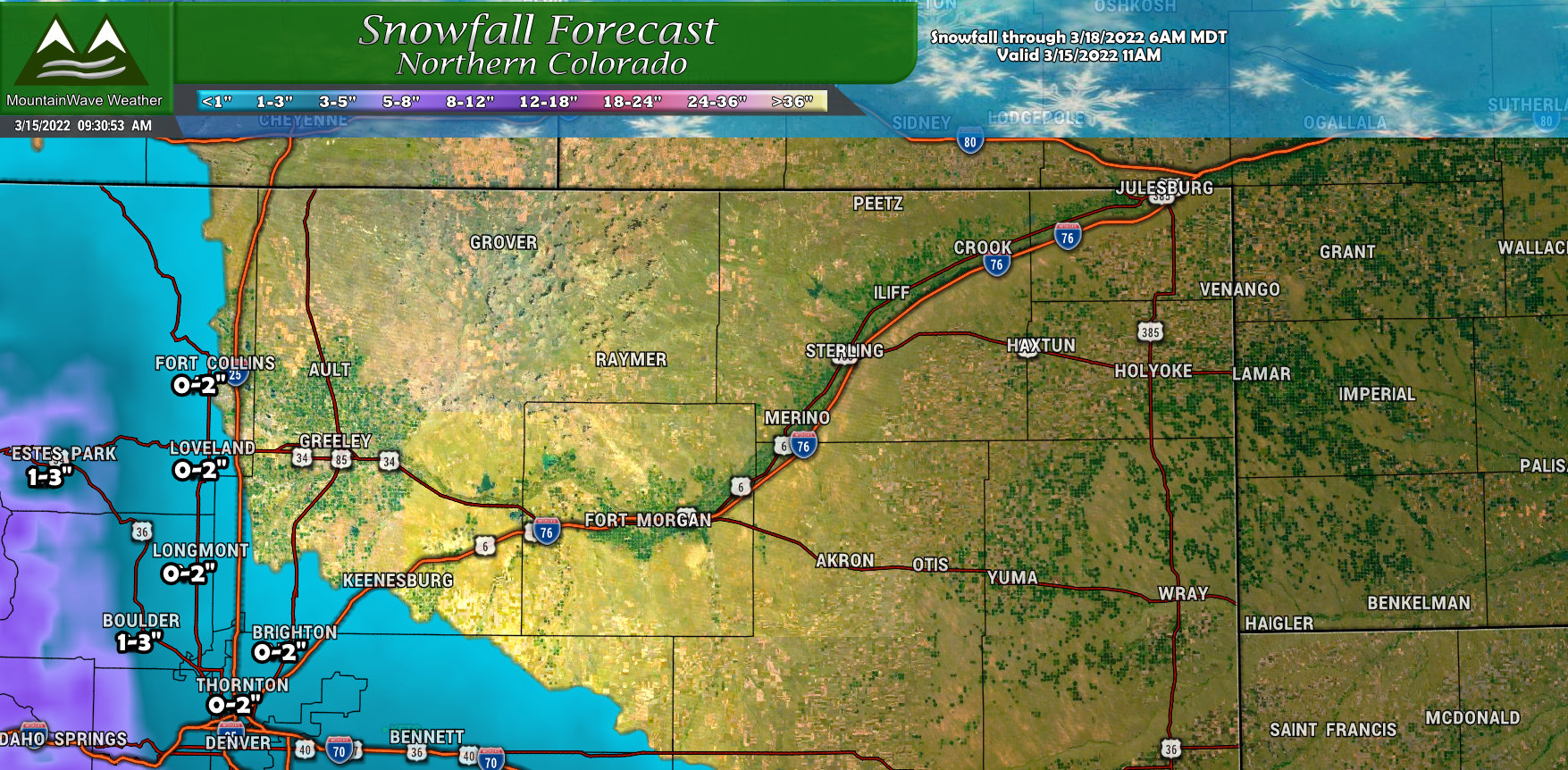 A non-event for most of Northern Colorado with this storm as it has more of Southerly track. Some areas up against the mountains and foothills could see a bit of snow, but not expecting a lot for most of Northern and Northeastern Colorado.
Southern Colorado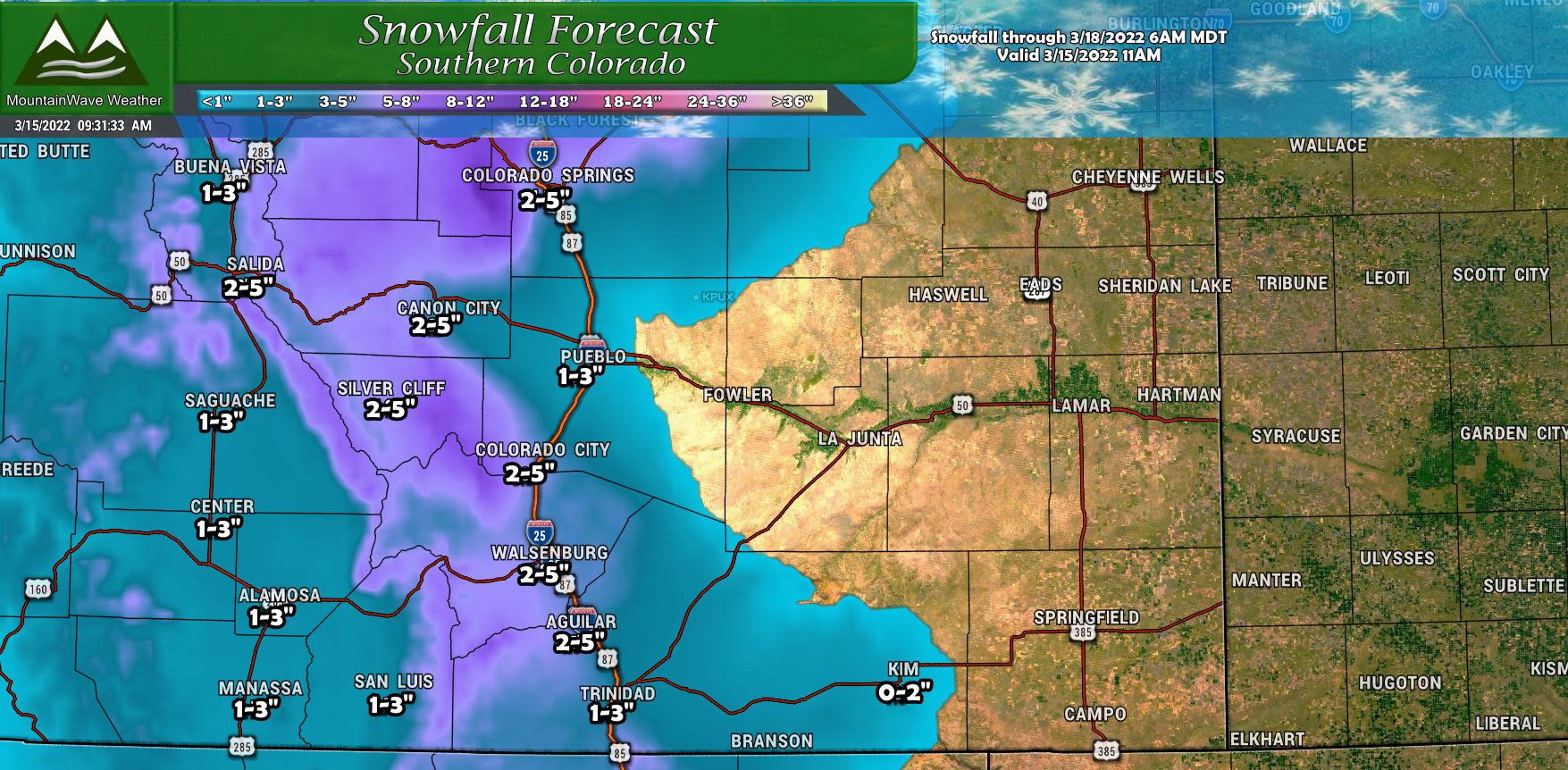 Southern Colorado will see a bit more action with this storm but the same rules will apply. Higher elevation areas will see better chances at higher snowfall amounts while lower elevations will see more rain than snow and lesser accumulation.
---
Model Check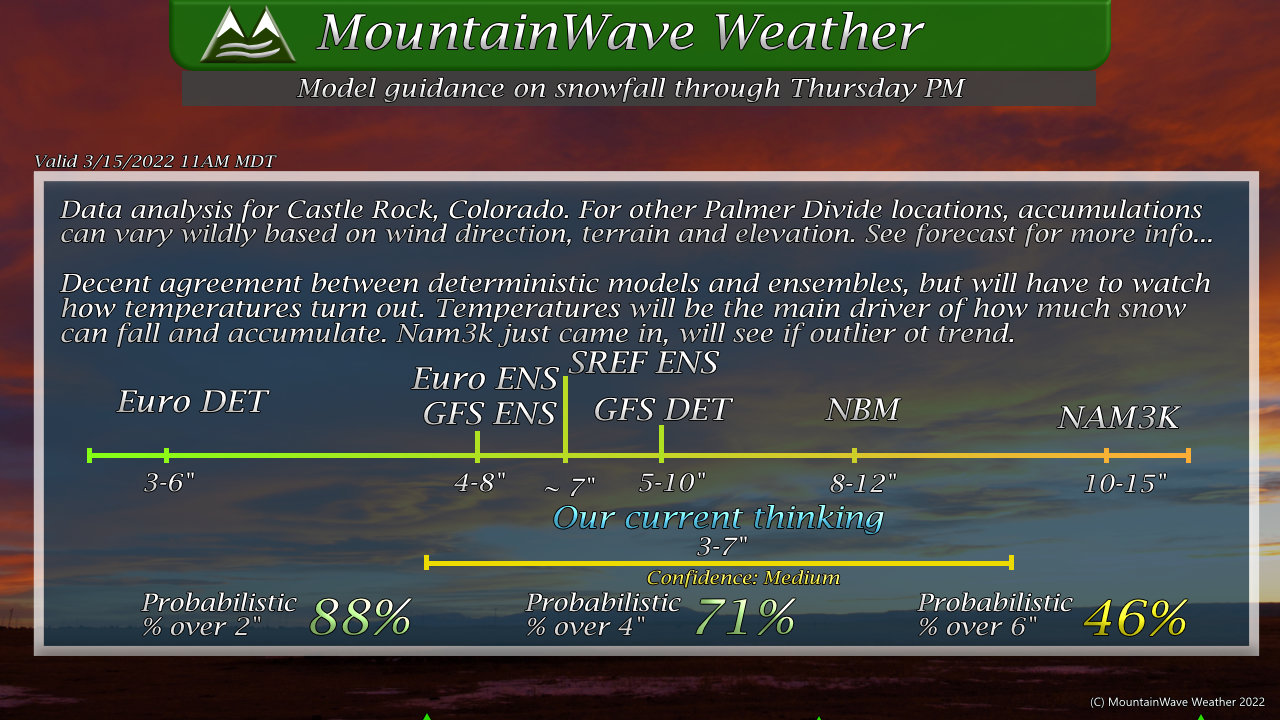 Models agree fairly well on snowfall, but you may ask why our amount for Castle Rock is a bit on the lower side? I am concerned that models across the board may not be handling the transition from rain to snow very well, I'll bump the forecast upwards a bit if I see more cold air support though the data coming in today. Like I said, snowfall amounts in the forecast will bounce around a bit through the day on Tuesday so don't focus on exact amounts just yet.
Also remember, this graphic is for models thoughts on Castle Rock, areas to the West, South and East with higher elevations will  likely see more. Refer to the snowfall forecast graphics above.
---
Summary
Lots to hash out on this storm still, I'll be keeping an eye out for winter weather alerts this afternoon and pass those along as they are issued.
Additionally, I'll continue to churn through the data today and see if things are trending in one way or another, of course updates will be posted as needed.
Stay tuned!