Lots to talk about with our latest storm, at this point though you should be nearing the end of your preparation for this storm. We will begin to see rain this afternoon transitioning to snow in the evening. Everything with this forecast looks on track so far, the models are in surprisingly good agreement for heavy snow especially in areas South and West of Denver. Areas of the Palmer Divide across Elbert County also stand to see high snow accumulations with this storm as well.
Here's the latest...
---
Winter Weather Alerts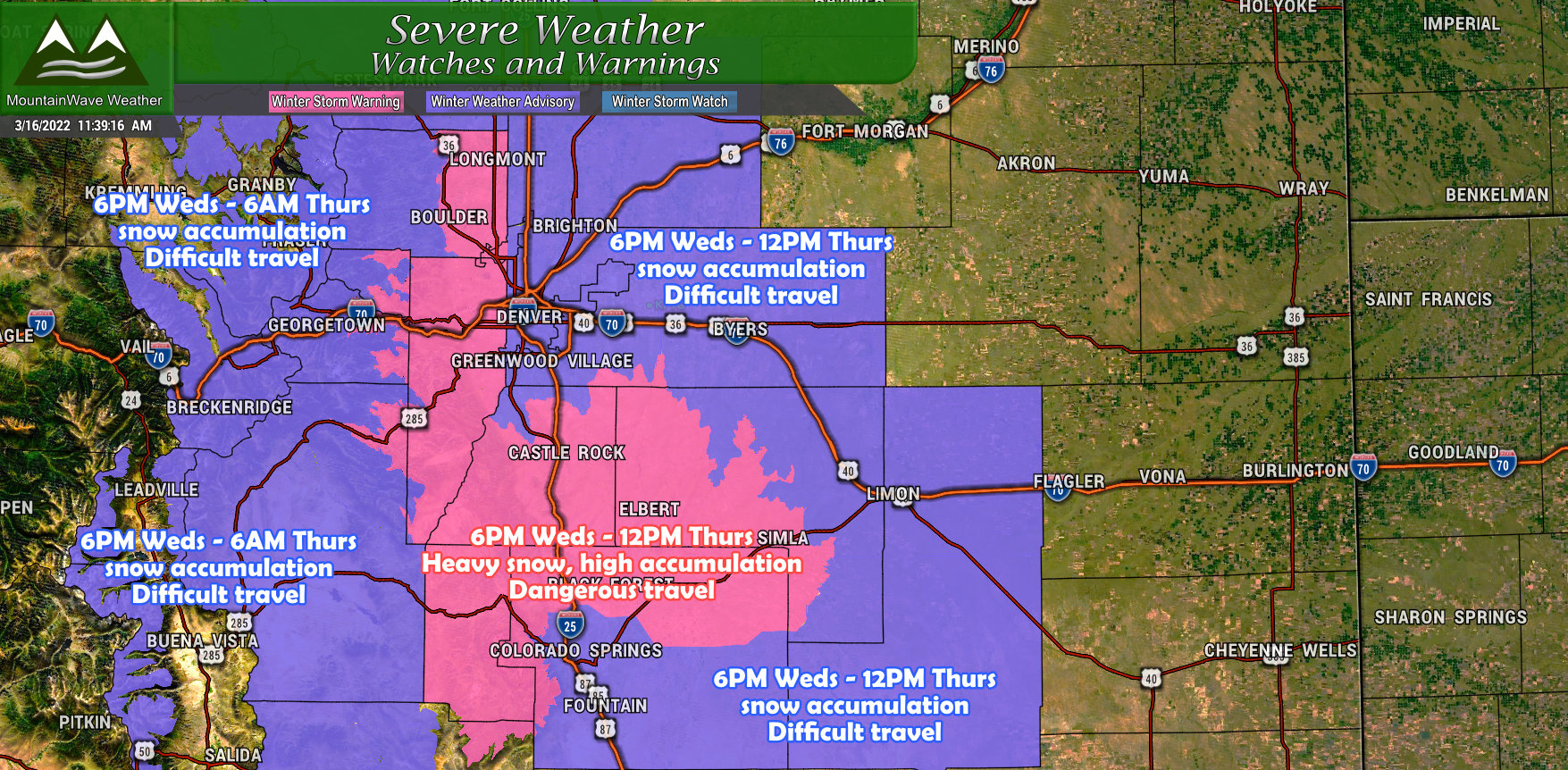 There's an entire handful of Winter Weather alerts up in advance of this storm.
The areas in purple are Winter Weather Advisories and are areas with lesser snowfall or lower confidence in how much snow actually falls.  This is mainly due to elevation and the temperature gradient expected to set up across the area.
The pink areas are Winter Storm Warnings issued due to a combination of heavy snowfall, potential significant snowfall accumulations and dangerous travel. With warnings like this, travel is not recommended during the warning time.
If you live in or around Castle Rock and want more details on the Winter Storm Warning, that information can be found here:
---
Updated Snowfall Forecasts
Palmer Divide/ Urban Corridor
The main change is the expansion of the heavier snow areas and adjustment upwards of snowfall totals. Models have been consistently upping snow totals, not just for one run or bouncing around - they have been bumping up snow totals consistently over several runs snow.
The only thing that still gives pause is that they may still be overestimating the cold air support with this storm. That being said, it's hard to argue when all of them are showing the same trend. You'll notice the tight gradient between say Denver and Castle Rock though, this is still the last remaining piece of the puzzle - how do temperatures set up and how do they affect how much snow sticks in fairly tight geographic areas. Warmer air will drop these totals pretty drastically, colder air would boost them mainly in lower elevation areas.
Will evaluate additional data this afternoon to see if further adjustments are necessary.
Northern Colorado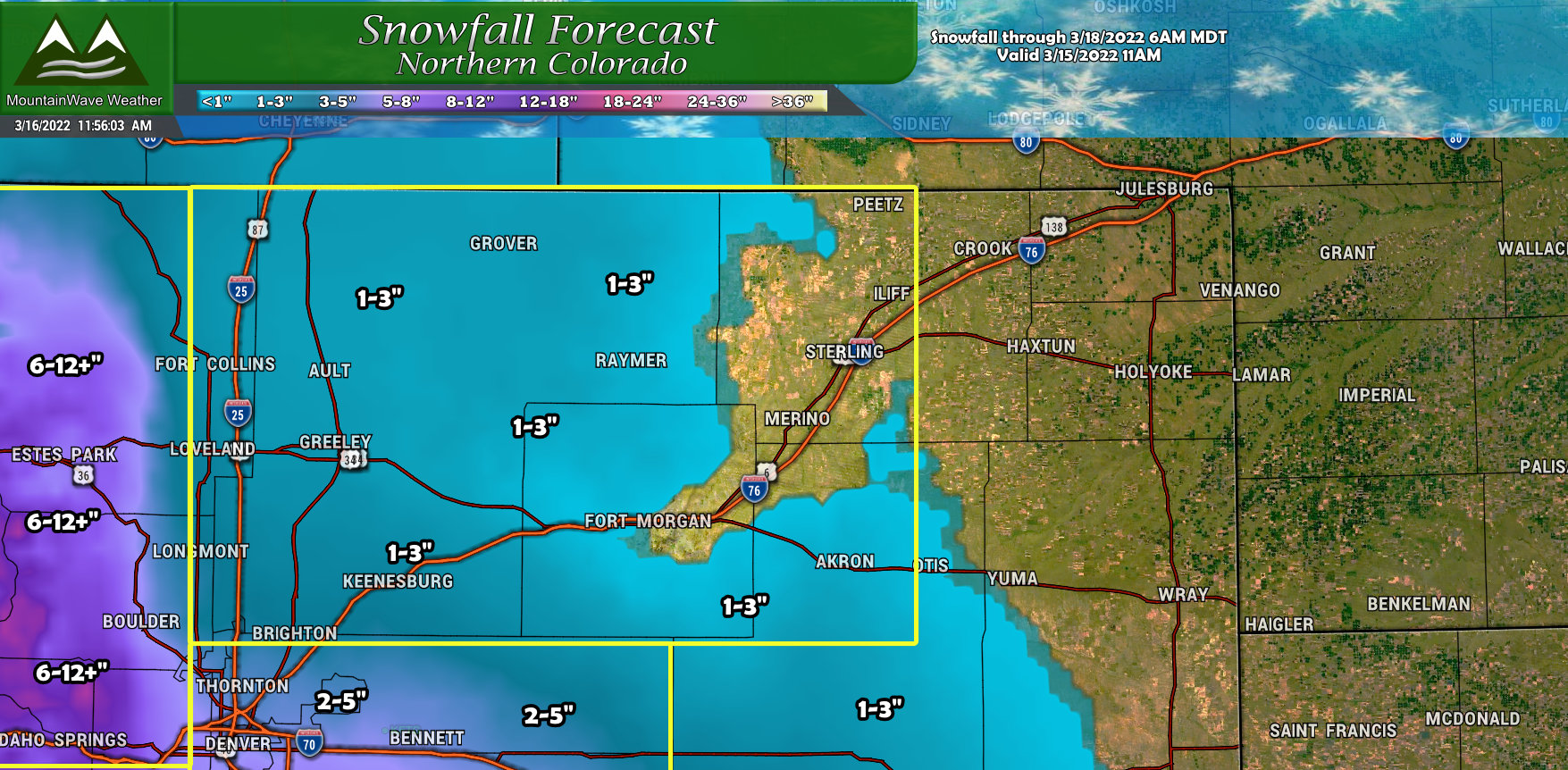 Main adjustments to the Northern Colorado area is just a slight bump up for areas across North Central Colorado. This is mainly due to a slightly northward shift of the storm system. Snow amounts still don't look stellar because it will still have to overcome a lot of warm temperatures near the ground at lower elevations.
Southern Colorado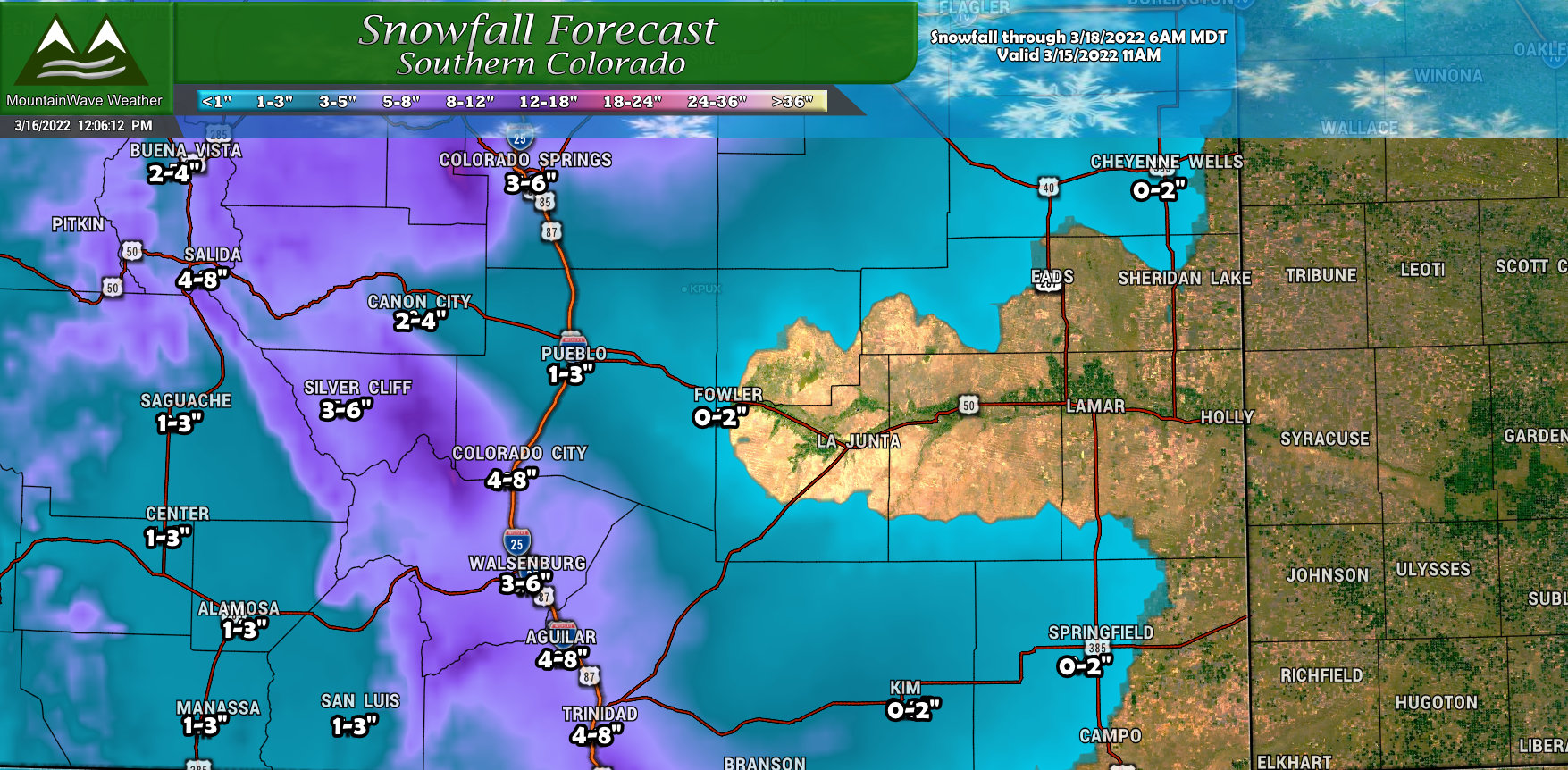 No real adjustments to Southern Colorado, maybe a slight drop in some areas due to the Northward shift of this storm. I don't see much reason to make any more changes than at this time.
---
Timing/Impacts/Preparedness
The main impact from this storm will be later Wednesday night and into Thursday morning. Significant impacts will be possible to travel due to heavy snow on Thursday morning so plan on that for your morning commute.
The impact graphic below is for areas along the Palmer Divide, the highest impacts will be areas South of C-470 down towards Monument and Colorado Springs.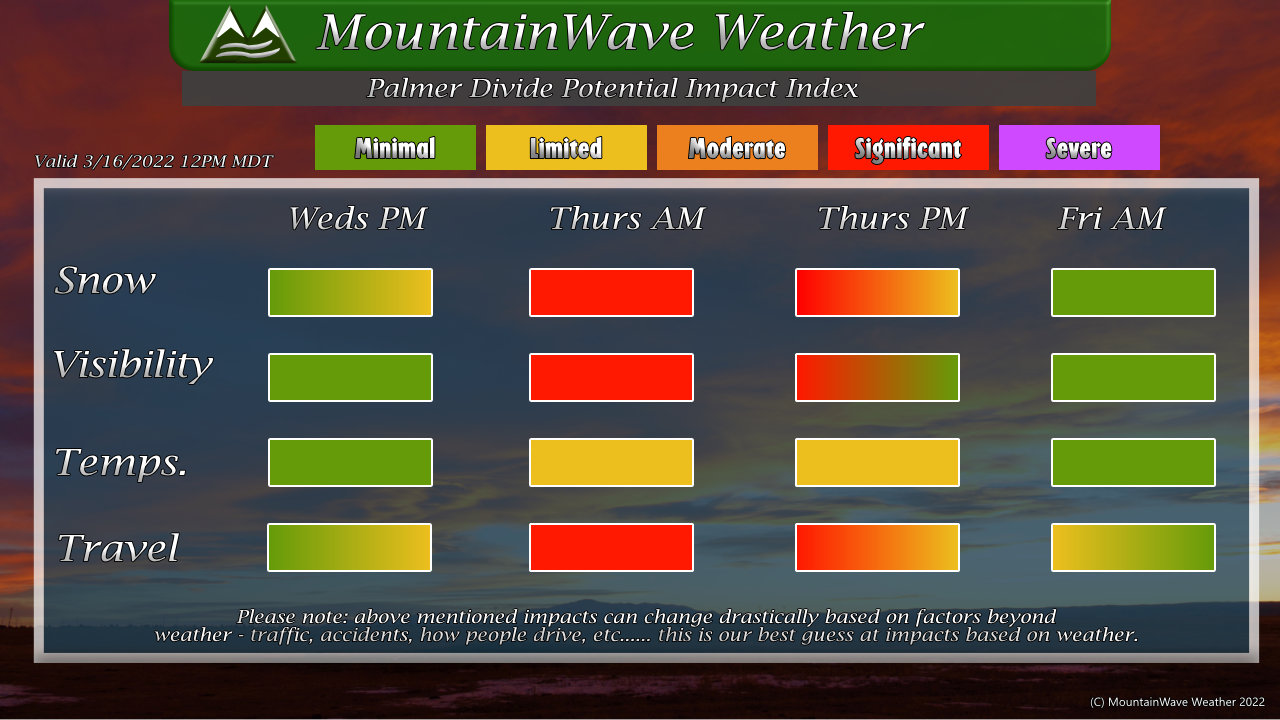 By later Thursday, the snow will taper off (Sometime around lunch time or a bit after) and we should see improving conditions into the evening and overnight hours. Minus a few slick spots left over Friday morning, we shouldn't see any additional impacts from snow or to travel on Friday as highs should be in the mid to upper 40's. This should melt a lot of the snow we've received and help the roadways recover.
Most models show rain changing to snow this evening, when exactly that happens is difficult to pinpoint but it looks likely between 4-8PM for  the Palmer Divide and later for lower elevations.
We still look on track for timing with the best chance for heavier snowfall being between 9PM Wednesday night and 9AM Thursday morning along the Palmer Divide.
---
Summary
Things are already in motion today, radars are showing precipitation North of town, this will move Southwards through the day as rain initially and transition to snow.
Like I mentioned before, exactly when that rain transitions to snow means EVERYTHING to this forecast. Later and we will see less snow, earlier and we will see more. Models and forecast data is not helping us narrow down EXACTLY when this happens. It's a very important part of how this storm ends up, we just don't know that time exactly yet.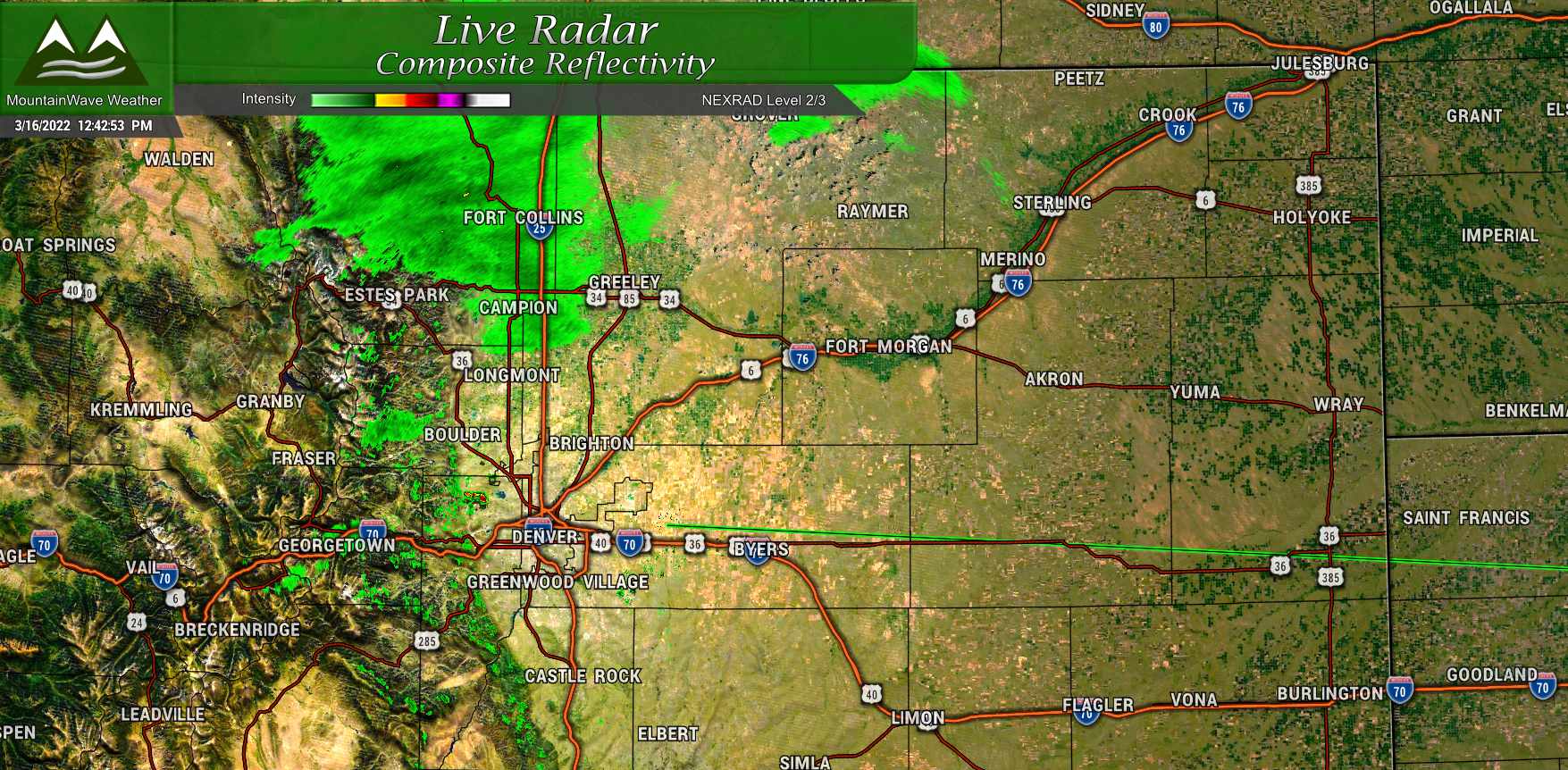 Stay warm and stay safe, I'll keep posting updates as needed with more data coming in shortly this afternoon!