By and far the winners of the snowfall lottery this past week have been the mountains of Colorado. A weather feature often called an "atmospheric river" or sometimes the "Pineapple Express" has set up the past several days over the Western U.S. This feature is known for bringing incredible amounts of moisture inland to California, Arizona, Nevada, the Pacific Northwest and Western Colorado.
The good news is that our mountains in Colorado benefit considerably when this type of pattern establishes. Copious amounts of moisture combined with a strong jet stream produces strong upslope and lifting due to instability created by the jet overhead. We often see a similar effect over the front range with the jet overhead and upslope that has led to several of our banded snowfall events this year.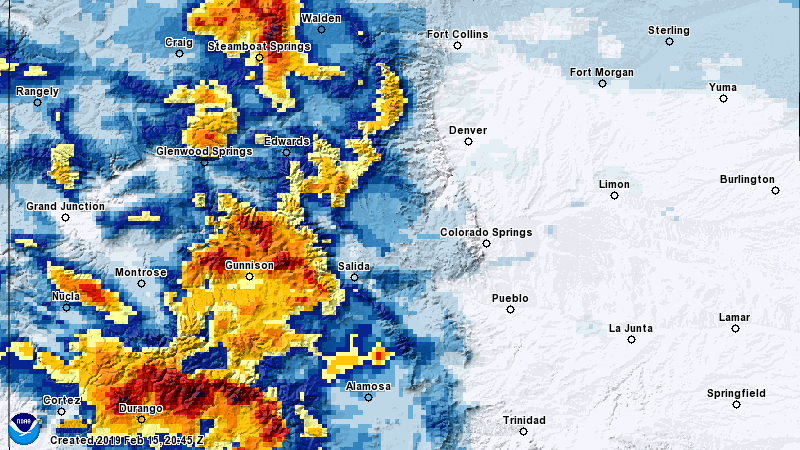 In the image above, darker yellows and lighter reds indicate a foot or more of snowfall while the darker reds and browns indicate over 2 feet of snowfall... in just the last 72 hours. This is awesome news because the areas seeing the most snow in the Southwest are also the areas in the worst level of drought right now.
---
Where's Our Snow?
Unfortunately for the Palmer Divide, setups like this create strong westerly or southwesterly flow which benefits the mountains with tons of snow but leaves our air drier and warmer. In most cases, we tend to see a lot of classical downslope events in our area with these types of patterns.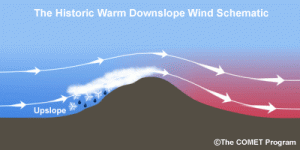 If you need any more proof of that, just remind yourself of the wind we've seen the past few days and the warm temperatures. We've seen nearly 3 feet of snow at our place melt in just a couple of days!
The thing with the "Pineapple Express" setup is that it rarely is good for snow along the front range. The only times I've seen it work out for us is when it is further South and hooks up with a strong cold front and upper level disturbance coming out of the North... this is very rare.
Fear not though, because as we know... weather patterns are fluid and always changing. As the "atmospheric river" begins to break down and move East, it will open our storm track up just a little bit in the coming days.
---
Scoping the Next Storm
I did say that our storm track will shift a bit over the next few days and with it chances for snow along the front range. Sadly though, I don't see any major storms in our future at this time. The pattern is shifting again back to Northwesterly flow aloft setup that we've seen most of the winter. This means we could see more quick hitting storms that move through and drop bits of snow here and there.
While there is the chance of on and off snow/rain showers over the weekend across the front range (and I suspect some areas will see light bits of precip here and there) the next decent chance comes around Sunday/Monday. The GFS pictured above is the model that's most excited about this storm maxing out at 3.5 inches, but since we are so far out I caution to read all of those numbers with a huge grain of salt. We won't get any specific details until we get closer to the storm and get in range of higher resolution models.
All we can determine from a model this far out is an overall "theme" and the theme we are seeing here is colder and unsettled to begin the week next week.
For what it's worth the EURO is not terribly excited about this storm either.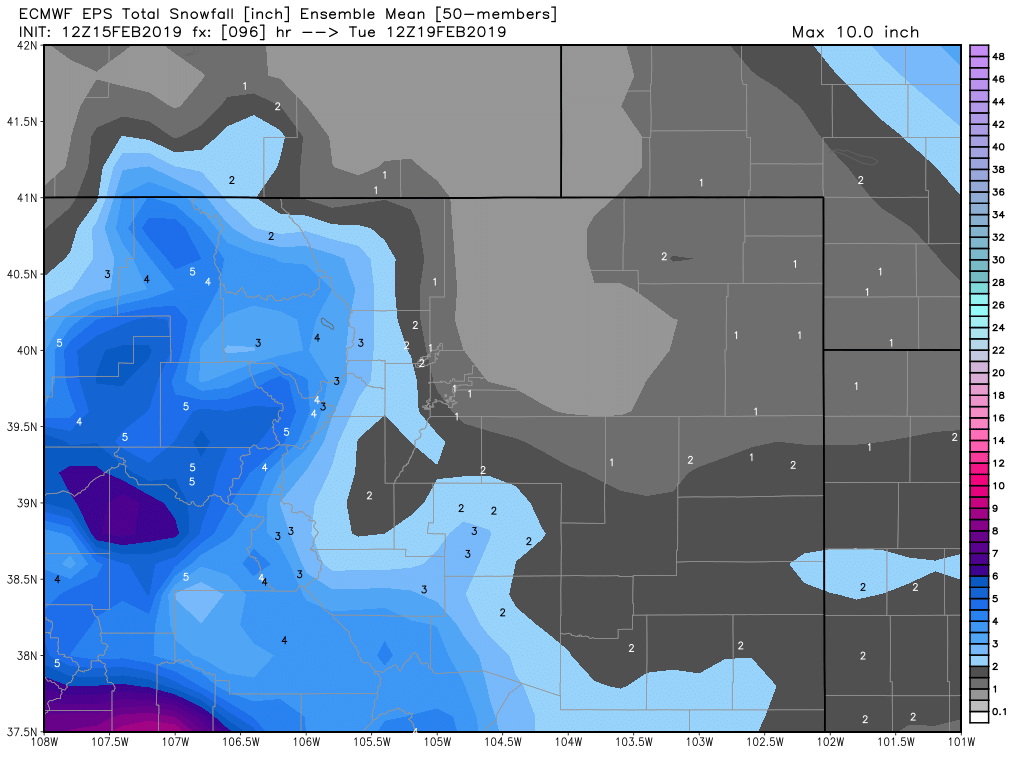 There's on interesting pattern I can see in both models above... can you spot it?
The dry slots along the front range and Palmer Divide scream DOWNSLOPE! Now each models has its differences on where and when that sets up but we can't ignore it... downsloping conditions will  be efficient at eroding snowfall and may shift where the snow falls/accumulates based on the surface winds.
Again... too early for much more details than that. But if you want to follow along forecast this one with us, I'd recommend to keep an eye on the models over the next few days and especially how it develops winds at the surface over the next few days.
---
The Takeaway
Not much more details on our next storm than what we presented above. Just keep in mind to plan for the POTENTIAL for a storm early next week and right now it doesn't look too major. As we know that can change quickly so we will be watching over the next few days to see how it evolves and will pass along any updates as needed.
Cheers!