The 2018 summer monsoon pattern has firmly established itself across the Southwestern United States and with it moisture is being funneled into Colorado. Many areas have seen strong storms with hail and heavy, flooding rains over the past few days.
Severe Weather Outlook for Wednesday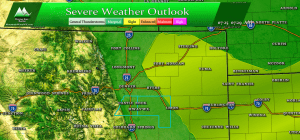 As with most storms the past few days, there is ample moisture and instability for stronger storms to pop up with a threat for heavy rain, wind, lightning and large hail. Be prepared to move indoors or take steps to protect property with any storms that form this afternoon.
Palmer Divide will be Focal Point Again
Timing
Models have storms firing across the foothills by 2-3PM, we'd expect them to move Eastward along the Palmer Divide shortly after (thinking after 3PM)
Main Threats
Heavy rain and strong winds will be the most likely threats
There is a chance for storms to contain large hail
Frequent lightning means don't get caught unprepared outdoors. Be ready to move inside or take shelter!
Please note! Models show an additional wave of storms moving through later in the evening around the 7-9PM timeframe.