While some models bounced the snow totals up as of this morning, some left things unchanged. The Nam3k model that showed no snow for Castle Rock yesterday now shows abour 2-3 inches, the HRRR is still showing very little snow at all (within the range we can see) and the GFS is relatively unchanged.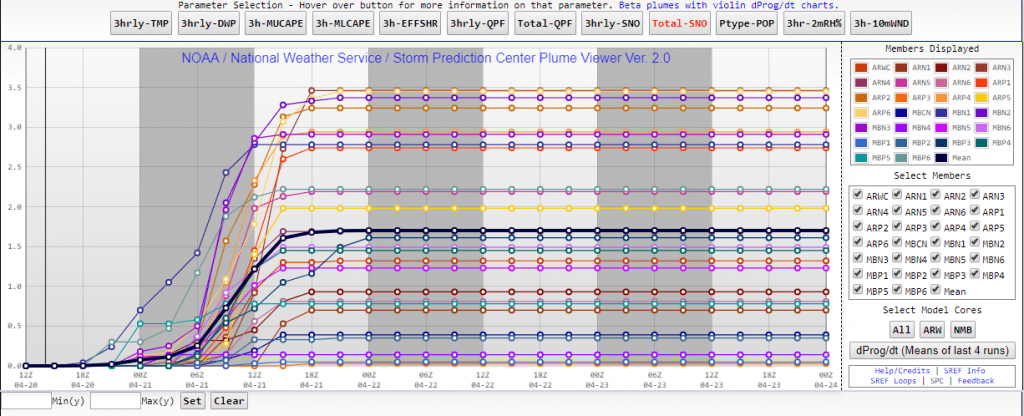 The SREF ensembles were also able to bump snow accumulation up about an inch at Centennial so there is that. Overall even though snow totals went up with a few models the ranges were  still within our initial forecast so we will make no changes at this time. It looks like a lot of areas will see moisture of some kind in the range of 0.25 inches to 1 inch depending on where you are... very beneficial given our fire conditions and drought status as of right now.
Snowfall Amounts
Still on track with our thinking on snowfall amounts, most areas should fall within their ranges specified below, again with the mountains and western foothills being the main winners in terms of snowfall. We should get a couple of more model runs before the storm this afternoon so we'll keep an eye out for any jumps one way or another. Spring storms can always throw a surprise our way but we are seeing increase confidence in the storm track and strength.
Douglas County (Castle Rock, Franktown, Larkspur, Parker, Highlands Ranch)
Parker: 0-2 inches total
Highlands Ranch: 0-2inches total
Castle Rock: 1-4inches total
Larkspur: 1-4 inches total
Franktown: 0-3 inches total
Elbert County (Elizabeth, Elbert, Limon, Kiowa)
Accumulation
Elizabeth: 1-4 inches total
Elbert: 1-4 inches total
Kiowa: 0-2 inches total
Limon: 1-4 inches total
Other Areas (By Request)
Woodland Park: 1-4 inches total
Monument: 1-4 inches total
I-76 corridor: 0-1 inch, likely no snow accumulation
Here's another quick look at the Nam3k as of this morning and current weather alerts: