Our summer weather pattern is still in full swing as we enter into the middle and late part of July. The monsoon has come and gone at times, but so far hasn't been impressive for many areas in Colorado. We do see the monsoon pattern picking up for some areas towards the middle of the week (maybe) and potentially into next week, but I honestly don't see a strong signal for widespread or decent amounts of rain for most of the area in the next 7-10 days.
Monsoon Stays West?
It good be good news for some of the most severe drought stricken parts of the West, but may not bode exceptionally well for Colorado's moisture chances. The Euro ensenble I've posted below shows clearly which areas will see the best chance at monsoon moisture.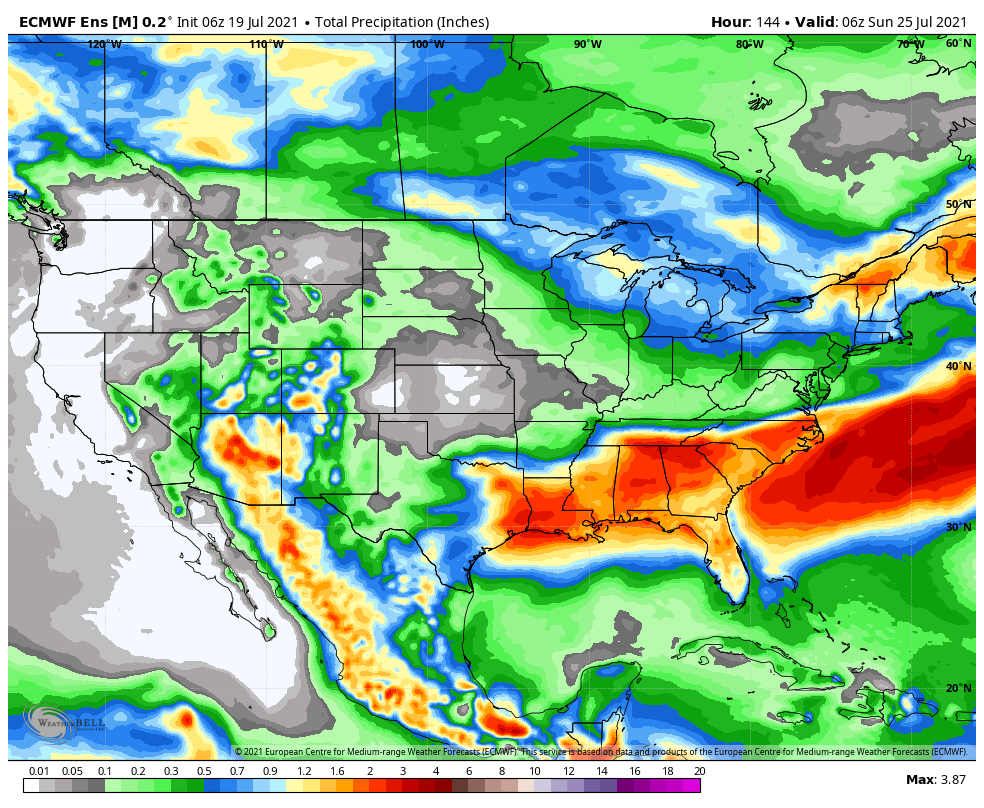 The main plume of moisture makes its way through Mexico, up in to Arizona and parts of Utah. Some of the Southeastern parts of Colorado may benefit a bit from some of this moisture but I don't think it will be enough to impact drought conditions across Western and Southwestern Colorado too much. East of the Continental Divide, moisture chances look pretty meager... the Euro has painted a broad bit of 0.1 to 0.2 inches of precip for the metro area and plains. I'd like to caution that due to the spotty nature of the thunderstorms East of the mountains this week, many areas won't see any appreciative amounts of rain... a few select areas will get lucky though.
Moisture So Far in July
Moisture can best be described as spotty so far for the month of July. It's a pretty common sight during a weaker monsoon, as we've seen so far this year. Some areas along the Palmer Divide and up against the foothills are running a bit above average along with some areas of the plains. Many of the areas West of the Contintental Divide have seen below to much below average precipitation and no improvement to their drought situation.
The Week Ahead - High Pressure
For the week ahead, we will feature similar weather to what we saw last week. A strong area of high pressure will park over Colorado and Utah which should keep away any pesky cold fronts or weather systems to bring widespread rain. As such, temperatures will remain quite warm, smoke and haze will again be a theme thanks to the fires out West and thunderstorm chances will overall be fairly low for most areas.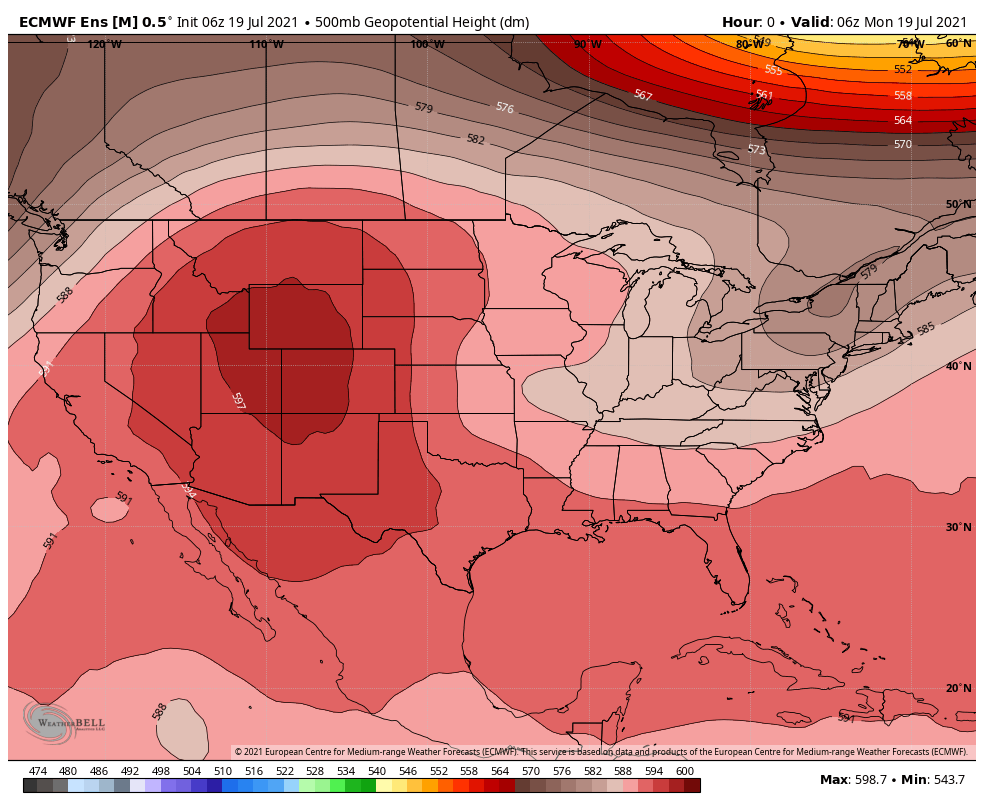 If you follow along with our updates, you'll notice this snapshot from the Euro mirrors what we saw in the atmosphere from last week. So expect very similar conditions. One thing to note is the high pressure is slightly further North than last week... at best this may give us a slightly better shot at monsoon moisture to sneak in and fire some thunderstorms. Like I said earlier though, I don't see anything that gets me super excited about widespread rain chances East of the Continental Divide.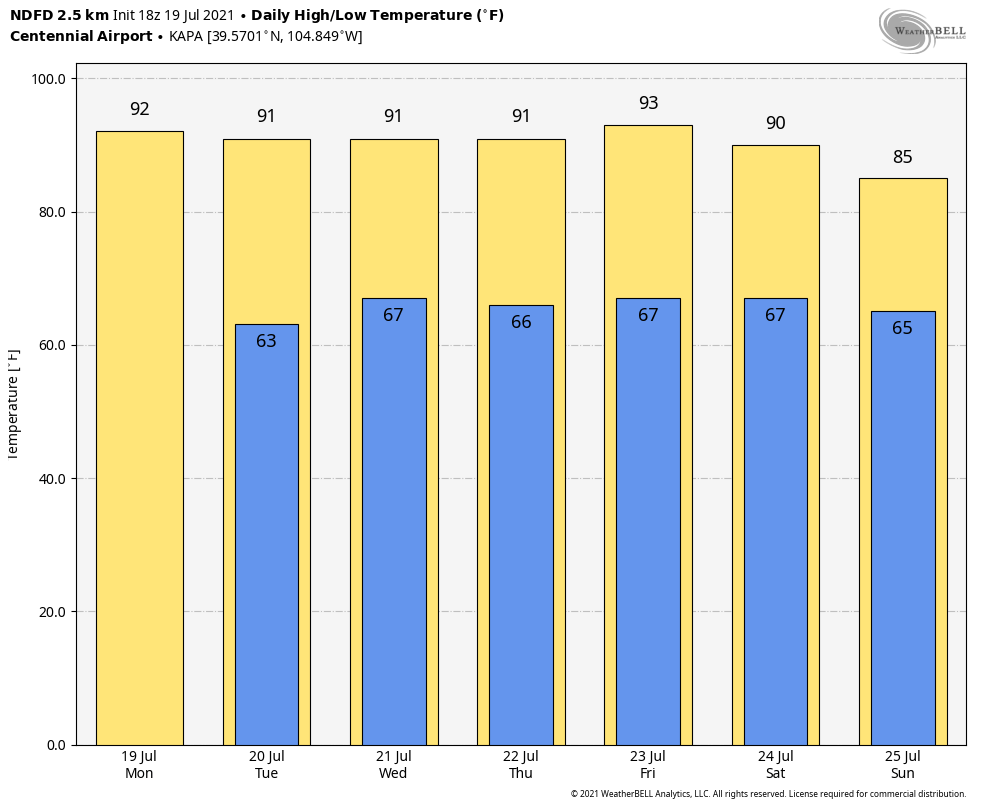 Forecast high temperatures this week for the Centennial Airport station. Add or subtract a degree or two based on your elevation but the overall theme is that temperatures will remain quite warm if not hot through the week. I don't see anything record setting though so not looking at oppressive heat by any means.
Any Weather Pattern Shifts Ahead?
Sadly it's not looking like it. The CPC 6-10 day outlook shows what is more likely (above or below average precipiation) in the period after this week. We know this week looks dry based on our forecast but the CPC outlook shows that the probability of Eastern Colorado being dryer than average is higher than average or above average precipitation. In a shorter sense: this means a continued dry pattern looks likely though the next 10 days.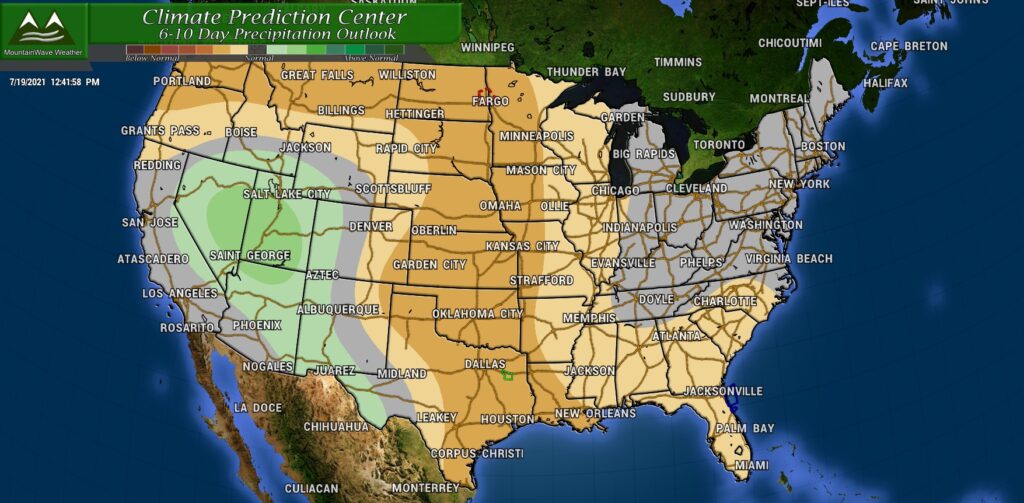 We will keep an eye out to see if any changes look likely by end of the month. We are definitely getting back to the point where we can safely say, "we need the moisture."
Have a great week!